I've been blogging for 4 or so years under this blog name (my blog used to be only beauty by the way) and I've gone to plenty of workshops, blogging conferences in Houston, L.A. and Miami. I always seemed to forget something or once there I used to see other bloggers very prepared looking polished from head to toe and networking like pros. I wanted to be those girls so bad! I wanted to have it all together and it took a few conferences for me to get there. I've compiled what I think are essential things you have to pack if you're going to a blogging conference and want to leave that conference knowing you networked your butt off and made a great impression. Disclaimer though: I don't have it altogether but these help me be the best blogger and best version of me at my blogging conferences.
SHOP THE POST:
This year I'm attending the We All Grow Latina conference in Long Beach, California which is one I go to every year! I never miss it because they have the best sponsor field trips and you can read more about why I love it here.
So Here's What You'll Need…
Cool AF Business Cards
You might think I'm old for saying this or give me a dirty look because HELLO! Why do you need business cards if there's Instagram, Facebook and a gazillion other platforms where they can find you? Well, my business card have my face on it so you remember me. Also, you'll be meeting brands and it's always a great first impression if you have all your info in one place. Plus, once they go back to their job, they'll go over their business cards and write follow up emails in case they'd like to work with you. My tip to you: once someone gives you a business card, write a short note/reminder about what you talked and you follow up with an email too. I also printed out postcard size business cards which are nice to give out to brands too. Use my link to get 20% off your first order of business cards and I will also get a discount on my next order.

High Quality Phone Camera or Camera
There will be plenty of Instagrammable moments and you are going to regret it if you don't get a photo! There are photographers at these events but if you're not a super popular blogger/vlogger you might not end up on the event photos and video. Make sure to have the right tools for your phone or camera.  I have an IPhone 7 Plus and it delivers amazing photography during daylight hours and my selfie light gives me extra helps at night.
Comfy Chic Outfits
One of my favorite things to do before a conference is put outfits together. Boy have I learned that a chic, comfy outfit goes way further than high heels because you'll want to go to every single sponsor suite and workshop and only the right shoes will take you there. Now if you can walk fast in high heels, kudos to you girl!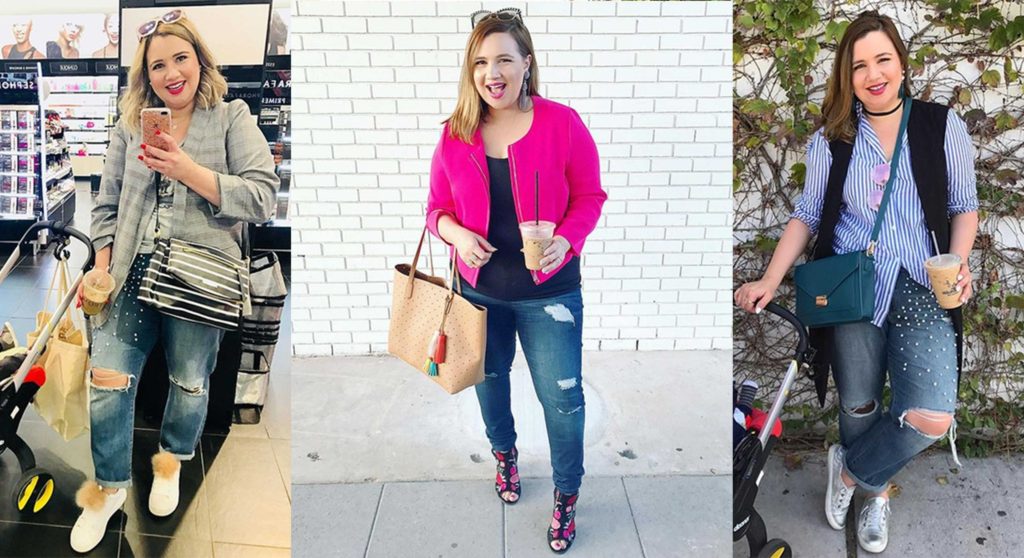 These are three outfit ideas that would work really well for a blog conference.
Phone Battery Case or External Battery
I never ever ever leave home without an IPhone charging case. I've been using the same brand for over 5 years and they are lifesavers at conferences, fashion shows or anywhere where I need to do social media around the clock. If you don't want a case there's always batteries you can just plug into your phone.
An Empty Piece of  Luggage
Listen to me: I am so serious when I say brands at conferences like Hispanicize and We All Grow will give you so much swag you won't believe it until you get home and unpack all the goodies! I've been caught sending box full of goodies through FedEx and repacking at the airport because I haven't followed my own advice (hello, there's weight limits on luggage and carry-ons). Please bring an extra bag that you can check in because you'll get a lot of beauty products to take back that you can't stuff on your carry on. This blush metallic weekender bag is roomy and would fit in your luggage. I also love this pink hard shell carry-on which is a bit more sturdy would protect your swag all the way home.
Last but not least..Don't Be Afraid To Be EXTRA!
That flashy selfie light, those crazy earrings you were doubting on wearing—bring it! I've found that these are great ice breakers and conversation starters and if you can't use it at a blogging conference then where will you? My selfie light is EXTRA AF, great for video or photos, it's under $15 and it fits on all phones and it always sparks a conversation (friend magnet anyone?)!
Blog Conferences To Watch Out For in Houston & Beyond:
SHOP THE POST:
Are you going to any conferences this year?
Let me know if there's a new one I should check out!
Facebook Conversations