Our son Nicolas is growing up so quickly! I can't believe he recently turned six and instead of rocking him in my arms, we were planned a road trip to treat him to some cool experiences. The beauty of living in the Greater Houston area and in a state like Texas is all the amazing attractions just a road trip away. We had many exciting stops but the first stop we'll highlight is The Crayola Experience in Plano, Texas.
This interactive attraction is an immersive and creative colorful journey that is fun for the whole family. Trust me, my husband and I were coloring our own augmented reality drawings and pets (I'll explain more of this later) and it was awesome! No matter your age, The Crayola Experience will be a fun indoor activity for everyone!

Crayola crayons everywhere! Let your little ones sit down and color!
Getting There
To celebrate Nico's weekend we drove to Dallas and stayed at The Gaylord Texan. It was an easy 23 minute drive to The Crayola Experience from the hotel. The attraction is located within The Shops at Willow Bend Mall and it's located in one of the entrances and trust me, you won't miss it! You'll see a huge yellow crayon box on the facade of the mall and you'll know you're there.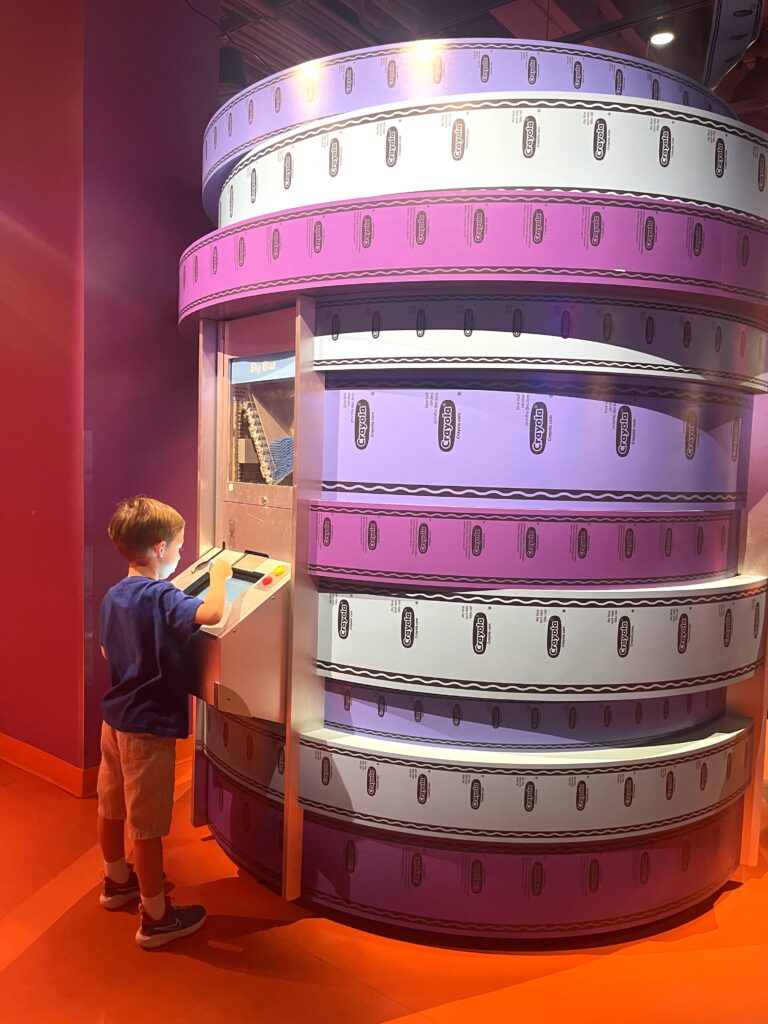 The custom crayon station lets you put your name on any color crayon you want!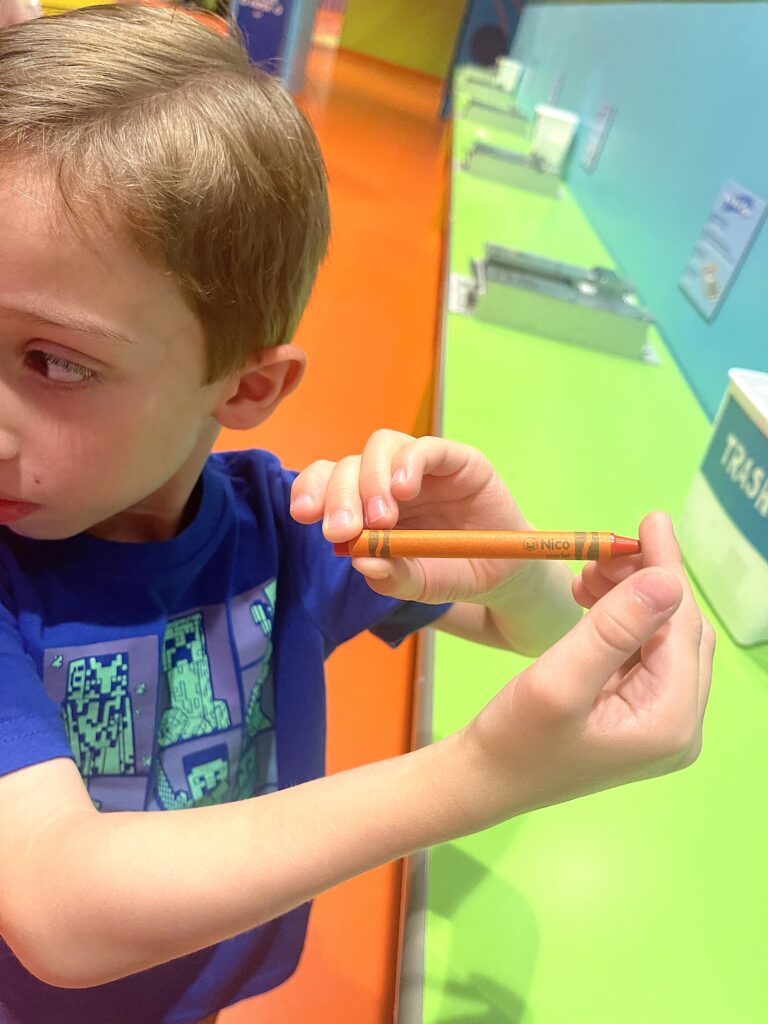 Nico's favorite part: customizing his crayon.
Welcome to The Experience
We bought our tickets online and each ticket holder gets 3 coins which you can use to claim a Scribble Scrubbie Pet, one piece of modeling clay and a custom Crayola crayon.
We gave our coins to our birthday boy Nico and he had a blast creating crayons and choosing modeling clay. If it's your child's birthday, make sure to say it when you are buying your ticket because they get a special treat which we didn't get! We had no idea until we got our ticket scanned.
Indoor Activities
There are endless things to do within The Crayola Experience; we didn't even get to experience all of them! Here's just a few things we tried:
Create custom crayons with your name
Use the modeling clay vending machine to redeem clay in different colors.
Color Scribble Scrubbie Pets.
Crayola-themed indoor playground and slide
Augmented reality drawing – Draw something, scan it and see it come to life on the big screen. My husband and I did this and we were thrilled to see our art become three dimensional and in motion.
Dip Dye Art
Crayola Selfies – print out a coloring sheet with your photo on it.
Coloring stations in every corner.
And more!
Overall Experience
We thought our son would be the only one to enjoy The Crayola Experience but honestly, we all ended up coloring and creating a keepsake. It definitely becomes a family experience because the interactive activities are not only catered to kids. My son is still talking about it weeks later and how much he wants to go back. We would definitely go back because it was  a fun time for all!
P.S. Be prepared for the amazing gift shop full of every single marker, crayon, notepad and Crayola-themed knick knack that you heart desires! I wanted to shop for everything for myself and my son but as a former Crayola user, I had to exercise major self control. We did buy him a green plush Crayola toy but it was hard not t shop for more. You have been warned.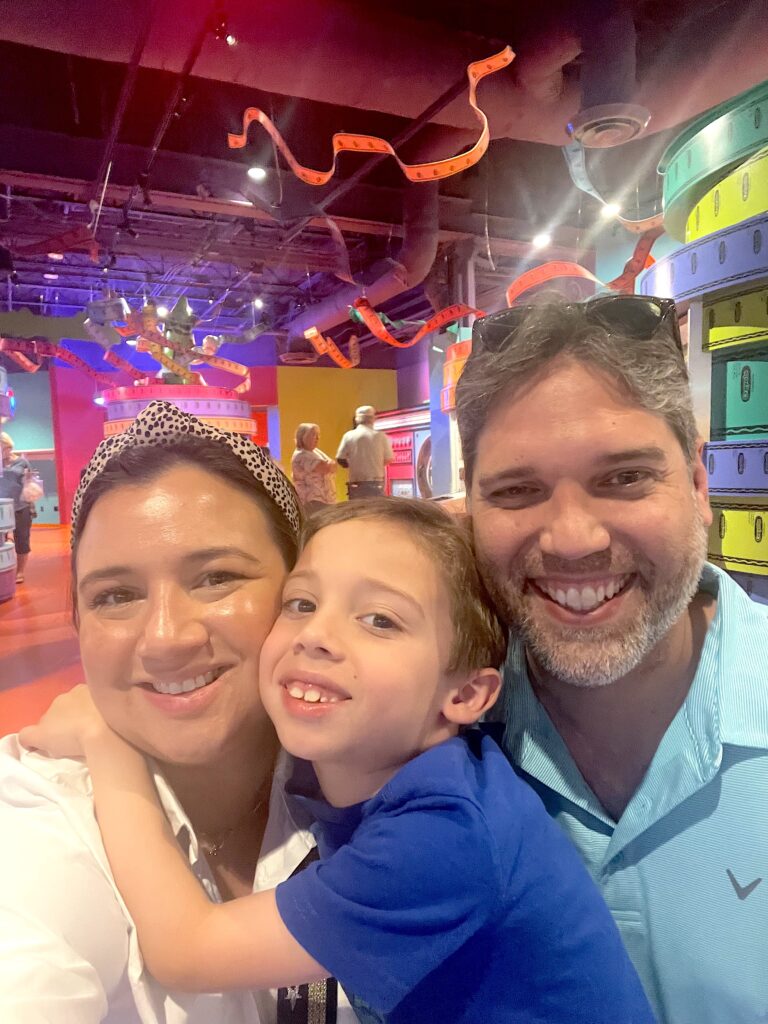 Painting our pets with Crayola markers.
Looking for a family staycation closer to home? Then you'll love this hotel with a Texas-shaped lazy river.
Facebook Conversations