We recently took a trip to Roatán, Honduras and it was even dreamier than our last Roatán trip in 2016. In case you're new around here, I was born and raised in Tegucigalpa, Honduras. Roatán is part of the Bay Islands, Honduras in the Caribbean Sea and it's where you go to a nice vacation. Even though it's not the city where I grew up, it's where my dear college friends live so when I visit, it feels like home. I also love to get the perspective from two locals on where to visit, eat and play while visiting the island.
This time around, the trip was extra special because we got to show Nico the Caribbean Sea for the first time and we started preparations for our vow renewal in 2023. Our 10 year anniversary is this year but we didn't have time to plan so next year it is! (More details about that later!)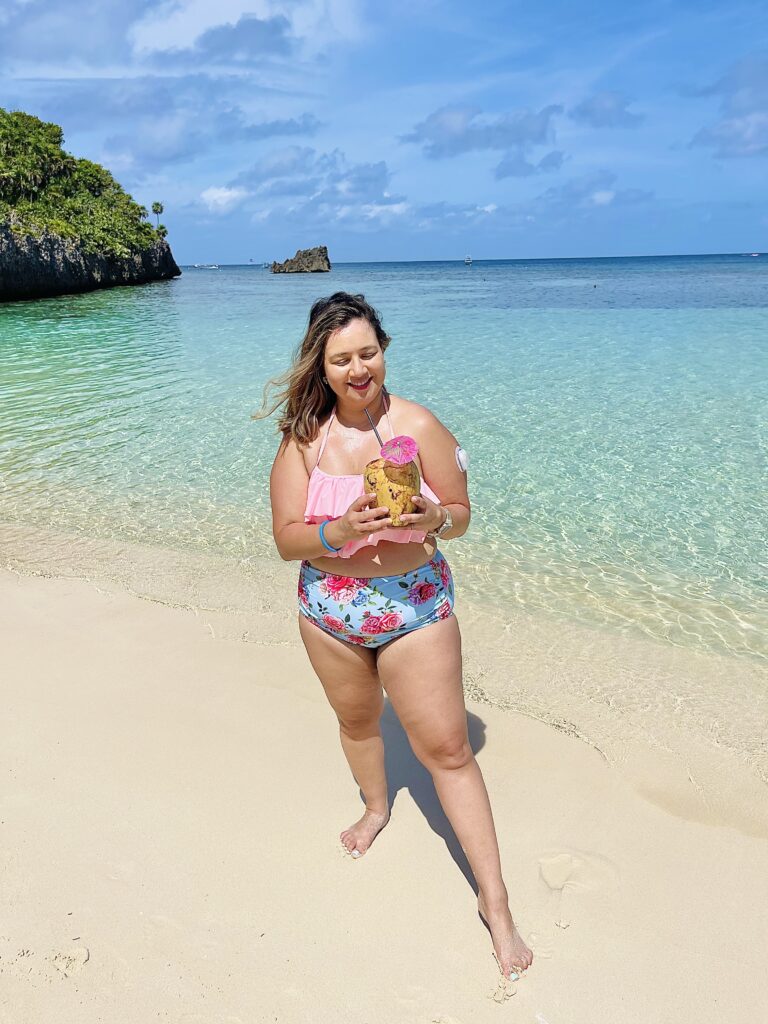 Below, I've answered all the questions you asked on my Instagram about our trip!          
@maris_bels asked: Where did you stay?
This was the number one question we got asked. We stayed at The Grand Roatán Caribbean Resort in West Bay where you'll find a variety of hotels along the beach, the mall, pharamacy and restaurants.  They have a delicious breakfast buffet with a fresh tortilla and omelette station overlooking the beach. We stayed in one of the Junior Suits which has two queen beds and an outdoor shower and it was perfect for the three of us.
The only CON at the moment with the hotel is there's construction going on but because of our room location it did not affect us at all.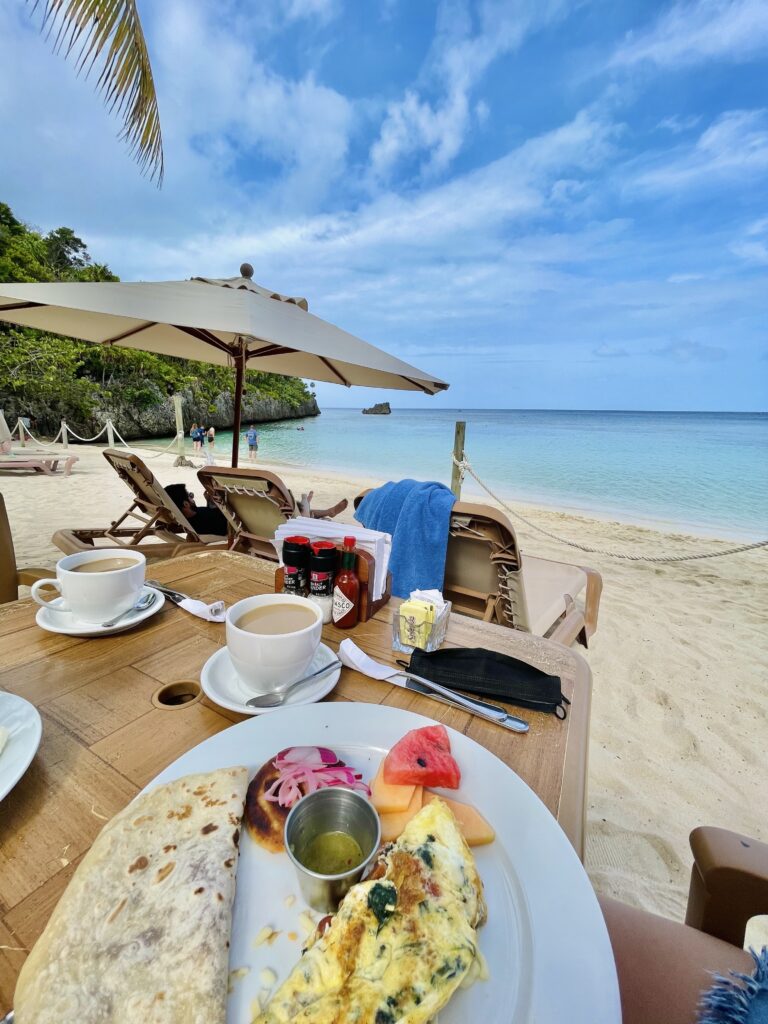 Where is the KAO KAMASA SPA located?
The amazing spa we went to with Miguel is located within The Grand Roatán Caribbean Resort. It's barely a couple months old and it's the most impressive looking spa we've been to and we've been to spas in Vail, Buenos Aires and Turks and Caicos. Because it's situated within the lush tress of the hills of Roatán it's so magical and lit with the most beautiful light. Inside, the spa is architecturally modern. Our relaxing  massages ($115 each) were great but there were a few thongs within the spa that were not set-up or working yet because it's so brand new.  Make your appointment before arriving because they get booked up quickly.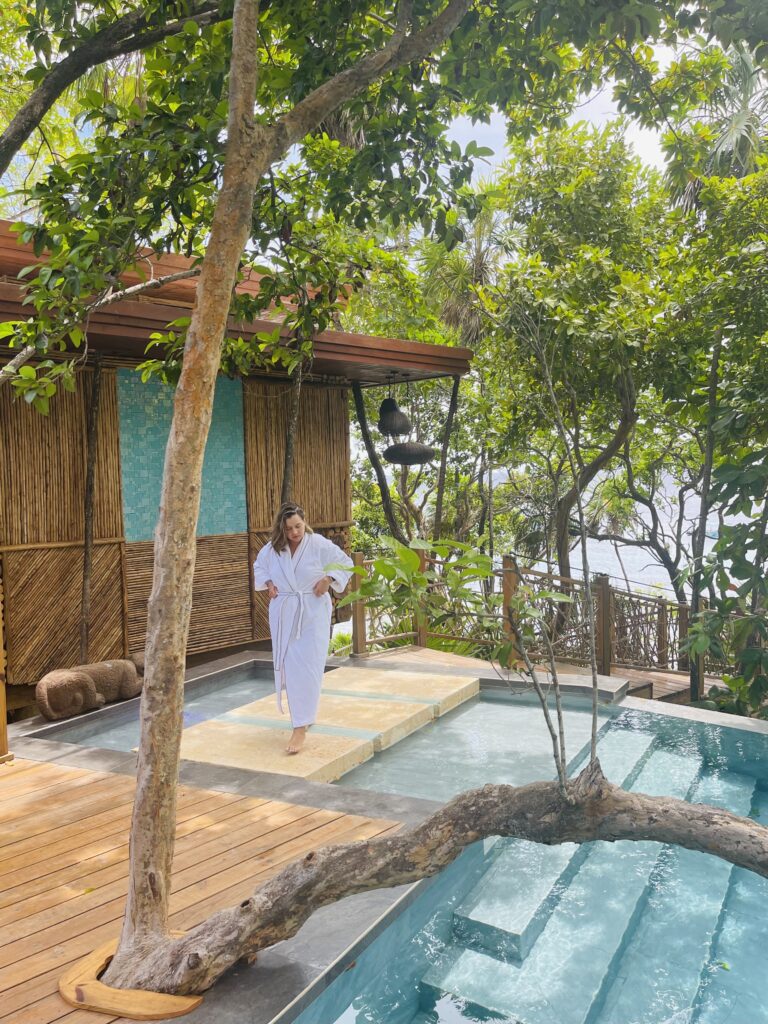 @ninjasophie asked: Did you get picked up at the airport by the hotel or rent a car?
The hotel has a complimentary shuttle service to and from the airport. That same shuttle has a car service if you are going to other resorts or to the dolphin encounter. It cost us $20 each way. We opted not to rent a car because we did not feel comfortable driving. The hotel also has a golf cart and they can take you to the gift shop, convenience store or ATM and it's also a complimentary service.
@lisa.g.nice asked: How long is the flight from Houston?
It's a seamless 2 hour 20 minute direct flight from Houston  to Roatan on United Airlines. Quick trip to paradise!
@maris_bels asked: Is there a small-sized plane ride to get to Roatan after you  landed?
There are many ways to get to Roatán. The first time we traveled from Houston to San Pedro Sula, Honduras. Then, from San Pedro Sula we took a small plane for 20 minutes to Roatán. I prefer taking the direct flight from Houston on United. Me and small planes don't go!
What can do in Roatan besides going to the beach?
I highly recommend getting your SCUBA diving license (I got it here years ago) since Honduras has the second largest coral reef after Australia and it's also more affordable. Snorkeling, kayaking, the dolphin encounter at Anthony's Key Resort (highly suggested if you have kids!)  and this list of suggestions from the Grand Roatan team gives you an idea on all you can do!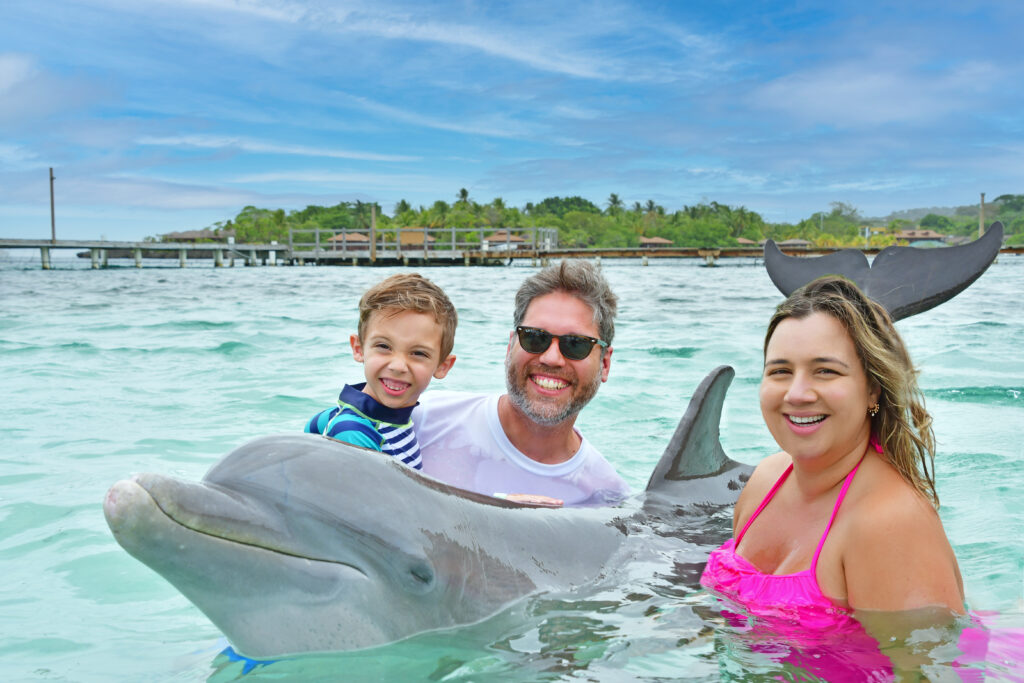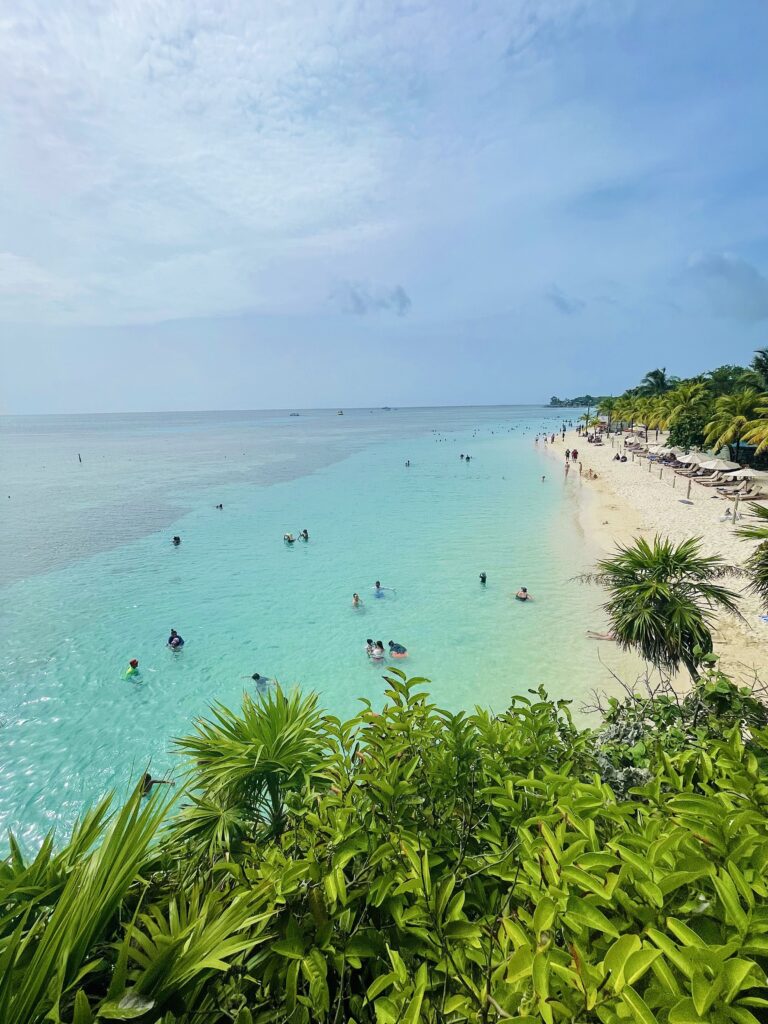 Another thing to do? Consider a day trip to Little French Key or Big French Key. It costs around $30 and you are taken by boat. Take cash though because they do not accept credit cards.
How are the prices compared to the USA?
I felt prices were comparable to prices in Houston, Texas regarding restaurants, cocktails and experiences. For example: we had a nice dinner at $20 per plate and cocktails varied in prices from $8-$12.
You talked about your vow renewal, who is planning that?
My vow renewal is being planned by ROATAN EVENTS which is led by a dear friend. She specializes in cruise weddings, destination weddings, and vow renewals. She is helping me create a fun experience for my guests so they can take advantage of the paradise that is Roatán. Please check out her webpage and social accounts because she does a phenomenal job!
Do they speak English or Spanish in Roatán?
The official language in Honduras is Spanish but because Roatán was a British colony like Belize, English is spoken which is why travelers from the USA love it so much!
Can I use dollars in Roatán?
We had changed Dollars to Lempiras (the official currency in Honduras) but we shouldn't have. Roatán is tourist-driven so any tip, payment or purchase on the beach can be made in dollars. Just make sure you have enough cash on you. ATMs are not conveniently available.
What do you love most about going to Roatán?
I looooove the food! It's fresh seafood for days like: ceviche, seafood soup, whole grilled fish, green plantains, the coconut guy at the beach selling ice cold coconut water and fresh tortillas every day. Also, the ability to drink fresh fruit juices blended there at the moment is priceless. I had a fresh squeezed lemonade every single day and my son had watermelon juice every day.  Then of course, nothing compares to the calmness and warmth of the beach in Roatán. My son loved it because he could be close to the water playing in the sand and we weren't scared to let him. (pictured below is three types of ceviche at Gio's)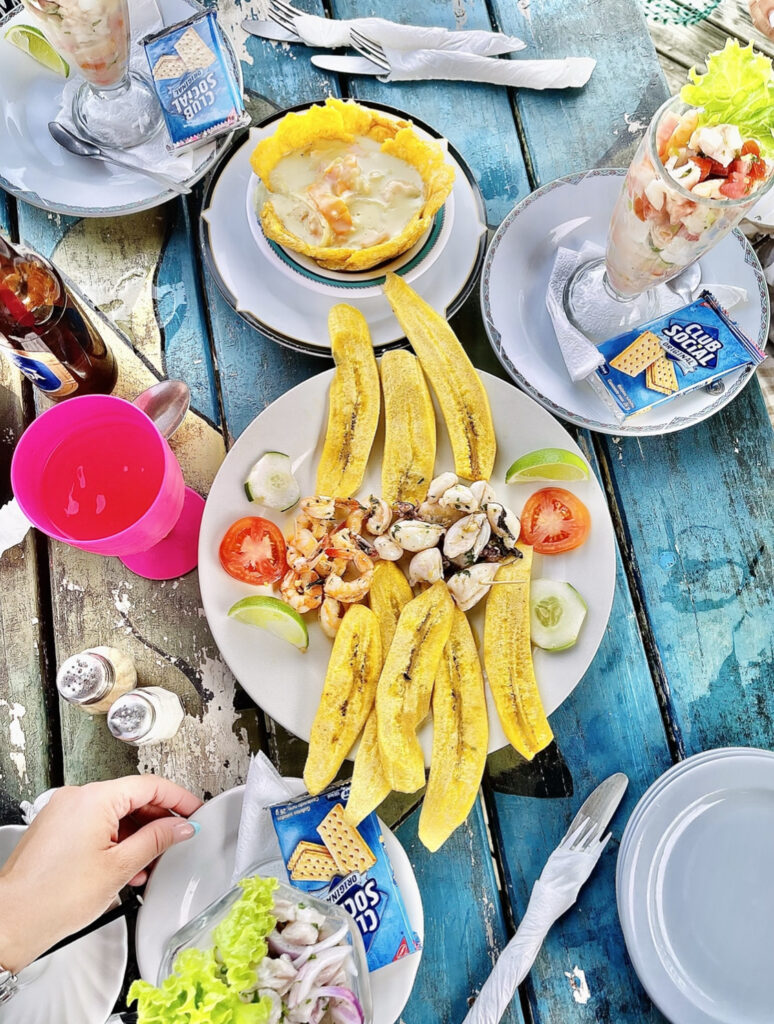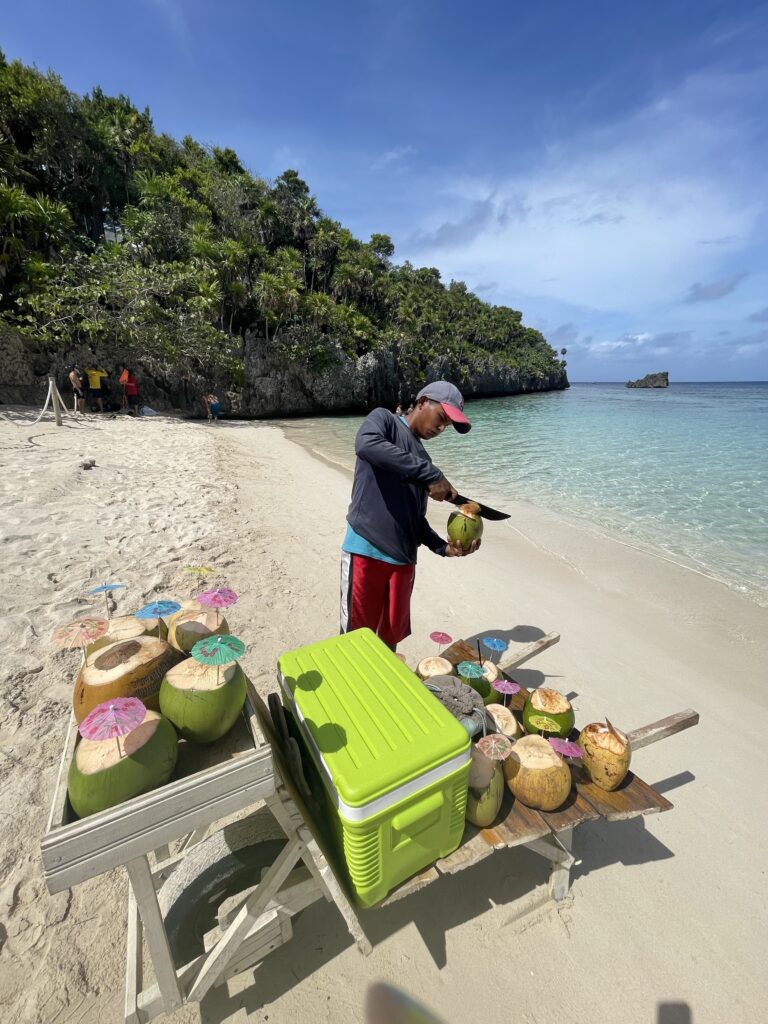 Have any more questions? Let me know below!
Facebook Conversations