I decided to do this life update because our baby Nicolás Enrique has shown the most drastic changes in size, weight and behavior in this stage of his life (I started writing this when he was 6 months but today he is 7 months old). For the longest time I could keep him in his baby pillow or even set him on the couch to sleep. Well, that's long gone because he rolls over like an Olympic gymnast and he's kicking like a Spanish soccer player. Ha!
Nicolás' Current Favorite Things:

He has become an alert, curious, bundle of yumminess that knows exactly who his mommy and daddy are. There is never a dull day in this household now that he's around. Sure, he's cute and cuddly but sometimes he's fussy and has zero chill but it's all worth it to see his big toothy smile. Scroll down below to see the most exciting updates in our life with Nicolás Enrique below! A big thank you to Collectivo who provided this mama with the perfect pink caftan dress; a great option if you have some pregnancy weight left over but still want to look cute and trendy! Happy Valentine's Day!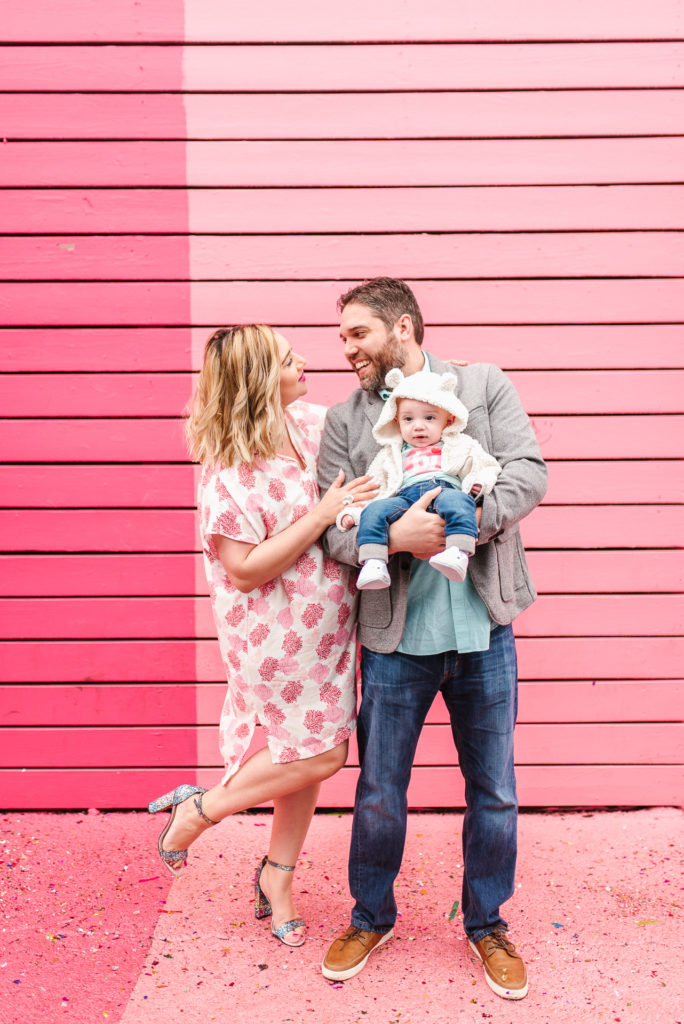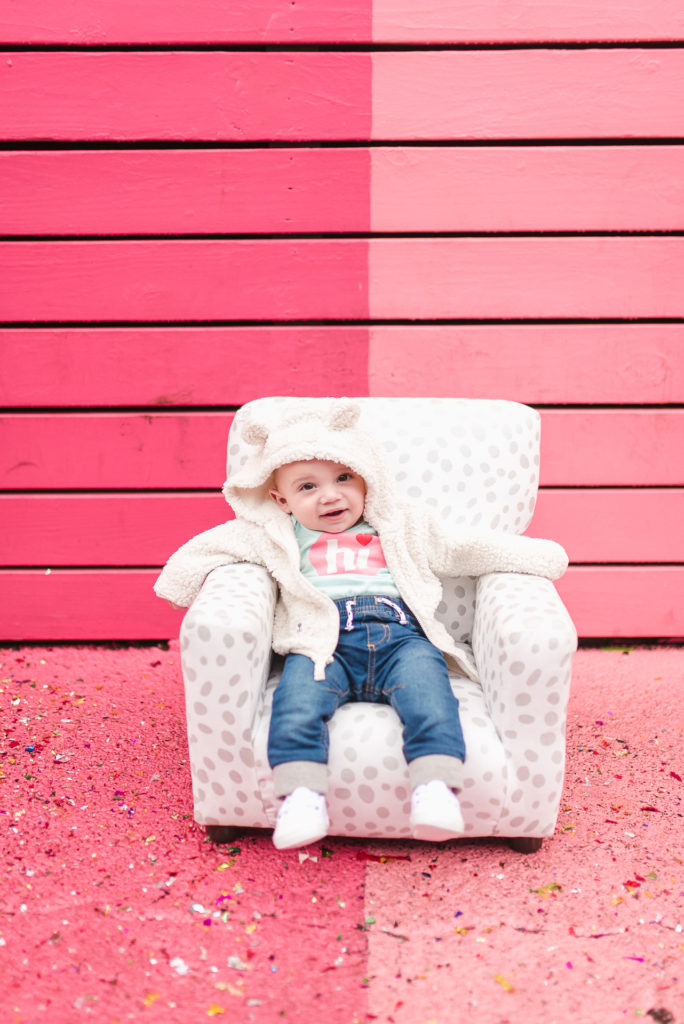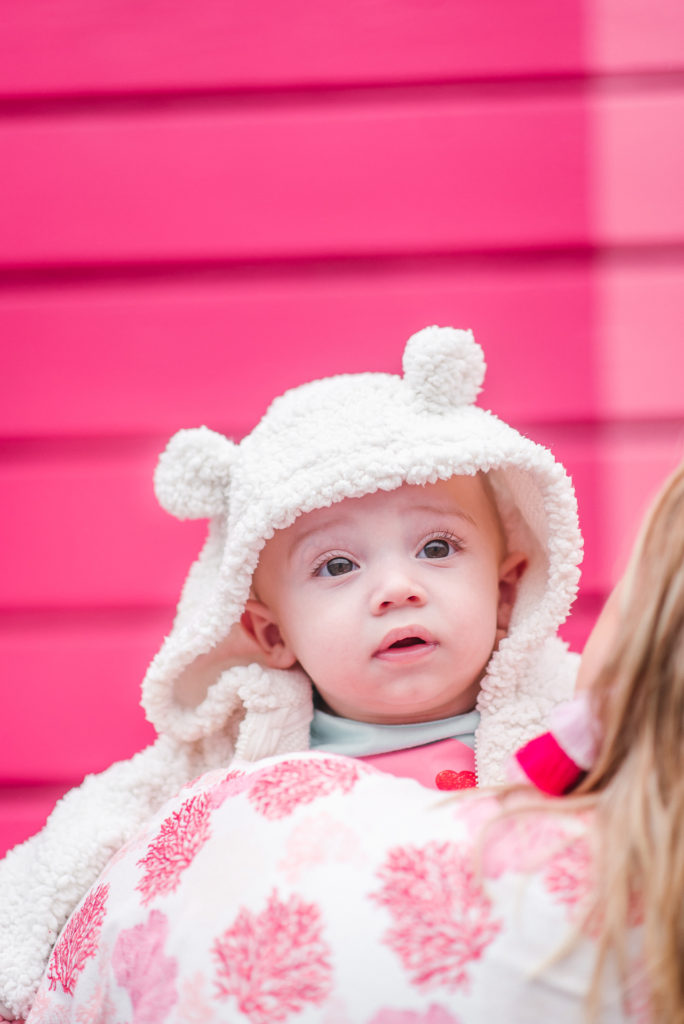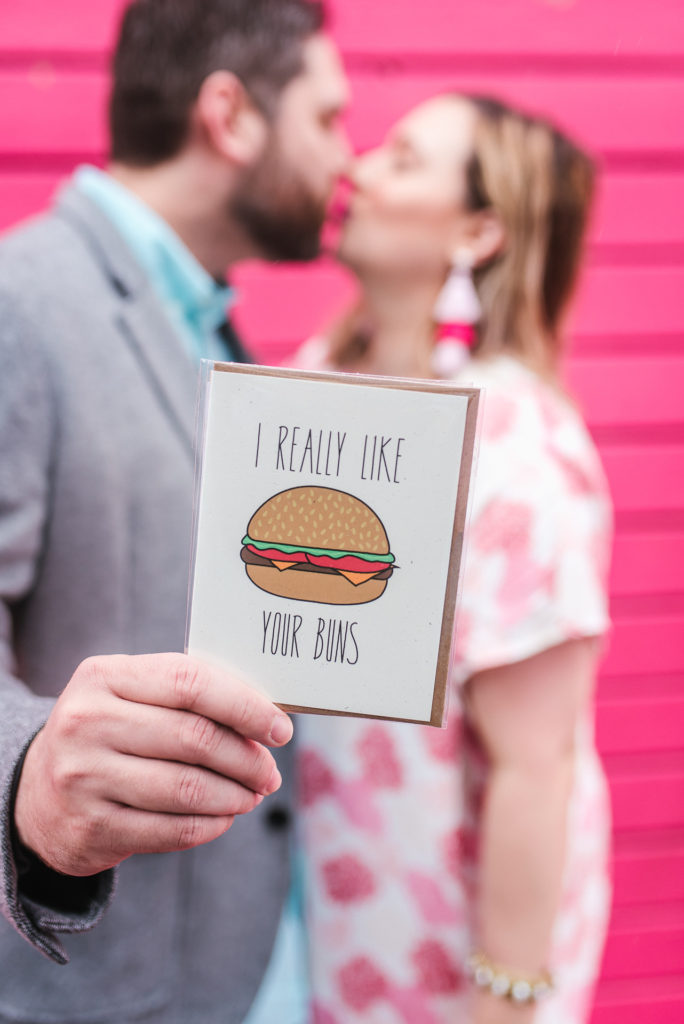 This awesome shot was part of my Valentine's Day Gift Guide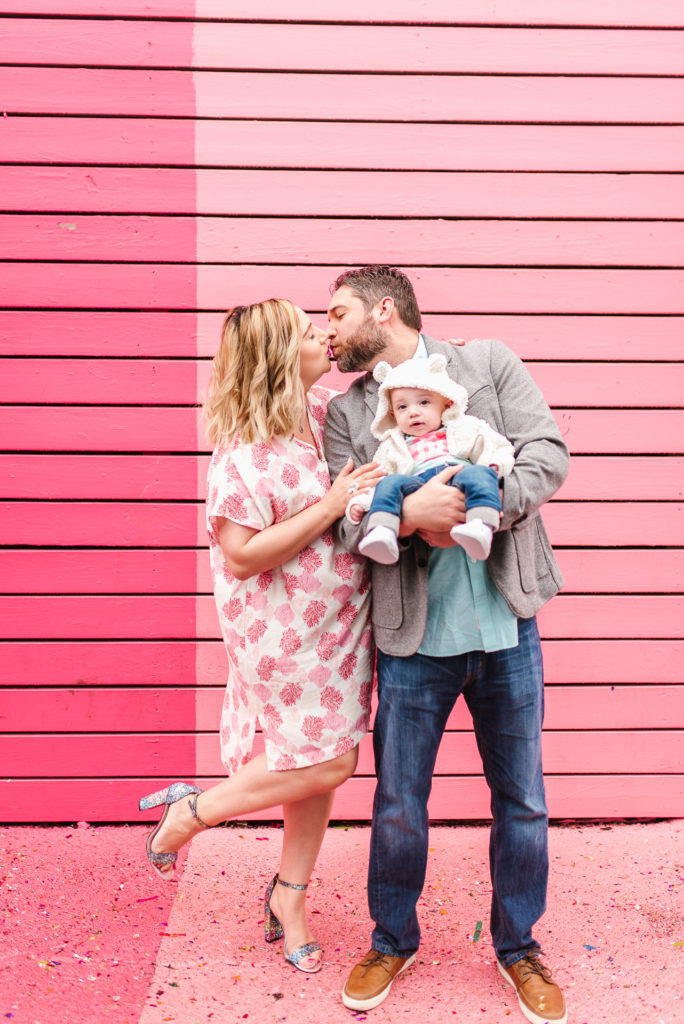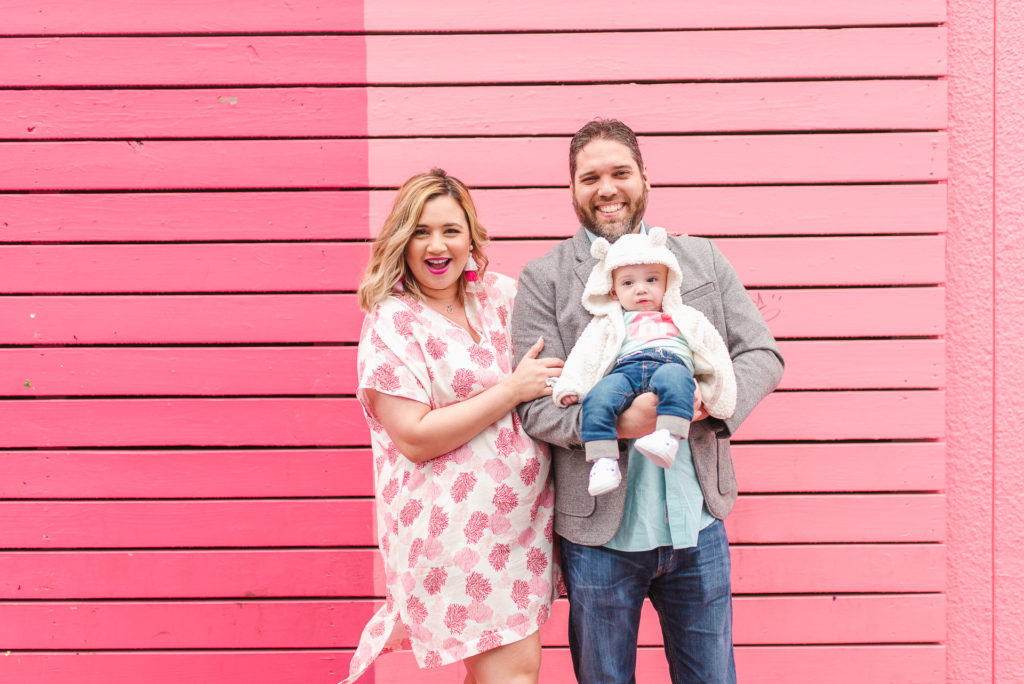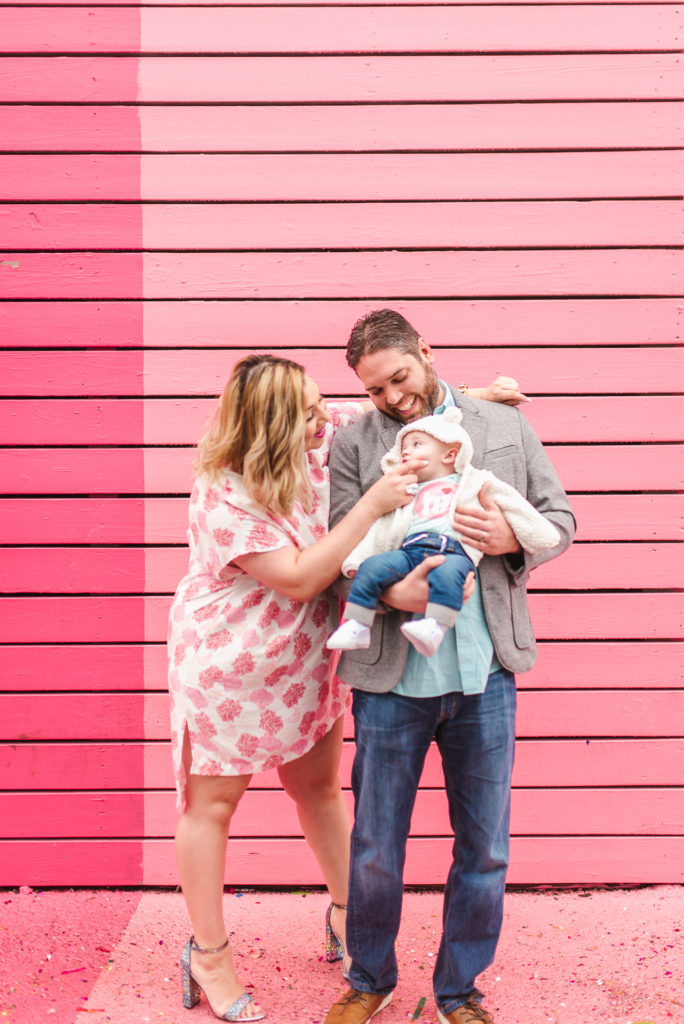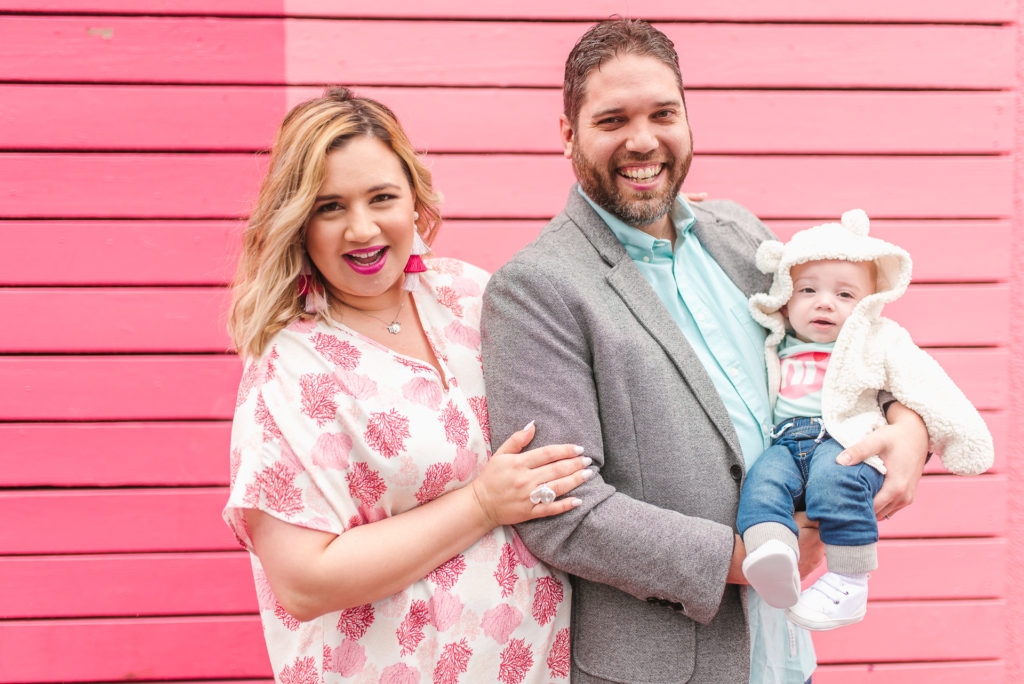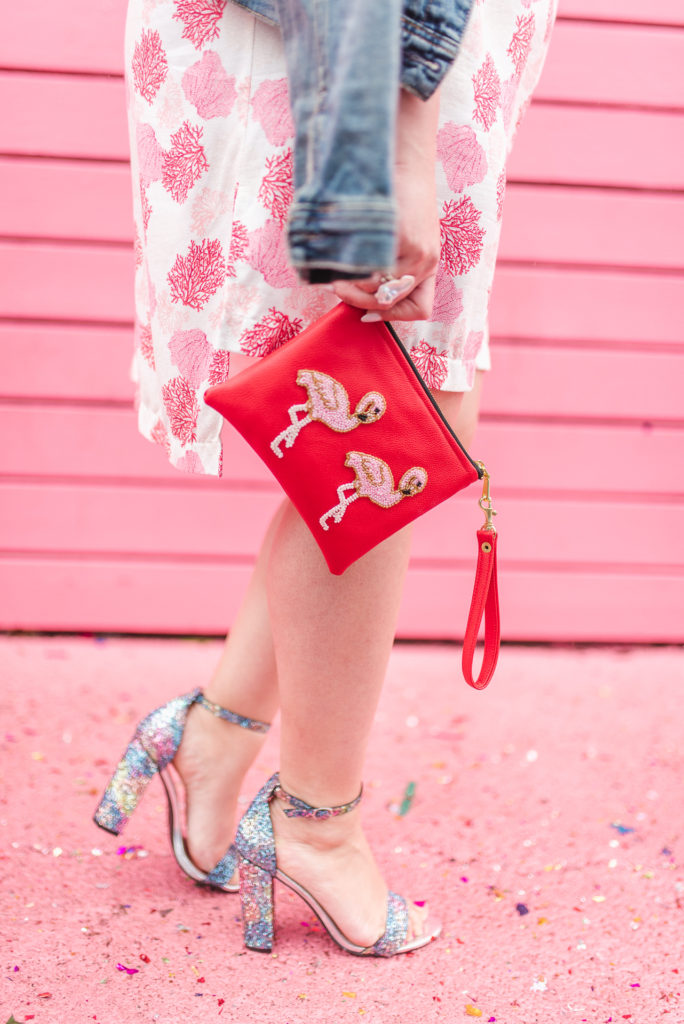 Dress and wristlet by Collectivo.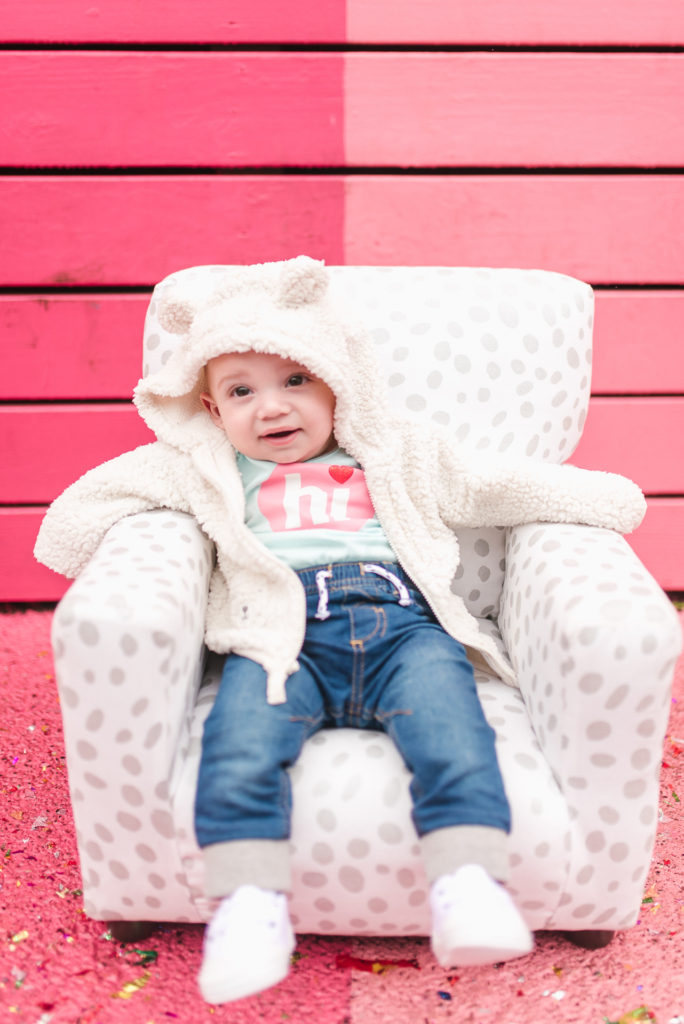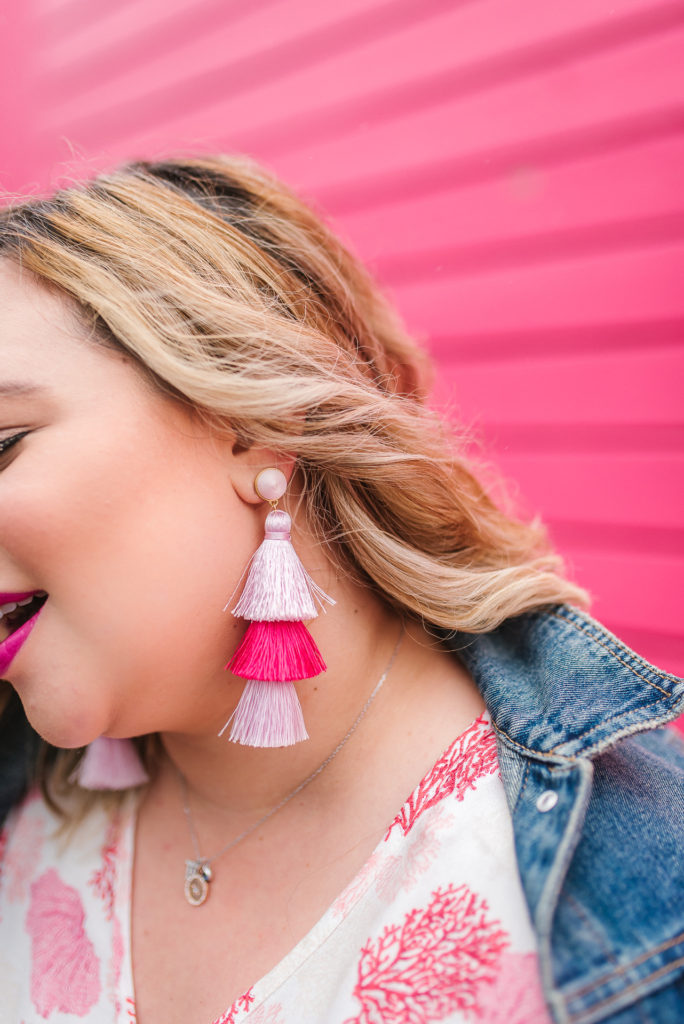 Get similar earrings here!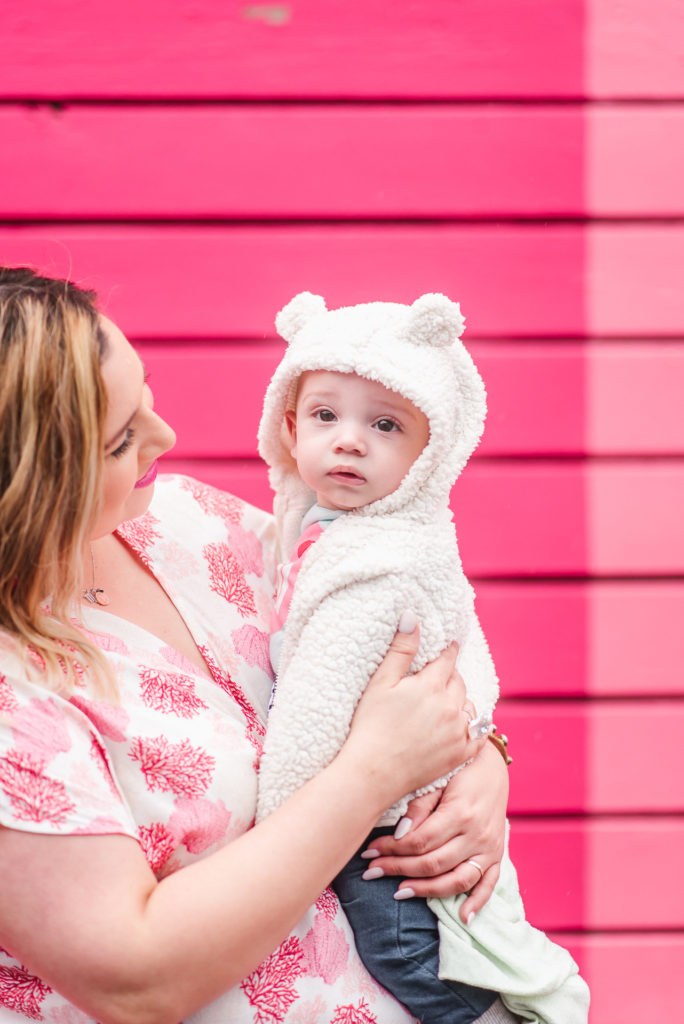 Nicolás Enrique – 7 Months
Eating: Applesauce, potatoes, rice cereal, bananas and oatmeal cereal. Why I also love oatmeal cereal here. I'm still loving these bottles which have really cut down his spit-ups and gassiness.
Loves: To party. So not exactly but he loves to hear us sing and when we tickle him and tickle his belly on our bed.
Hates: When we are not in sight. Whenever he's left alone in his bassinet or when he wakes up and doesn't see us he screams like he just saw that creepy clown from IT.
Favorite: We just got him an activity center so he can practice his jumping. The contraption makes jungle animal sounds and musi which he loves. This has been perfect for entertaining him and its actually become my favorite too because of that! He's also been liking his cartoons in Spanish ( we watch Baby's First channel which can be switched to Spanish audio) and being read read his Spanish baby books. (I'll link everything below). We are determined to have him speak Spanish and be bilingual like us. My mother-in-law who has been in bilingual education all her life recommended we only speak to him in Spanish at home since he'll grow up in an English-speaking environment.
Toys: He is barely understanding toys and starting to grab them and like them. We both love this baby rattle which he likes to chew on and throw (yes, hes started throwing stuff). It's super easy to clean too!
Our Favorite: All this kid does is laugh, giggle and show us his little teeth and that' what melts our heart the most. He is so ticklish everywhere too so we basically make him laugh and giggle on command.
Teeth: So this kid has 6.5 teeth ( two at the top, and three below and a fourth one coming in below). What? Why though? I mean he looks like a cutie but I've just never seen so many teeth on a little person.
Our Favorite Routine: Miguel and I absolutely love to go to bed at night and place Nicolás in the middle of us in bed while he drinks his last bottle. Nicolas falls asleep in between us and it's the cutest thing ever. Then we transfer him to his bassinet when he's fast sleep.
Moment That Made Mommy Cry: Besides his vaccinations, almost all his clothing 3-6 months in size doesn't fit, even what were my favorite little jeans of his. I can't believe he's growing so fast. Oh and I used to always bathe him in the sink and he doesn't fit anymore because his legs stick out. He's also a pro at grabbing his own bottle which makes for more free time for me and makes me realize he's not a tiny baby anymore. A bittersweet but victorious moment!
Hardest Thing For Me: Skipping on so many blogger and networking events. This was a huge part of my life but I simply can't bring myself to drive to downtown Houston to nightly events with my baby. It's too much to handle. I hope this is temporary but we are not planning on a nanny or daycare so go figure. I don't have anyone helping me so when you see me out and about, I'm always with him. It's also hard to work from home now because he is getting bigger and requires more attention (aka playtime). Before, he used to fall asleep for long periods of time but not anymore!
First Travel Plans: We might have our first trip to Spain in a few months. I'm so anxious but reading up on posts that other blogger fiends have written with advice on how to make it a smooth trip. Do you have any advice! Gimme all the advice below puhleeez.
Thank you to Banavenue Photography for these amazing photos we took in the rain.
I hope you have a fun Valentine's Day with friends, loved ones and being single
(because I remember my single days being fun too!)!
Nicolás' Current Favorite Things:

Facebook Conversations