If you look at my Instagram feed you'll notice I mostly shop at Target and JCPenney. Besides liking their affordable clothing selection online and in-store, I also love that both are minutes away from my home and I can make easy returns when I get a less-than flattering online order.
Today though  I want to focus on how I shop at JCPenney because I feel people are surprised when I tell them I shop there. Hey, I was surprised I liked them too considering it was the only place my grandma shopped when we used to make our yearly summer trips to Miami. She would always shop for her fancy two-piece Alfred Dunner pastel colored suits and pajamas.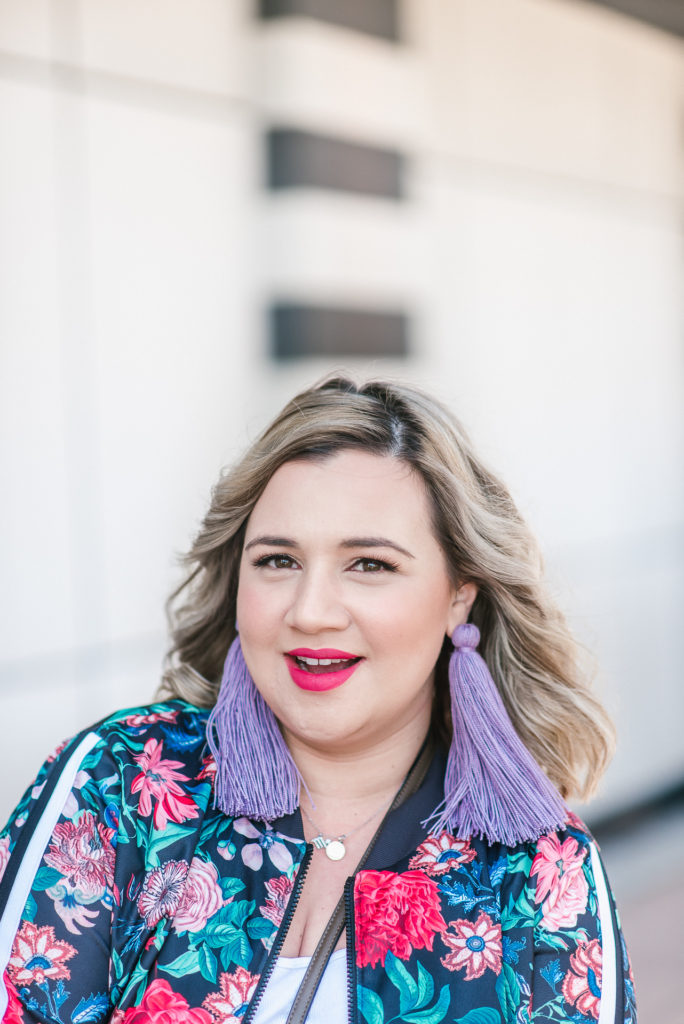 earrings c/o Burdlife
For a long time, I I didn't go to JCPenney but then found my way back when I started my first office job in Houston and needed cute blazers, tops and pencil skirts. I never expected to fall in love with some of their brands and to keep going back again and again. I wanted to highlight some of the brands I love and tell you why you should check them out. Oh and of course, I wanted to show you how I styled this floral track pant and bomber jacket from the JCPenney Project Runway line. They're both on sale right now for less than $15 each! How cute is it?!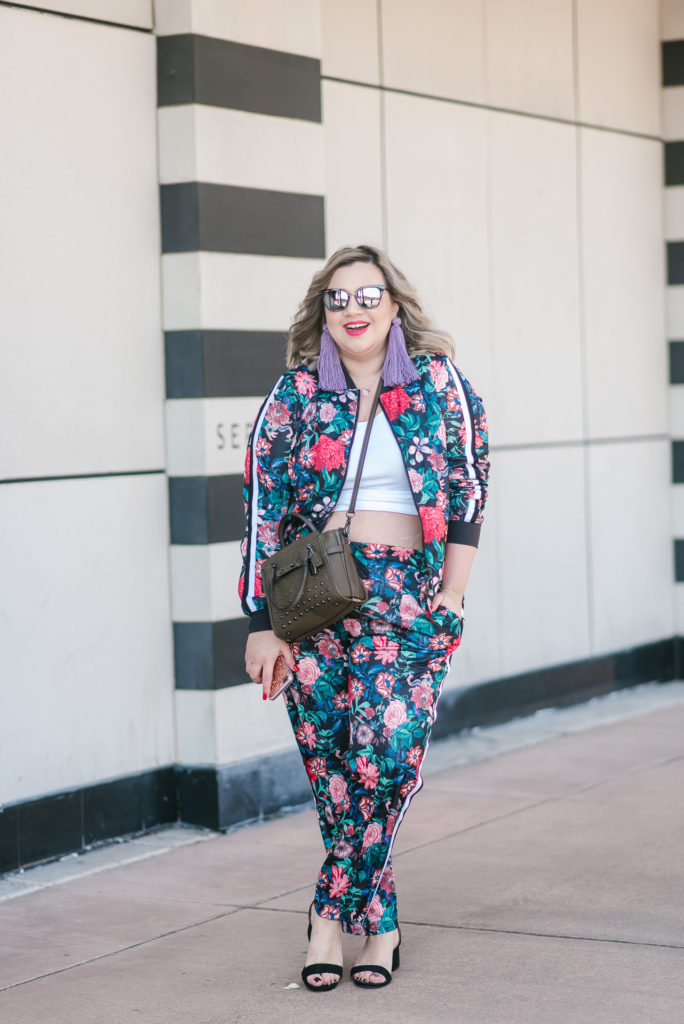 This brand has been at JCPenney for a while and for me they have great basic pieces. Think great button downs, pullover tops, dresses, and pieces that are great for layering. This denim dress that I wore when I was pregnant (and can still wear now) is one of the most-purchased ones from the blog.
I was thrilled to discover this newer brand at JCPenney because they are the trendiest line in there! I'm pretty sure it's meant for younger people than me–hahaha, but I love it! Any trend you spot out there like sassy graphic tees, ruffles, cold shoulder tops, Belle & Sky will have it. Their fit is sometimes inconsistent though which is my only criticism. They have a plus size selection online too if you're looking for larger sizes and comfier fits. This boho chic maxi dress, pink ruffle top and off the shoulder beauty are all from Belle & Sky.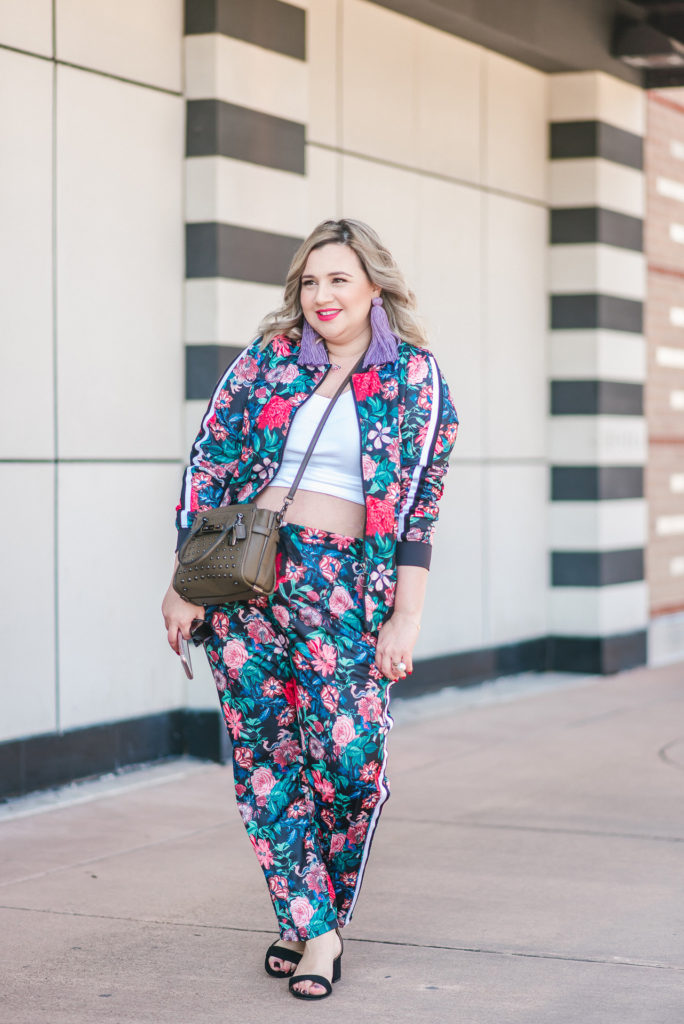 Click here for a similar pair of my sandals for less than $17.
This brand reminds me most of my grandma and I never thought I'd like it as much as I do! A lot of my grandma's pretty blouses were Worthington. They still have very conservative colors but Worthington has really stepped it up with their fit and trendy prints. They also has great pieces for work like pencil or A-line skirts and blazers and basic work shoes. The best part is that they are so affordable it's easy to build an office wardrobe or a "basics drawer" without breaking the bank.
If you're a huge fan of the Project Runway show on TV then you'll love this more adventurous brand at JCPenney. Sometimes the designs are inspired by an outfit you saw on the show but they are toned down so people like me can wear them. The winning designer on Project Runway actually features a line  at JCPenney inspired by their New York Fashion Week runway. Last season's designer who won, Kentaro (who I love and would die if I met!) had designs that were way too out there for me and I didn't buy any of those pieces.  Having said that, most of the stuff I've gotten from Project Runway is amazing quality, flashy and colorful; just how I love my clothing. The Project Runway pearl jeans (which I'm wearing on almost every Instagram post…#SorryNotSorry) are also the best-fitting boyfriend jeans I've found at JCPenney for curvy girls and they are on major sale right now for less than $20.
How I Styled My Track Suit
Let me tell about how I've never bared my stomach for a photo but hey, this is why styling is so important! There is still a mom-pooch under there but the busy print of the track pant and the almost invisible elastic waist band act as a belly-squisher (is that even a term?). So yes guys, this is all an optical illusion and unfortunately not a result of better eating (which I'm doing by the way with my brother's help who is a certified trainer) or miracle workout. I added simple but stylish black heels, statement earrings and a subdued-colored purse for a look that it all spring. How do you like it? Would you wear it? I love this purchase because I'll be using this track pant with other tops and I've already worn the bomber jacket with other outfits.
Final Tips
My final tips would be to always pay attention to coupon codes when shopping online. JCPenney almost always has a coupon code to use at check-out so don't forget to punch it in. If you're shopping in-store, head to these specific boutique areas for these brands and scour them and try stuff on. I did this once in-store and now it's much easier to shop online because I know what fits best in each line.
Happy Shopping guys!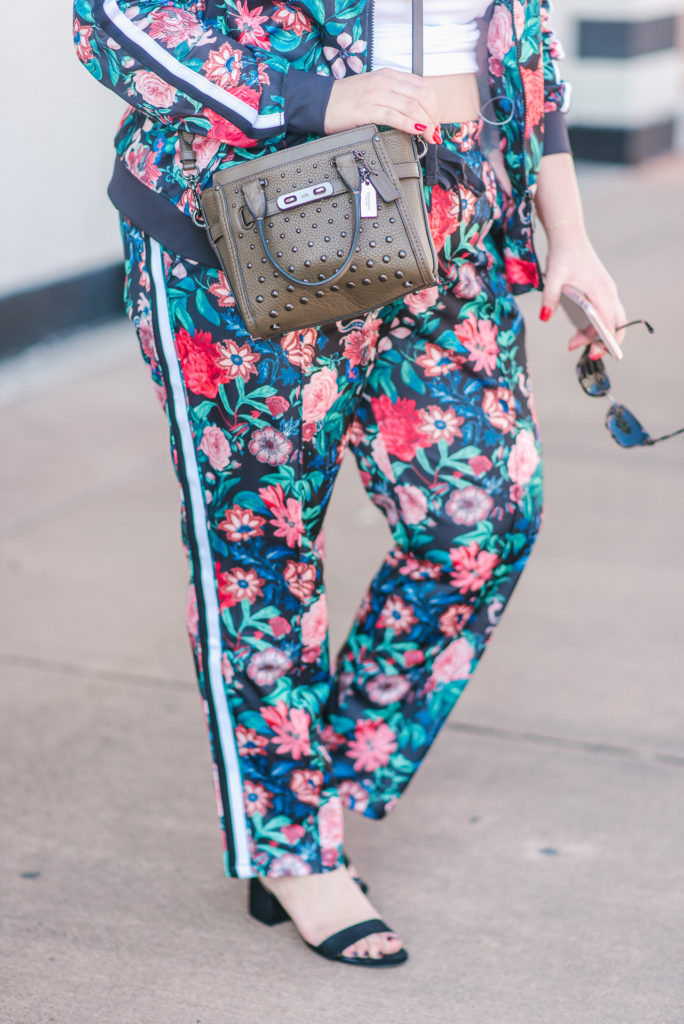 Can you spot my insulin pump delivery hose?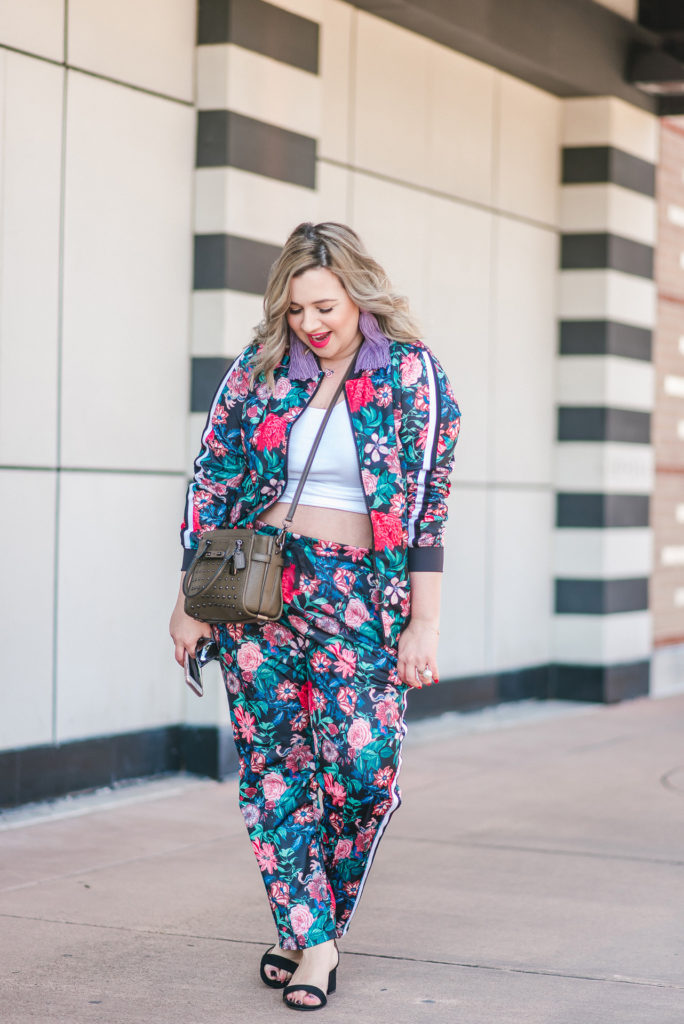 Photography by Banavenue Photography
Facebook Conversations