photo taken at The Balloon Room 2.0 by Big Ass Balloons 
tee and earrings from Heart Cru
* Disclaimer: I am not a health professional. I am just sharing my weight loss journey and everything that has worked for me during these weeks in hopes to convert to a healthier lifestyle and inspire you to do the same.
This weight loss journey has been a long time coming but it's something I had to feel I could be committed to because if you know me, you know I don't do anything without giving it my 100%.  Simply put, all the weight I gained and kept putting on after my pregnancy are pounds I got way too comfortable lugging around with me these past 2 years.
I was not motivated at all to lose it and thought I would work on it eventually but I never felt like drastically changing my lifestyle until recently.
How I Gained It
Let's rewind a couple of years when I got pregnant and thought that I would be indulging like every sappy maternity movie leads you to believe—well, that was not my case.
I had nausea and vomited through my nine months of pregnancy, my biggest cravings were cold, icy drinks, lettuce, and apples, everything else made me sick. When I had my baby my appetite came back and you better believe I ate everything my heart desired! Everything tasted delicious and that's when I gained all the weight that I'm now trying to get rid of.
With my weight loss I hope to improve my energy levels, relearn how to cook and snack in a healthier way, adopt exercise as a habit and, as a Type 1 Diabetic, I hope to use less insulin.
The 6 Week Weight Loss Challenge
About three weeks ago I saw an ad for a free 6 week weight loss challenge at a the ilovekickboxing in Sugar Land that also promised to coach me with nutrition but it cost $500. If I reached my weight loss goal or lost 6% of body fat I would get my money back—nothing more motivating than that! I accepted the challenge and now I'm here, two weeks in, feeling great but also knowing I have a long way to go. The challenge only lasts 6 weeks and I thought it would be a great way to jump-start this lifestyle change.
There are radical changes I have already made to my life that have made a big difference in the way I feel and how my clothes fit and I wanted to share them with you. I also want to inspire you to get healthier and adopt it as a lifestyle! Trust me, it as daunting to think I would have to get through a one hour workout and prep my meals intentionally adding enough protein and veggies. Two weeks in and I can tell you that I don't regret it.
Let's do this!
How I'm Planning to be Successful
Get Moving
One of the biggest parts of my weight loss journey is going to the gym 3-4 times a week. It's not my favorite part but I am seeing results already! My next challenge: going more than 4 times a week and taking the first class of the morning so life doesn't get in the way. Hey, even if cute workout clothes motivate you, go buy them but GET MOVING!
View this post on Instagram
Buy my cute workout outfit from Target here.
Prepare Your Meals in Advance
Having prepared meals in my refrigerator that are measured to my weight loss goal is key for me not to eat anything unhealthy. This also helps fuel my body as soon as I get back from the gym.To prepare yourself for meal prepping, make a list of what you are going to cook, make a list of ingredients and stick to the list at the supermarket. I cook everything at once and then just divide into the containers.
I bought microwaveable and dishwasher safe meal prep containers and it's made it so easy.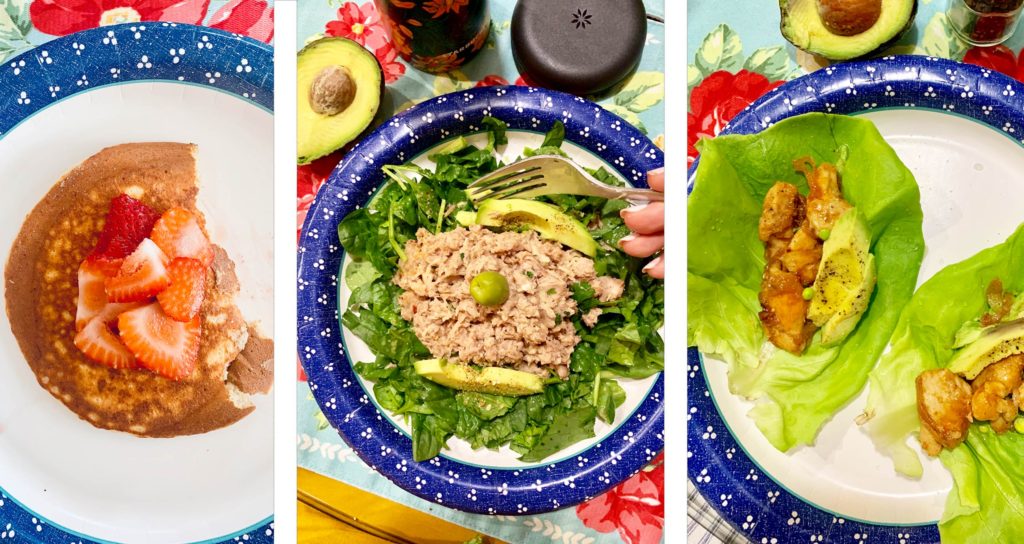 Some of the low carbohydrate meals I have made for myself to stay on track. from left to right: protein pancake, tuna spinach salad with avocado and lettuce cups with curry chicken and avocado.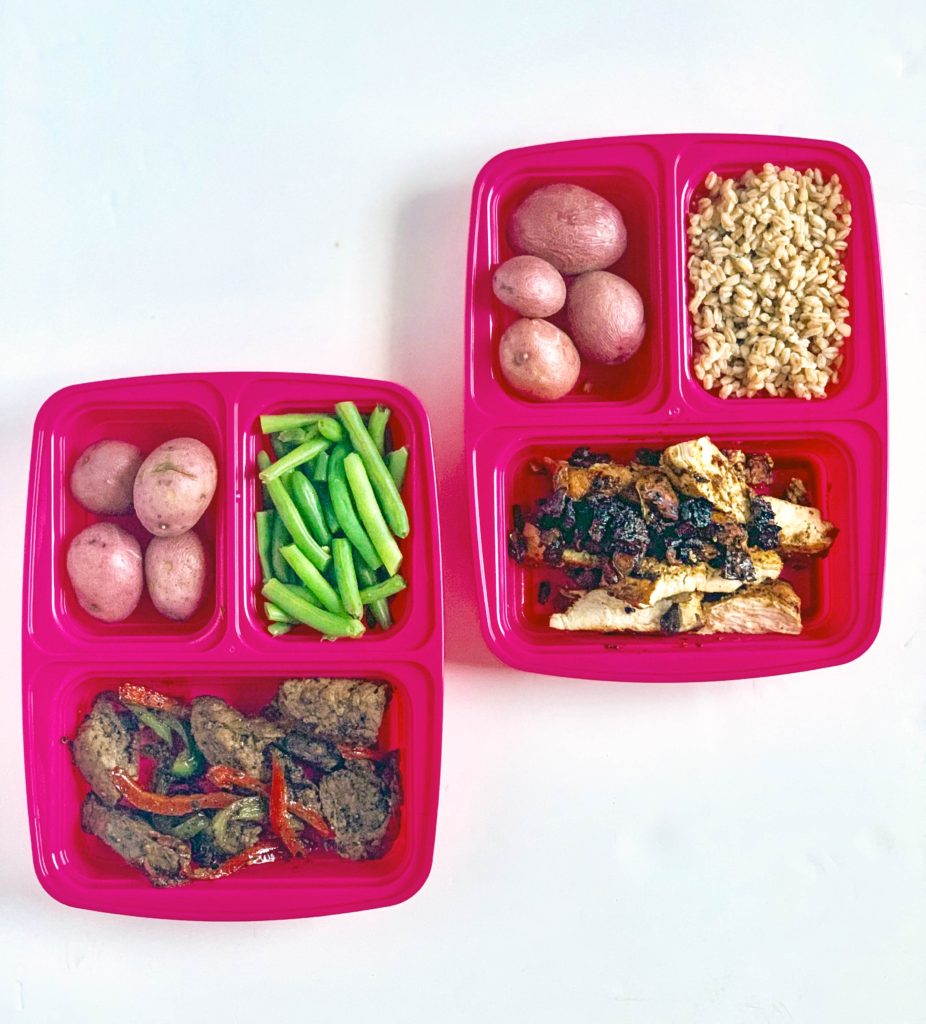 These are my meal prep containers. Each small slot holds 1 cup for veggies and carbs.
No Alcohol, Sugar, Bread, Milk
I drank and had sweets every single day on my recent trip to Europe which made me feel bloated and made me gain wait. I am on an alcohol, sugar, milk, and processed foods fast for now but do plan to sip on some red wine in the future but not during these 6 weeks. What I miss most is munching on chocolate, cake, sugary cocktails but I have slowly been finding ways to satisfy my sweet tooth in a healthy way. A rice cake with almond butter or Simple Mills almond flour crackers are great ways to get something crunchy in your tummy when you have a snack-craving emergency because they are no sugar and low carb alternatives but I don't recommend having any snacks.
Snacks
Snacks are not encouraged during my 6 week challenge but I have found on-the go tuna packs and protein bars (still finding the perfect one though!) to be healthy ways to curb hunger. Protein shakes are the number one recommendation but I have not found one that I like.
Have a Support Group
The gym I joined has a Facebook support group to check in at every workout, track our progress and to share meal ideas. This has been so amazing because it's something that keeps me accountable. Beyond that, my husband is on board with the portioned meals I prepared and he is cheering me on along the way and my mom told me I looked skinny the first time I came back from the gym. LOL!
Drink Water
I famously do not like to drink water. Give me all the fizzy, sugar free carbonated drinks and I'm happy. I downloaded a water tracker and my goal is to drink 100 ounces a day and I have almost met my goal every day these two weeks. My coaches advised I could use Crystal Light flavoring which has no sugar and no calories. I also carry a water bottle with me to refill. I can proudly say I have not had sugar-free sodas for two weeks!
Think of Your MOTIVATION
For me, seeing a photo of what I used to look like 2 or three years ago was not my motivation because my life is so incredibly different than what it was then. What motivated me was taking BEFORE photos for this challenge and seeing how bad I looked in this stage of my life. I want to be a better version of myself right now.
My clothes already fit a bit better and that's one of the biggest sources of motivation especially because I love fashion and have many unused clothes in my closet right now.
I am anxiously waiting to see the results in the photos of my third week weigh-in which I will share here. What motivates you?
Hope this helps to motivate you–from on slacker to another-
WE CAN DO THIS!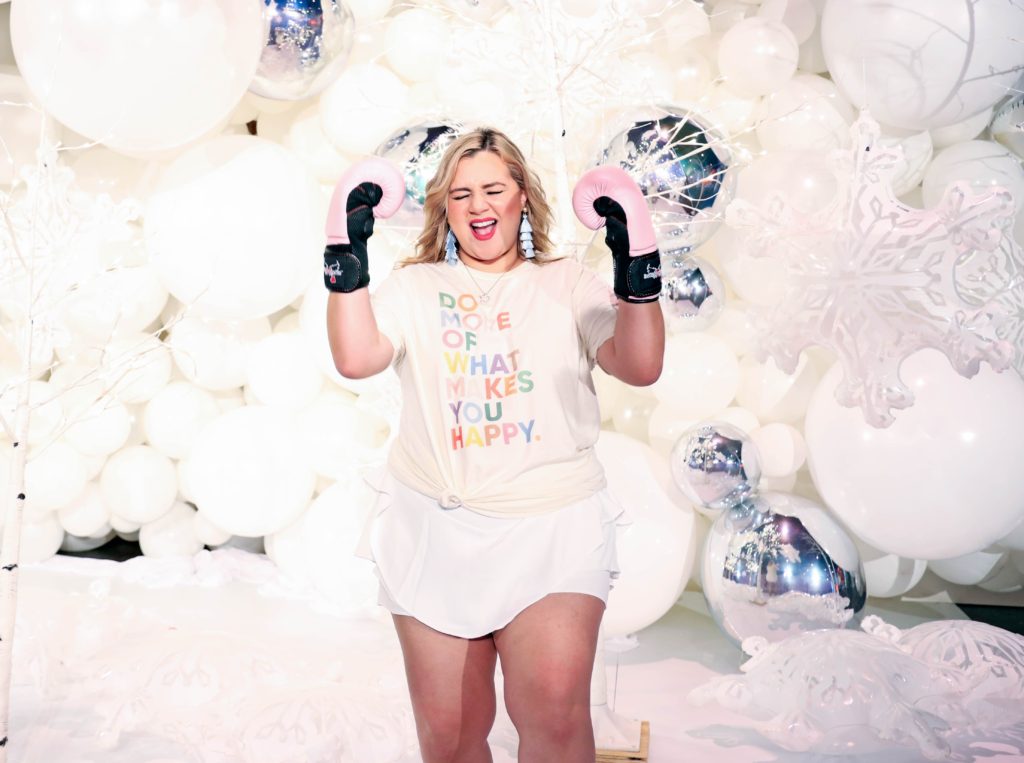 Would You Like a Recipe Post Next?
Facebook Conversations