*Orangetheory Fitness approached me to join their Weight Loss Challenge in exchange for my honest opinion about the challenge and their classes. I thought it would be great insight for my readers to know about my experience exercising and challenging myself after my pregnancy, c-section and being a Type 1 Diabetic since the age of 5. I hope you enjoy this 3-part series on the blog and follow along my Instagram stories for live before and after thoughts on the classes.
I Lost Weight!
Last week, during the Weight Loss Challenge weight check in I found out I had lost almost 4 pounds (maybe today I have lost more but I haven't weighed myself again). I was ashamed and a bit disappointed but then, I thought about everything I went though to get to that point. When I first started this journey with Orangetheory I could not do sit ups because of my c-section and now I could. When I first started, I was scared to bump up the numbers on the incline on the treadmill and now I wasn't. I improved and because of that I lost weight and I'm very proud of my progress.
I also find so much joy in walking around the neighborhood with Nicolas. I love going out for walks now that the days are cooler.  Staying active even on the days where I don't have an Orangetheory class helps make exercise part of my life. It's also so much more fun to go out and walk with my baby boy than go out by myself!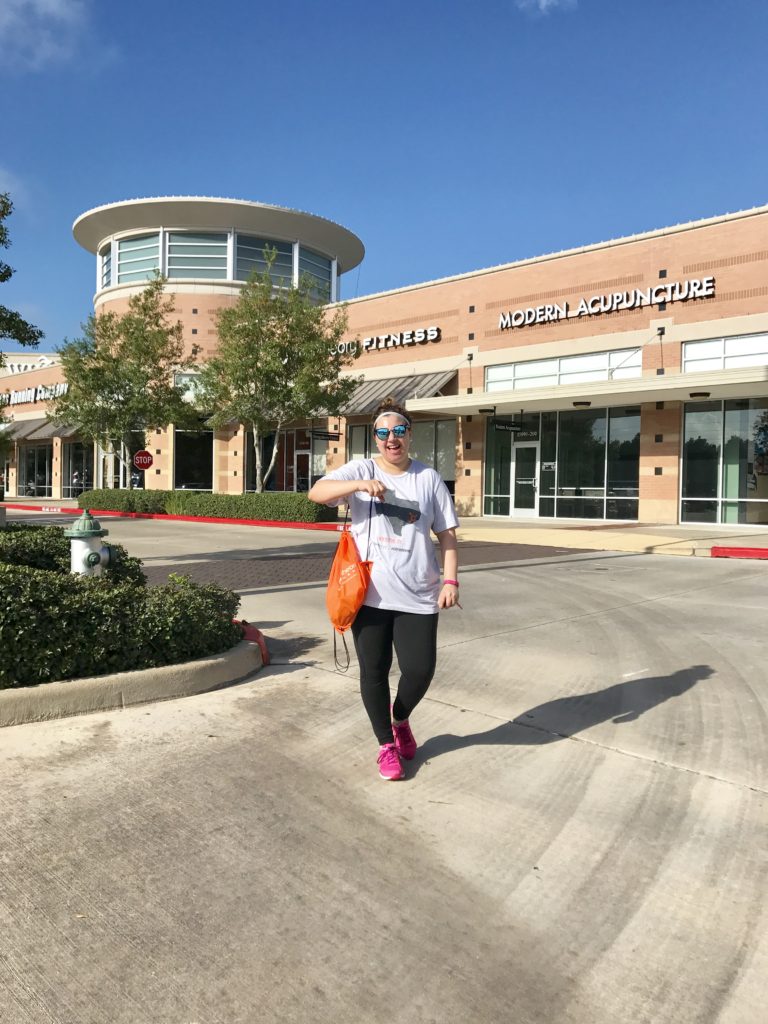 The Weight Loss Challenge is Over, Now What?
For the duration of the Weight Loss Challenge I agreed to schedule three classes a week and I completed the challenge and never missed a class. If you followed along on my Instagram stories you'll know one or two times I had to leave class early because I had discomfort around my c-section surgery or my blood sugar dropped to 40. Other than that, I've pushed myself to complete the workouts and it felt amazing afterwards.
Now that the challenge is over, I don't want these workouts to be over. I feel that I need them in my life from now on. They have been so beneficial in my recovery from my c-section and they've made me realize I'm stronger than I think. Not to sound vain or anything (but I mean, who doesn't like to look good right?) but I feel I look better and I'm more comfortable in my clothes. Two months ago, I would have never tried to fit into my tight jeans and now I wear them everywhere. Bye bye maternity shorts!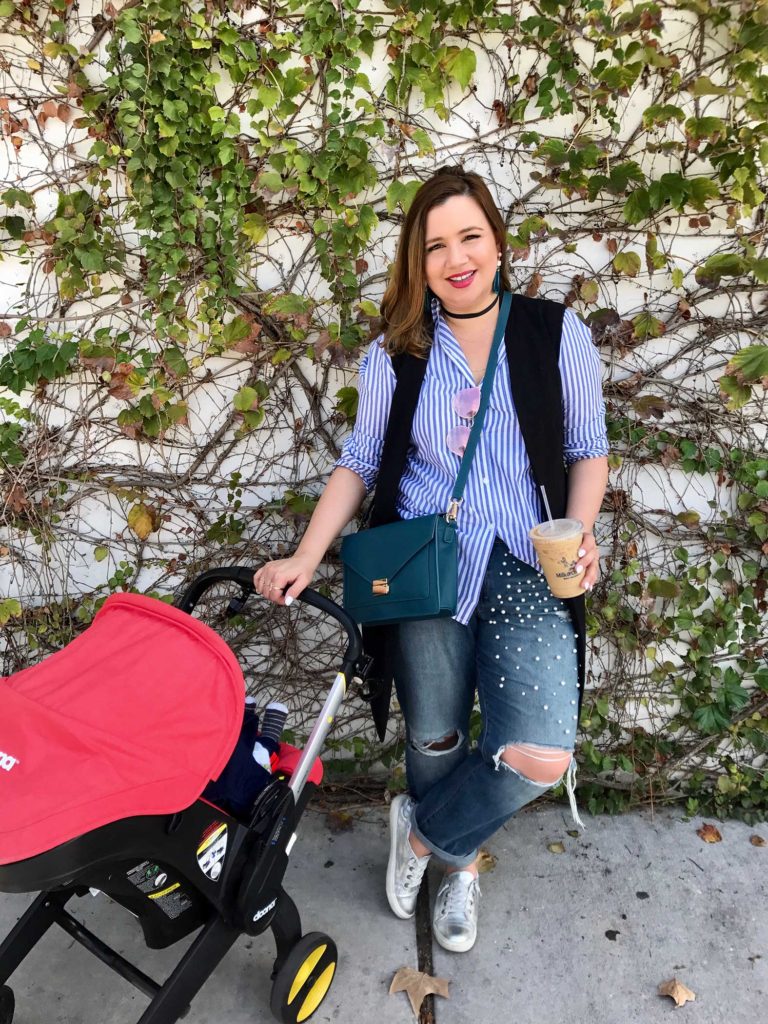 The best testament to how I feel? An unretouched photo!
Who Should Work Out at Orangetheory?
I strongly believe the Orangetheory workouts have been so impactful on me because they are always different. I'm a person who gets bored easily but having different trainers and different workouts every day keep it interesting for me.
Also if you have an Orangetheory Fitness studio less than 10 minutes away like I do, just go try it. It'll change your life and it'll give you zero excuses to miss a workout. If my gym/fitness studio is farther away than that I won't drive to it.
On a Lighter Note…
I want to end this post on a light note and give you some quick tidbits of my experience with Orangetheory. I thought it'd be fun to end it with a quickfire round of questions and answers below:
Studio Location: Orangetheory Fitness Sugar Land
Favorite Fitness Coach: Dylan or Andrew
Funnest Workout Playlist: This one is from fitness coach Andrew. He had a mix of Madonna, Britney Spears and Shania Twain!
Song I Never Knew I Liked Working Out To: "All I Do Is Win" and "Turn Down For What"
Hardest Workout: Sit up on the bosu ball (I can do a regular sit-up but this one is just harder for me because I have to keep my balance!)
Favorite Workout: Row and Run Days!
Favorite Time To Workout: Mornings
Favorite Thing To Eat After a Workout: Hearty Salads or (a healthier version of) Broccoli Cheese Soup. Find the soup recipe here!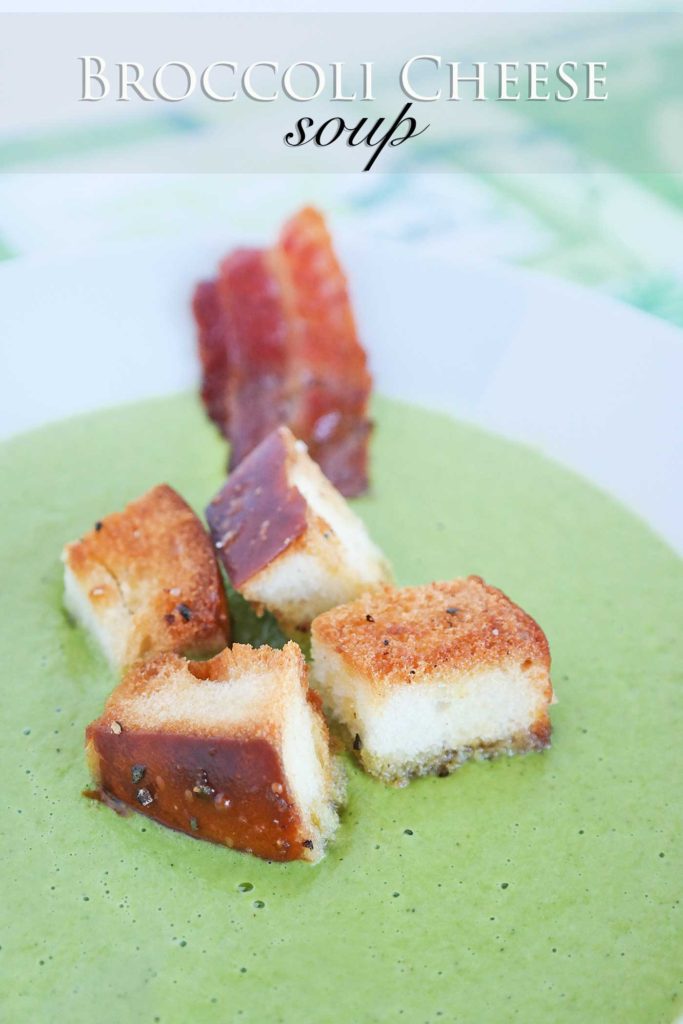 This soup is packed with broccoli and spinach. I love it after my work-outs!
I want to give a huge shout-out and thank you to Orangetheory Fitness Sugar Land for helping me feel normal again after my c-section. Working out here after my pregnancy and surgery recovery was more that I could have asked for! I hope to continue working out here.
Orangetheory Fitness offers several membership options at various prices. If you're interested in a membership, then please call or visit the studio nearest you. For a list of locations, visit their website.
Facebook Conversations