(Updated November 12, 2020)
When we moved into our new home we bought ourselves a well-deserved house-warming gift: an espresso machine. When traveling in Europe with my hubby to visit his family who lives in Spain there is one thing we enjoy after every meal: coffee. We can finally recreate our favorite espresso drinks at home with our Breville Barista BES870XL Coffee Express Machine.
SHOP THE POST:
We love coffee in the morning, as a mid afternoon pick me up or as dessert in an affogato—-we can drink coffee anytime.
Growing up in Honduras, I started drinking coffee when I was 6 years old at my grandmother's house who prepared a delicious milky concoction that I can still smell when I think about it. As a grown-up, I could drink it without creamer because it was that smooth and tasty to me.
We bought ourselves this espresso machine after having many drip coffee machines, a coffee pod machine, milk frother, coffee grinders and this machine has replaced all of those gadgets.
Even though this machine looked intimidating, I followed the short instruction manual on how to use it and it was very user-friendly. In a span of a month I felt (and according to my husband) looked like a pro!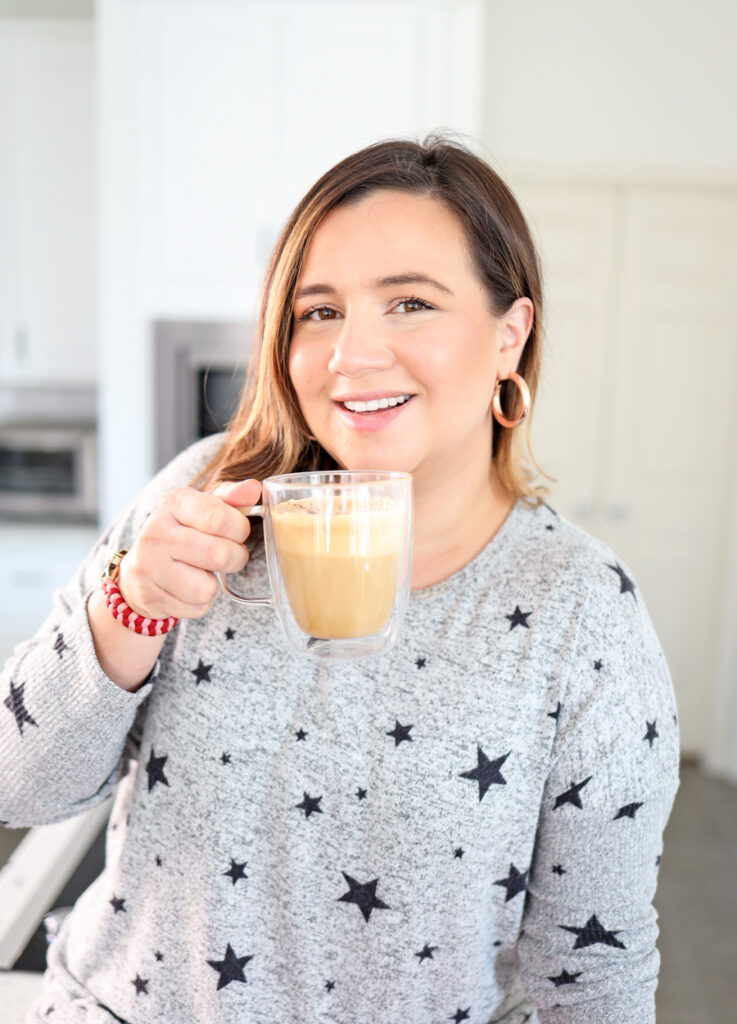 Is it worth the price?
When thinking of a sophisticated espresso coffee machine I would start thinking about your budget because they are not cheap. What I discovered in my research is that a machine with a coffee grinder integrated to it is more expensive than one that only makes coffee with pods. We buy a lot of whole coffee beans so we knew that an integrated grinder was something we wanted to invest in.
These coffee machines can start anywhere from $500 and go up to $5,000! Our budget allowed us to spend around $700 on this one and we feel it was worth the price because we enjoy the quality of coffee we drink daily, love all the different espresso drinks we can prepare, it's easy to clean and maintain and it looks sleek on our counter.
I did not make any Starbucks visits during quarantine I was able to recreate a lot of my favorite hot and cold coffee drinks at home and according to my machine, I did successfully brew more than 200 espresso drinks in a month or so! If you want to get mathematical, 200 drinks at Starbucks would be around $800 (at $4/cup) so I can say the machine has already paid for itself.
My family even started making fun of how much they loved "Nikki's Coffee Shop" any time they visited because I was whipping 5 to 6 drinks per visit.
What do you make with your machine?
I make a lot of double espressos with my double filter basket and I make White Chocolate Lattes, Cinnamon Roll Lattes, Cortados (I owe you this recipe) and even hot tea since the spout at the right dispenses boiling water.
The most valuable thing to me is being able to prepare my coffee drinks with sugar free syrups as well as plant-based creamer all in the comfort of my own home.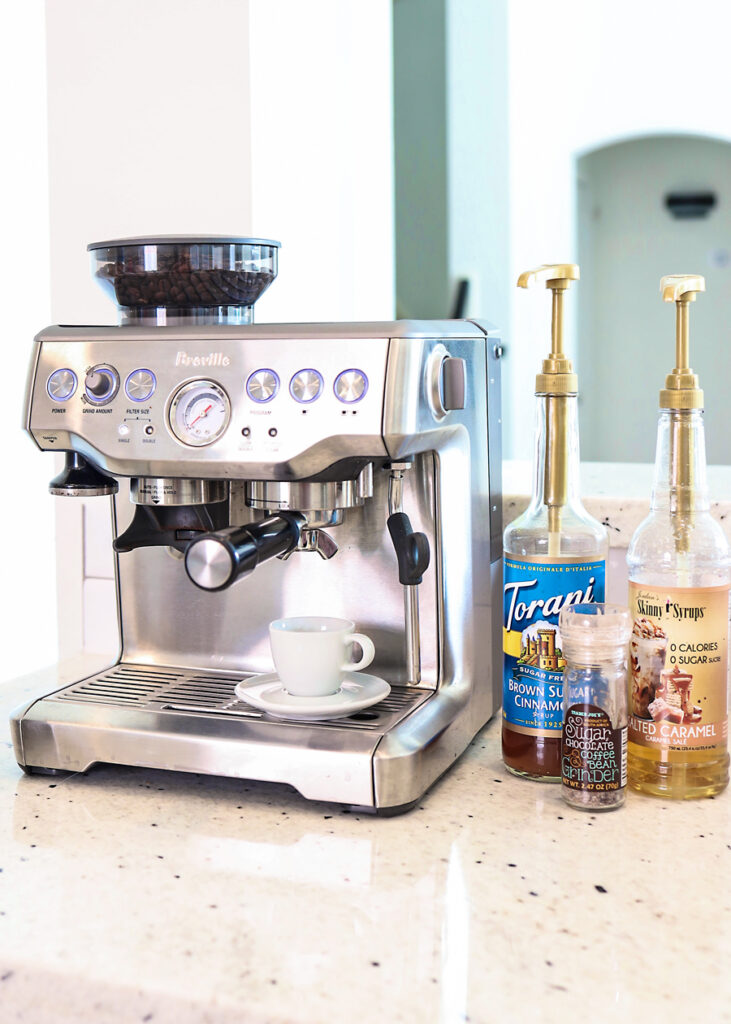 What 'cool' features does it have?
This machine comes with a milk steamer which is great for a latte or a cortado which require frothy milk. The different coffee filters for a single or double espresso as well as for ground coffee are convenient but let's be honest, I mostly use the double shot filter. There's also a hidden drawer where you can store these filters as well as the cleaning supplies so everything is in one spot.
The auto-clean feature is also really cool and unlike my other coffee machines. This Breville prompted me to start the auto-clean process after 200 espressos. The machine self-cleans itself in a short 6 minutes and all you have to do is press a button.
I have also been wanting to make my coffees with extra foamy milk which is why I ended up buying the most popular and affordable milk frother that will turn milk or half and half into the creamiest, frothiest creation for cappuccinos and frappes.
The Only Thing I Don't Love
When using the built-in steamer for the milk, you have to immediately clean it after use or the milk gets stuck on the steamer wand. Yes, it happened to me and it's much easier to clean the wand after every use than to try to do it later.
One Thing to Keep in Mind
Three months after purchasing our espresso machine, we are completely obsessed with it. I have not gone to Starbucks once and my husband even went as far to say that the coffee I make now is the best.
A couple of weeks ago though I decided to change the grind level on my coffee beans so that they would be the finest grind. Two weeks later I realize that was a huge mistake?
My double wall espresso filter has clogged up and I was not able to make my double shot espresso like always. The problem is unclogging the filter is not easy and we might even need to replace it. So whatever you do, keep your grind level between 6-8 so this doesn't happen to you.
P.S. My husband is currently trying an alternative way to unclog the filter because the way Breville suggested (using a mixture of decalcifying tablets and boiling water) is not working. I'll update this post and let you know if what he is trying works!
Other than that, this machine is a winner in my book and I would recommend it to any coffee lover or as the ultimate birthday or Christmas gift for a loved one.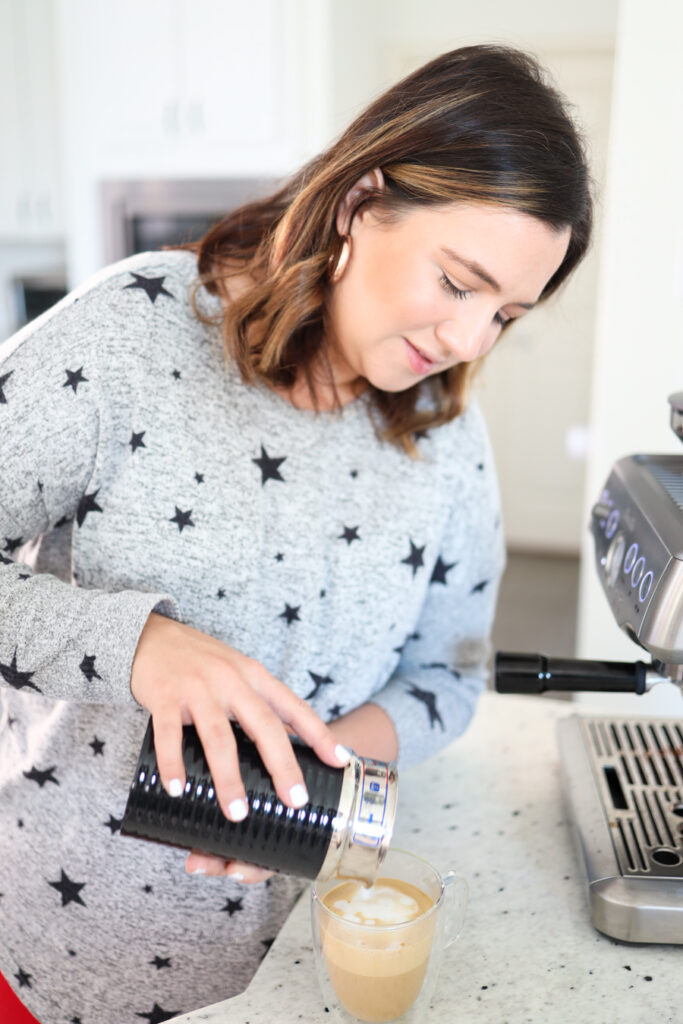 SHOP THE POST: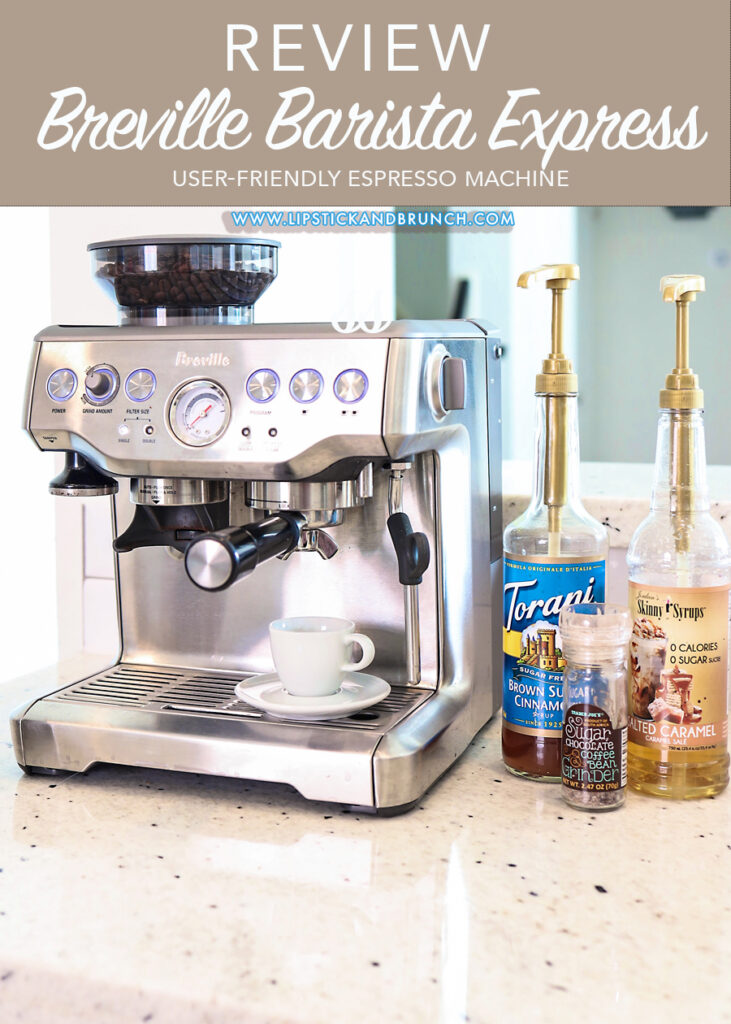 Facebook Conversations