I've lived in Sugar Land, Missouri City, Texas for 8 years now.  I used to be an inner city loop girl but my heart now belongs to the southwest side of town. Even though I still love to explore the vibrant dining scene in Houston, I have to admit that driving 5 minutes to our favorite Mexican or sushi place is what we do most often as a family.
I chose to highlight the following restaurants because they had a combination of these factors that I'm always looking for when going out to eat: great environment, yummy cocktails, delicious food or appetizers (with healthy options), friendly service and a comfortable price point. If you don't see one of your favorite Sugar Land/Missouri City restaurants it might be because it didn't satisfy one of my requirements.
Here's a comprehensive list of the places we keep going back to:
Mexican/Tex-Mex
Chuy's  Affordable family restaurant. Big portions. We love the nachos, fajitas and margaritas.
Escalante's  Family friendly at an upscale price. We order the beef fajitas for two and margaritas (or I get their newly added Ranch Water). Great for happy hour.
Torchy's Tacos  Seasonal taco specials, delicious margaritas and I love to order the taco bowls (no tortilla). Kid friendly and counter service.
Los Tios My favorite tortilla soup is here, their beef street tacos can't be beat and their skinny margaritas are the bomb!
Breakfast / Brunch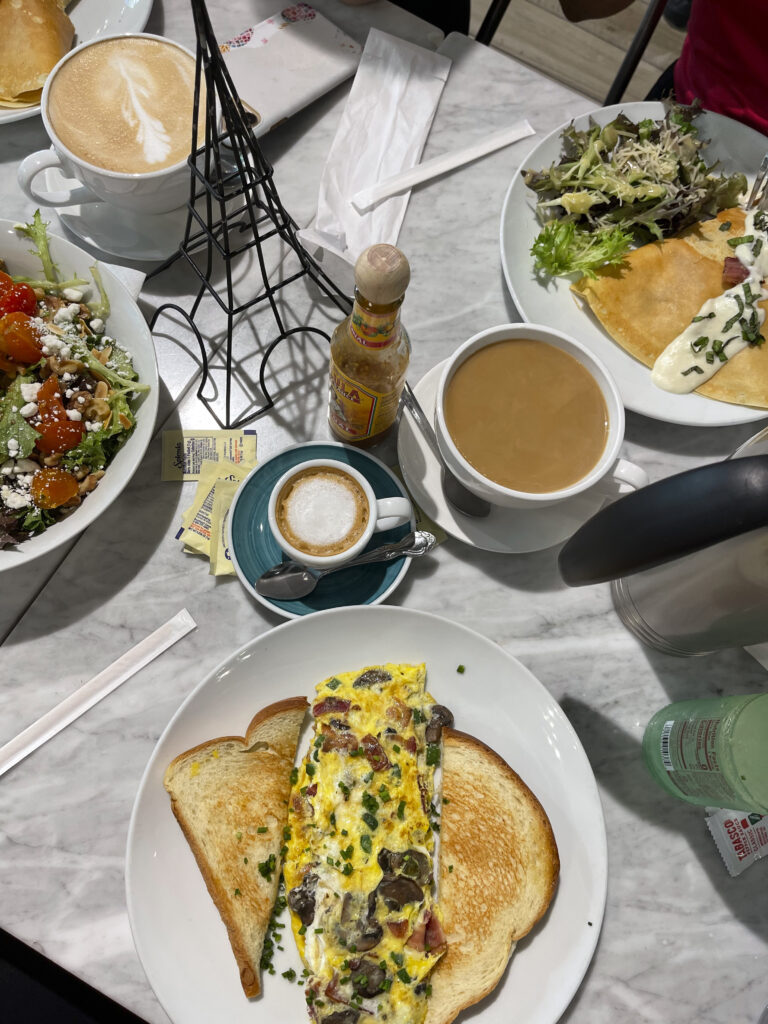 Breakfast at Sweet Paris
Sweet Paris at Sugar Land Town Square – our new breakfast/brunch favorite. Yummy creeps, waffles and omelettes a la carte as well as my favorite Americano. They have specialty coffees too. My husband loves the Nutella coffee.
Los Tios has a delicious Sunday Mexican brunch. On the menu: chilaquiles, sunny side up eggs with refried beans, coffee or micheladas. Delicioso!
First Watch has a tasty breakfast, lunch and brunch menu full of sandwiches, salads and seasonal juices. The best part is you can have brunch all day! Open from 7:30AM-2:30PM.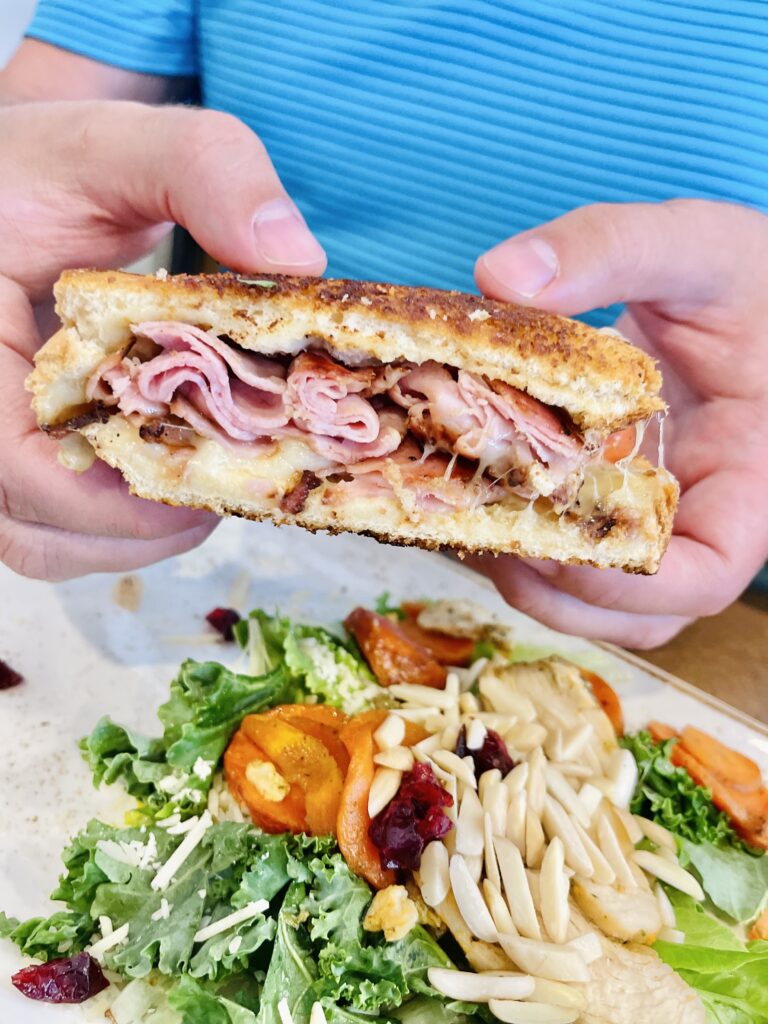 Sushi
(main photo)
Top Sushi The staff know us by name and we love that there's always a chill vibe here. I love ordering the Bare Beauty roll (keto), the Beef Rolls and Yuzu Tai. My husband loves the Louis V and Crab Crunch Roll. Perfect every time!
Keepers Delicious sushi and friendly service in a family atmosphere. Thsi place is very popular on Friday nights so steer clear because you won't be able to get a table!
Aki Steak and Sushi This was our sushi spot before March 2020. We sat here every week with our son and loved their tempura veggies, sushi rolls and fried rice. Great service and great price for everything you eat.
Mediterranean
Fadi's The endless amounts of fresh Mediterranean food from fresh made pitas, different types of hummus, lamb shank, chicken, Greek salad, tabbouleh salad and desserts like baklava are going to make your mouth water. A family favorite which we always take our house guests to!
Red Oak Grill This place brings all the homemade flavor to it's gyros, shawarmas, tzaziki and rice. This  is one of my husband and I's favorite!

American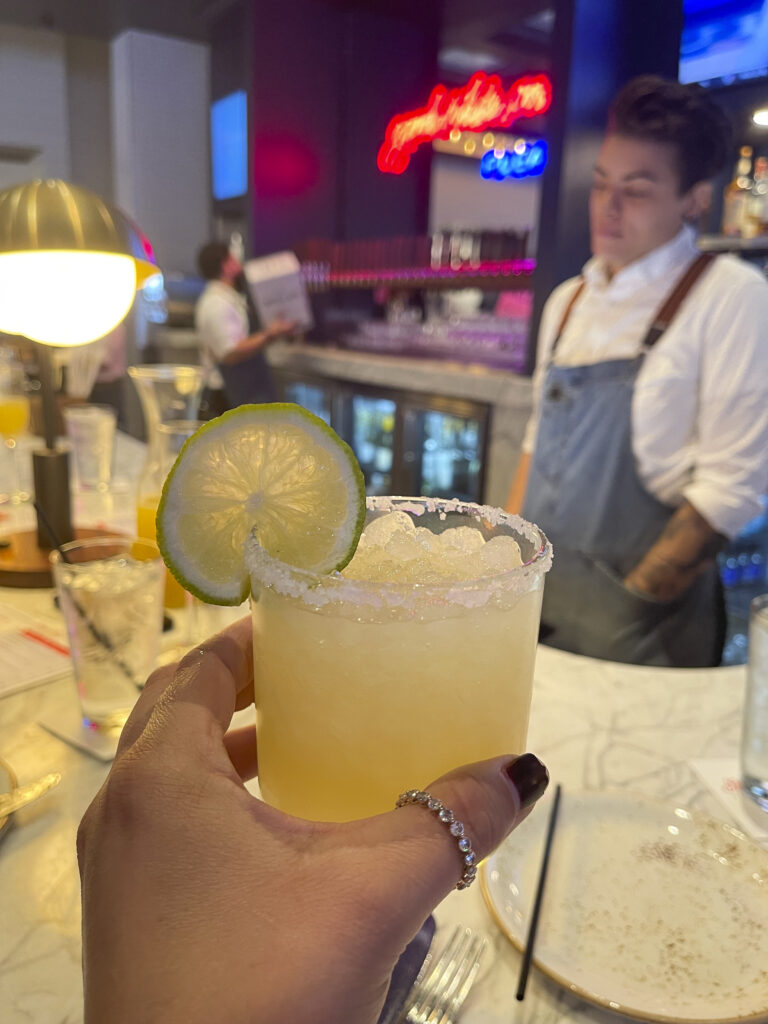 The bar at State Fare
State Fare Located at Sugar Land Town Square. I love their hush puppies, margarita flight (one margarita good enough for one person) and their kids meals. Their bar area is super sexy and great for date night.
Brandani's Restaurant and Wine Bar I dare say they have the BEST lunch menu for $18 in Sugar Land/Missouri City and you have to try it. Don't miss their bread pudding with rum sauce as dessert and Crab and Shrimp Marco as an appetizer. We are regulars here and visit once a week.

Brandani's Burgers and Tacos One of our family favorite spots. My son loves to order the quesadillas, my hubby loves the burger and Birria Sandwich ( not available every day) and I usually go for the grilled sandwich in a lettuce wrap or fish tacos. The Brandani's Cobb Salad is a favorite of my husbands' and I and we order it A LOT! It's got bacon, candied pecans, blue cheese, we add extra grilled chicken and ask for the lemon shallot vinaigrette.
Alex's Kitchen A hidden gem in Missouri City. You would never know it's fantastic spot by looking at their social media but we hit the jackpot when we ate here for the first time. Delicious pastas, indulgent desserts, great service and HUGE portions ( I usually eat half and take half home). We even ordered our 2021 New Year's Meal here and it was superb!
Pizza
Jupiter's Great for a sit down family lunch or dinner, their variety of pizza toppings makes for an exciting outing!

Mod Pizza We love it because we each get a pizza our way (choose from cauliflower crust, gluten free, thick crust  and tons of ingredients etc.) , they also have salads and kid size pizza. Super affordable.

Blaze Pizza  Similar to Mod pizza. We also love it!
Dessert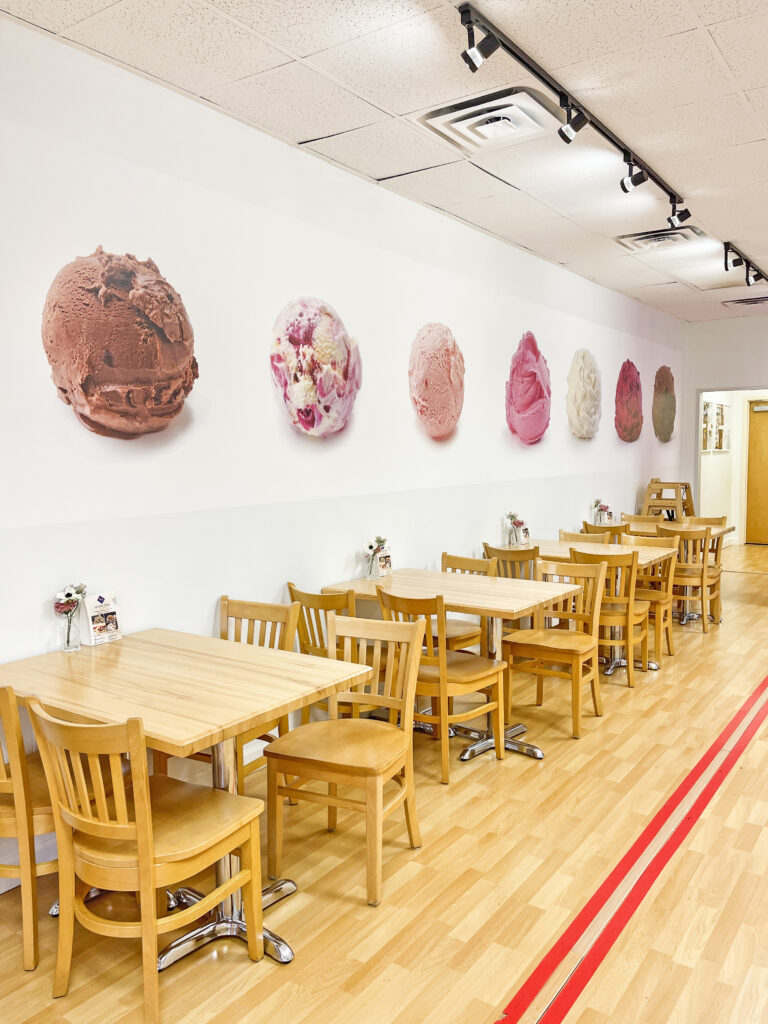 Gelato Picks in Sugar Land
Gelato Picks – A cute spot to try seasonal gelato flavors, espresso coffee drinks and exquisite panninis (try their salmon pannini, it's so delicious). Open from Wed-Sunday. See our visit with my son here.

Kilwin's – Our favorite place to stop for ice cream after dinner. They have the best chocolate covered pretzels (my favorite) and chocolate confections to give as gifts.
Somi Somi Ice Cream This soft serve and taiyaki (Japanese fish shaped waffle cone) is Instagrammable and so epically delicious. Choose your toppings and soft serve flavor. We usually share one with the hubby.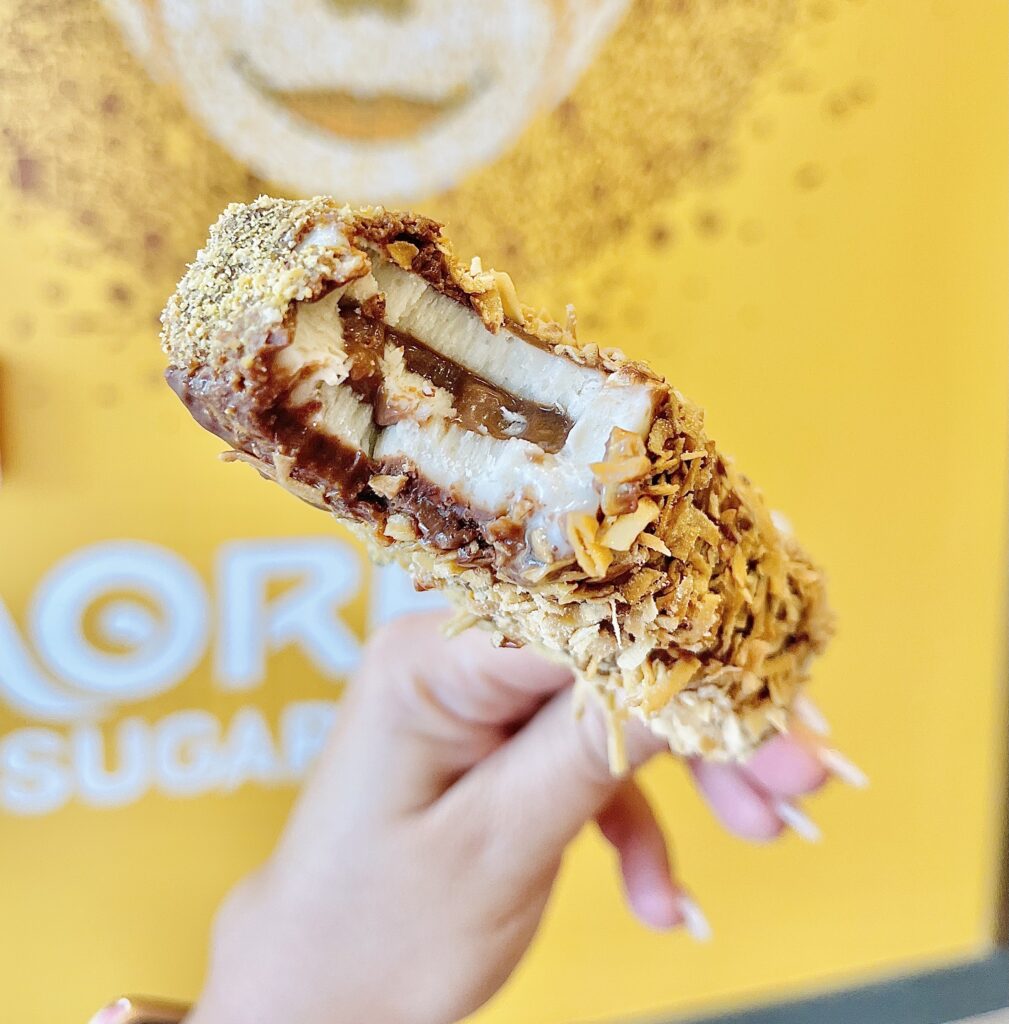 The banana paleta filled with Nutella, dipped in white chocolate and sprinkles with graham crackers
Morelia Gourmet Paletas Now open in Sugar Land Square. These hand-crafted paletas made with natural ingredients can be dipped, sprinkled, and smothered in a variety of ingredients. Bring your sweet tooth!
Decadent Sugar Land If you're looking for a variety of pastries , cookies, massive cake slices and milkshakes then this is your spot.
The Sweet Boutique Bakery Famous for their ultra delicious mochi donuts we are also a fan of their cupcakes, cake pops and macarons.
Red Circle Ice Cream We loved the delicious soft serve with freshly made Spanish-style churros. Nothing can beat this cinnamon sugar creamy combination. Their hand-crafted ice cream was delicious too!
Healthy
Main Squeeze  Craving a protein smoothie, green juice or acai bowl after your workout? Visit them in store or drive thru for an endless variety of healthy and fresh options.
Republic Roots I absolutely love their acai bowls and their cozy location perfect for getting some work done.
Chinese
Alings Spicy and exciting are two words that come to mind when I think of Alings.  Their portions are great for sharing and great for groups. We love their spicy shrimp appetizer and fried rice.
Thai
Thai Cottage They remodeled their location in 2020 and it has the same delicious food in a stunning setting. I always order their Wings of Paradise, medium spicy Chili Paste or Green Curry with broccoli. YUM!
Vietnamese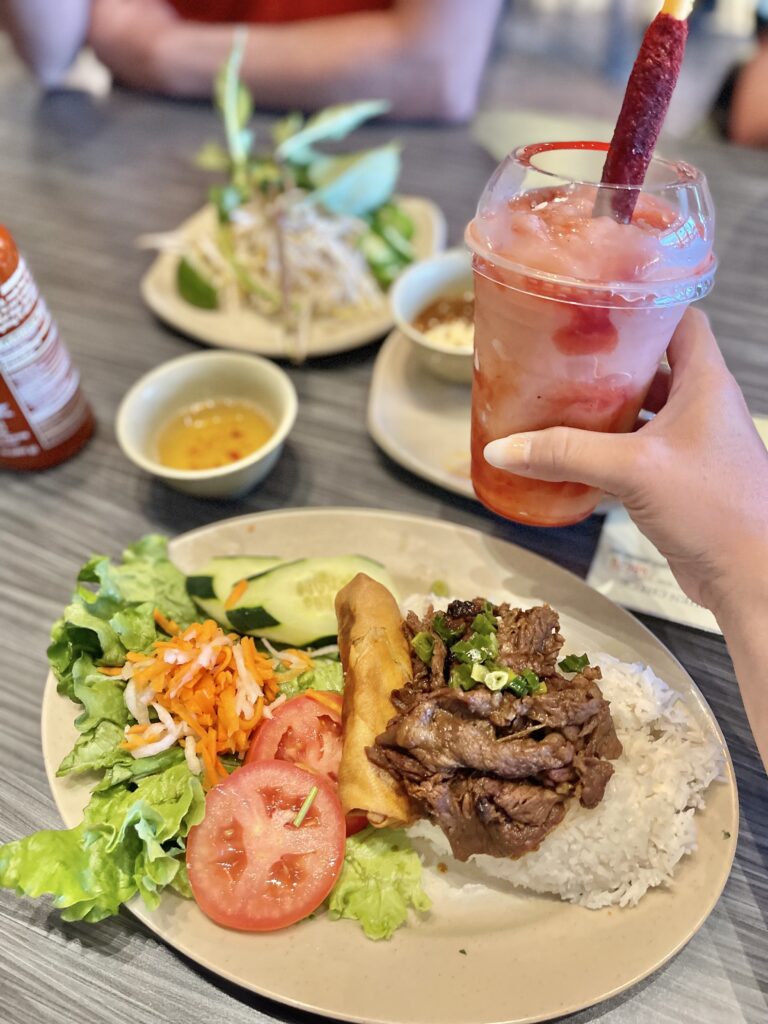 #49 at Pho Ben which includes chargrilled beef, rice, fried egg roll. Guava Blast blended drink with tamarindo con chile straw.
Pho Ben Nothing hits the spot on a cold day than steaming hot pho with chargrilled pork. We also love their beef spring rolls and Vermicelli bowls.
Indian
Nirmanz Boutique – We have only been here twice but their Instagram-worthy cozy interior and Indian street food is so good. Family friendly.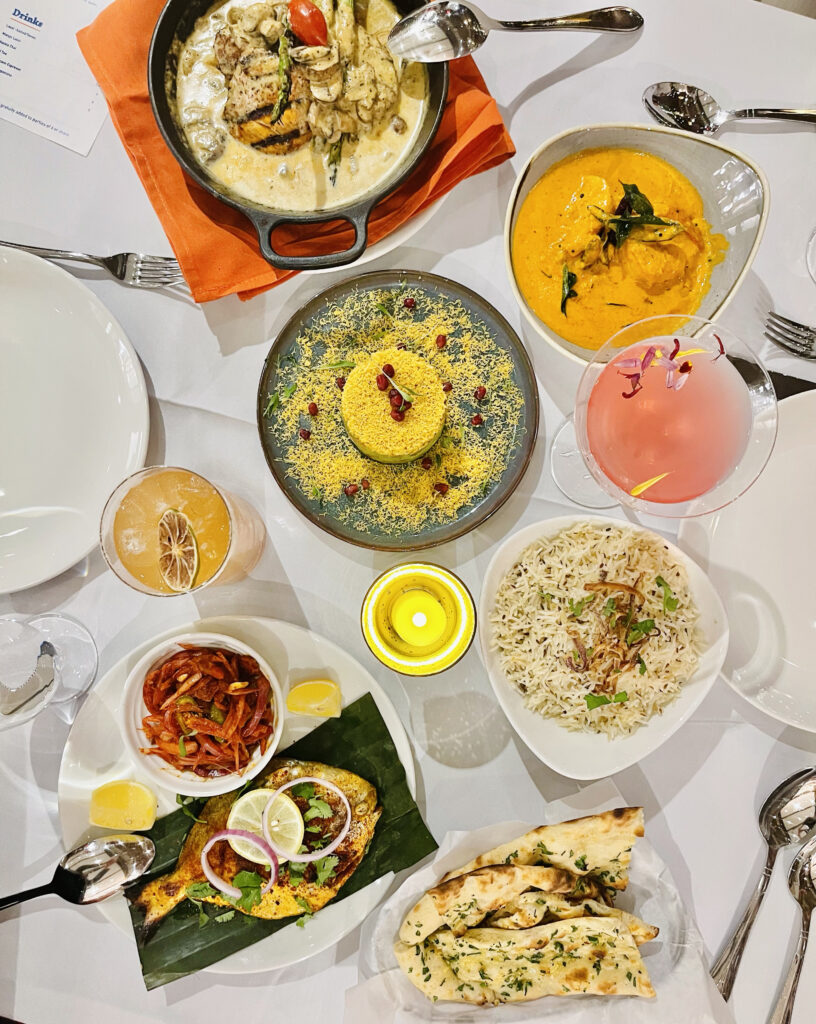 Mahesh's Kitchen at Sugar Land Town Square
Mahesh's Kitchen I got invited to dine here and it was the perfect date night trying out new dishes like the Avocado Behl, Toofani Chicken, Goan Shrimp and the Mango Chair Sorbet. And don't sleep on their yummy cocktails-their Tamarind Margarita is one of my new favorites! Check out everything we ate here.

I hope you try any of these amazing restaurants unique to Sugar Land and Missouri City! If you try one out and love it, let me know! If you think I missed a restaurant on the list, shoot me a message at [email protected].
Facebook Conversations