*Vegamour gifted me with the products in this post. I have been using them for a couple of months on an off . All thoughts and opinions are my own.*
Do you have thinning hair and shedding like me? My post-pregnancy hair experience was terrible: there was hair in my brush, hair on the shower floor and not a lot of hair on my head! (Where was Vegamour then!?) I thought my hair was thin and scarce before being pregnant but I used to have it all: straight, shiny bouncy hair and no shedding.
Treating hair loss at almost 40 is not a one-stop shop, you have to consider so many factors like genetics, stress levels, the quality of your sleep, nutrition, vitamins and supplements. A deficiency in any of these factors affects your hair growth. The women on my dad's side of the family all have thinning hair so I have that against me and they never advised me on what products to use when my turn to experience this came around.
Vegamour sent me three of their products to try to combat hair loss and I've been using them for a couple of months. Here's my step by step hair growth treatment routine: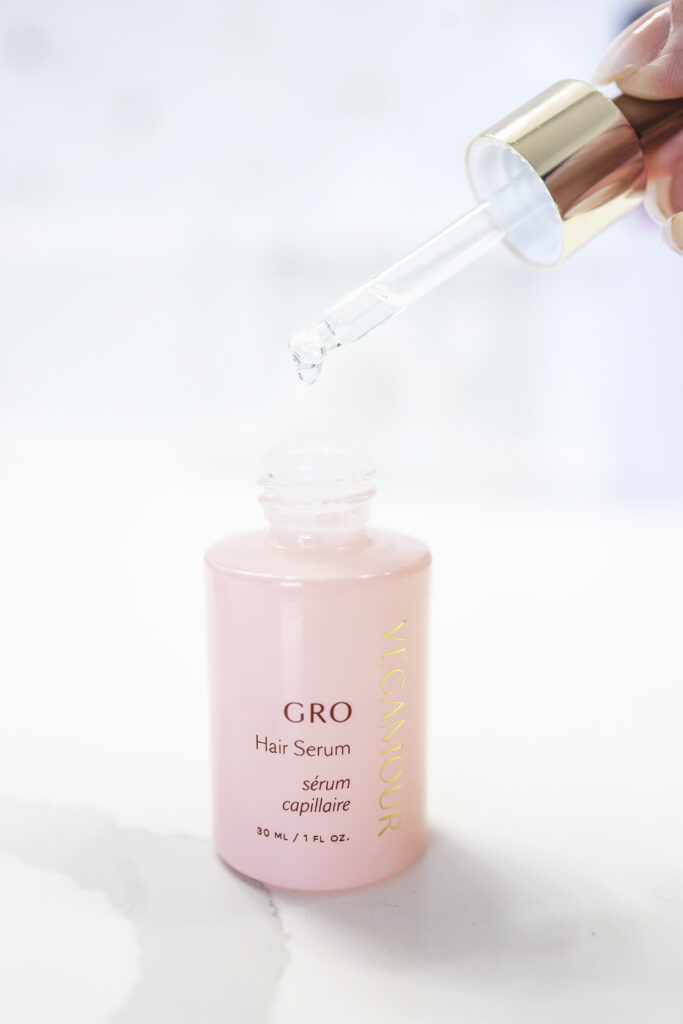 This is the product I get most asked about when I use it on my Instagram stories. The number one question after seeing me fill the dropper with a full dose of serum is if it's oily and the answer is no. This serum goes on like droplets of water on your scalp without disturbing your hair style. I apply it on my towel dried hair on all my scalp and massage lightly. It promises results in 90 days with peak results at around 120 days and it's safe for every day use. It also prevents shedding which is what I've mostly detected. My hair brush and shower floor have a decreased amount of my hair which means it's working!
I take one of these delicious biotin gummies every morning. Their gummies promise to nourish your scalp and strengthen you hair. Their gummies are made with biotin, folic acid, zinc, as well as vitamins B-5, 6, 12. Biotin is also great for brittle nails and radiant skin. Naturally occurring Biotin (or Vitamin B) can also be found in eggs, milk and bananas so be sure to include those in your diet.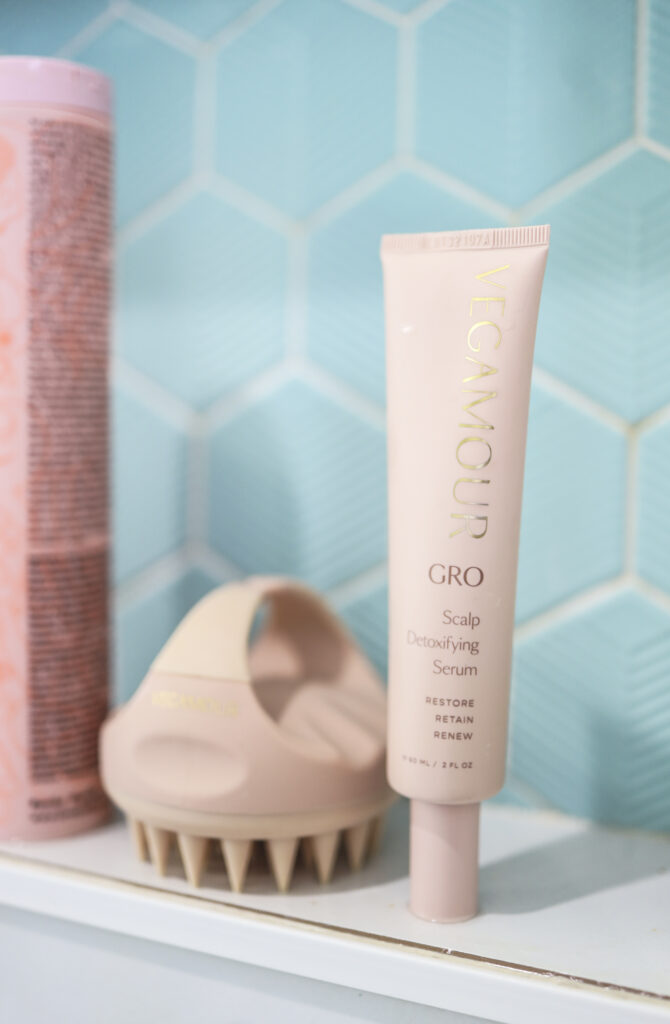 Vegamour GRO Scalp Detox Treatment
I don't wash my hair every day (I just imagined my mother cringing when reading this). I preserve it's freshness and avoid oiliness with dry shampoo but that can cause build-up. When it's my hair wash day, which is usually after a boxing session at the gym , this scalp treatment is what I use once a week. It's great for gently removing build-up caused by sweat, hair products and oil. It also soothes any irritation and supports the scalp's natural moisture barrier. It's a real treat when I massage it in with a shower brush for 1-2 minutes (leave on for 8 minutes after that).  How I know its working? My hair stylist and colorist comment on how healthy my scalp is and how quickly my hair has been growing.
Have you used any hair loss products  should know about?
I hope this helps you out if you're experiencing thinning hair like I am. You're not alone and it's more common than you think. I'm just grateful that we know so much more about treating hair loss and it's something I talk openly about with my friends. I never heard my family talk about it but I plan to change that and share as much as I can with you.
SHOP THE POST:

Facebook Conversations