We recently staycationed at the Marriott Marquis in downtown Houston to celebrate Mother's Day and have been toying with the idea of doing it again for summer because we loved our time there as a family. I had been wanting to stay at this hotel because they have a lazy river in the shape of the state of Texas and it's walking distance from a lot of places that we love in downtown Houston like Discovery Green, Xochi and the George R. Brown Convention Center. We have not traveled as a family since 2019 so this was exciting and a bit taunting because our 3 year old toddler is included in the mix. We packed our bags from Sugar Land to Houston and made it a family weekend from Friday to Sunday. I wanted to share our unplanned weekend and what worked to entertain my son, make our days special but also relaxing. Hope you enjoy it!

Ask me what my son was really obsessed about during our hotel stay: the different astronauts in every elevator.

Our Room
We paid a bit more for the room with the Texas-shaped pool and it was worth  it. My son was in awe at the ceiling to floor windows and you can't beat the view of night of the downtown Houston skyline and lit up pool. We asked for a king bed (we have a queen size at home) and the three of us slept incredibly well with enough space to move.
Parking
There is self-parking for your car but if you know downtown Houston you know that's not easy to find. There is valet parking which was a no-brainer for me but it has a steep price. It is $45 overnight which was OK because we never do this. Then there was the real regret the next day: the Sunday checkout line to get your car from VIP was not a nice Mother's Day gift. I bet the wait in line is not as bad on such a popular holiday so we'll still do valet next time..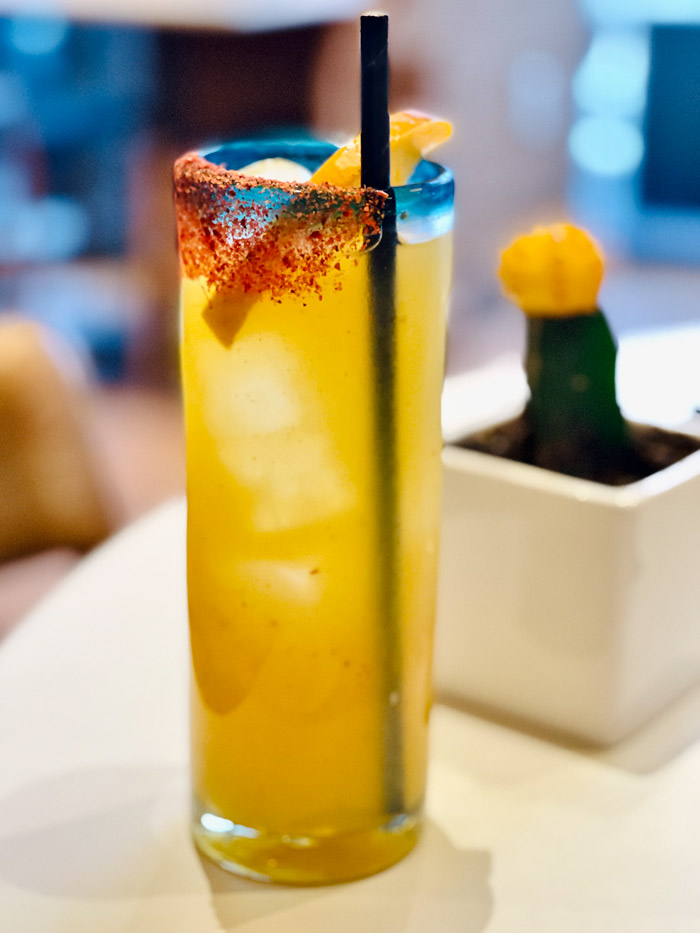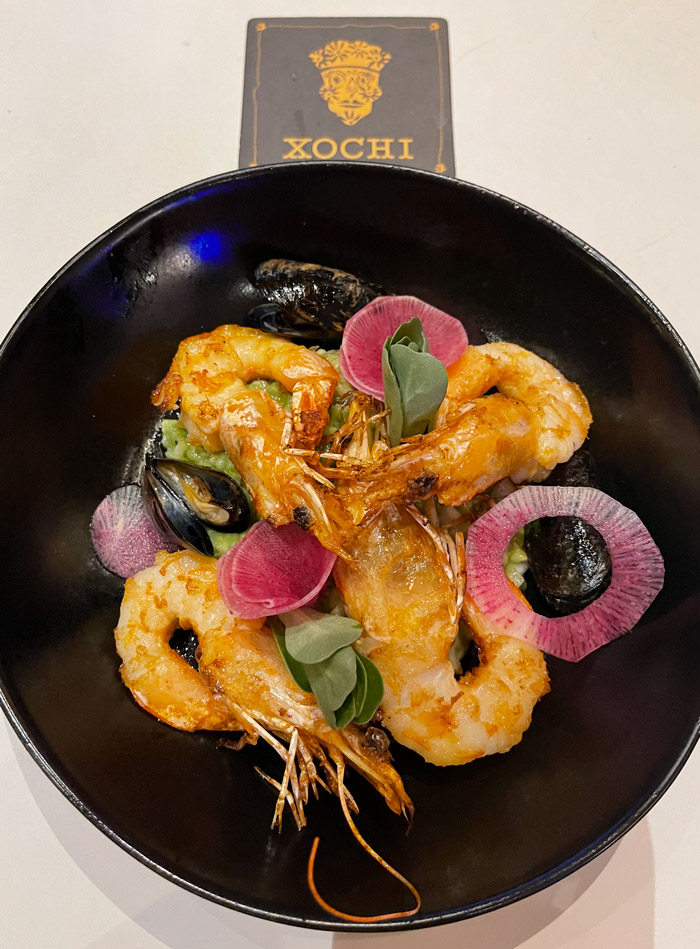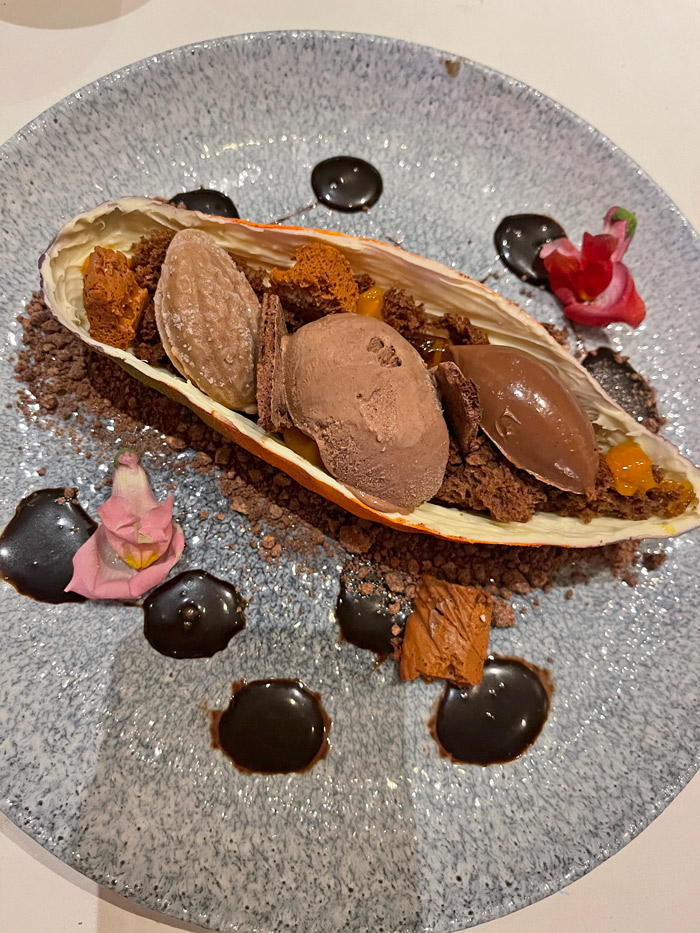 Dinner at Xochi
Restaurants
We ate so well this weekend and I can almost taste the food as I write about it again. On Friday night we headed to Xochi which you can access from inside the hotel lobby. We had a delicious dinner but I fell in love with their Aguachile appetizer which is essentially a ceviche in a green sauce-spicy, light and refreshing.
(Our restaurant experience at Marriott Marquis Houston was updated on December 2021) We had brunch at Walker Street for $25 per person and it was worth it! Their breakfast buffet is packed with all your breakfast favorites as well as some items unique to Texas such as brisket. There's also an omelet station, pancakes made to order and table service for coffee and juice so your cup/glass is never empty. The hostess and waitresses were exceptional and catered to my 4 year old and brought him his pancakes quickly after ordering.
Restaurant Recommendations in Downtown Houston

Dinner
Grotto Downtown- Delicious pasta, Italian fare and cool ambience.
Saltgrass Steakhouse- We enjoy ordering the steak and Greek salad with shrimp (my favorite).
The Rustic- Live music, Ranch Water, yummy brunch, plenty of outdoor seating and lots of good bar food like burgers and onion rings.
Xochi– Oaxacan Mexican fare, superb tequila cocktails, best aguachile (a type of ceviche) I've ever had, and very kid friendly.
Perbacco– (Reservation recommended) A hidden Italian gem with fresh pasta and great wine. Location is darling too!
Brunch / Lunch
The Grove-located in Discovery Green their floor to ceiling windows give the most stunning view of the park. Great cocktails, appetizers and an amazing Sunday brunch.
La Mexicana- For Mother's Day we opted to go to a nearby Mexican restaurant (albeit, not in downtown) to celebrate my day and this place never disappoints. Delectable margaritas, delicious enchiladas, tacos, fresh Mexican migas for  brunch and even mariachis! I have no clue how we scored a table with only a 30 minute wait (can you believe we didn't make a reservation?).  Fast and great service too on a very busy Sunday.
*Also add The Rustic for their yummy brunch
*Biggio's is inside the Marriott Marquis hotel and if you want cocktails and an all American meal like wings, burgers, fries then make sure to go here. If you want an experience unique to Houston and our diversity, visit the other restaurants mentioned above. I personally would not go to this restaurant because it's food that I can have at any bar in the USA.
*Please note that these restaurants are open later at night from Friday-Sunday. We were at The Marriott on a Thursday and everything was closed downtown at 9pm.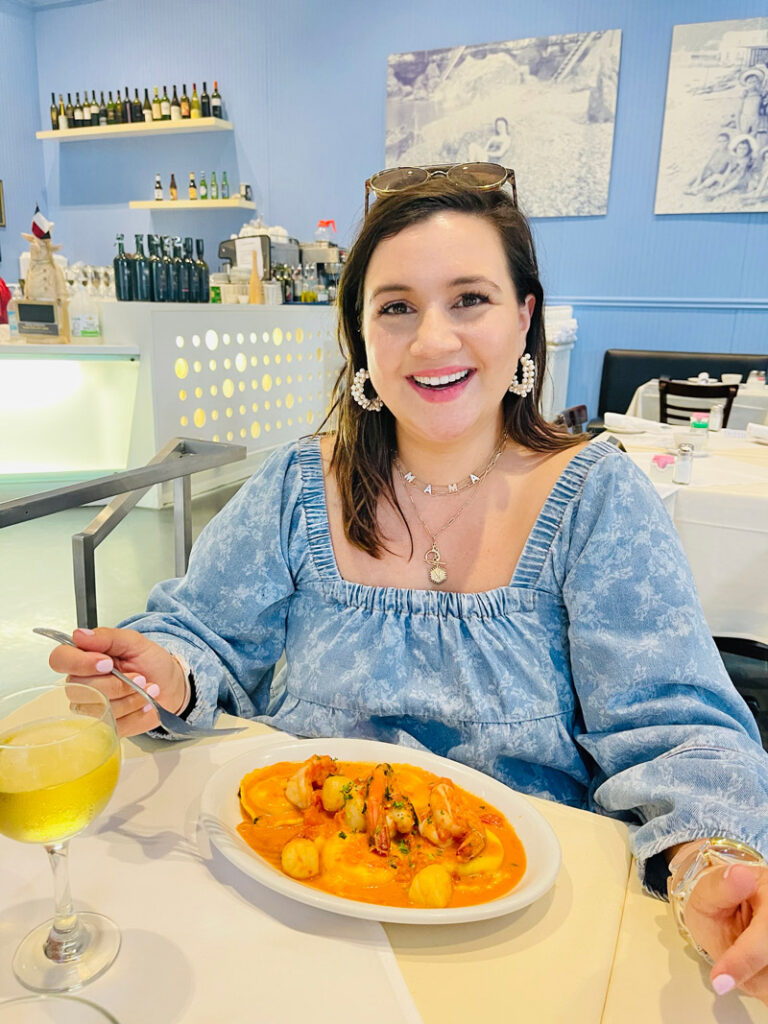 Dinner at Perbacco in Downtown Houston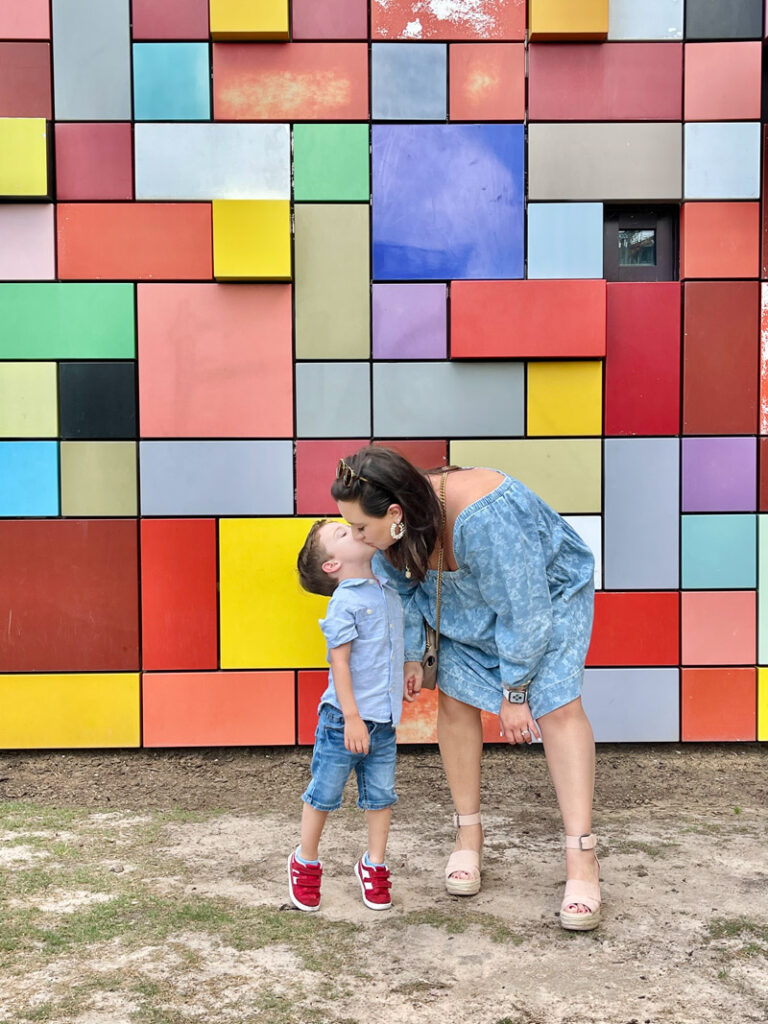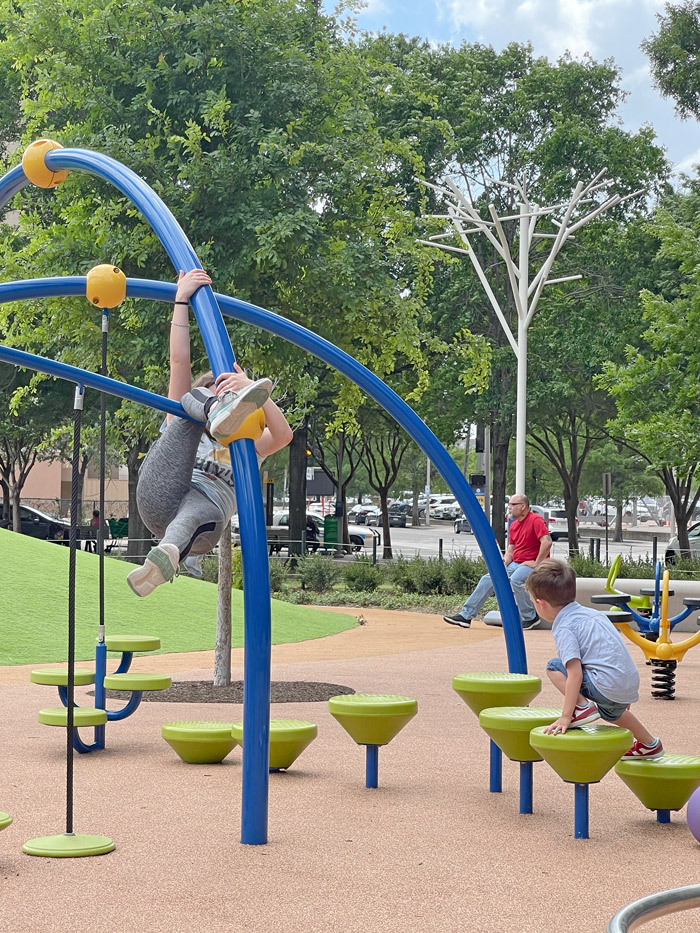 Park Nearby
One of the biggest perks of staying downtown is being close to Discovery Green. It has a massive green area, a play area for toddlers as well as various food trucks, street vendors, permanent snack bar and a splash pad (during the summer). There's also beautiful photo spot so you might see an engagement shoot or bride when you're there. Our son had a blast running and playing with other kids–it was definitely a highlight of our day.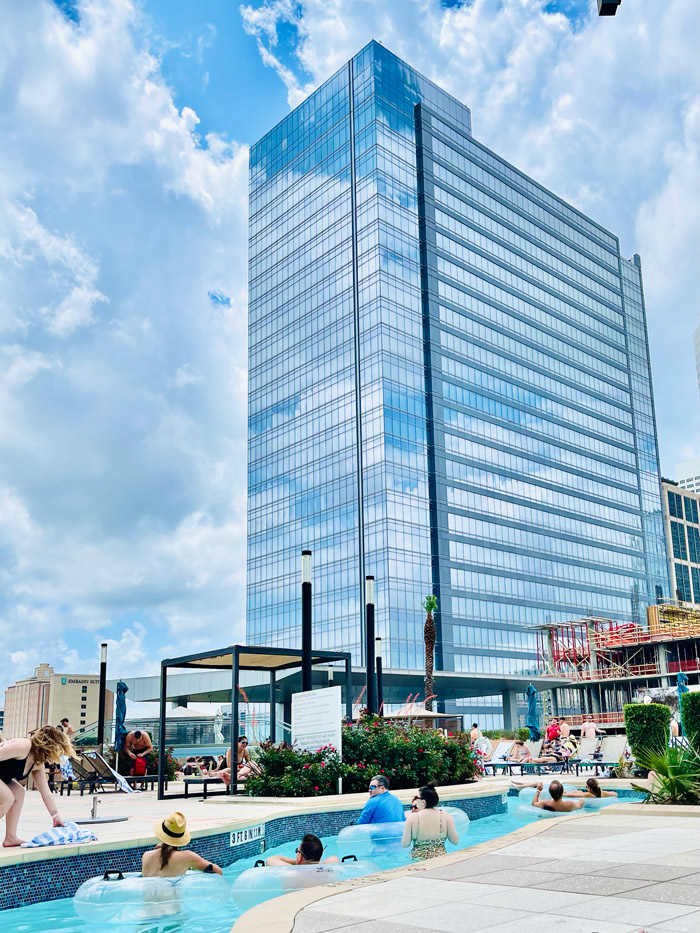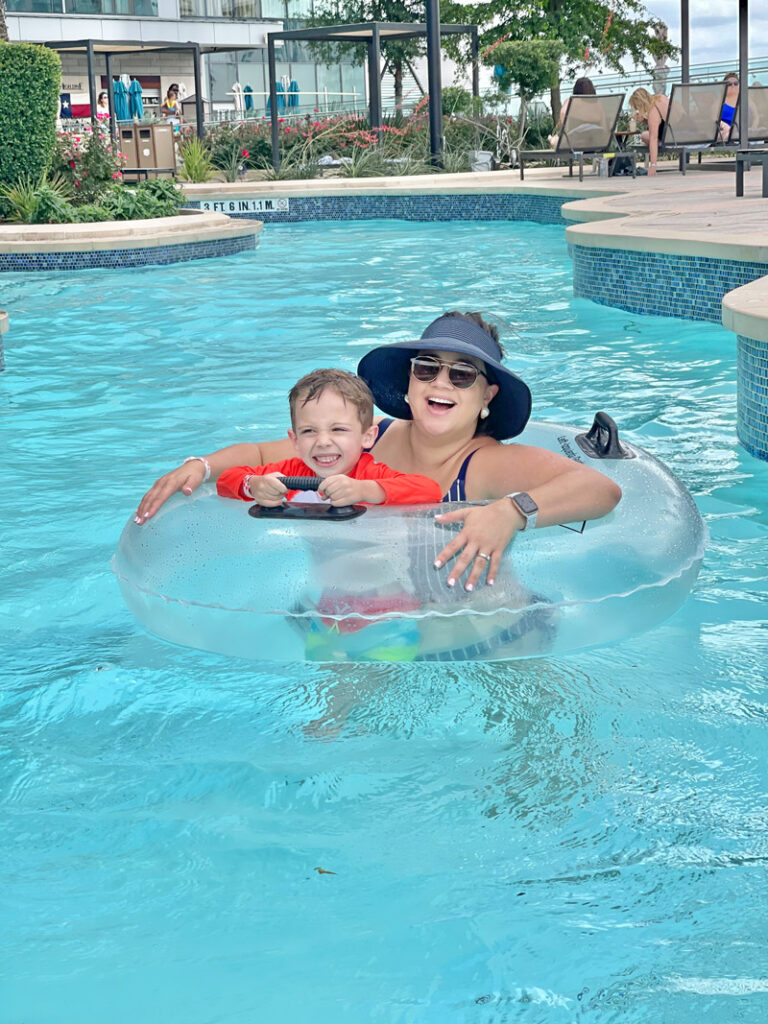 Lazy River/Rooftop Pool
The one thing you'll never expect is how violently windy it is up here ALL THE TIME. Bring the ponytail or hat with you so your hair is not in your face. There's daybeds, cabanas and gazebos for rent but we opted for the free beach chairs. I think renting a bigger space is great for a family or group of friends that will divide their time in between the pool and sitting, talking, eating. We just hung out together all the time. P.S. During the Fall/Winter when the weather gets chilly their pool is heated.
The pool area conveniently has 2 bars serving margaritas, the most delicious pina coladas and bar snacks. I obviously had a margarita and loved it and tried out my hubby's colada and give them a big thumbs up. Beware though, you'll see many servers but don't expect to be waited on at all! We flagged a waiter down and I was told I had to wait for the next waiter and the next waiter just kept passing by and avoiding me. The best bet is going up to the bar yourself like another waiter suggested. I think because they know how popular their pool are is, they don't really care how they treat the guests because you'll probably come back anyway. What I did notice is that if you rent a daybed or cabana they will definitely be waiting on you so cheers to that!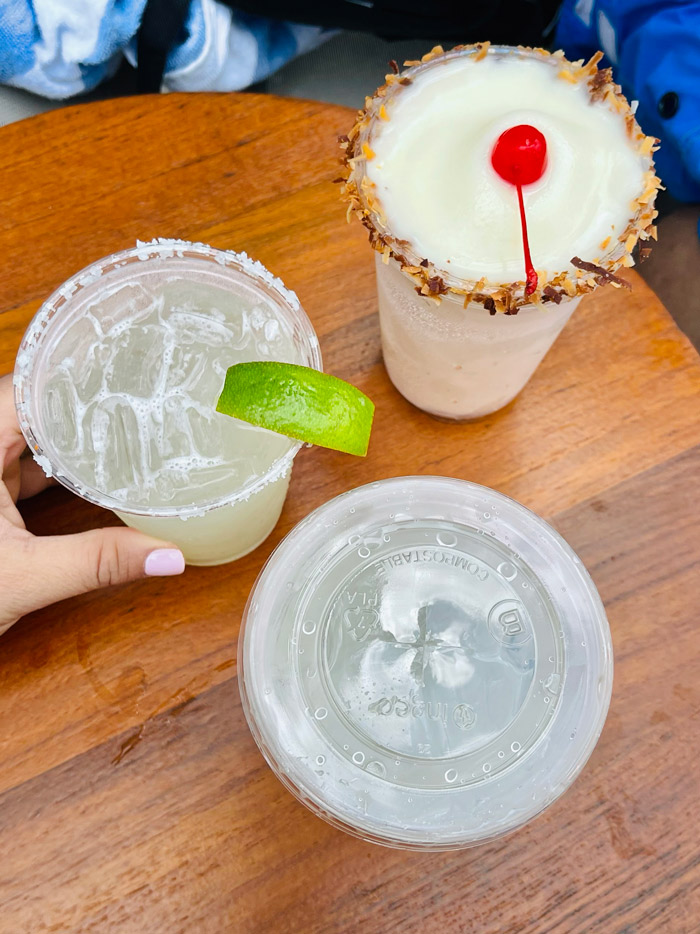 Margaritas, Pina Coladas and Lemonades are available at the rooftop pool at the Marriott Marquis Houston
Our staycation at The Marriott Marquis in Houston was great because we were there together doing something different as a family! Visiting restaurants such as Xochi and Perbacco in downtown are things we value because with us living in the suburbs, we can't frequent them often. Unfortunately, the service at the hotel was not what I would expect ( I want to blame the staff shortage resulting from the pandemic?). Would we go back? Of course! But we would be better prepared for what was unknown to us the first time like parking, valet, breakfast and wait staff at the rooftop pool.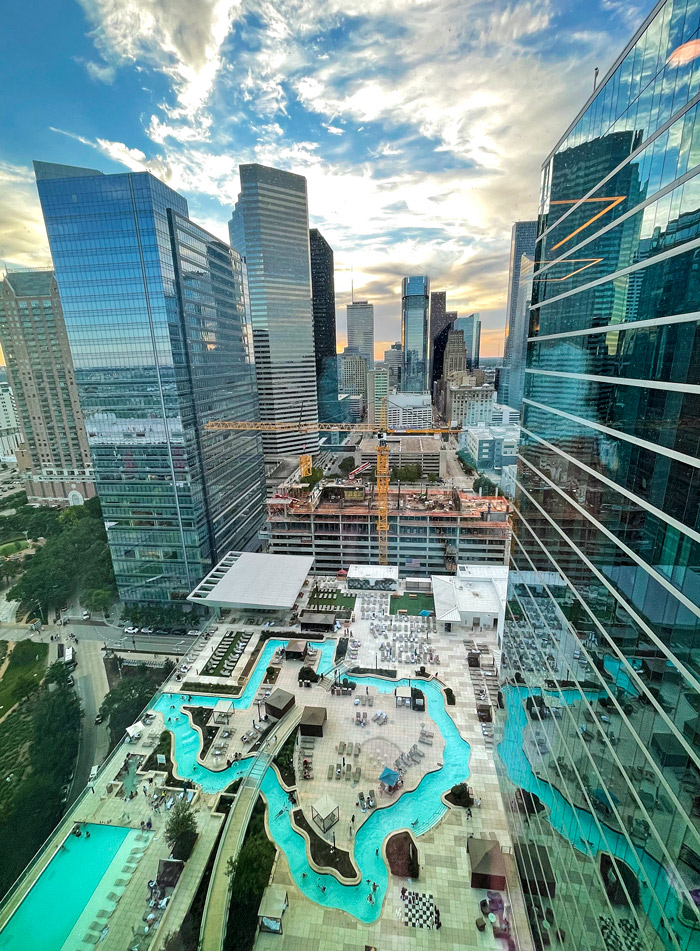 Facebook Conversations