The Sephora Sale is during my birthday week and I treat myself to repurchasing my all-time favorites and also to experimenting with new beauty products at a discount. As I get a year older I invest more in skincare and at-home treatments. Hasn't 2020 been the year of self-care at home?
SHOP THE POST:
The Sephora COVID Shopping Experience
Anyhow, I shopped the Sephora sale and COVID has changed the panorama at my favorite store in the world:
No testing any products at all and if you do want a sample you need to ask for it and try it on yourself.
Always wear a mask which makes the testing out of products  nearly impossible. I did test out a foundation shade on my cheek.
While other years the store is bustling during the sale, there is a line wrapped around the corner of my local Sephora letting people trickle in. I'm getting old so experiencing a decluttered store and no wait times in line were a win in my book.
How to Get a Discount During the Sephora Holiday Sale
To be eligible to get a discount during the week of the sale you must sign up to their insider program which is free. All this does is track your purchases which generate points and thus determines your Sephora status. I used to be Rouge status or in my husband's language" you used too spend too much money at Sephora" but now I'm a Sephora VIB (a tier below) which I'm very proud of.
Here is a better graphic explanation the event below: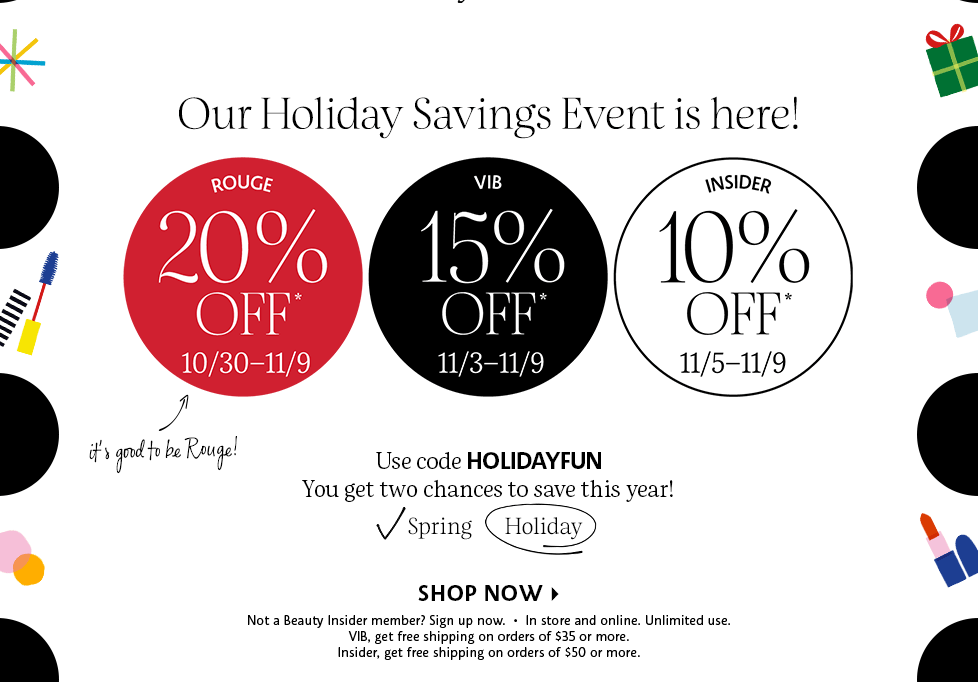 My beauty picks this year are ones I have used incessantly this year. I have been focusing more on skincare and prevention more than ever this and been pretty diligent about my routine since the shelter at home order in March.
One thing that will definitely happen after the pandemic is I will come out of it with brighter, youthful, baby butt skin! Hahaha!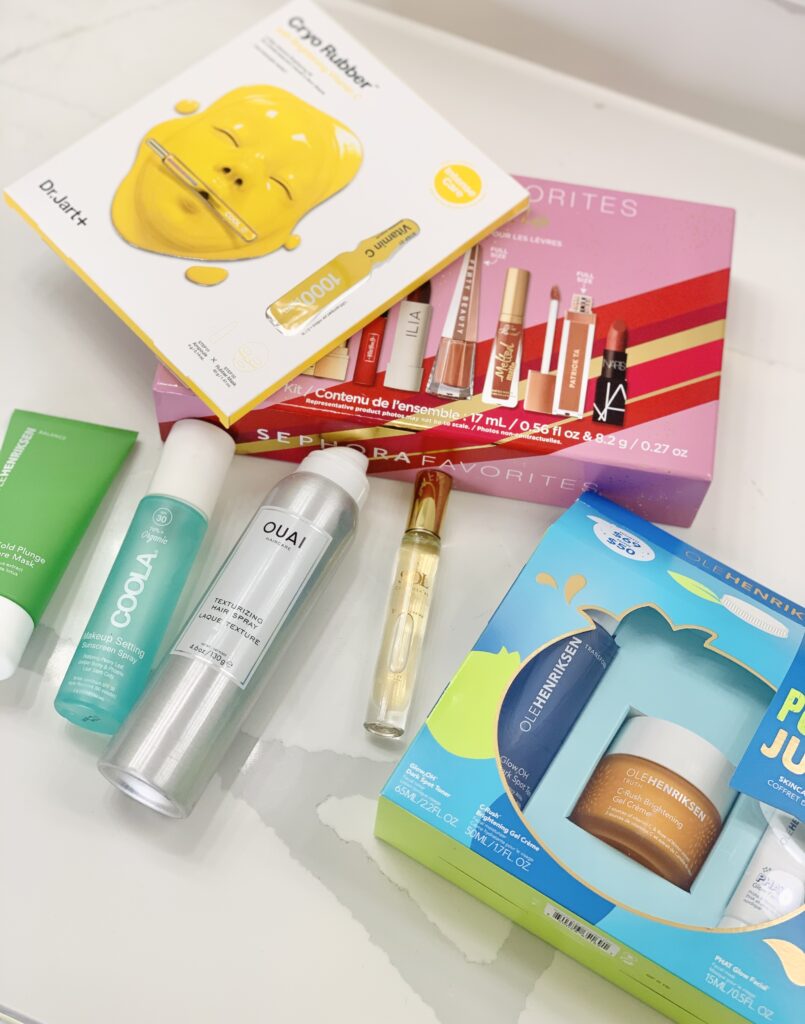 Here's what I bought (some of these are are arriving in the mail because they were not available in-store):
Sephora Holiday Sale Repurchases
Make Up Setting Spray & SPF 30 This is the only sunscreen setting spray I use. Doesn't mess up my makeup and seals it with an SPF30.
The Sephora Give Me Lip Kit is one I have tried before and is an incredible value at only $45 and it includes two full size lipsticks worth more than $45 already. This one runs out and doesn't restock.
Smells Heavenly Texturizing Hair Spray The only texturing hair spray that makes my hair piecey and sexy and smells musky and not overly sweet. I recommend it if you have straight, thin hair that needs an extra oomph!
Freaky-Looking Rubber Face Masks I had purchase a version of this Dr.Jart mask in the past but recently saw @KathleenJenningsBeauty rave about it so I had to buy it for smoother, plump skin.
Sephora Holiday Sale New Purchases
Sol de Janeiro Fragrance This creamy & tropical scent is exactly what the cult-favorite BumBum Cream smells like and I am in love. This mini version looks like a rollerball but it's a spray and at a fraction of the cost I had to buy it. Buying the full size next!
New Vitamin C Moisturizer I use the Banana Bright Eye Cream so decided to try their Vitamin C Gel Creme and get my glow on. I just finished a more expensive Vitamin C moisturizer  (that I decided not to buy) and saw how much brighter my age spots/acne spots were when I paired it with a Vitamin C serum underneath. I was going to buy the moisturizer by itself but found a holiday gift bundle where I get three products for the price of the moisturizer.
Another Ole Henriksen purchase! I tried their heating face scrub from the same BALANCE line but was intrigued by this cold face mask in bright blue. Can't wait to tighten my pores and detox before my birthday! Has excellent review son their site.
I needed a cute storage situation for my micro-needling device and I had no idea the same company made this neat rose gold pouch.
The Most Expensive Exfoliator I have ever laid my hands on and also the one thathas left my skin glowy and clean like straight out of  a facial spa experience. No wonder JLo swears by this brand. My friend Rosario let me try this when we were roommates and I have been haunted with the idea of buying it ever since. Arriving in the mail.
Color Depositing Shampoo In an effort to not go to the beauty salon and keep my hair looking glossy and highlights soft. I hope this works!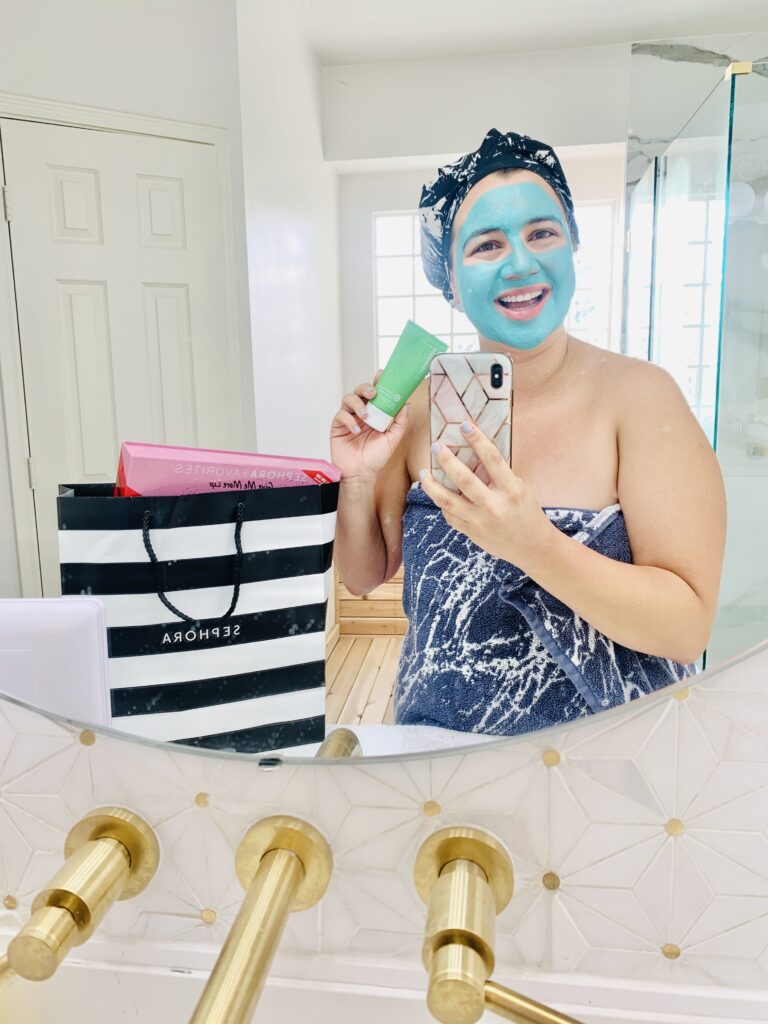 My All Time Sephora Favorites
These are products I buy over and over again and that you'll find on my Instagram page or on the blog consistently. They have become part of my life! These are products that I am currently already stocked up on so I didn't repurchase them right now. P.S. Think of this as your guide on what to try next if you're unsure of what to buy during the sale.
The Best Charlotte Tilbury PILLOWTALK Lip Product Deal – 4 lip products for $45!I got this at Nordstrom earlier this month but you get a discount during this sale! Disclaimer: this is a new favorite in my stash.
The Only Every Day CC Cream You'll Ever Need
A Concealer That Hides and Heals Blemishes
The Best Under-Eye and Highlighting Concealer
The Long Wearing Eye Shadow Stick I Have Bought 7 Times
Long Wearing No Feathering Liquid Lipstick in "Trophy Wife
The Eye-Shadow Palette That Best Complements My Brown Eyes
Facebook Conversations