I'm in denial writing this post. I just can't fathom that my baby boy that I used to have in my belly, interrupting my sleep and making me waddle like a penguin is now one. A year ago he came into the world, all rosy and with chubby cheeks sporting his daddy's chin dimple changing our lives forever. Planning his birthday was one of the funnest things I've ever done, even more than my own birthday. Now that's love!
Initially, we didn't want to do a big party because we have a lot of family and friends and we were scared we were going to spend too much. We stayed within our budget and everything turned out great except a few things which I will talk about more below. I have listed my most useful tips when planning  your baby's first birthday party as well as my favorite photos for decor ideas in case you want to plan a similar party.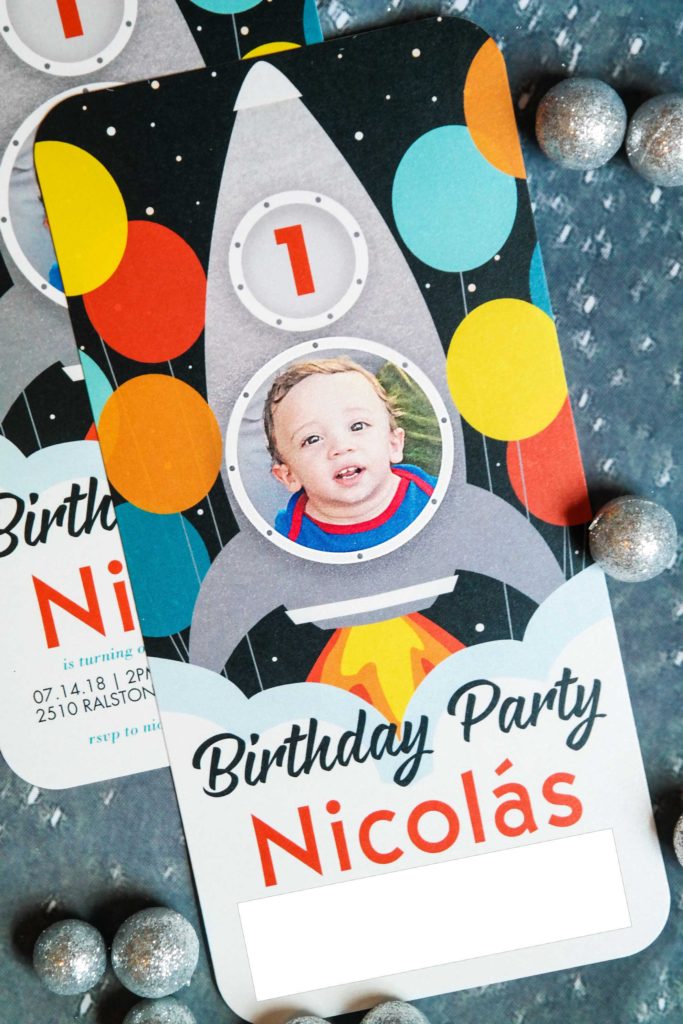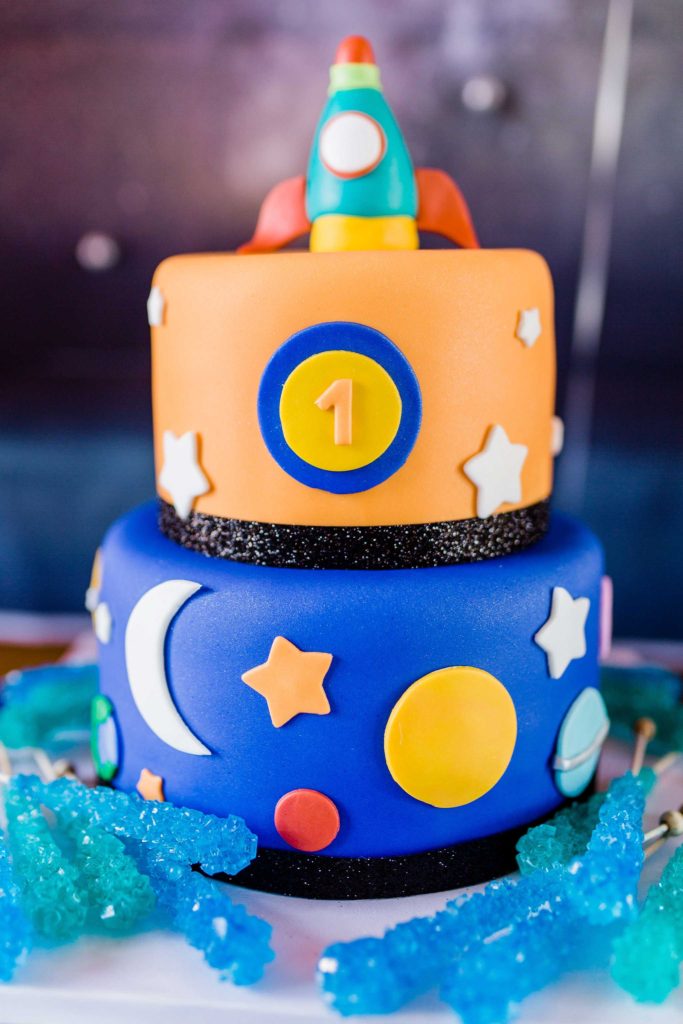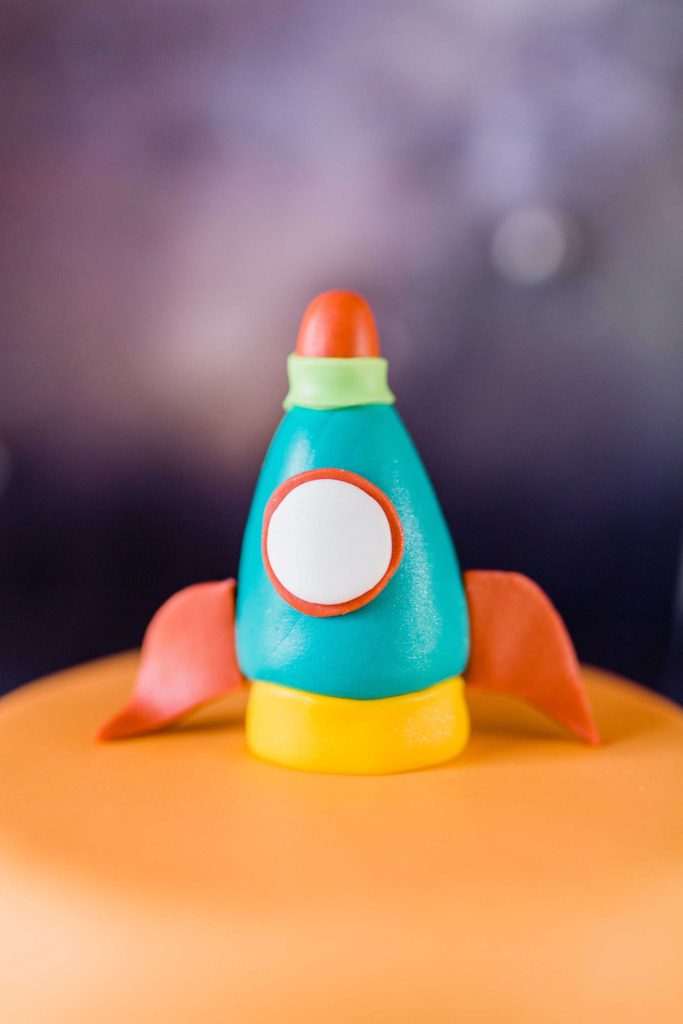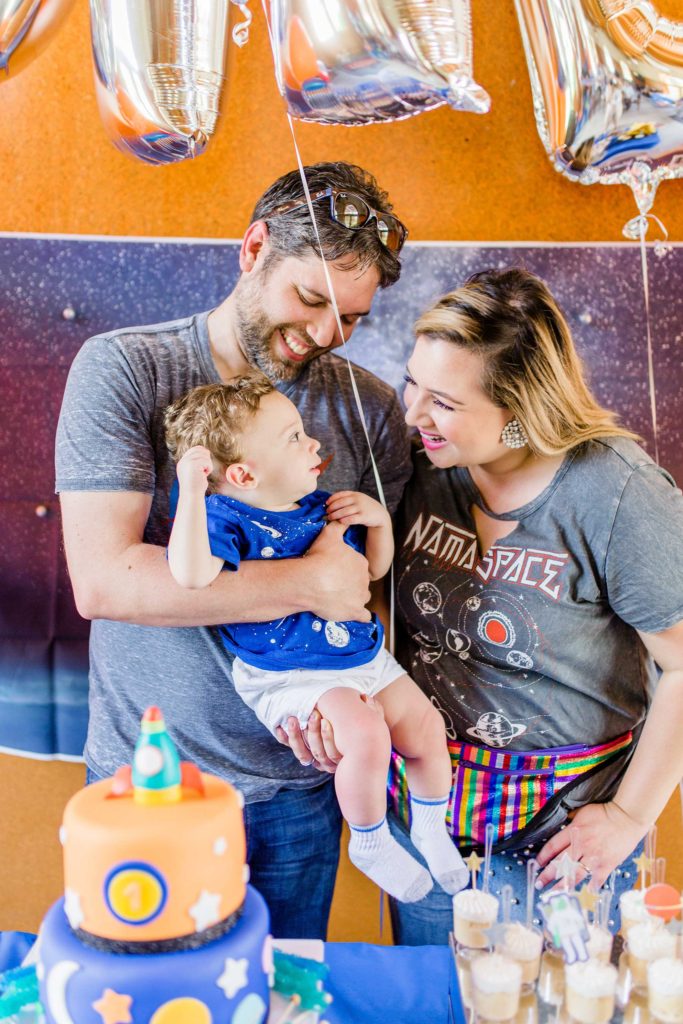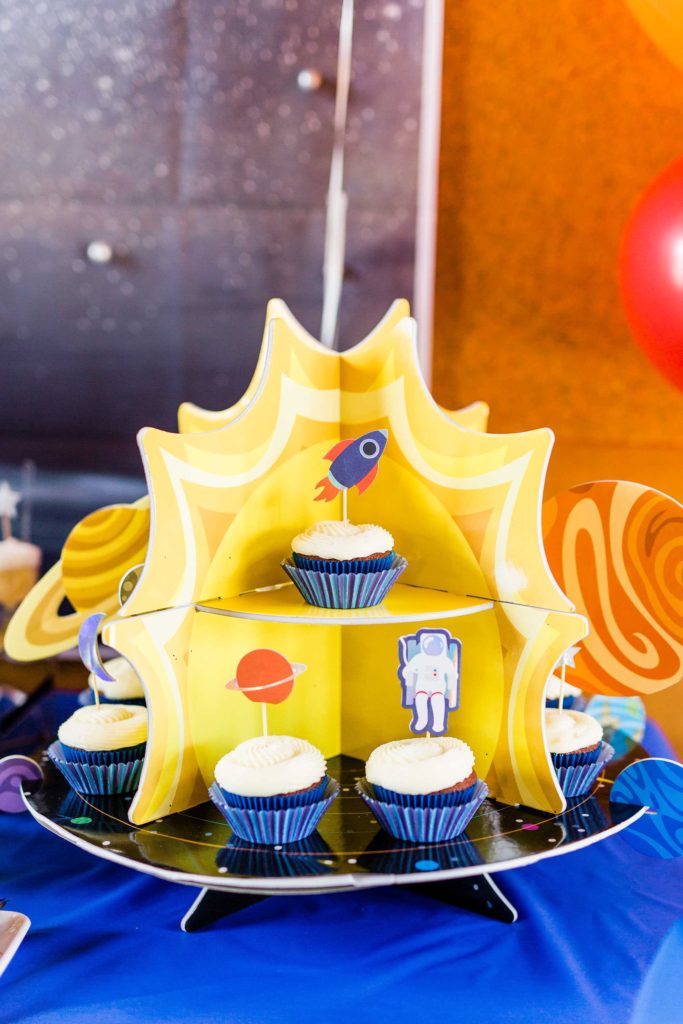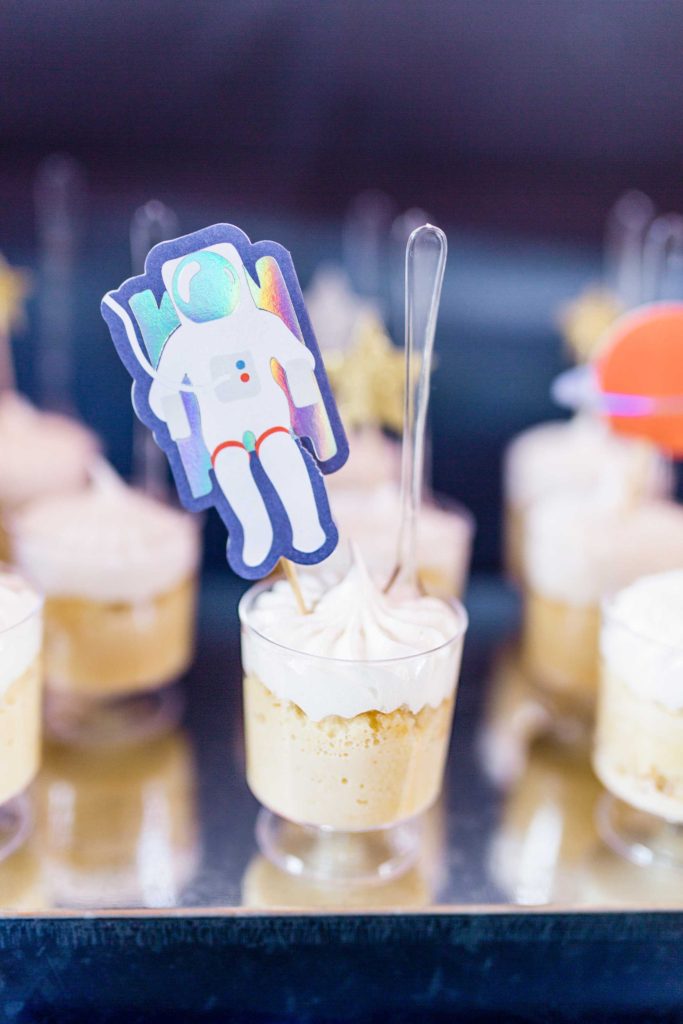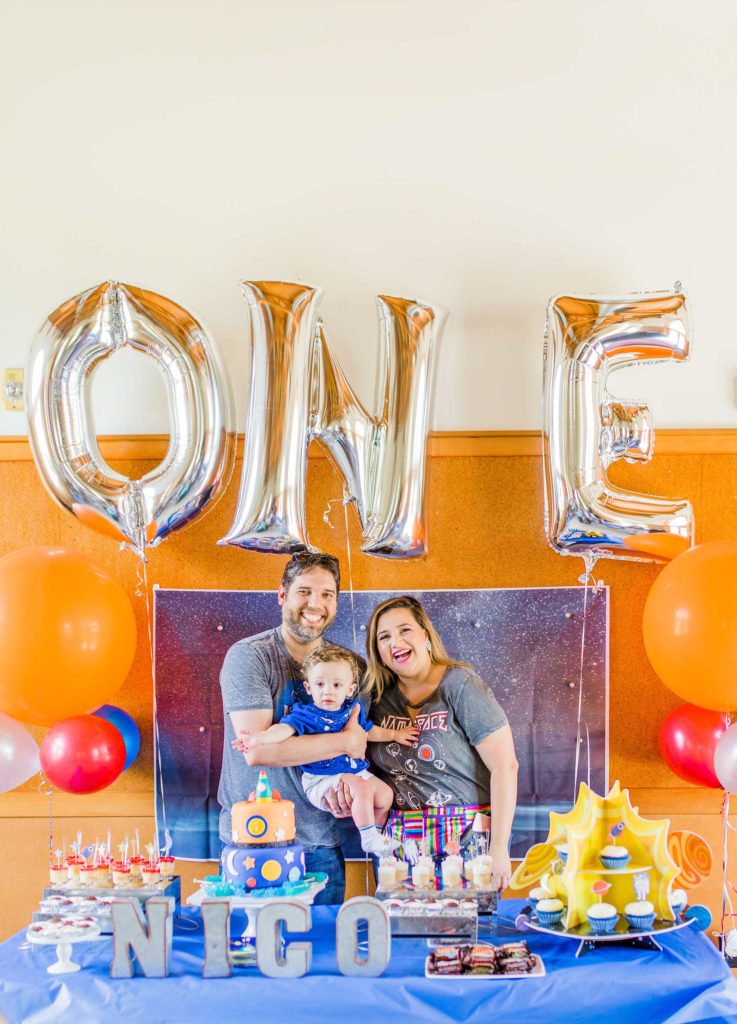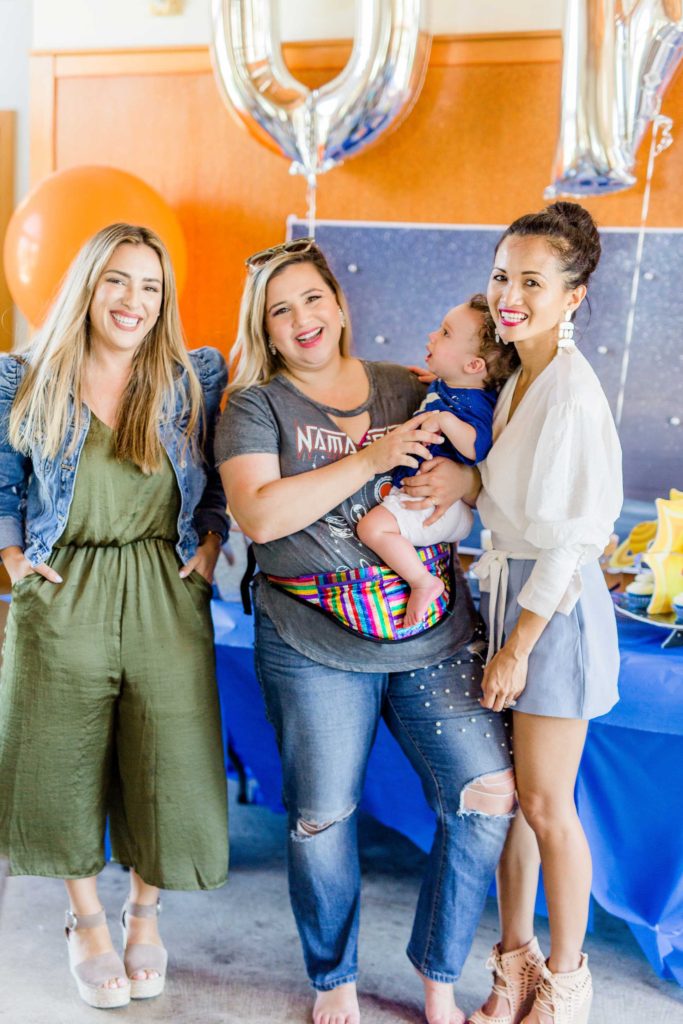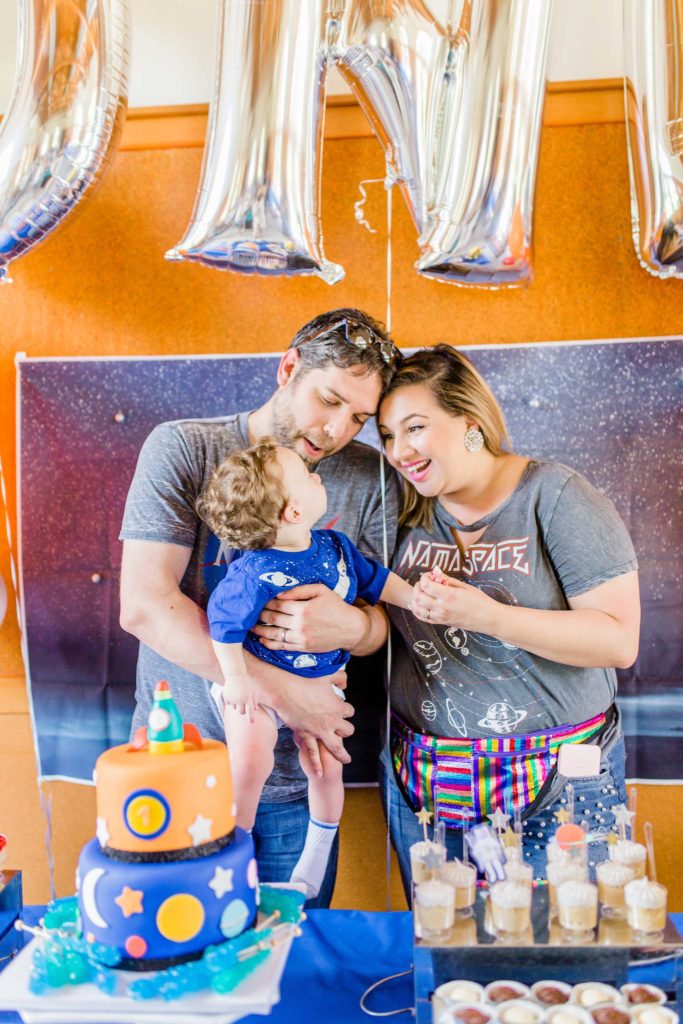 Thank you to my friends Rosario and Dawn for celebrating with us!
Vendor Details
Cake: c/oMari's Sweet Cake
Sweet Mini Desserts: c/o Mari's Sweet Cakes
Invitations: Shutterfly
Food: Tacos El Ranchero
Party Supplies: Amazon and Oriental Trading
Photography: Arzu Vargas Photography
Tips For a Successful First Birthday Party
Invitations First
Whether digital or paper, pick out your invite first. This is an easy way to start determining birthday theme colors and a first look for the baker to start getting ideas for a birthday cake. Make a list and check it twice so you don't over order invitations and spend more money than you have to. We got our paper cards from Shutterfly.
Pick a Theme
I thought space was a popular theme, especially in Houston, Texas but surprisingly I didn't find it at Party City or any major party retailer. We wanted his party to be about Space City/Houston which is where Miguel and I met and where he was born. I had to shop on Amazon and Oriental Trading to find planet and rocket themed decor like our cupcake toppers and galaxy cupcake stand. Find a list of all my decoration items, our space t-shirts and more HERE.
Hire a Photographer or You'll Regret It
Have someone else take care of capturing this super special day and a super pro tip: take family photos with the dessert table and birthday cake BEFORE any guests arrive so that the photos look beautiful. If we would have waited until we sang birthday then the dessert table would have been bare and it would have not looked good in photos.
This is an Adult's Party, Not a Kid's Party
I had to sit and think about this one because Nicolás doesn't really have friends his age and he can't really play by himself so I was not about to book out Chuckee Cheese or an event venue for his first birthday. This party is definitely  more about us celebrating his first year with family and friends. So my menu and my venue had to be chosen thinking about the adults of the party.  This is why we had al pastor tacos, bacon and beans and desserts like tres leches and red velvet cupcakes; because we were catering to adults not kids.
Get Crafty
My mother in law got crafty actually and made some astronaut helmets with cardboard so we could take pictures with them as photo props. I added glitter, permanent marker and silver buttons for a multidimensional look. These were so easy to do because the shape is not complicated to achieve and guests loved posing with them.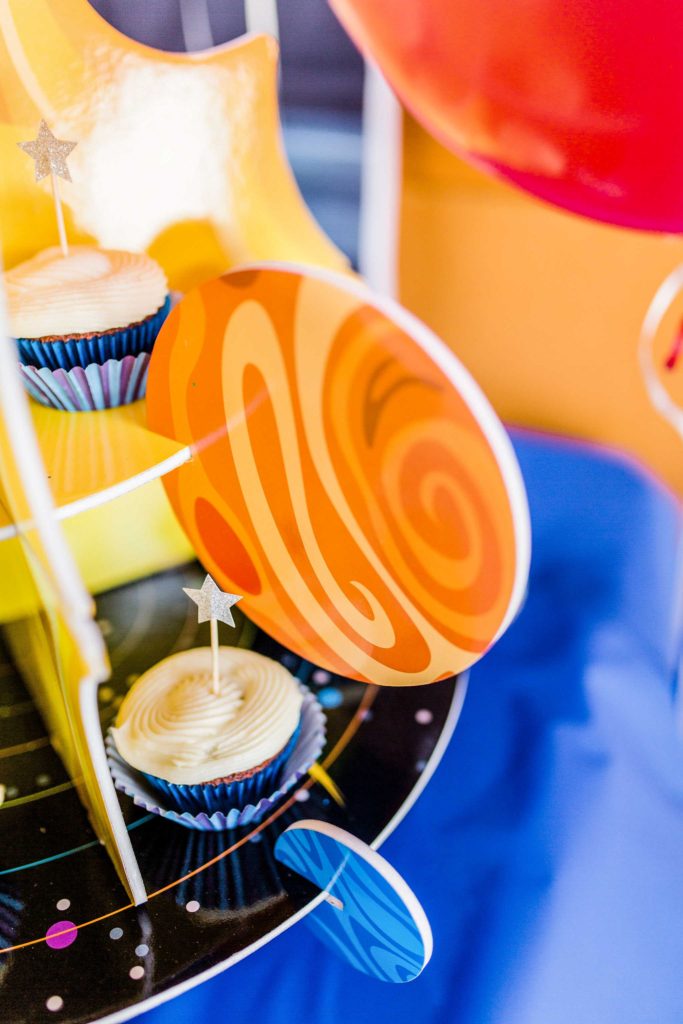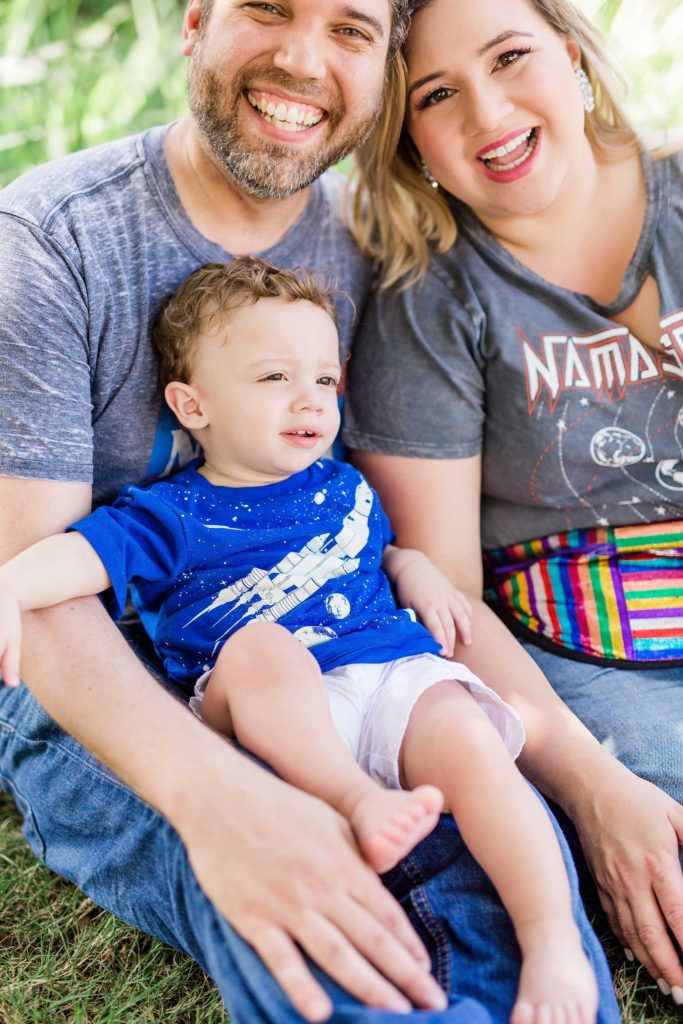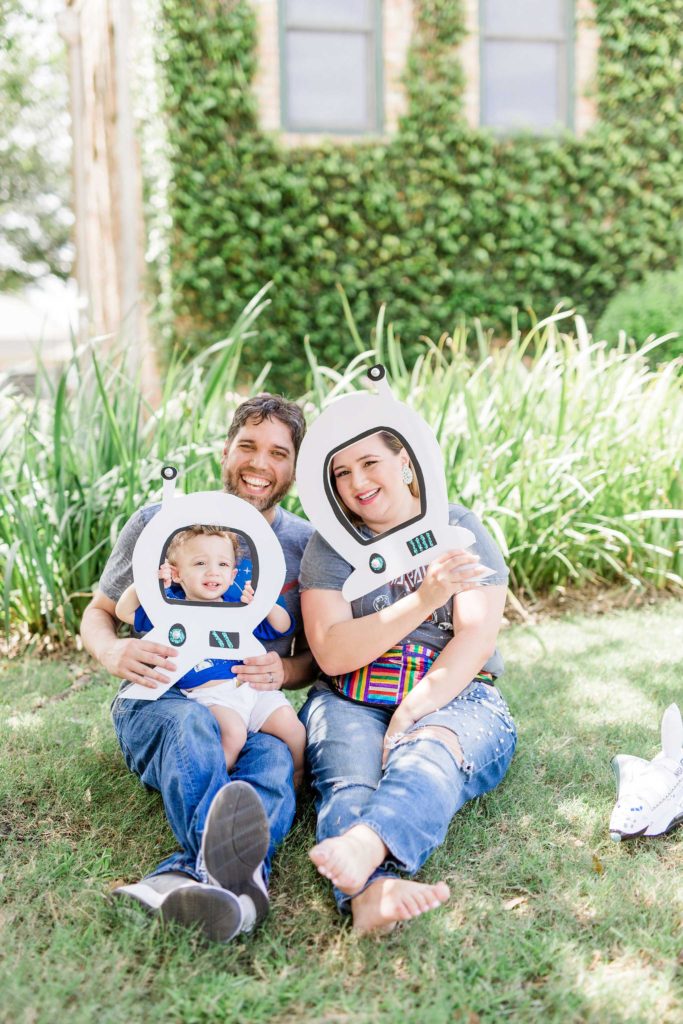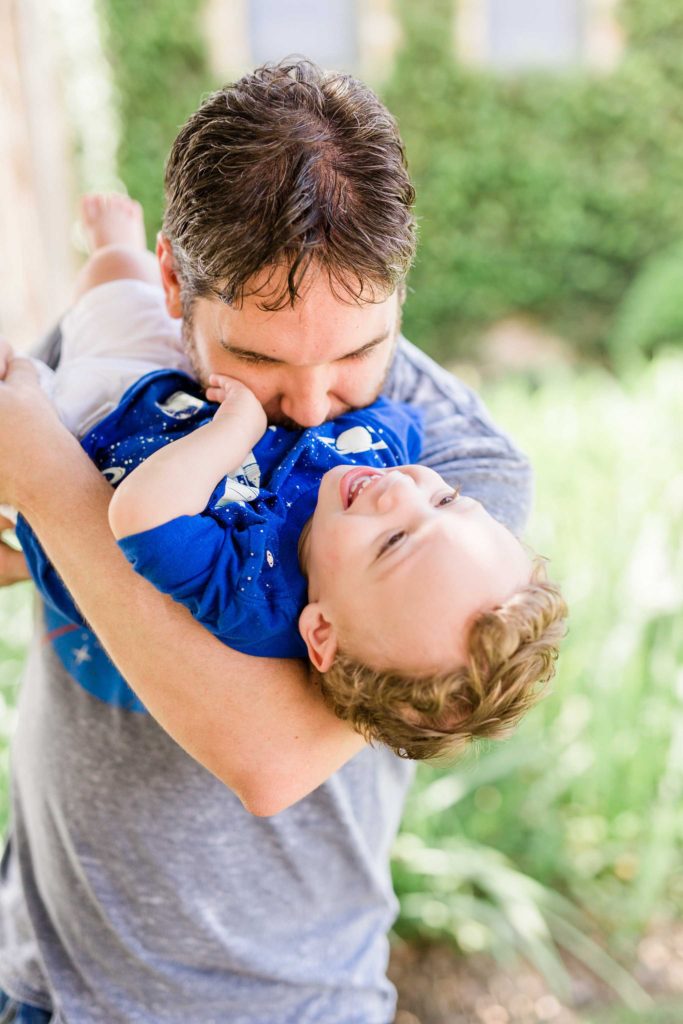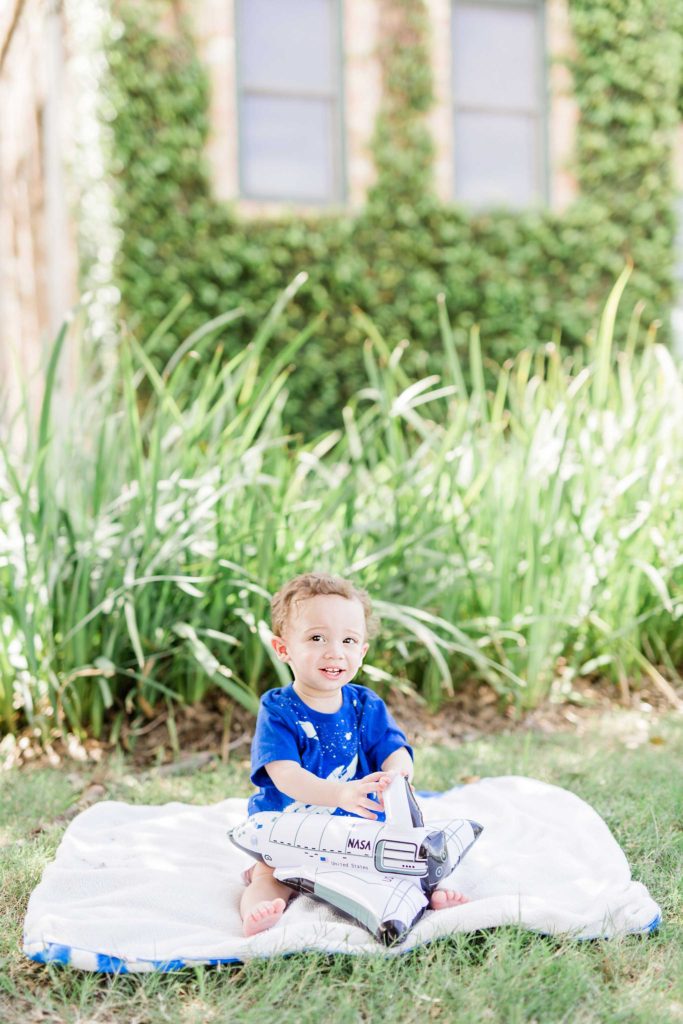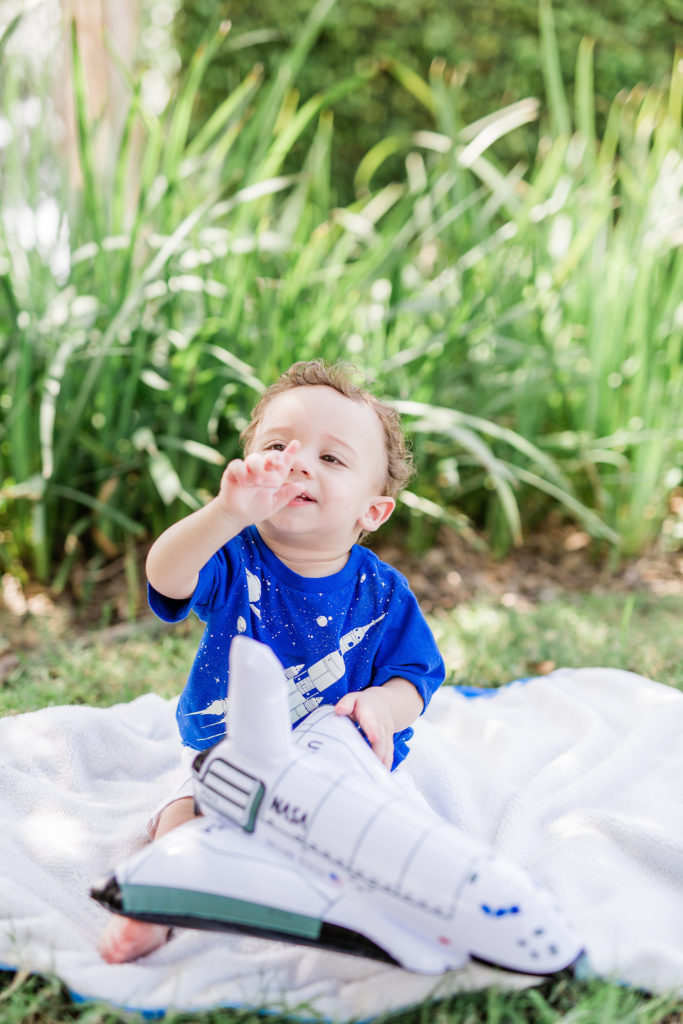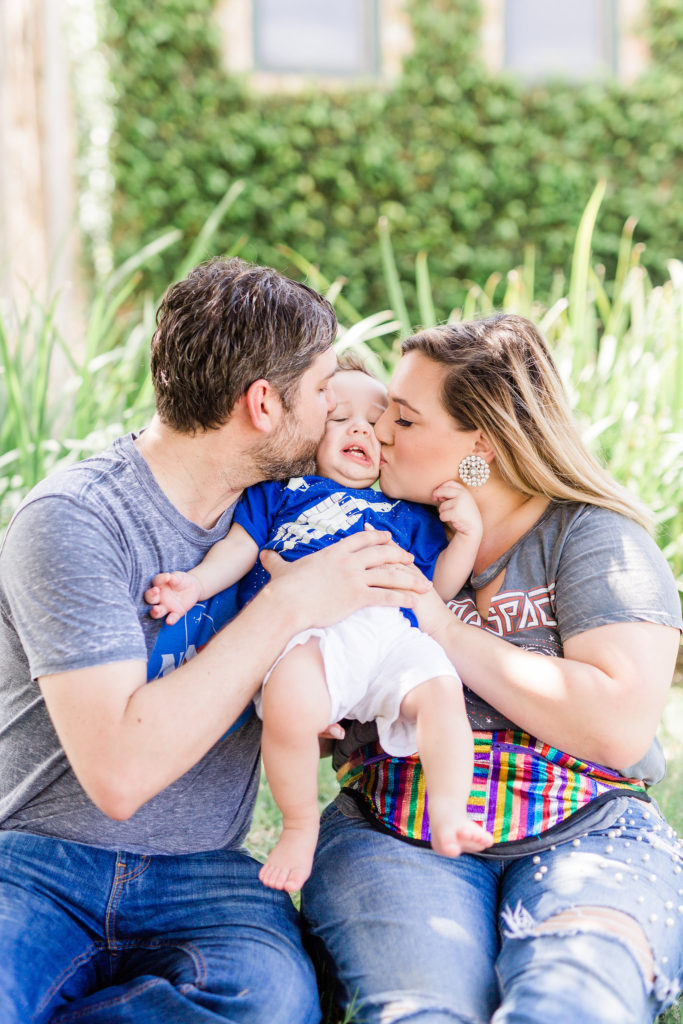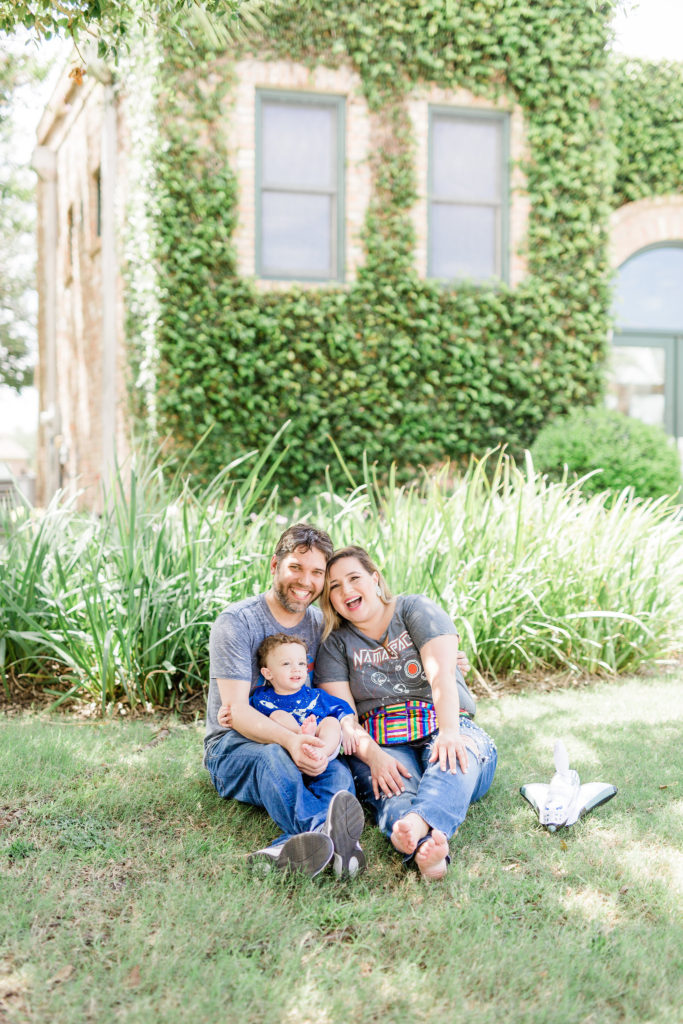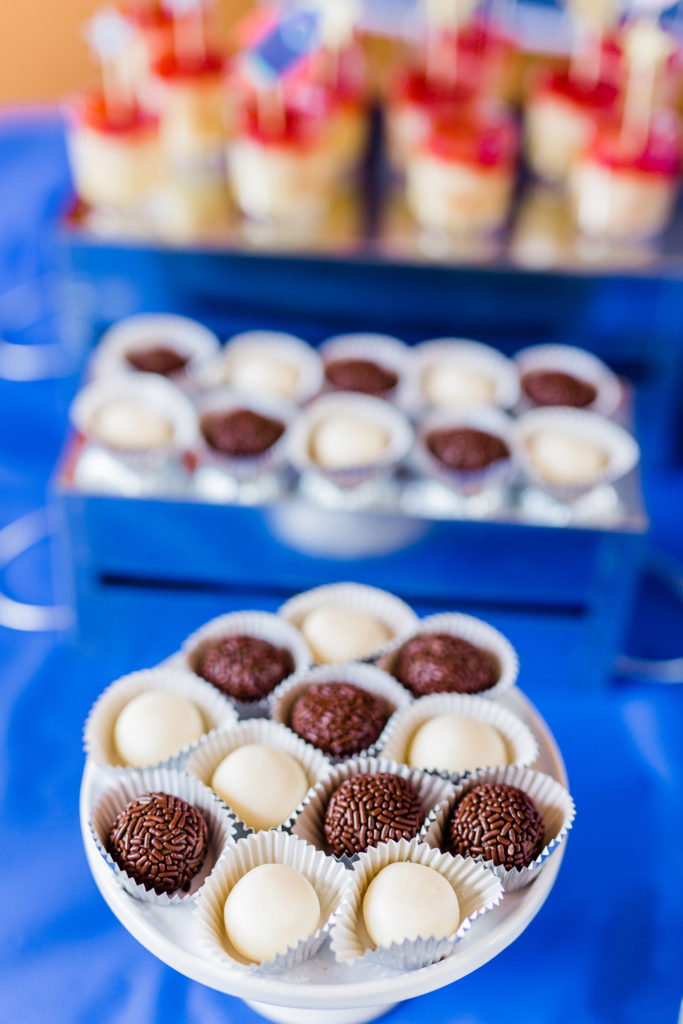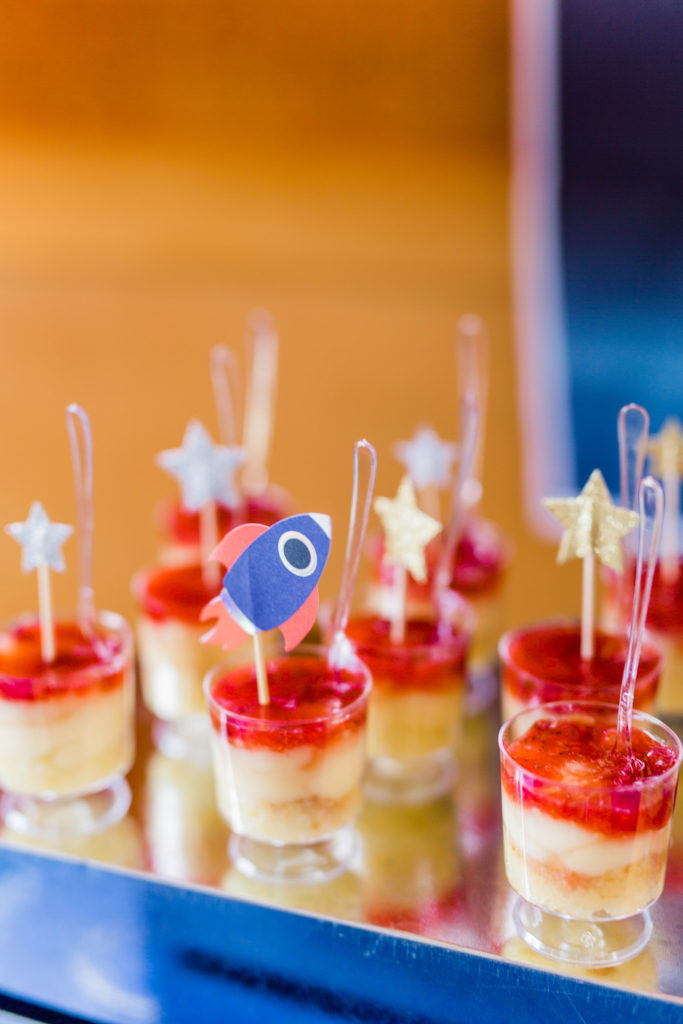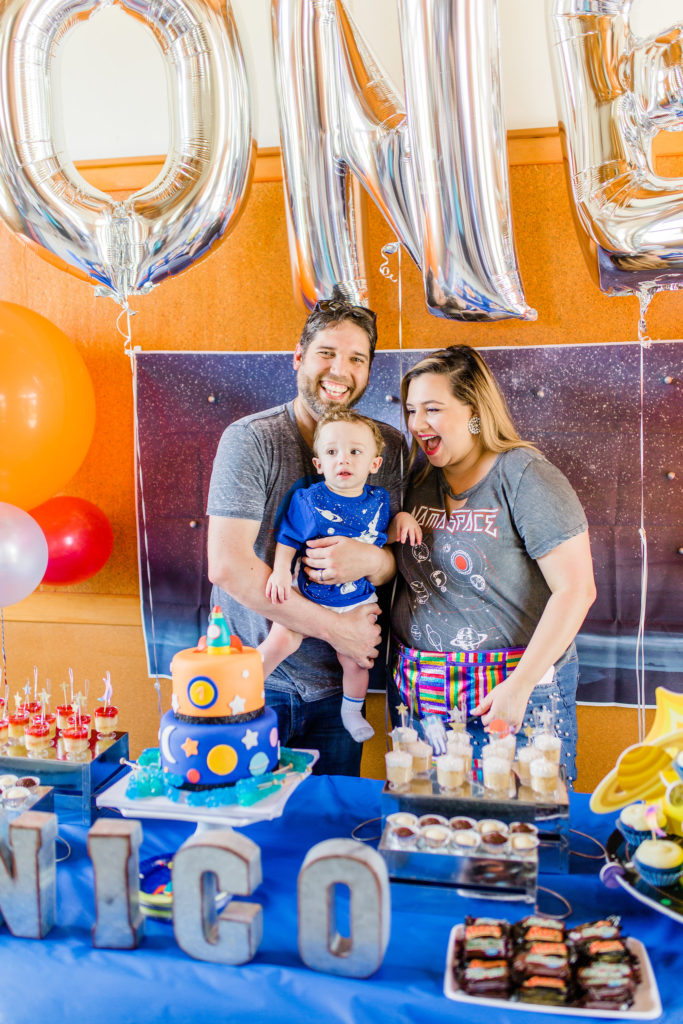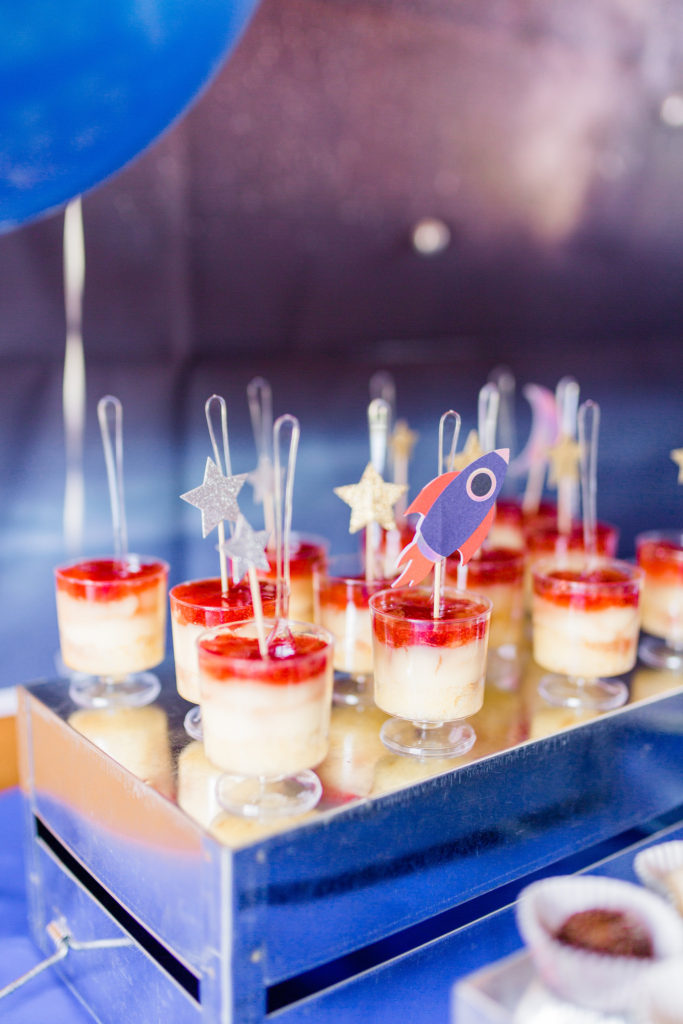 What You Didn't See in The Photos
The Birthday Song
We sang three birthday songs which always happens in our household. We sang the regular Happy Birthday song and we sang the version in Spanish. We also sing the Venezuelan Happy Birthday song which is a longer version of a Spanish Happy Birthday.
Swag Bags
Like a good blogger and mom I gave the few guest that were kids a cute swag bag with space-themed candy, Mars and Milky Way chocolates and a code for a free book in Spanish. I also had  roll of space-themed stickers to give to the kids that attended.
Location Location Location
This one is hard to write about because I dislike admitting I'm wrong. We had seen our local clubhouse had a perfect space for our guest and food set-up and we decided to sign up and borrow it for the special day, plus it was beautiful and covered in vines.  The only problem was that it was a sweltering 100 degree Houston Summer Day in July and the air-conditioning is controlled by the main office remotely. I could not lower the A/C inside the clubhouse and it was horrible. It was cooler outside! If you have a summer birthday like we do ask about air conditioning because it's so important.
Piñata
To follow our traditions in Honduras and Venezuela we decided to get a piñata. I managed to find a spaceship piñata at Target and we forgot to break into it at the party. #fail
I hope you loved the space-themed party decor ideas and can recreate this party
on your own! Let me know if you have any questions!
Facebook Conversations