Updated Dec. 4, 2019

* This post is written in partnership with Braces in Sugar Land with Dr. Sebastian Rodriguez. I received a discount for my Invisalign treatment through this partnership. As always, all thoughts and opinions expressed in the blog post are my own.
I have been on a journey to straighten my teeth and close my front top and lower gap forever and that's my fault because I am always cutting corners. It started with traditional braces in the 8th grade that cost me a boyfriend. Wow. That was a long time ago! Then I lost my retainers and years later I tried clear aligners that were similar to Invisalign. Two years ago I subscribed to Smile Direct Club. Smile Direct Club never mailed the complete set of aligners to my home so I could never complete the treatment.
I definitely do not recommend any DIY at-home-smile treatments because nothing can replace a dentist/orthodontist or a check-up with a professional. I feel embarrassed that I try to cut corners and on something so delicate and important as my teeth.
That's when Braces in Sugar Land and Dr. Rodriguez came to save the day when they sent me a message inviting me to come in their office to talk about straightening my teeth and closing the gap in my upper and lower front teeth. After getting my initial appointment and getting the green light as a good candidate for Invisalign we started my treatment around 12 weeks ago (I change my aligners every week).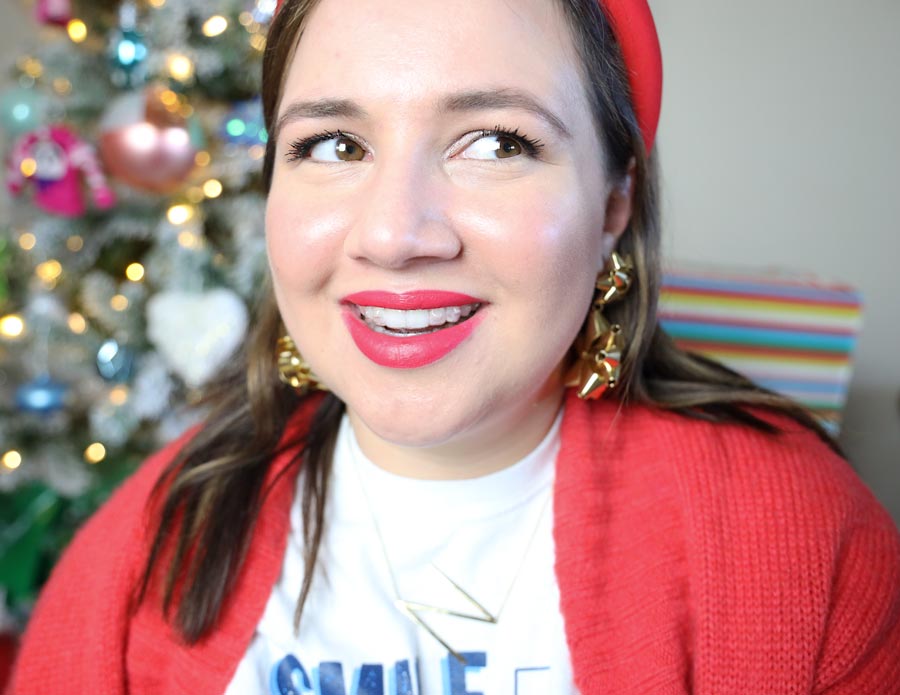 I am wearing my clear aligners in this photo. Can you tell? Scroll down for a BEFORE photo of my teeth.
When I asked you guys on Instagram stories if you had any questions you had some really good ones! Here's the answers to all your inquiries about my Invisalign treatment at Braces in Sugar Land:
Where did you get your Invisalign treatment?
I am still doing my Invisalign treatment and I got it at Braces in Sugar Land with Dr. Sebastian Rodriguez.
I really love my visits at Braces in Sugar Land because the whole team is super warm and welcoming. I don't know about you, but I have always been scared of getting my teeth checked but it's comforting to know they always make me laugh when I'm there!
How much does Invisalign cost?
Invisalign is expensive but if you want a beautiful smile it's totally worth it! Treatment for both upper and lower teeth can cost between $5,000-$6,000 and not everyone is a candidate.
Can you eat with your Invisalign on?
No. You have to take out your aligners when you eat. I have a small discreet black case (pictured below) for them and I make sure it take them out in my car or the restroom before any meal. PSA: Taking out your aligners is not something you'll want to do in front of your friends! There might be some drool involved!
The only thing you can have with your Invisalign is water and anything else will stain them.
The good thing about invisible aligners compared to braces is that braces might limit the types of foods you can eat while aligners are removable. Can you say no food stuck in your braces ever?
How does Invisalign actually work?
OK so I'm not a dentist but I will explain this to the best of my knowledge. Every month I have an appointment with Dr. Rodriguez where he hands me customized aligners for me to wear for every week of that month and I change out my aligners on a specific day. I have an alarm set for Wednesday which is the day I have to change to my next set of aligners.
Wearing these aligners consistently and only taking them out to eat is what's closing the gap on my lower and upper front teeth as well as straightening them.
Does it hurt to wear the Invisalign aligners?
No. I am impressed about how amazingly snug they fit on my teeth. I am on my 12th aligner right now and this has been the only time I felt a bit of tightness but it goes away quickly.
When I wore one or two aligners from Smile Direct Club and they were really thick plastic that went all the way up to my gums which made wearing them painful.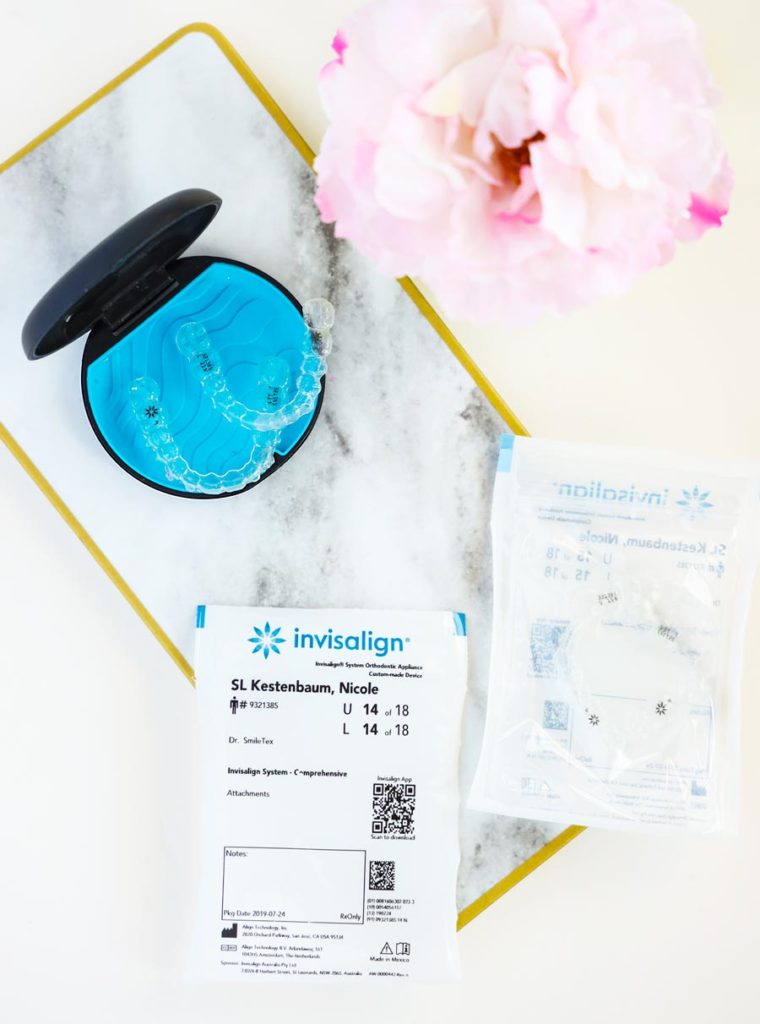 Do you wear your Invisalign to parties/events?
I actually do! I mostly stick to sparkling water at parties but if you are going to drink wine/soda/mixed drink make sure to take them out.
If I know it's a dinner party I'll take them out at home, leave them there and put them on when I get back.
You can catch me regularly on Instagram Stories wearing them too!
Do you wear your Invisalign to sleep?
Yes, wearing your Invisalign at night is part of a successful treatment.
Can you wear lipstick with your Invisalign?
Yes I can! I guess you want to know if it gets on my aligners and it can so always check your teeth before going out. I have found this lipstick (which is the one I'm wearing in these photos) stays on forever and never stains my aligners.
What happens when you are done with your Invisalign treatment?
When you are done with the process of straightening and closing any gaps in your teeth (for me it's going to last 18 weeks) and it looks like your dream smile then the process of removing the small attachments on your teeth is next. Can you tell I have these super mini bumps on my aligners?
After removing these attachments I will still have to wear a much thinner clear aligners that are acting as retainers day and night for about 3 months. Then, I will only have to wear the clear aligners/retainers at night.
Call 281.313.8890 to book your FREE initial exam to find out if you are an Invisalign candidate with
Board Certified Dr. Sebastian Rodriguez, DDS, MSD at Braces in Sugar Land
If you mention Nicole from Lipstick and Brunch sent you

you will get $350 OFF any treatment plan!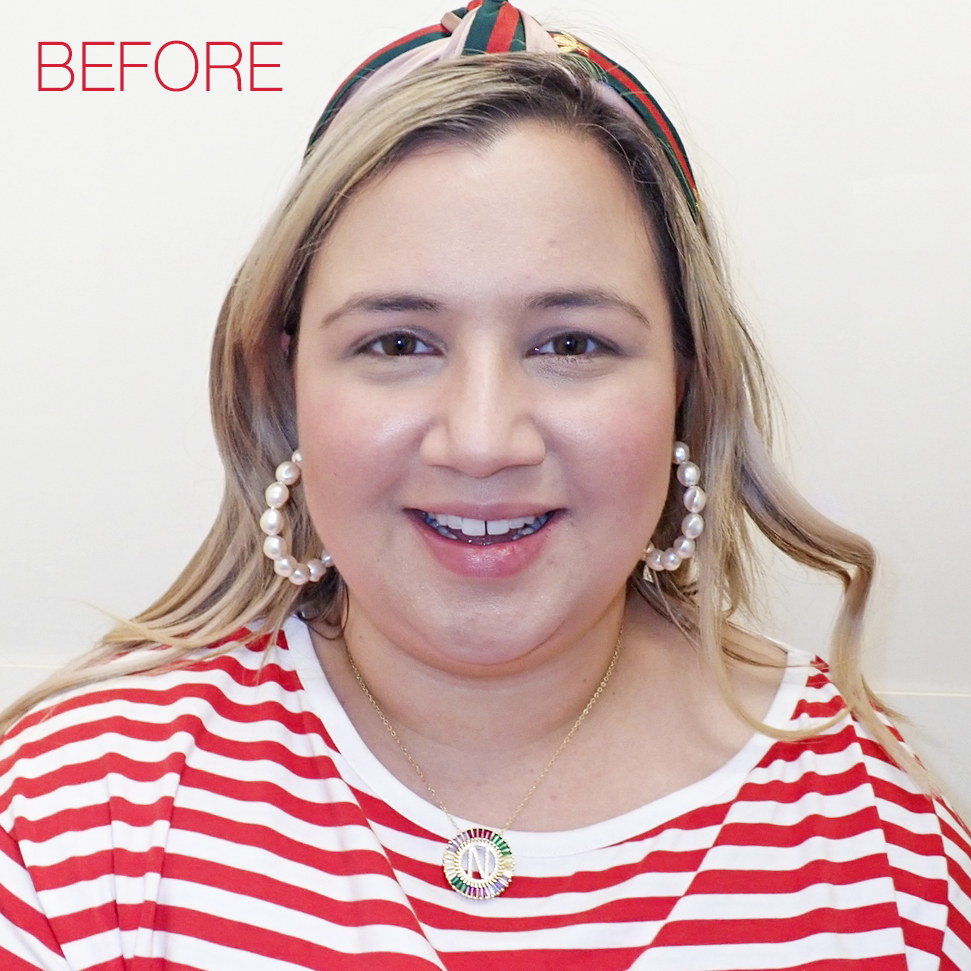 Facebook Conversations