*This post is sponsored by Burkes Outlet. As always, all thoughts and opinions are my own.
The holiday season got here way too quickly! I've had my fair share of holiday parties already and found out I need more than a Christmas and New Year's Day outfit to survive this busy season. I didn't want to spend a lot of money on new clothes but I had three very different parties I needed looks for.
When Burkes Outlet reached out wanting me to put together some holiday outfits I got so excited because I remember scoring great deals in the summer and finding a lot of cute, trendy pieces for super low prices. I have also found brand names like Levi's, Loft, Jones New York, Polo Ralph Lauren and Royalty for Me at discounted prices.
This time around I found so many cute sweaters, cardigans, animal print and mini bags. I had a hard time deciding what to buy because I wanted everything I tried on.
Burkes Outlet Pro Tips
If you have a Burkes Outlet location near you then there are some things you can do to save even more money and find the latest styles.
First, sign up for their FREE rewards program & get cash coupons on the spot as well as discounts every Friday and Monday.
Also, be sure to check for new arrivals every week. I went two week in a row and found different hand bags and sweaters.
So if you're looking for a last minute outfit or even a gift then I suggest you check out your nearest Burkes Outlet!
Here are the outfits I found at Burkes Outlet:
Holiday Get-Together With Your Besties- Fun and Girly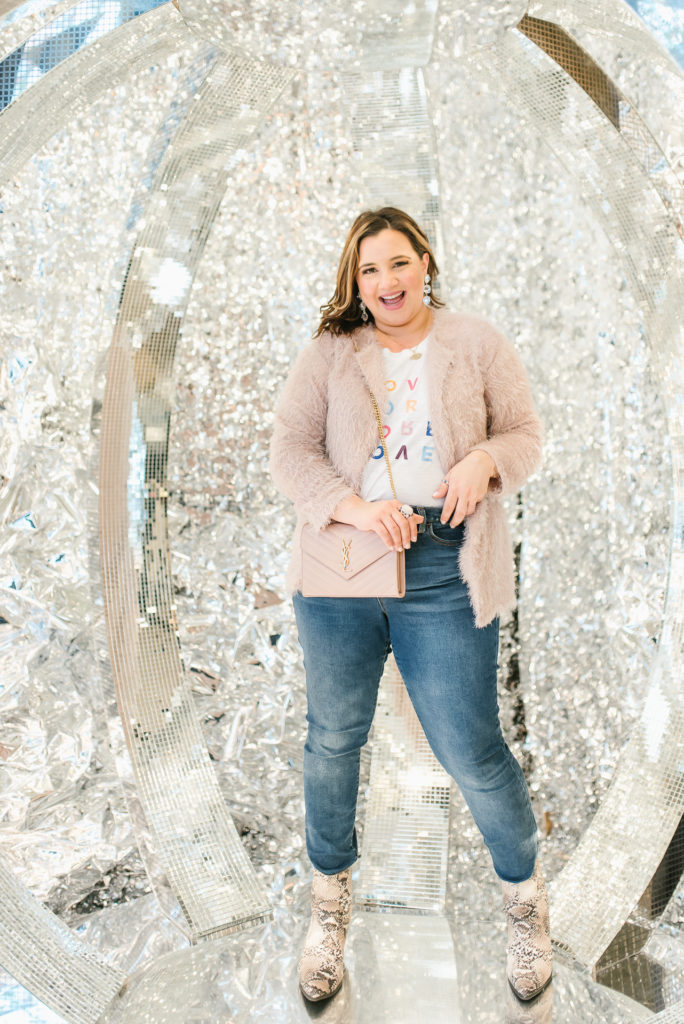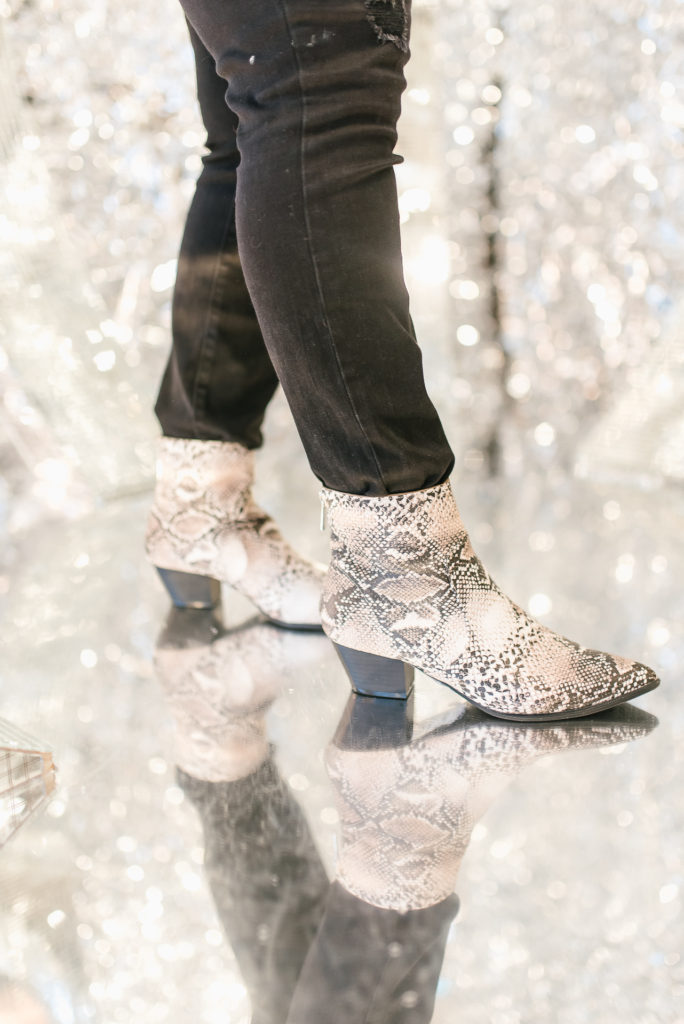 This blush pink jacket is one I have worn multiple times already because it's a great layering piece in the ever-changing Houston weather. I think it's a super fun piece to throw on with these Jones New York jeans and snakeskin boots I also found at Burkes Outlet.
New Year's Brunch – Cute and Comfy
I fell in love with this mixed pattern cardigan and statement flats that I found at Burkes. I paired it with distressed dark denim and my favorite red purse for a polished and comfortable look to wear to New Year's Brunch with the family.
Christmas Party in the City – No Kids Allowed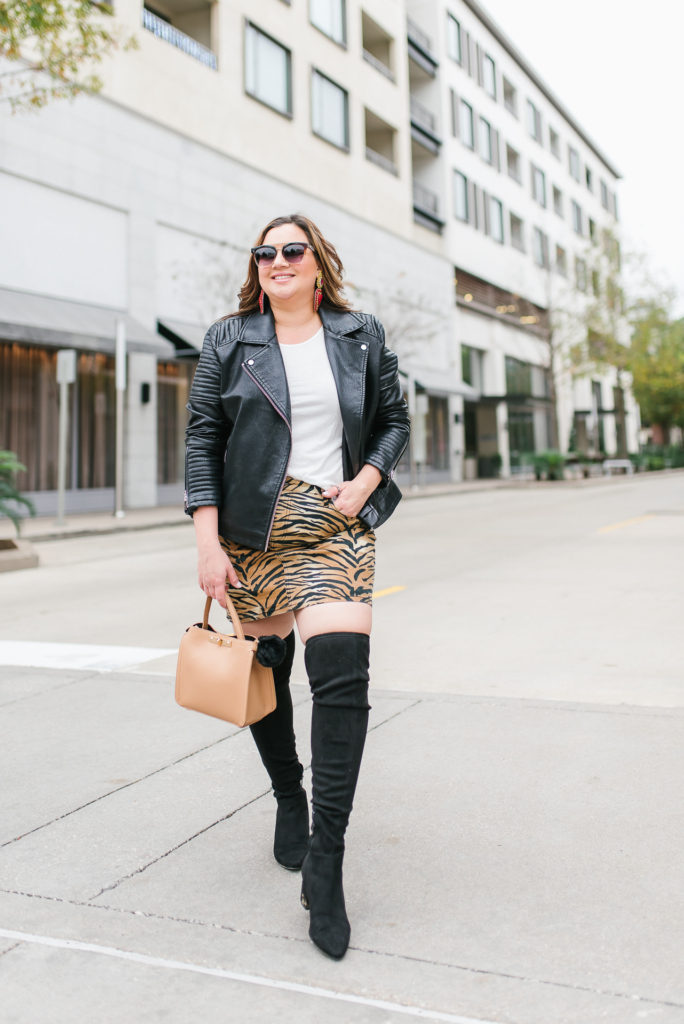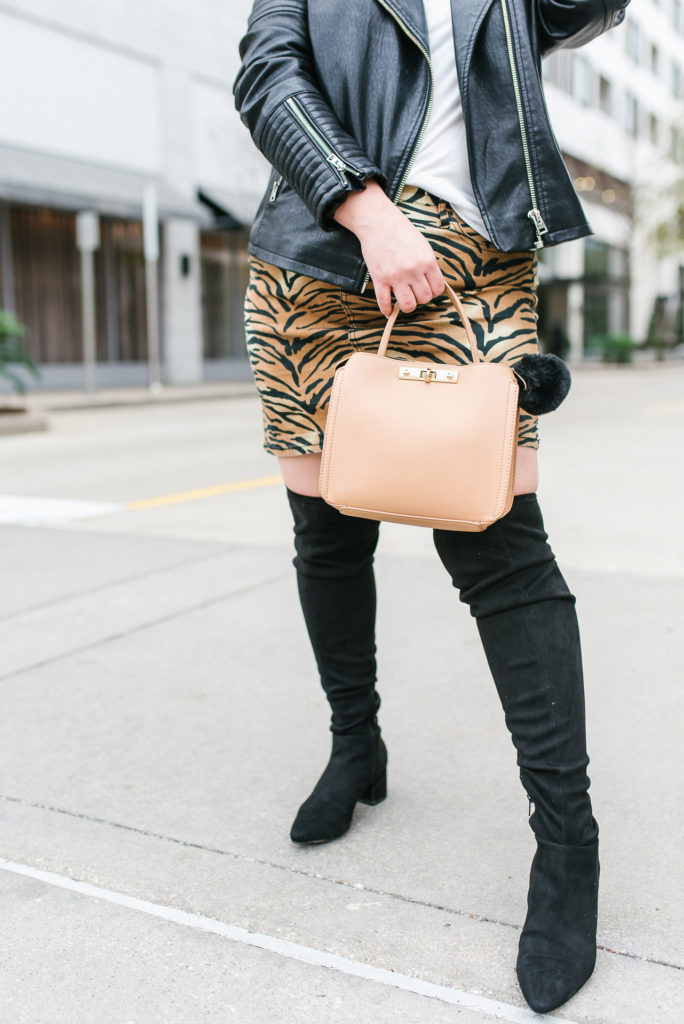 Photos by Banavenue Photography
There's always one holiday party that you get to dress up for date night with the hubby and for me it might be a blogger party or my husband's work party. I had to buy this leopard skirt because it was the perfect length and it would pair gorgeously with my over the knee boots. My mini bag is also a find from Burkes Outlet  and is the perfect accessory this holiday season.
Which outfit was your favorite?
Stay tuned for my Burkes Outlet haul—you'll never believe everything I bought and how little I paid!

Facebook Conversations