*This post contains affiliate links and gifted items. When you purchase from affiliate links I make a small commission. All thoughts and opinions about the products are my own. Thank you for supporting Lipstick and Brunch!

Last time I gave you a bumpdate we were at the 24 week mark and I have to say that it's only been two weeks and I already feel so different than how I felt before. For one, I'm positive I have felt the baby move even though we have unsuccessfully been able to place our hands on my belly and actually have him kick it and second of all, my bump has massively grown and started to be uncomfortable.
My belly is actually beginning to feel heavy like it could make me topple over! Sounds funny but it isn't really. So when I received this super soft and comfortable dress from Ingrid & Isabel that actually made me feel cute and highlighted my bump I was thrilled to wear it over and over again. I actually got a version of the same dress in white which I wore on my baby shower couple of weeks ago. It's also available in black and a hibiscus pink, which I convinced myself not to buy because there's currently way too much pink in my wardrobe. The best part? Ingrid & Isabel designs their dresses so that you can wear them during and after your pregnancy so it's totally worth checking out the brand and investing in some pieces if you're pregnant (or not!). I also decided to try the "neckerchief" trend and mix my polka dot dress and tie a floral, satin handkerchief on my neck–love it! I think it's very Parisian chic! What do you think?
SHOP THE POST: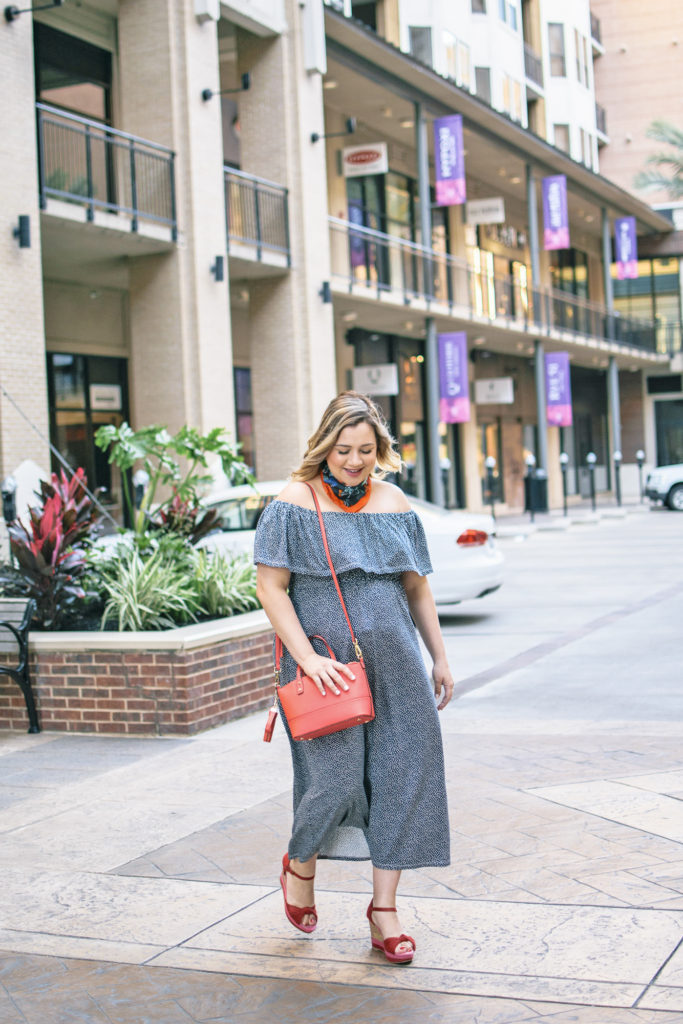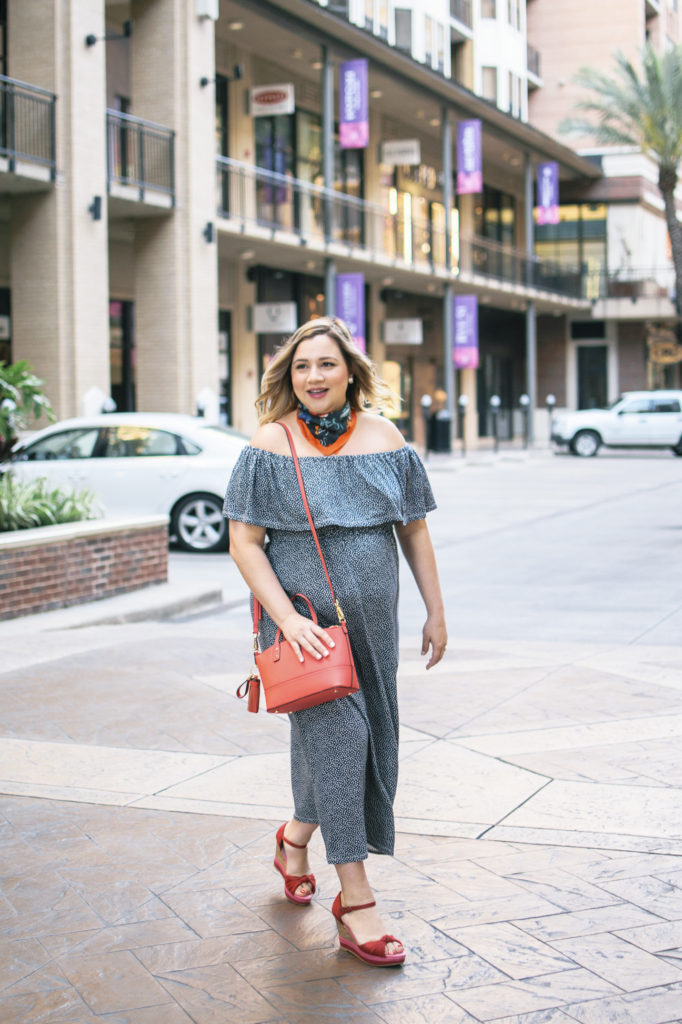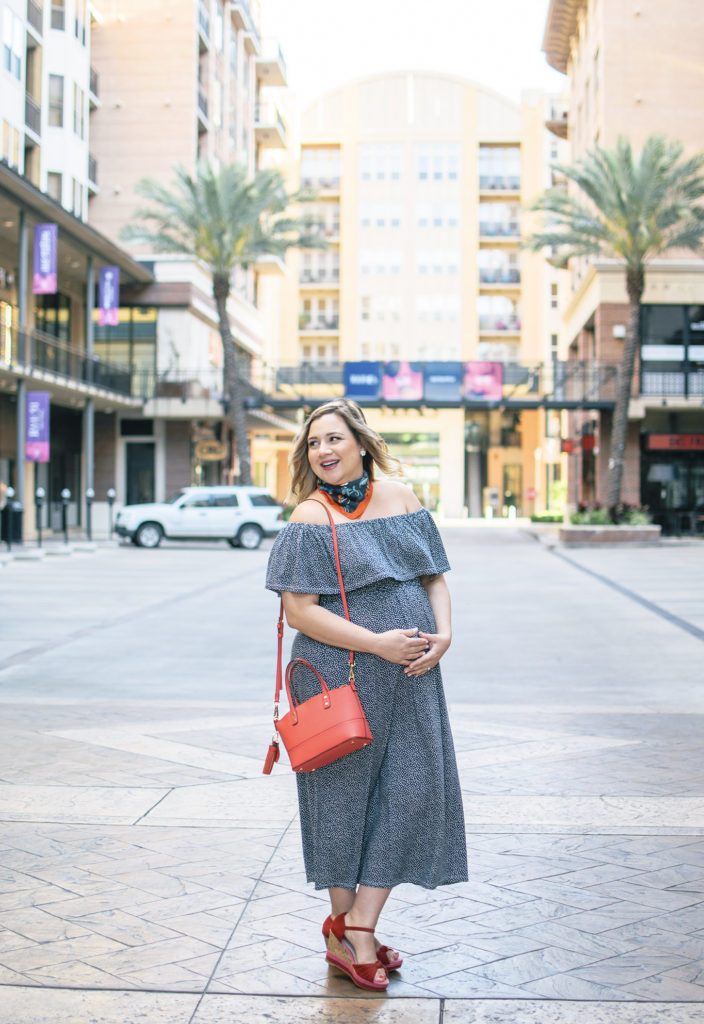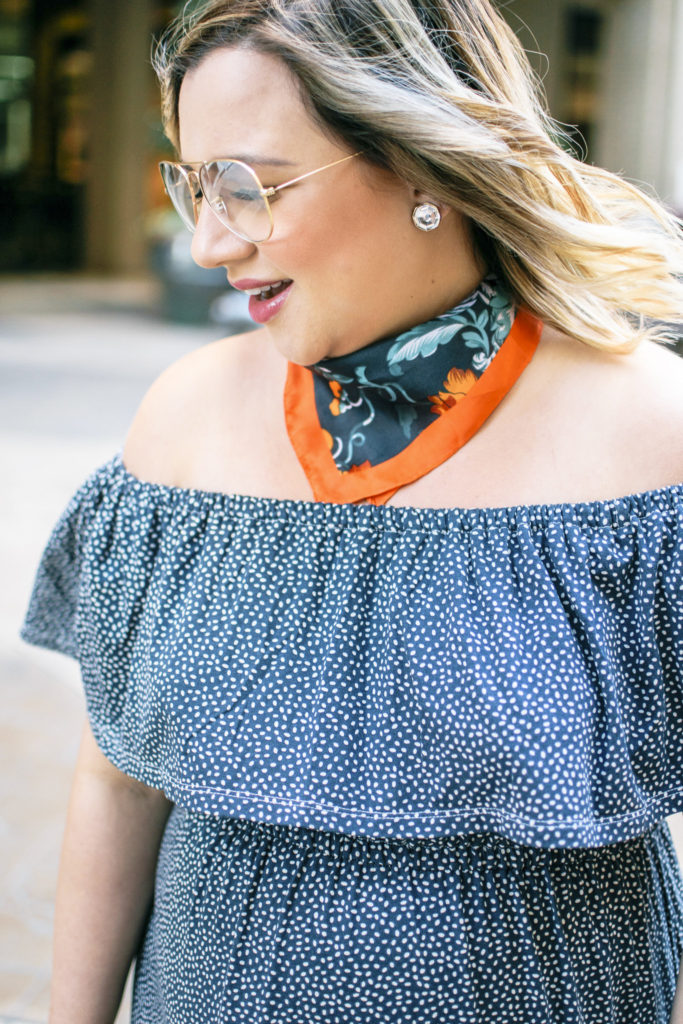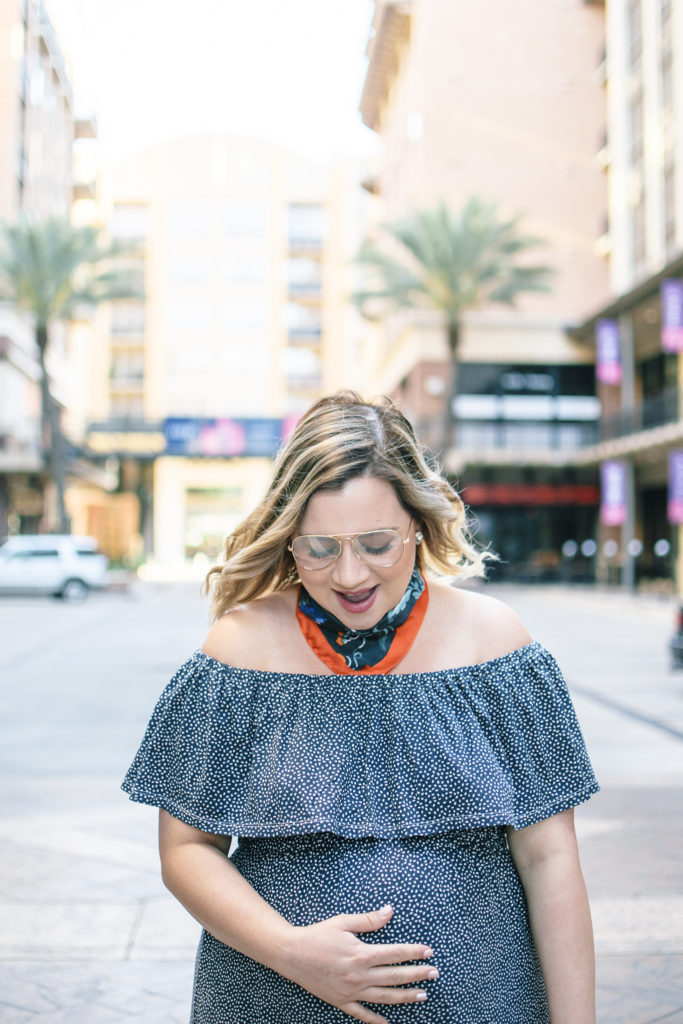 Loving my clear aviators? You can get them here for less than $10!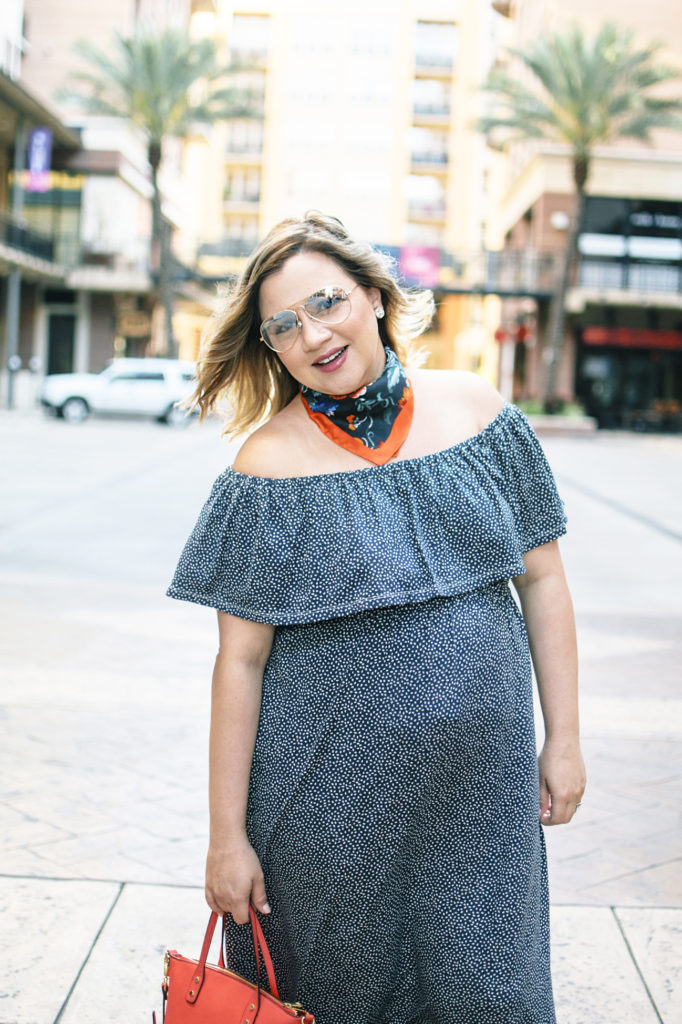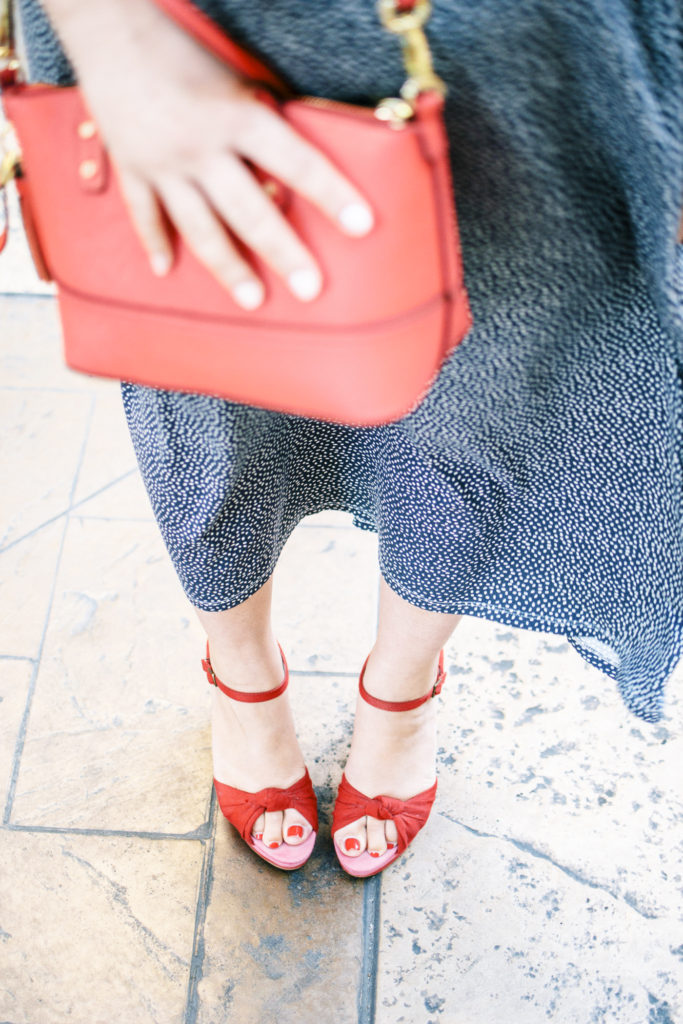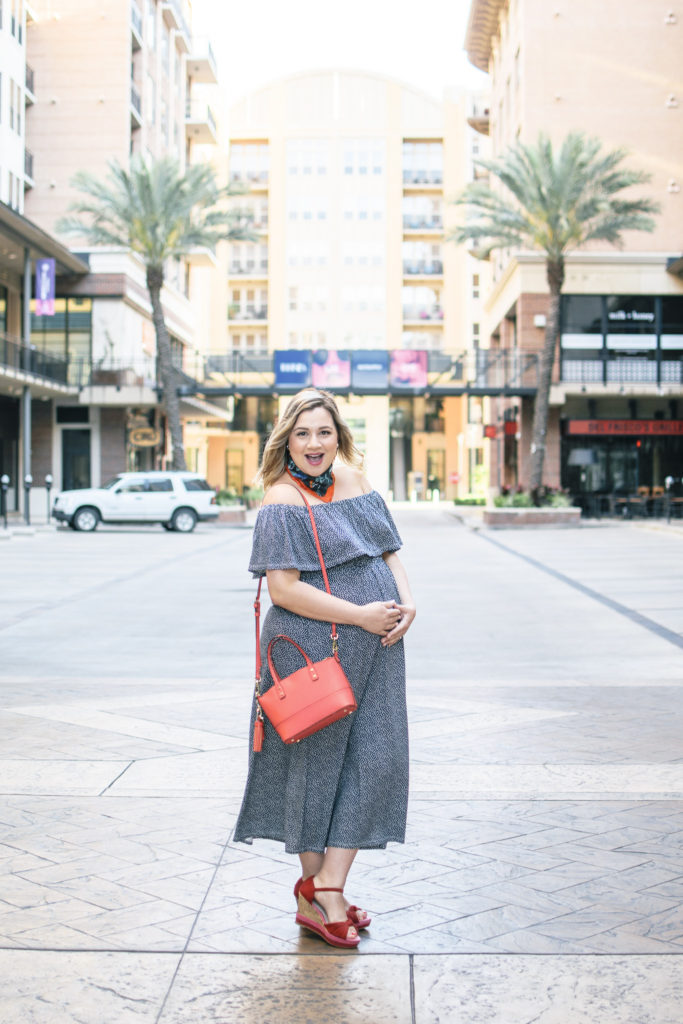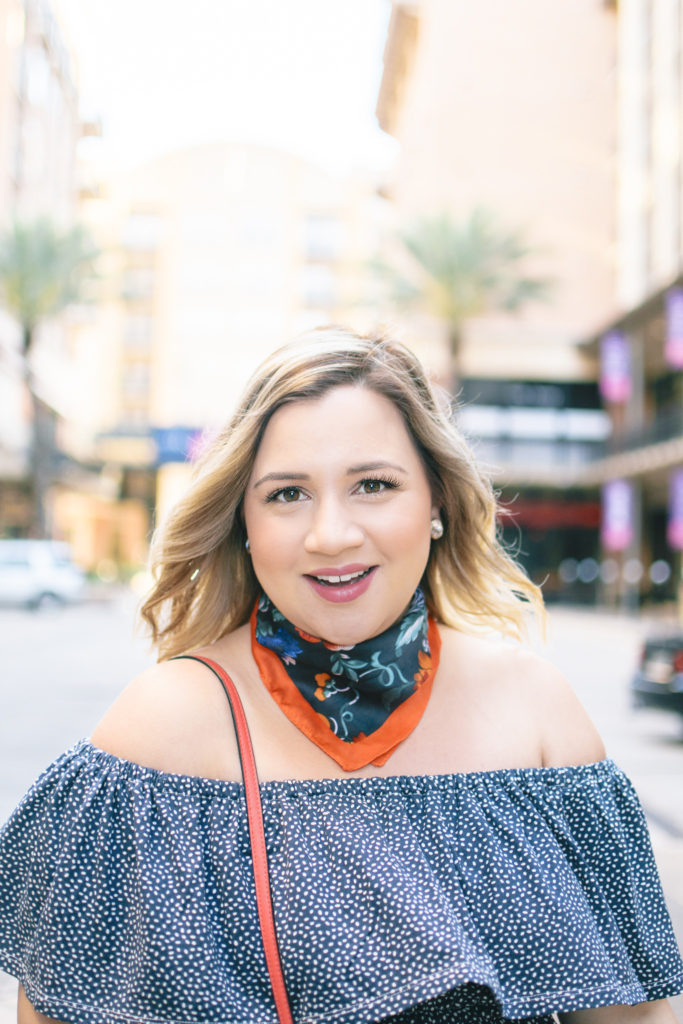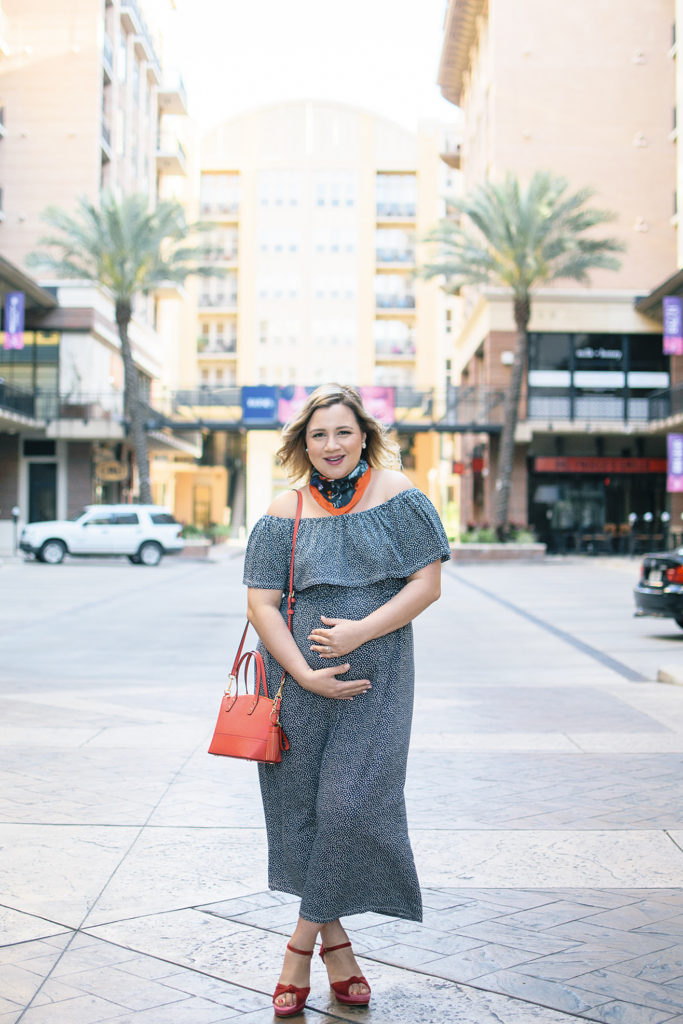 Photos by: This Lavender Life Photography
26 Week Bump Date
Size: The baby is the size of a butternut squash or a bowling pin and is weighing 1lb 9oz.

Due Date: As I mentioned before, my official due date is July 27th but I will most probably be induced between week 36-38 because I'm a high-risk pregnancy because of my Type I Diabetes.

Weight Gain: My last doctor's visit gave me the news I've put on 8lbs total. Guys, you have no idea how big my bump is getting! I think that even though it's been growing for 6 months I can never get used to how it just popped.
It actually feels heavy now, my back is a bit sore when I wake up and my hubby is having to assist me to get up in the bed in the mornings. I will say, the pregnancy pillow I got is a lifesaver because it's actually kept me comfortably sleeping all through the night.
Feeling: I have been feeling great but have been dozing off more frequently and falling asleep after lunch which is supposed to be normal. My morning sickness is still happening every morning!
Unfortunately, we went out to lunch with friends to celebrate my hubby's birthday this past weekend and I had to excuse myself and spend some time puking my appetizer in a stall; something that hadn't happened in a long time.
That sucked big time.

Cravings: I am still loving popsicles, frozen yogurt or any frozen treats. I have been experiencing a bigger appetite which I'm so happy about because for the longest time everything tasted bland.
I'm loving spicy stuff again (not that spicy though) and have been eating red meat which I couldn't stand for the first few months of my pregnancy.
I've been eating lots of pears and gulping chilled HEB sparkling water too! I also had my first iced-coffee in over 6 months and it was delicious (YAY for getting my coffee taste-buds back)!

Recent Highlights: I recently got the longest ultrasound of my life! It took a whole hour because it was a special exam to check my baby's heart.
You see, as a Type I Diabetes pregnant patient, the baby's heart can be greatly affected during my pregnancy. So after a whole hour, 125 photos of my baby's heart detailing the tubes, muscles and examining his heart rate the doctor said we are in the clear.
Disclaimer: There are are still super minor details or defects that might be missed during an exam of this kind.  But in the grand scheme of things: our baby's heart is healthy and it will stay that way as long as my blood sugar levels are kept under control which I'm doing.
Funniest thing happened during this ultrasound: baby boy would not stop bouncing from side to side and was making the job of the cardiology technician very hard! THe technician warned that this woukd be a super active baby! Yikes!

Pregnancy Realness: One question I never understood until I got pregnant was "So did you plan on getting pregnant?" I understood why people ask this question when I made friends that had to actually try many times before getting pregnant or had to go under several fertility treatments before successfully getting pregnant.
I'll be honest and say the fist thing I think is "Y'all just want to know how many times we actually did it until it actually read positive on the pregnancy test!" Hahahahaha! I still think it's one of the reasons you all ask but then my husband gave me some insight and he said "They just want to know it wasn't an accident,' and then it made sense to me.
Honestly, we never had a timeline for when we wanted to have children because it was not a priority in my life. I was in no rush and joked about having kids in 10 years which mortified my in-law, parents and my hubby who kept saying he was going to be "grandpa-dad."
I'm so incredibly happy with the life we have built with my hubby in these 5 years of marriage that one day I thought about how much happier we would be with a baby. My hubby was already on-board so we tried to get pregnant and it happened! No accident here–we really wanted a baby! Next week I might be talking about everyone's obsession of rubbing my belly—hahahaha–I don't get that either!
Up Next: We're finally looking at nursery stuff like paint colors, decoration and rockers/gliders. We still haven't completed cleared out the room he'll be sleeping in but we're getting there right Miguel? We did get some awesome baby shower gifts like the bassinet which he'll use to sleep in during his first five months and tons of cute clothes which I can't wait for you to see on him.

SHOP THE POST:

Facebook Conversations