I left my house at 1:30pm to be at the Houston Galleria Mall by 2pm (Sarah Jessica's appearance at Nordstrom was at 4pm). I wore my best emerald green dress, leopard pumps and of course, a huge flower pin to honor her character in Sex and the City. With my camera in hand and ready to withstand these heels for hours to come, I anxiously waited for fashion icon and shoe designer, Sarah Jessica Parker.
A fan actually wore the blue Manolo Blahnik's on my wish list!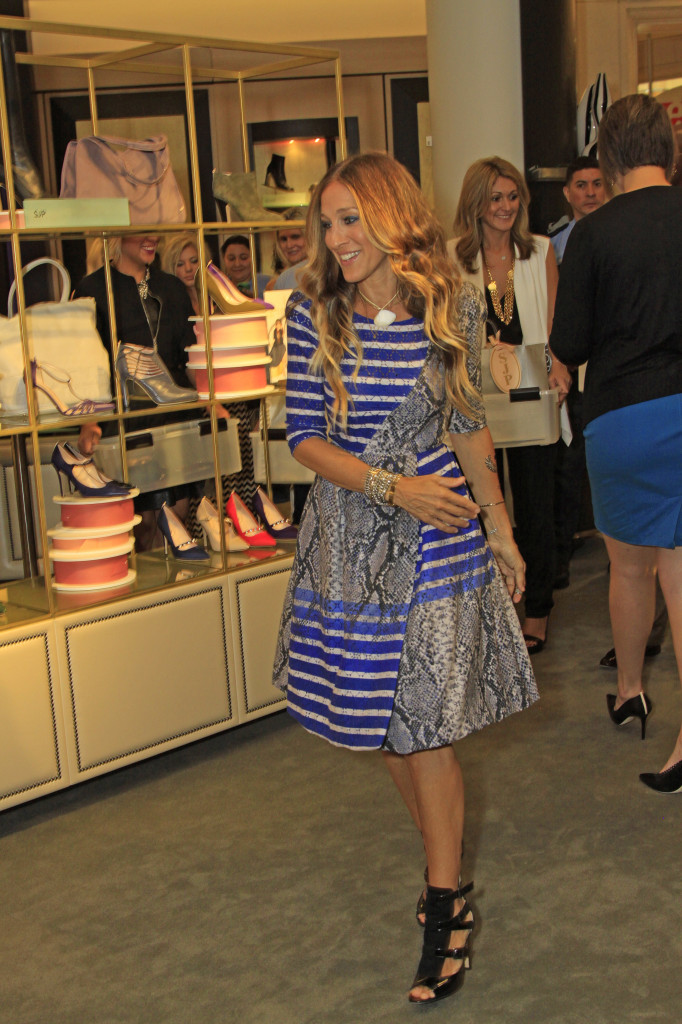 Standing there taking photos I could hear her conversations (not completely!) but I got a huge sense of her warm and charming self, almost like talking to a girlfriend you've known for some time. She was all smiles and surprised expressions every time someone came over wearing an iconic dress from Sex and the City or the blue Manolo Blahniks she wore to her wedding for the Sex and the City Movie.
Fans who purchased a pair of her SJP collection shoes were going to get a little meet-and-greet with her plus, she was going to sign the soles of their shoes or the inside of their purses,if that was the case. I noticed she couldn't stop and get individual photos with anybody. The photos had to be spur-of-the-moment. Someone had to snap pics while you talked to her and you could only hope the pictures that person were getting turned out amazing! That is why I'm always torn on whether I'm taking the pictures (and not posing with the celebrity) or trusting someone to get a good photo. But that's just me being a paranoid photographer.
Also, by talking to some of the Nordstrom sales associates I found out some pretty neat facts about her SJP collection.
The names of her shoes are inspired by people that have inspired her, like her shoe names "Serge" after her hairdresser. I would name a shoe after my hairdresser if my hair looked like hers—stunning!
Even though she does not have a shoe named after her mother, all the shoes have bows, whether it be a very obvious one on the front or a detail in the back, which symbolizes how her mother kept her hair looking tidy and feminine as a child with bows.
But probably the biggest piece of information that surprised was that she actually designed these shoes with CEO of Manolo Blahnik, George Malkemus. Sarah Jessica transformed her famous 'Manolos' into icons on the Sex and the City and now she works closely with them to make her own. Mr.Malkemus was on tour with Sarah Jessica to meet fans of the starlet-turned-shoe-designer as well. No better endorsement on a shoe than actually working with CEO of Manolo Blahnik!
As for appearance, I love her multi-pattern dress (who is the designer!?) and how well she wore her 'Gina' heels from her own collection. Her hair and makeup were flawless, plus she was wearing the same brand of jewelry tattoos like the one's I showed you on this previous blog post.
Click here for more photos of the event!
Which style of shoe did you love from her collection?
Save
Save
Facebook Conversations