I have known about chocolatier Annie Rupani since she appeared on a featured chef page on 002houston magazine and I've always been intrigued by her artsy & shiny confections. Her chocolates are almost too beautiful to eat but with flavors like chipotle, coconut curry and guava tamarind, the tasks becomes a bit easier.
Rupani's brand, Cacao and Cardamom finally has its brick and mortar location at Centre at Post Oak and its a divine, chocolate heaven in there where you can sip some coffee, nibble on some chocolates or even have gelato (oh, and did I see a frozen hot chocolate drink on the menu? Sign me up for that too!). I highly recommend it as a place to share some girl time, your loved one or any chocolate lover that can truly appreciate Rupani's artistry and exotic flavors.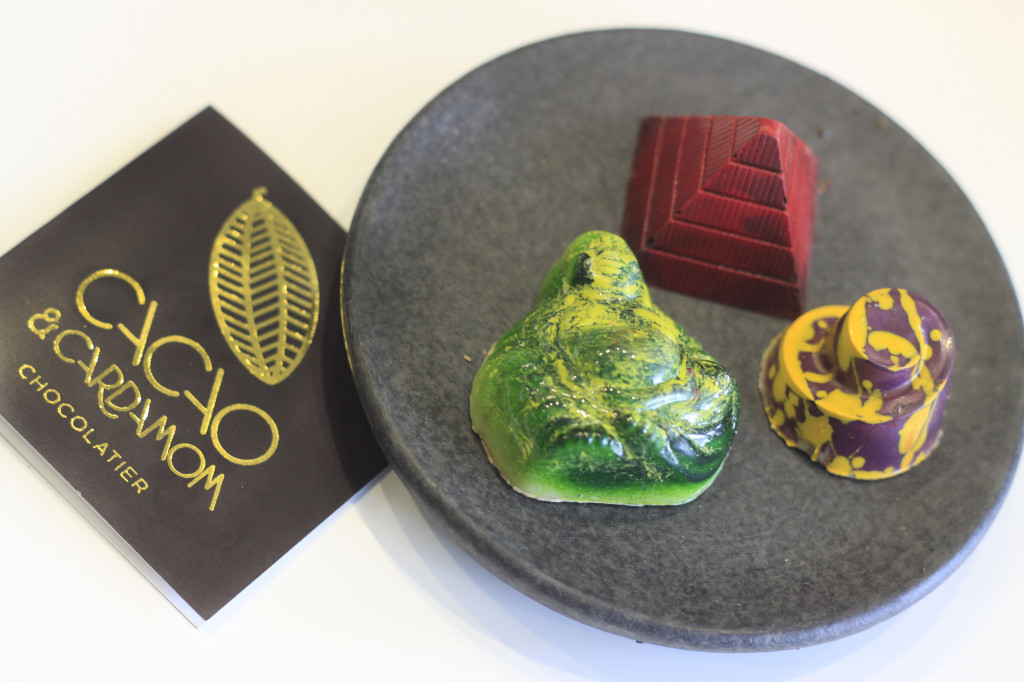 The chocolates are served in a beautiful, mini stone plate.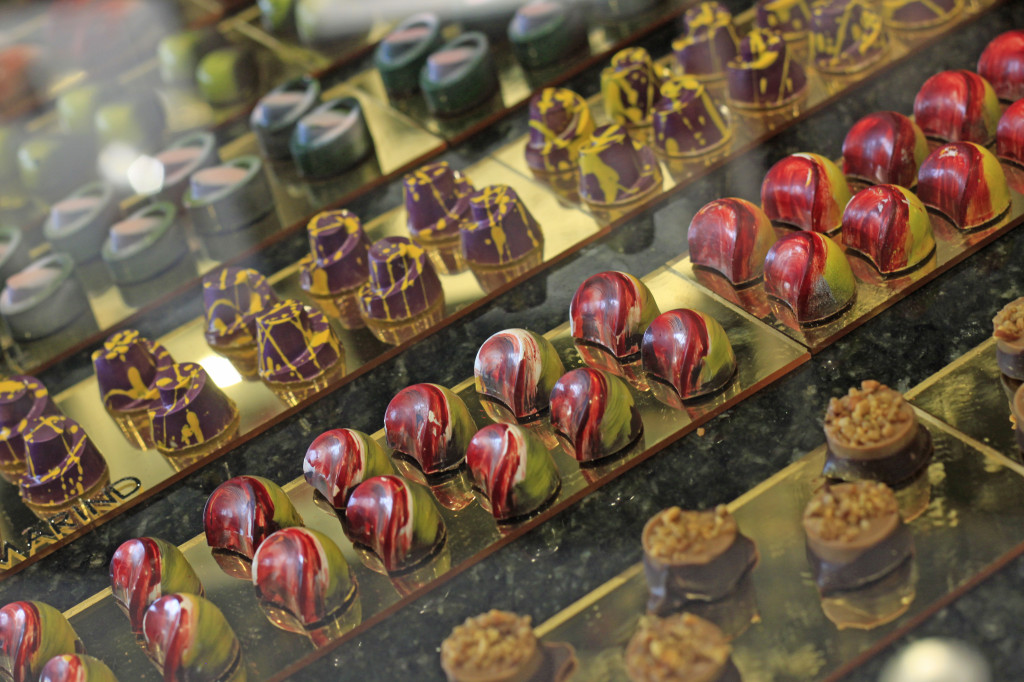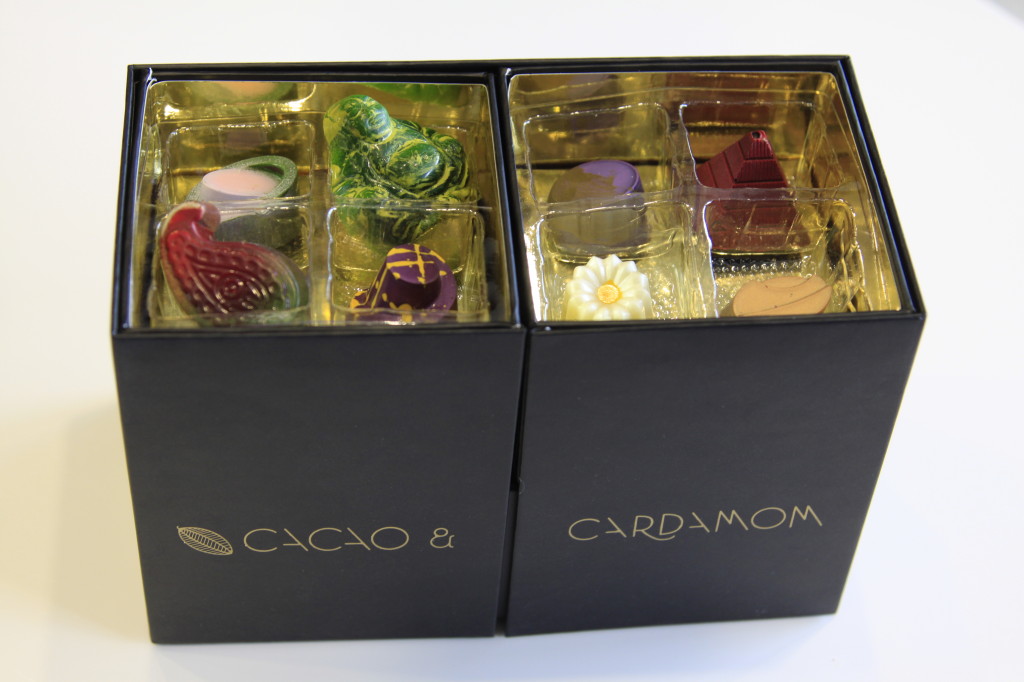 They have amazing gift boxes,this is a 3 tier jewelry-like box.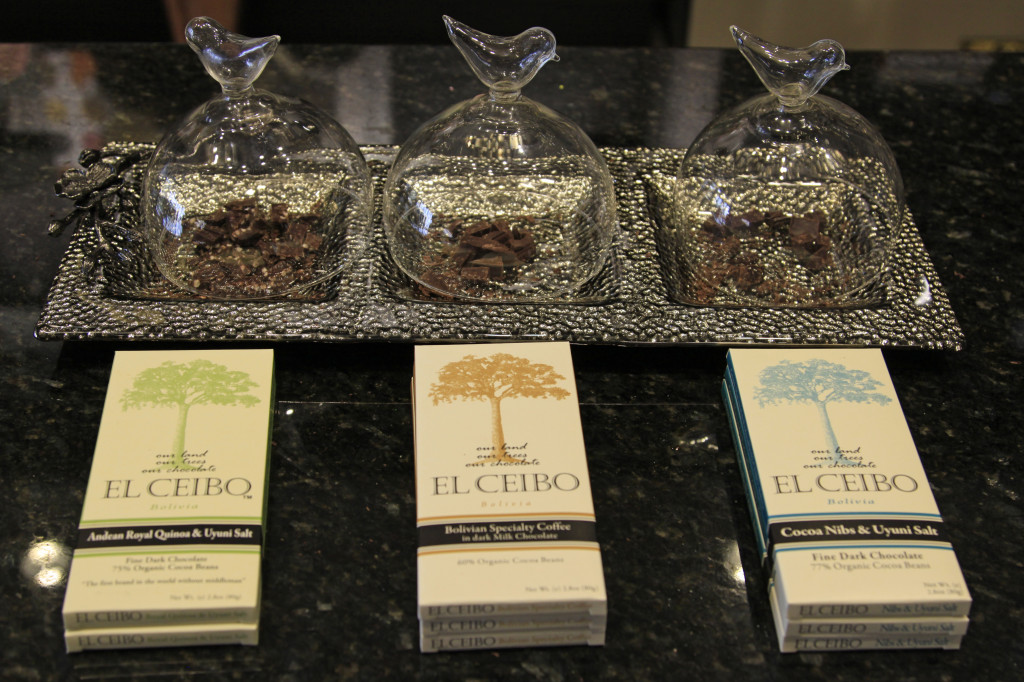 The store carries chocolates bars from 20 countries around the globe and there were samples of this exquisite Bolivian creation that day.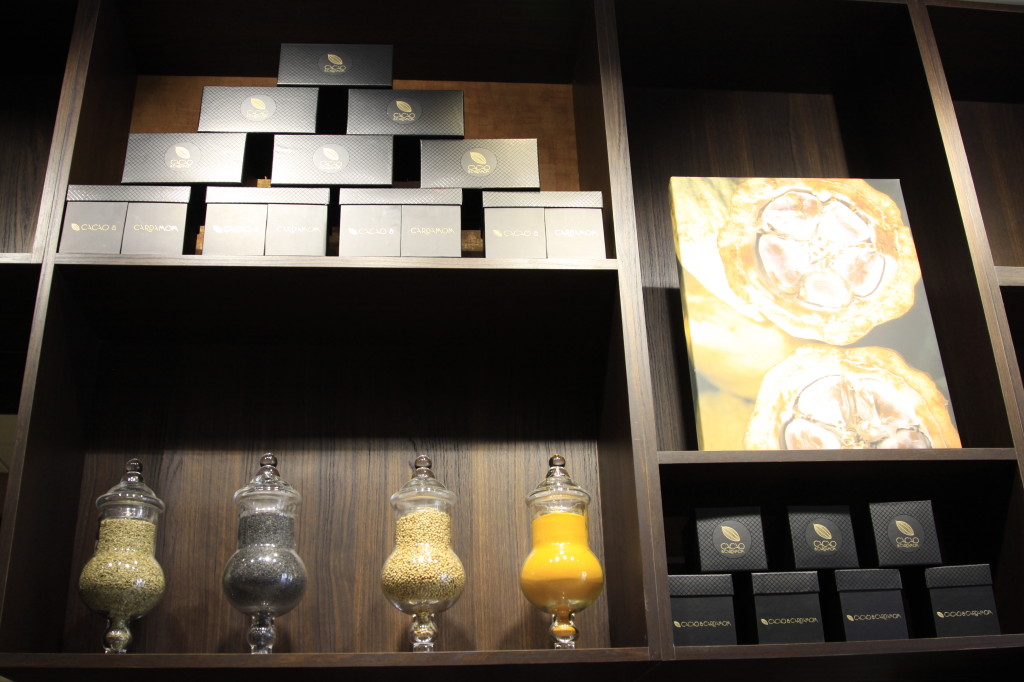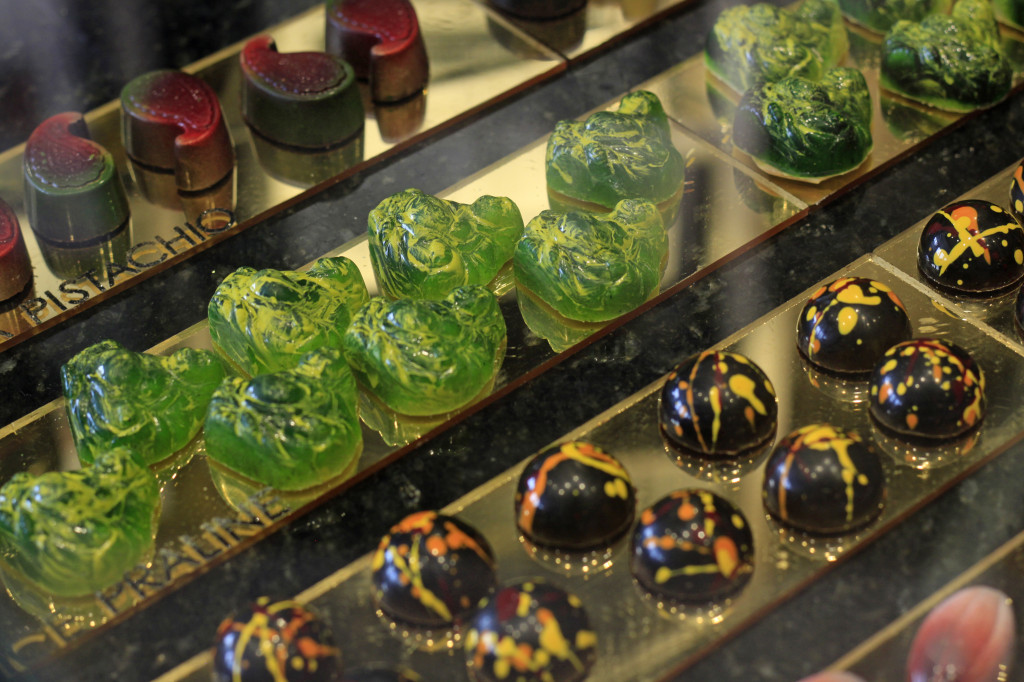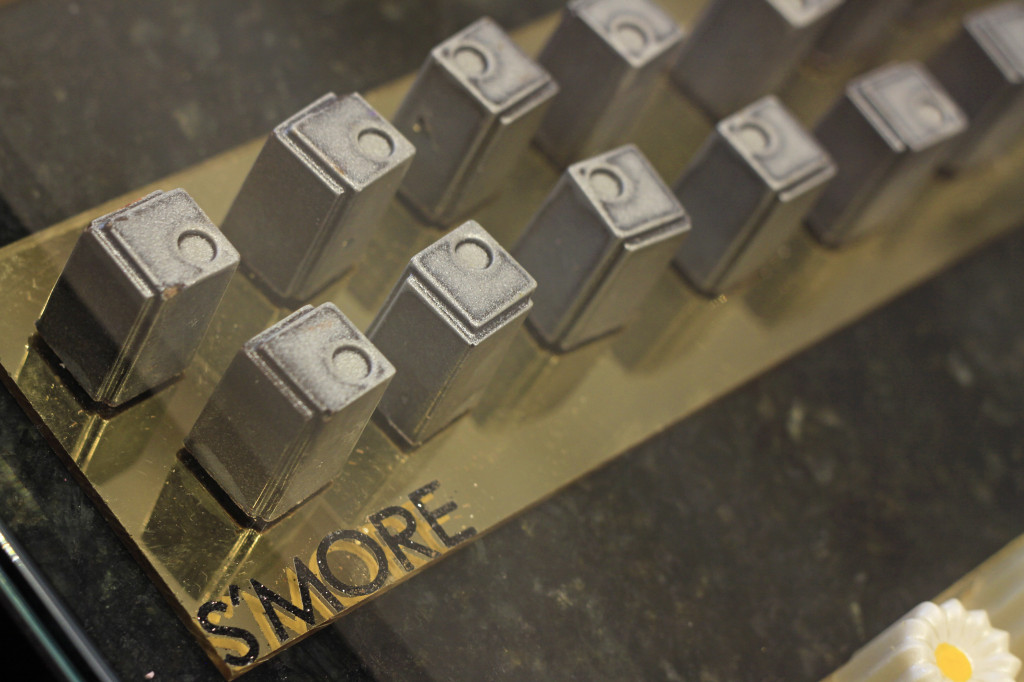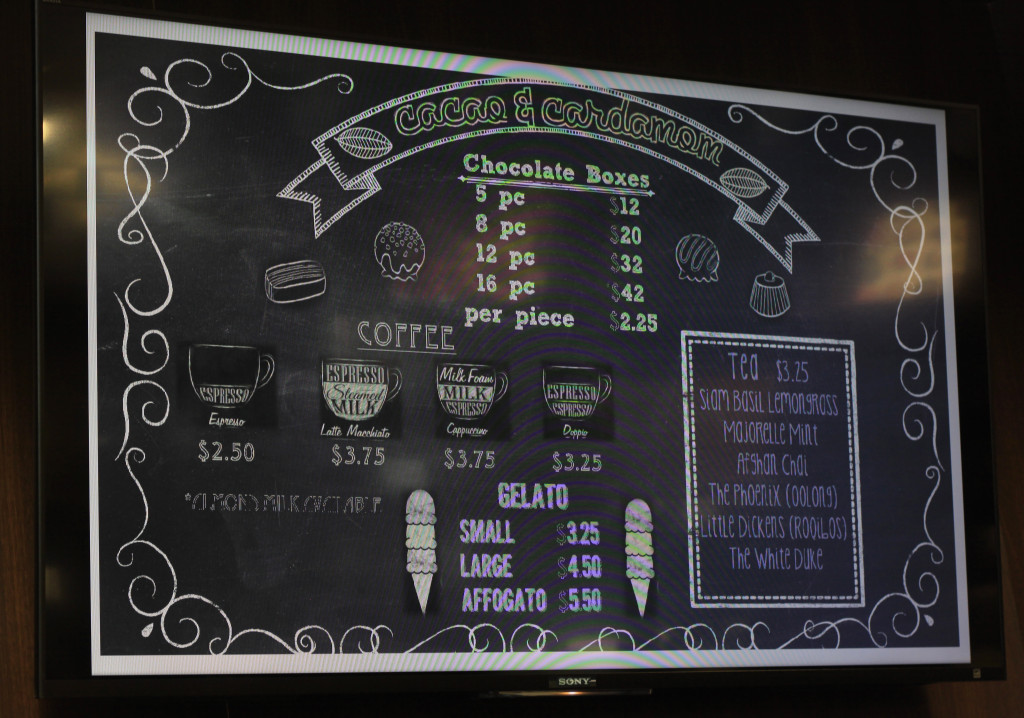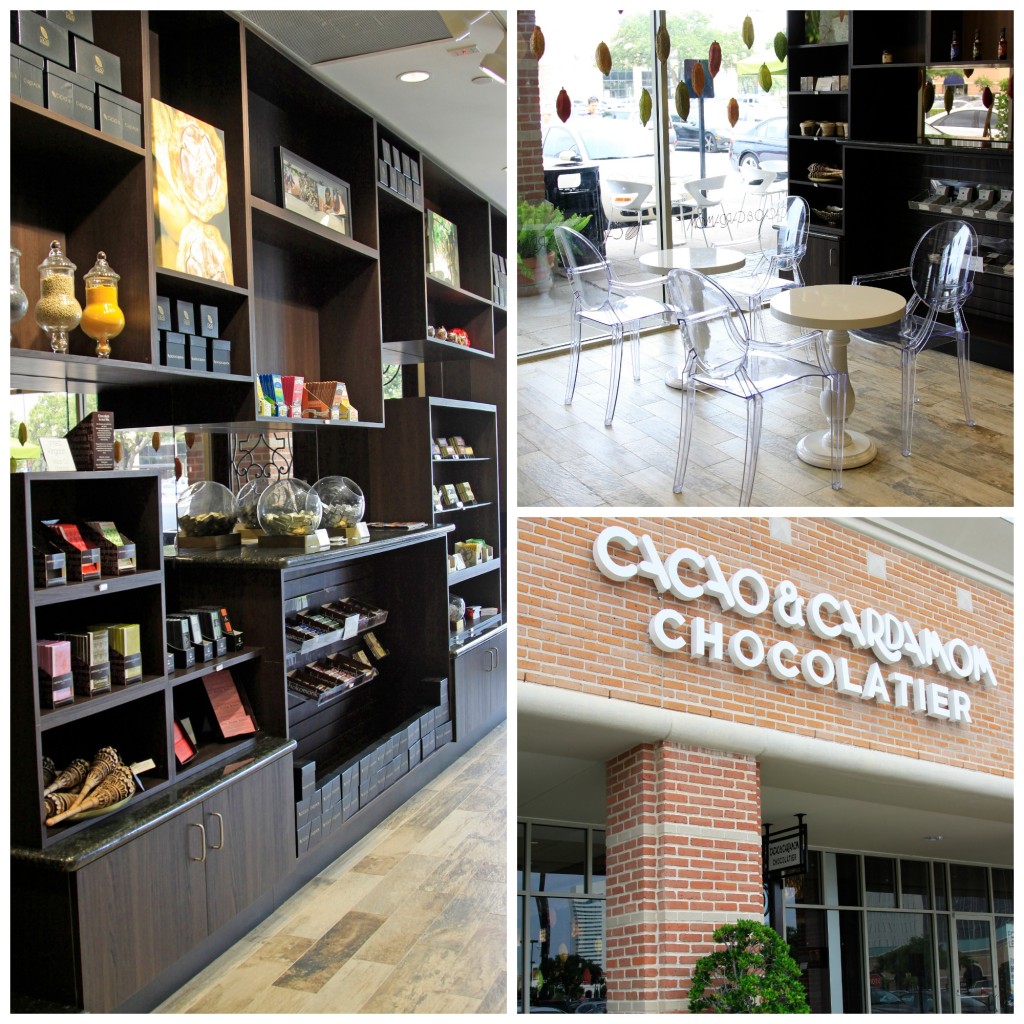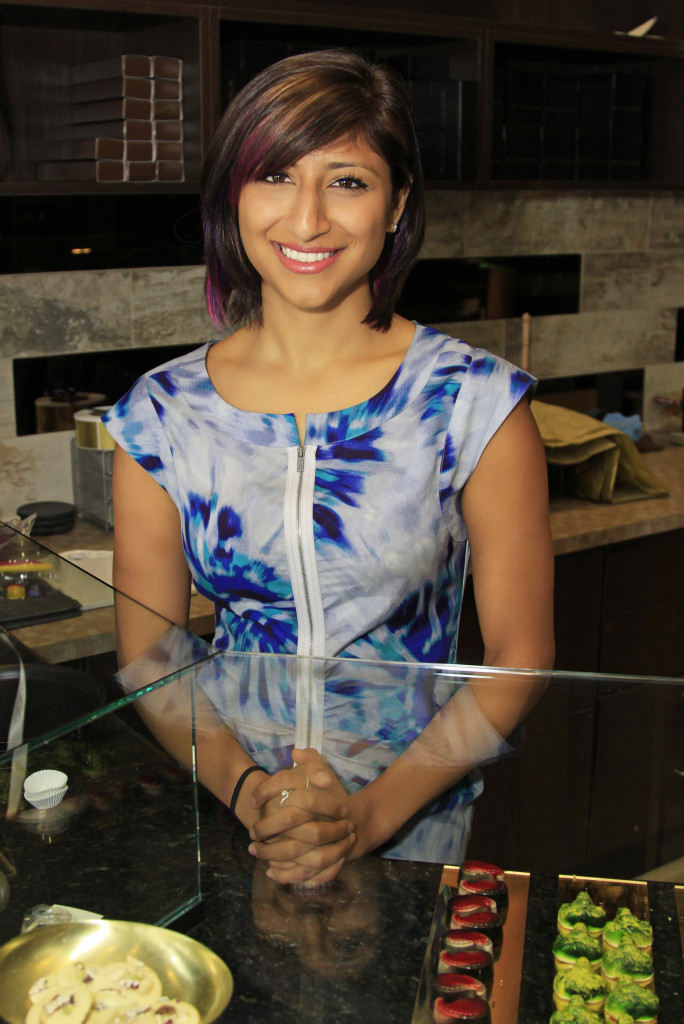 (On going from on-line store to brick and mortar)
"The difference is I'm able to see how people react to the chocolates. It's awesome! I can interact with the people who appreciate what I created."
I thought I was lucky to have bumped into Annie at her store but she let me know that she is always anxious when she is not in the store so you'll almost always find her there. I fired away with some questions about her passion for chocolate and this is what she had to say:
On an ingredient she would never mix with chocolate: "I don't think I have never not tried anything! That's what I do, I push the boundaries with chocolate. Rhubarb and white chocolate didn't hold [when I first tried it] so I had to make it work with dark chocolate. I think it's all about finding the right chocolate to hold the flavor."
Chocolate as an aphrodisiac: "For Valentine's [Day] I did an aphrodisiac inspired line so I added star-anise and honey, which are also aphrodisiacs. Adding different spices definitely makes [eating chocolate] a heightened experience."
On what inspires her colorful trendy creations:  "I create my own style. I've always felt the need to be unique. Even when I am looking for Indian outfits I try to find the most original one. I am inspired with the flavors of the chocolates. The guava tamarind is yellow and purple so it makes you feel that when you see it, same as with the coconut curry one that is red and yellow."

On the best chocolate she's ever had: "I love chocolate from Madagascar, it's so interesting. I've never been to Madagascar but it's a future trip. [The chocolate] is so much fruitier and so much more acidic than regular chocolate and it almost doesn't taste like chocolate when you put it in your mouth."

Fun Fact: " Chocolate dries in six different ways. The only way to get that shine [ like the one on her chocolates]is melting the chocolate and then bringing it high in temperature, then bringing it down immediately and then back up. There's a lot of time, temperature and movement involved. "
Thank you Annie for your time and for being so sweet!
If you have a chance to stop and savor her creations, please do, you will succumb the beauty of the chocolates which are only paralleled by their exquisite quality. The rich and natural flavors melt in your mouth. Having said that my favorite ones were the chipotle and guava tamarind, but that's only because I have yet to try some more!
Cacao and Cardamom is located at Centre at Post Oak in the Galleria area in Houston.
Save
Save
Save
Facebook Conversations