*This is a conversation written by me sponsored by Eddie V's. All thoughts and opinions are my own*
I'm exactly 28 weeks pregnant today and all I can think about is how my mom managed to do this four times! I have a new-found respect for my mom and all she must have endured while being pregnant with us because this has not been a walk in the park! Might I say, I never remember my mom having morning sickness or telling me she wasn't going to get out of bed because she was tired. I'm the oldest of four and I saw her through every pregnancy and all I witnessed was a gracious growing belly, her heading off to work and coming back just in time for dinner. She now confesses to having the worst aches, pains and morning sickness and I can't believe I never noticed it. That's the thing about becoming a mom I guess, you become selfless and stop thinking about yourself so much. I've already started experiencing these feelings in my own pregnancy.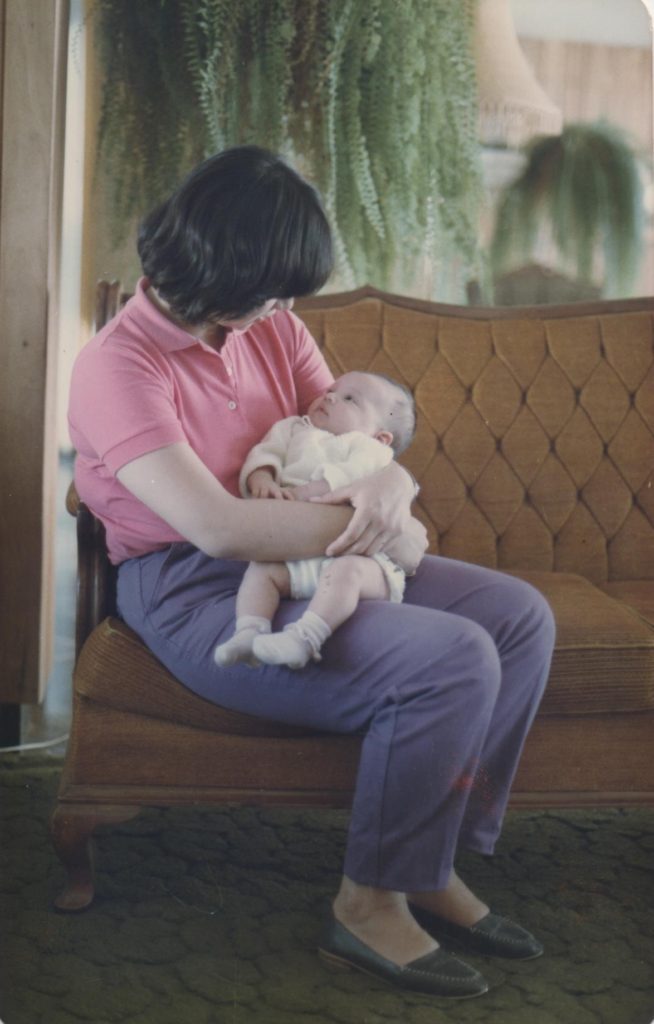 With my mom. I was a month old in this pic!
When I discovered I was pregnant, a surge of emotions invaded me besides happiness and I started getting worried about how my Type I Diabetes would affect our baby. I discovered with every doctor's visit that everything was in my control; if I wanted a healthy pregnancy and baby, I had to be super strict with my diet, exercise everyday and lead a very stress-free life during the course of this 9-month process. Some things that changed in my life 6 months ago were small and superficial like not being able to dye my hair in my first trimester and not feeling up to attending blogger events. Other changes, like keeping my blood glucose levels in a tight range and exercising every single day were bigger changes that have become part of my daily routine.
Along with some life changes, pregnancy is already causing me some unbearable aches and pains but I realized it doesn't matter because the baby is healthy at every check-up and these growing pains are part of a bigger purpose: to bring my baby boy healthy and safe into this world! I complain so much (just ask my poor hubby) but what keeps me going is knowing that in a little less than two months we'll meet him.
So how do I feel about becoming a mother? I'm scared and have been through this whole journey but I feel that I'll be so relieved once I meet my baby. I'm anxious that we haven't found a pediatrician and that I've barely chosen the colors of the nursery but we have no crib or rocking chair (yikes). I'm worried that we have a name picked out for him but that it might be too long (our baby will have 2 names and 2 last names just like my husband and I). I'm overwhelmed with worry and happiness because I'm about to experience the biggest and most exciting unknown in my life. I predict it will be the most fulfilling experience in my life to date and that all of these tiny challenges will become a blur once I focus on my baby's face in my arms for the first time.
So, in honor of selfless moms everywhere I've partnered with Eddie V's to bring one very lucky winner a very special prize so they can treat their mother to the ultimate: A Mother's Day Jazz Brunch for 8 people! Enter the contest through the Rafflecopter widget below and tell me in a blog post comment why your mom deserves the best day ever!

a Rafflecopter giveaway
Rules/Disclaimers for Mother's Day Jazz Brunch Giveaway at Eddie V's:
The giveaway is exclusive to the Houston West Ave location (2800 Kirby Drive).
Eddie V's will work with the winner to provide a gift certificate should they not be able to make it to Mother's Day Brunch.
Prize value is an estimated $600.
Prize is only valid for the Mother's Day Jazz Brunch, which is a prix-fixe menu. However, as mentioned above, the restaurant will provide a gift certificate if the winner cannot make it.
Eddie V's will be holding a reservation for 8 people at noon to avoid running out of tables on Sunday, May 14th. Eddie V's will do everything to accommodate the winner's preferences, but cannot guarantee being able to adjust the time.
Eddie V's ( 2800 Kirby Drive) will know the winner is visiting and the full meal will be comped.
Tip will be included in the meal.
Eddie V's and Lipstick and Brunch is not responsible for providing transportation to the restaurant.

Winner will be chosen on Sunday, May 7th at 10PM and will be published on the Rafflecopter widget.
Facebook Conversations