This is a sponsored conversation written by me on behalf of Blue Lizard Australian Sunscreen. The opinions and text are all mine.
My husband and I have never had so much fun in our lives since having Nicolas and pool days are definitely one of those activities that are so much funner with a baby. Everything from trying his first piece of banana to splashing around in the pool is filled with wonder and we're enjoying witnessing all his firsts.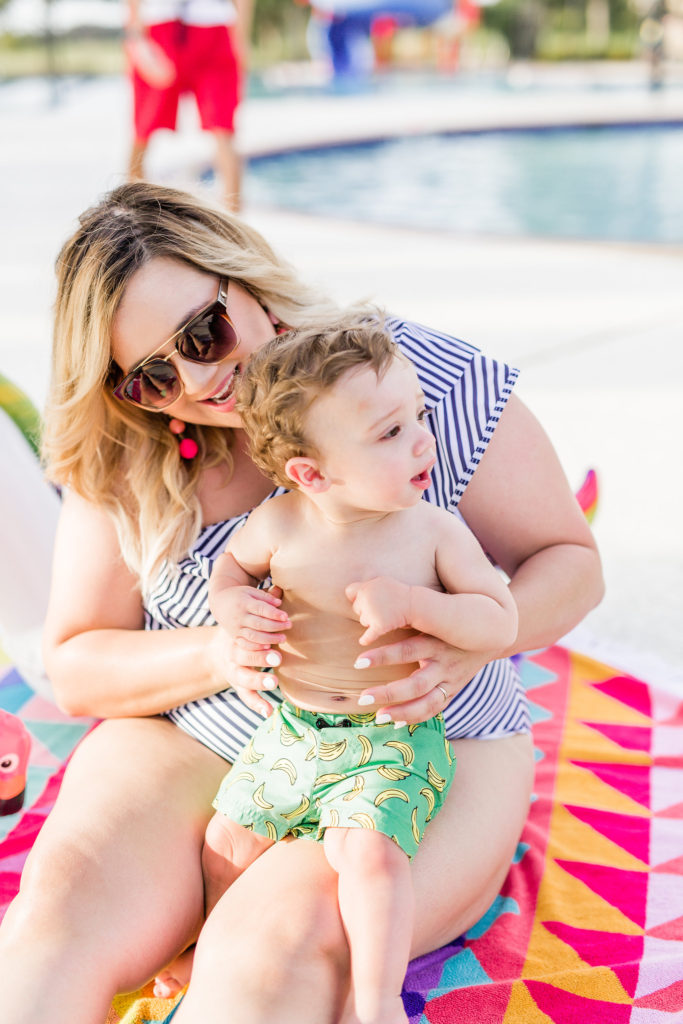 Photos by Arzu Vargas Photography
Speaking of pools, Nicolás Enrique is a true summer baby, he loves water and we've already been to the pool many more times than we ever have when it was only the two of us. We're lucky to have our neighborhood pool close by so we try to go every day. Our frequent pool visits have made me realize the baby pool essentials I should pack for a fun and safe time. If you pack smartly for your baby then I guarantee you and your hubby or friends will have a better time too! Check out my checklist and tips below and tell me if I missed something!
TIPS Before Heading Out to the Pool
Wait For Cooler Temperatures I don't know how the weather is where you live but in Houston and it's surroundings it's almost 100 degrees Fahrenheit from 2pm-6pm. My recommendation is to head to the pool really early in the morning (before10am) or in the evening around 5:30pm when the temperatures are milder.
Advantage of Evening Pool Trip I like to head out to the pool in the evening because Nicolás las falls asleep faster at night. We get home, I give him a warm bath to wash off the chlorine and put on his pajamas. He drinks his last bottle and he falls asleep so quickly because he is exhausted after a day swimming.
Extra Swim Diapers Make sure to have your baby in swim diapers. Please don't assume that one swim diaper will be enough for one day. You might need to change it if he goes number two in there so it's better be safe than sorry. 😜 I always put swim trunks on top of his swim diapers too so people around us don't think he's swimming in regular diapers. 🙈 Baby swim trunks are so cute too!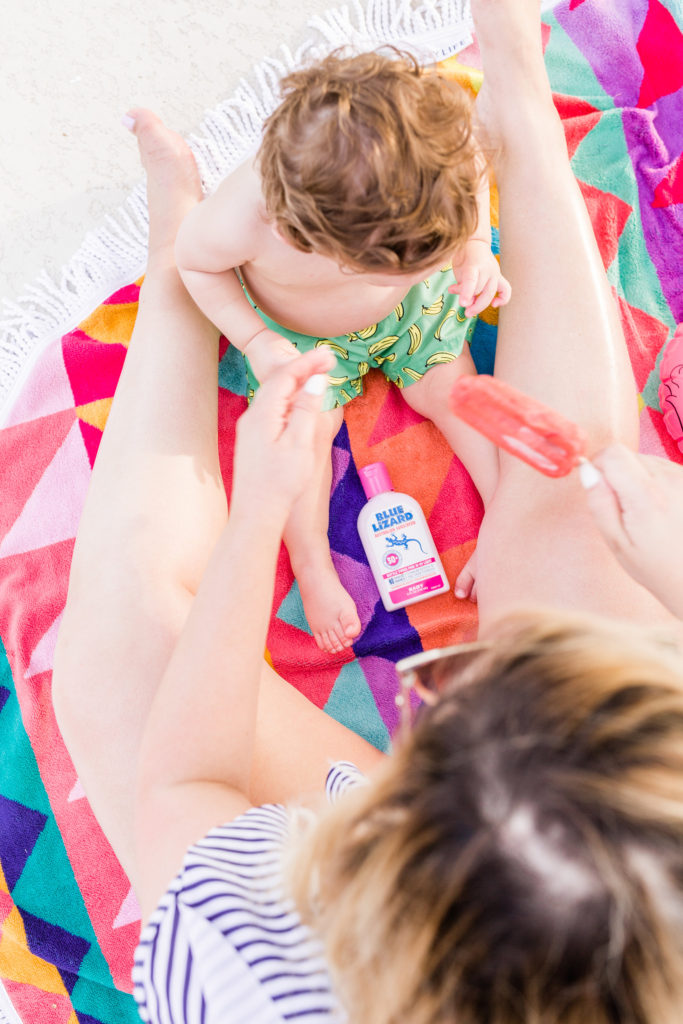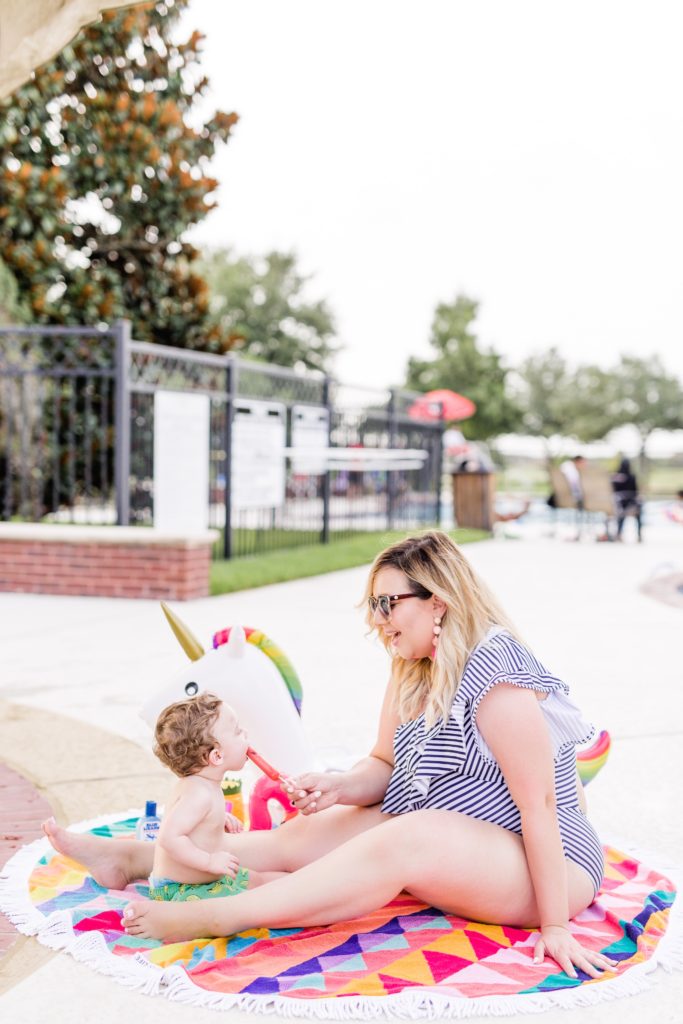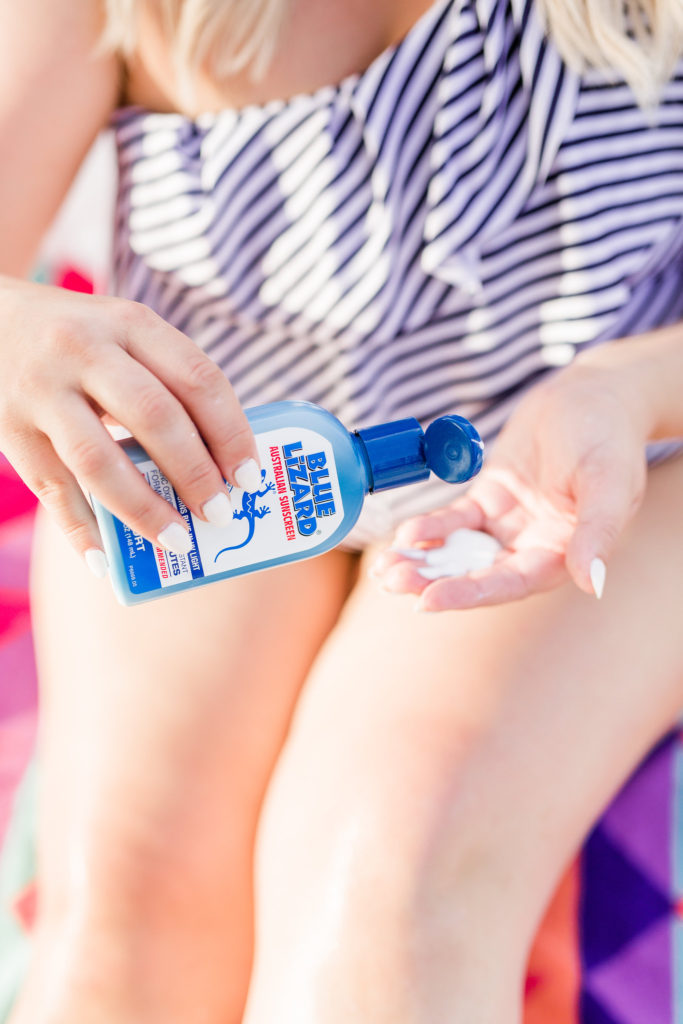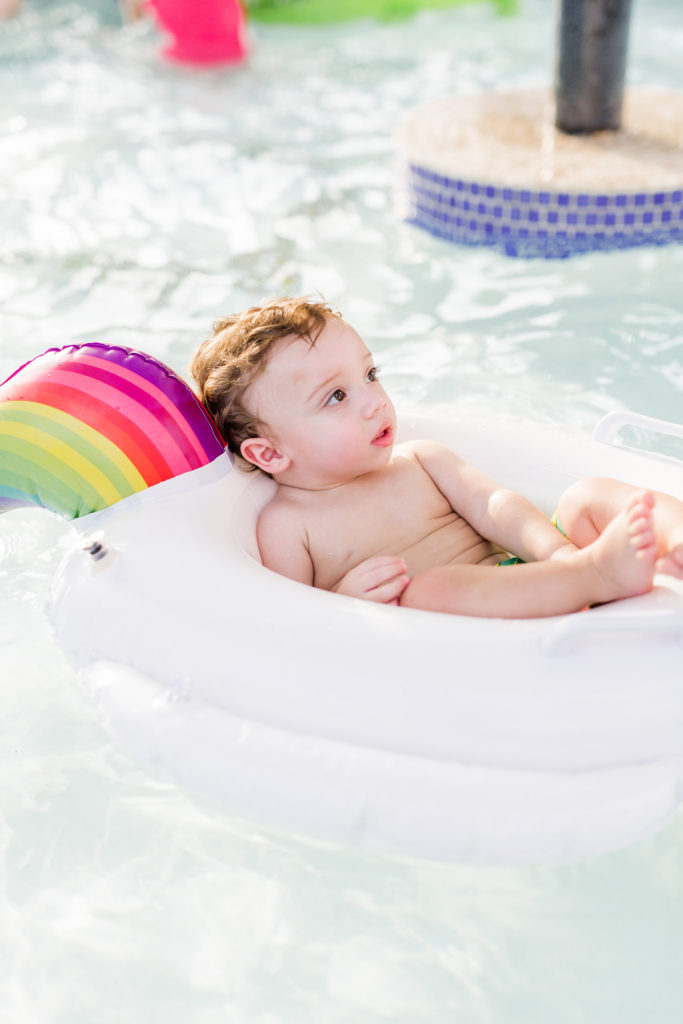 Baby Pool Essentials
Sunscreen
Nothing is more essential and important on this list than protecting my baby's sensitive skin with a high quality sunscreen like Blue Lizard Australian Sunscreen. This sunscreen has a natural, mineral base which results in a cleaner, safer and more effective formula. I had no idea chemical sunscreens are absorbed by your skin and only protect you after the rays have hit your skin. Zinc oxide in the Blue Lizard Australian sunscreen acts like tiny mirrors on your body and reflect the rays before they even hit your skin. I was given the option to only try one of the formulas but I bought both the adult and baby formula and we love that they were unscented, paraben and chemical free and disappeared easily when rubbed in. One of the coolest features of both formulas is how the bottles change colors when they come in contact with harmful UV rays. Want to try it for yourself? You can buy the sunscreen on Amazon & see how the bottle changes color here.
Water & Hydrating Snacks
This might be a no-brainer but I see so many people bring sodas and juices to the pool when what you most need is water. If you're planning for more than an hour at the pool make sure to give your baby around 2 ounces of water each hour (our pediatrician's advice). I also love packing watermelon in little pieces which makes for a healthy easy to grab snack for Nicolás Enrique. Our favorite snack at the pool? I love taking our little cooler with all fruit ice pops which we can enjoy together.
If you have a toddler like I do, I like to pack frozen treats in a small cooler. We have been loving the goodpop brand frozen pops which are organic and made with 100% natural fruit juice. He loves them. I love them. You get the picture!
Play Pen with Canopy
I don't want the baby's nap time to determine my pool time which is why this super duper  play pen and canopy always come with us to the pool. You can pop this play pen open with one hand and cover with a canopy on sunny days (this is great for the beach too). Whenever baby is ready to take to take a break or nap, the play pen is available so you can keep enjoying your pool time.
Baby Float with Shade
You've heard me talk about this float with shade in a past post and it's because we love it so much because Nicolas enjoys the freedom it gives him, it has shade which helps him keep his yes open, packs flat, and it dries quickly. I recently got him a baby unicorn float and even though this one is not an essential, how cute does he look in it?!
Floaters for Toddlers
Floaters for toddlers have definitely changed since I was a kid so take note. Here's what they look like now and it's what your toddler should be wearing to the pool. When they are gettign closer to two years of age they want to be more independent and let go of you at the pool so these floaters are good for that type of new attitude he/she is adopting. Having said that, NEVER TAKE YOUR EYES AWAY FROM YOUR CHILD at the pool.
Extra Outfit
If your baby gets fussy and you or your partner get out of the pool to hold him, don't leave him in his wet pool clothes. Change him out of those wet clothes, quickly clean his body with a wet wipe and put him in fresh new clothes. Ideally you would all be at the pool for the same amount of time but you never know when baby might be ready to get out especially on a long pool day. When you get home, make sure to give him a good bath to wash away the chlorine.
I hope my tips and baby essentials list are useful for you this summer! This is an ongoing learning process but I'm always happy to share what we learn along the way and works for us. Anything I missed on my list that you think I should add? Let me know!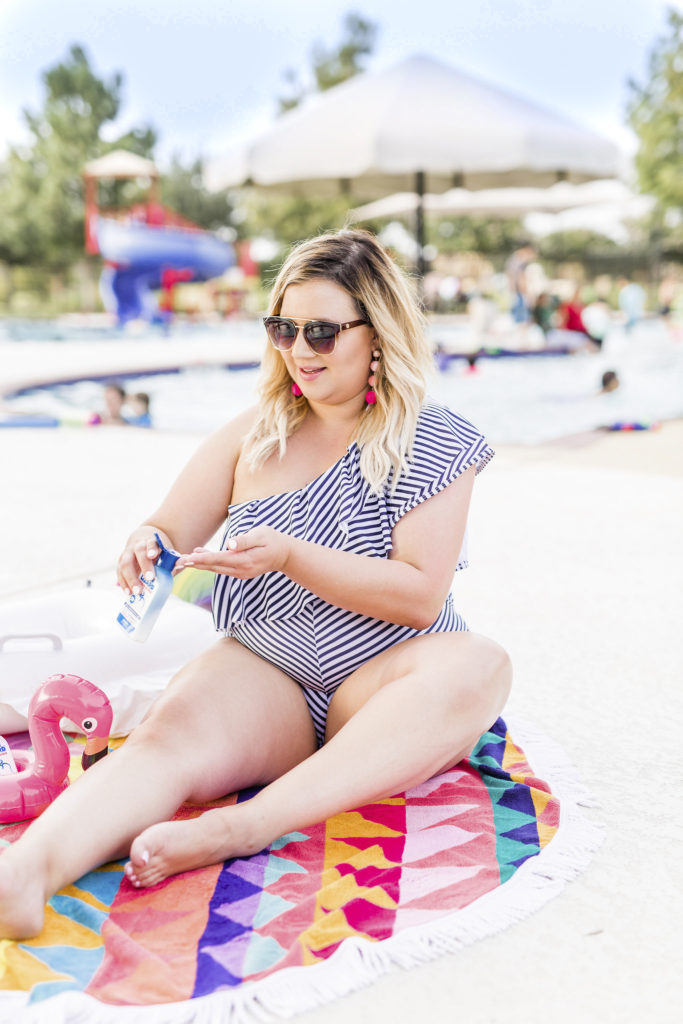 Shop my bathing suit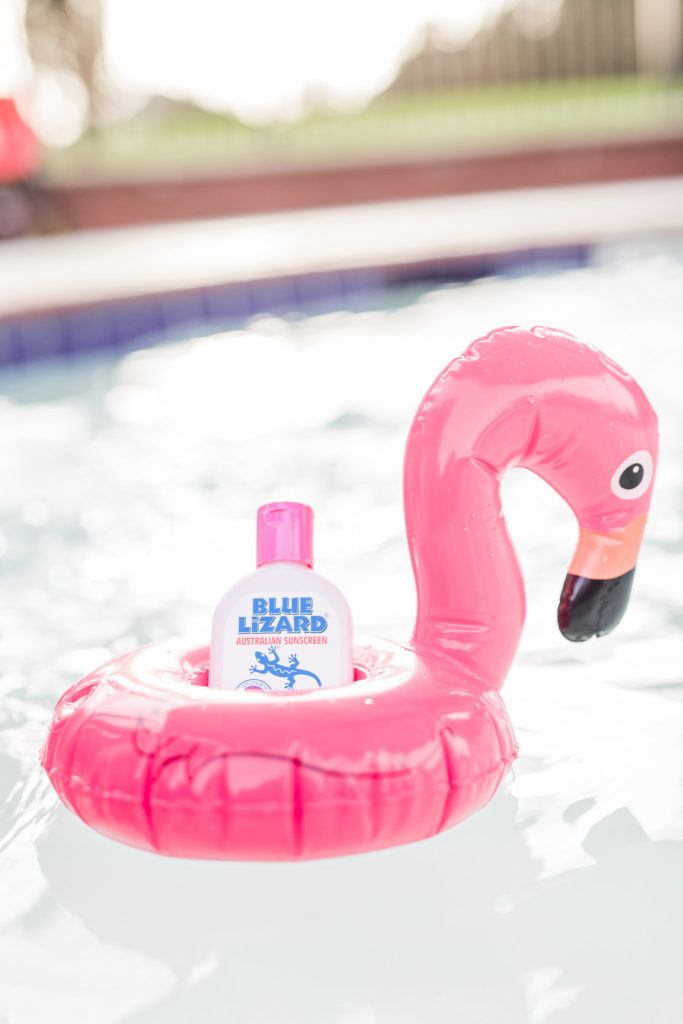 Facebook Conversations