*All photography by Nicole Kestenbaum / Thank you to The Frenchie Boutique Hotel for hosting us.

If you're looking for the perfect spot for a family or girls' trip and you live in Houston and it's surroundings, then you have to make a road trip to The Frenchie Boutique Hotel in Round Top, Texas. Only a one hour and forty minute drive from Houston, The Frenchie is an elegant boutique hotel  in the charming town of Round Top. The Frenchie is composed of a main guest house, three separate pool bungalows and a fantastic pool and hot tub (among many other amenities you can read about below). Check out details on our stay, where we ate and what you can do if you decide to plan your getaway!
The Frenchie Round Top: Main Guesthouse
The main guesthouse at The Frenchie Boutique Hotel is the perfect setting for a bridal shower, hosting a small wedding party or a family getaway. With it's modern flare, antique charm and cozy spaces, the owners created a unique hotel experience in Round Top that truly feels like an elegant vacation.  It has everything you need for an extended stay like a full kitchen, coffeemaker, living room and dining area. The spaces are big enough that even a big family won't feel cramped and you" still have your privacy. A pastel pink SMEG fridge welcomes you in the living room area is conveniently stocked with wine, sparkling waters and other cold beverages up for purchase.
If your goal is to experience The Frenchie in it's full glory, their amenities range from hiring a private chef to booking an in house massage. Check out all their amenities and plan a custom getaway which I am doing already!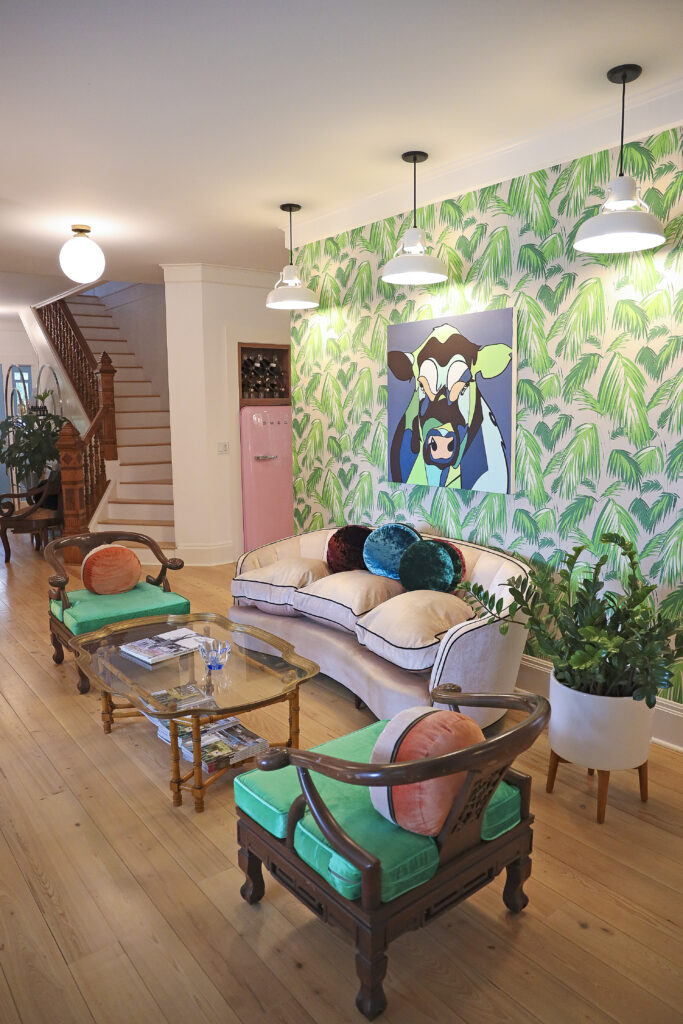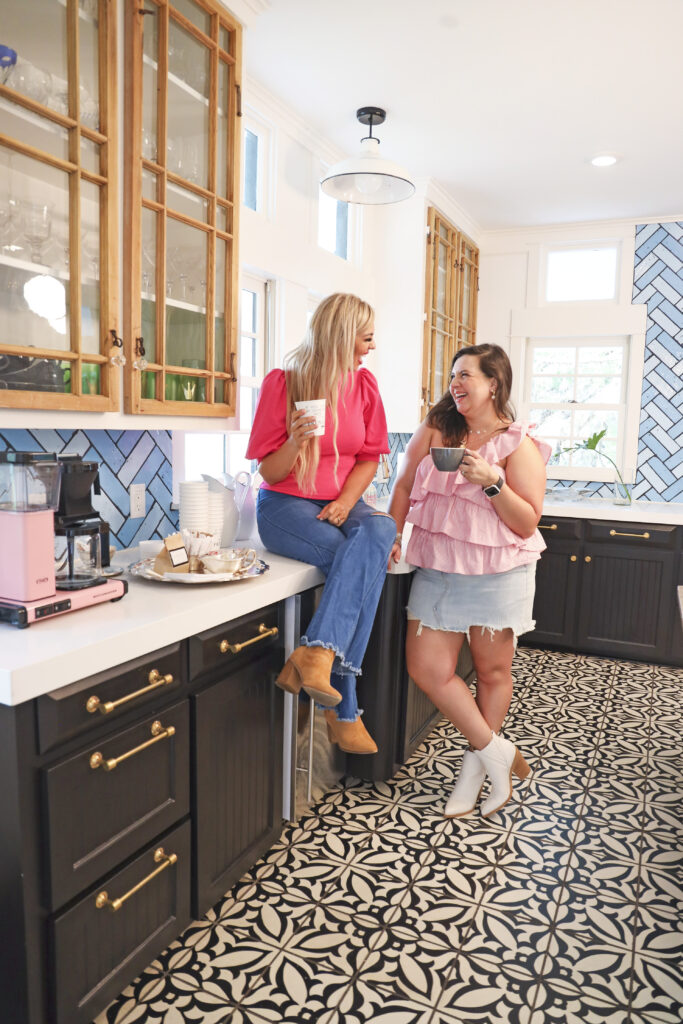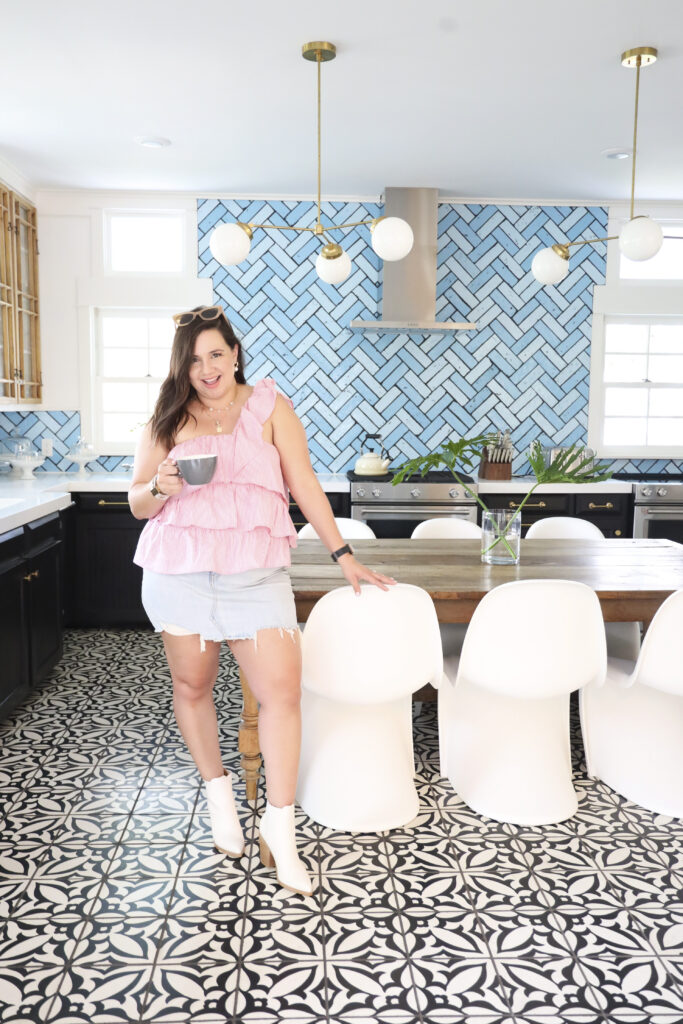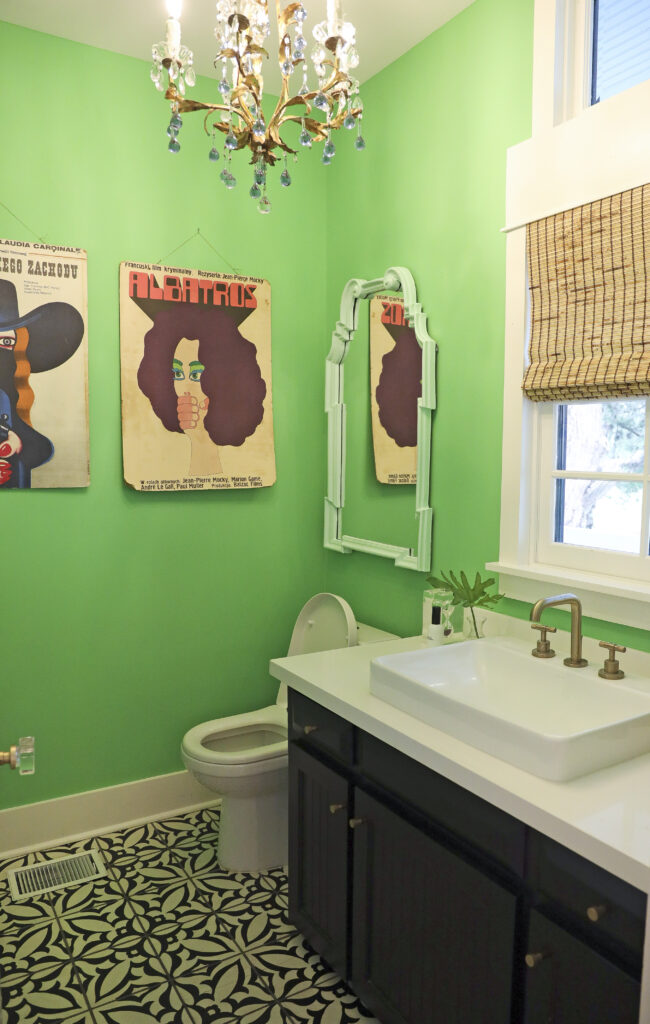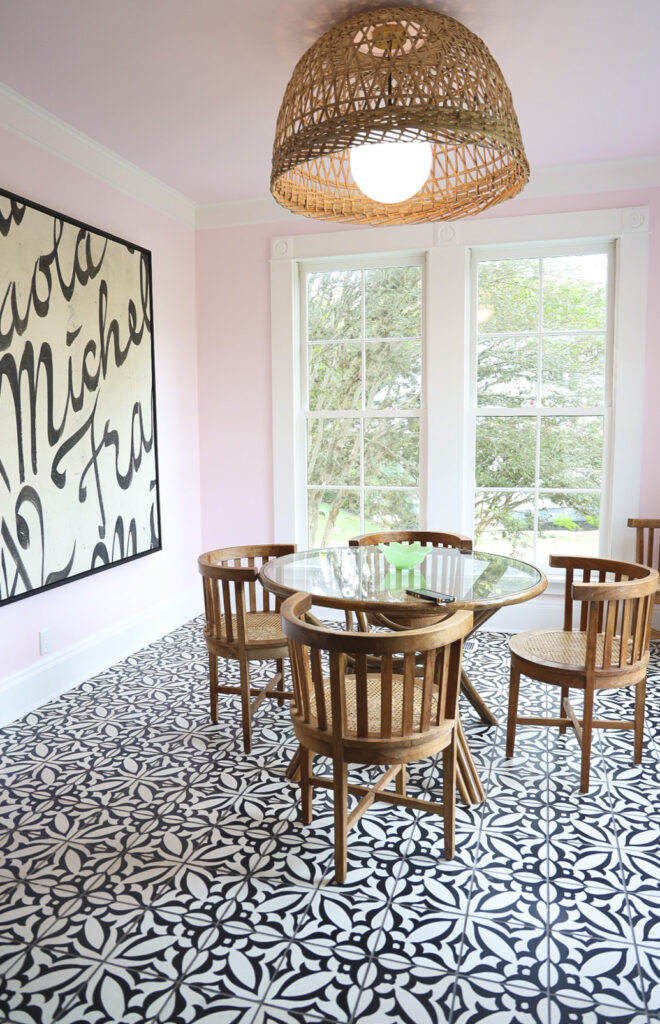 My Room: The Pool Bungalow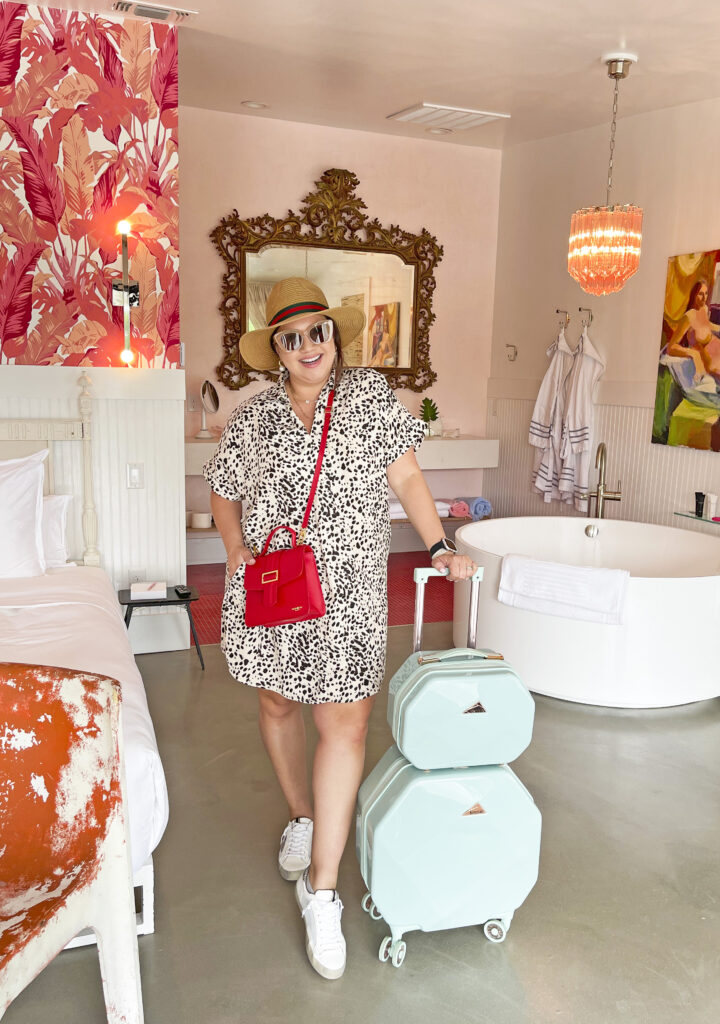 It was so fun to tour the pool bungalows at The Frenchie Round Top and unanimously decide who was going to stay in each room. Dawn had the room with yellow accents (her favorite color), Michelle had the room with blue and green accents (which perfectly matched the dress she was wearing) and I stayed in the pink and red room for obvious reasons.
I can't say enough amazing things about the room. The bed felt so luxurious, the pillows were plush and are even available for purchase in the main house if you decide you can't live without them after your stay. There's a TV perfectly situated across the bed with local channels and cable which I happily used while falling asleep.
My favorite part though? Using the coffee maker the next morning to brew a fresh of joe while I got ready for the day. I had also brought some yogurts and protein shakes with me which I was able to put in the cute mini fridge and have a bit of breakfast before heading back to Houston. Note: we were going to visit a very famous restaurant in the area but it was closed due to staff shortage.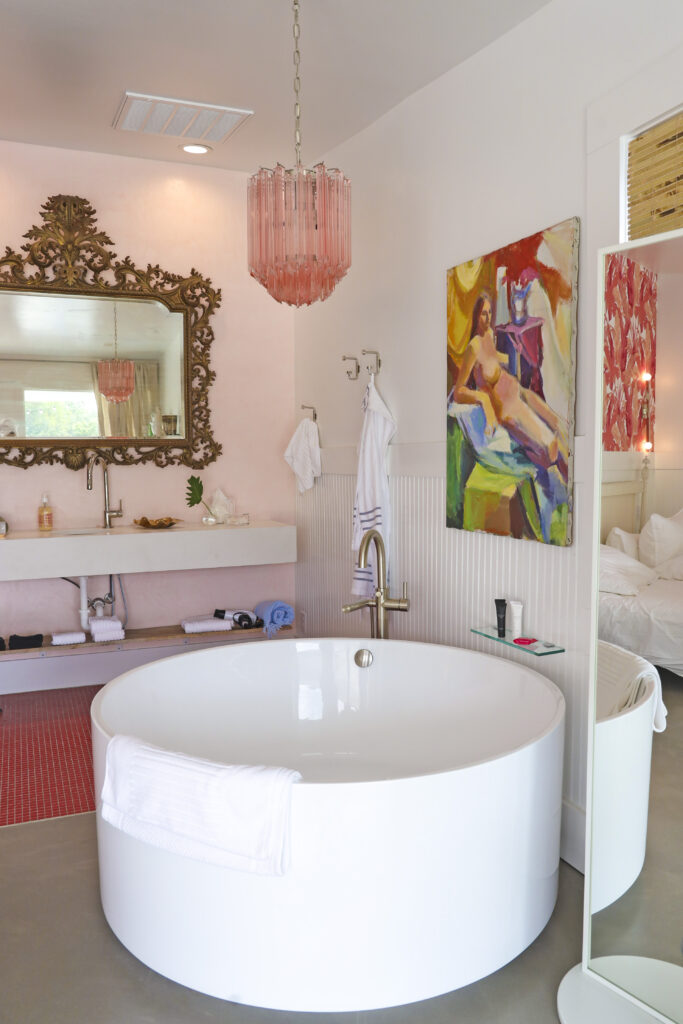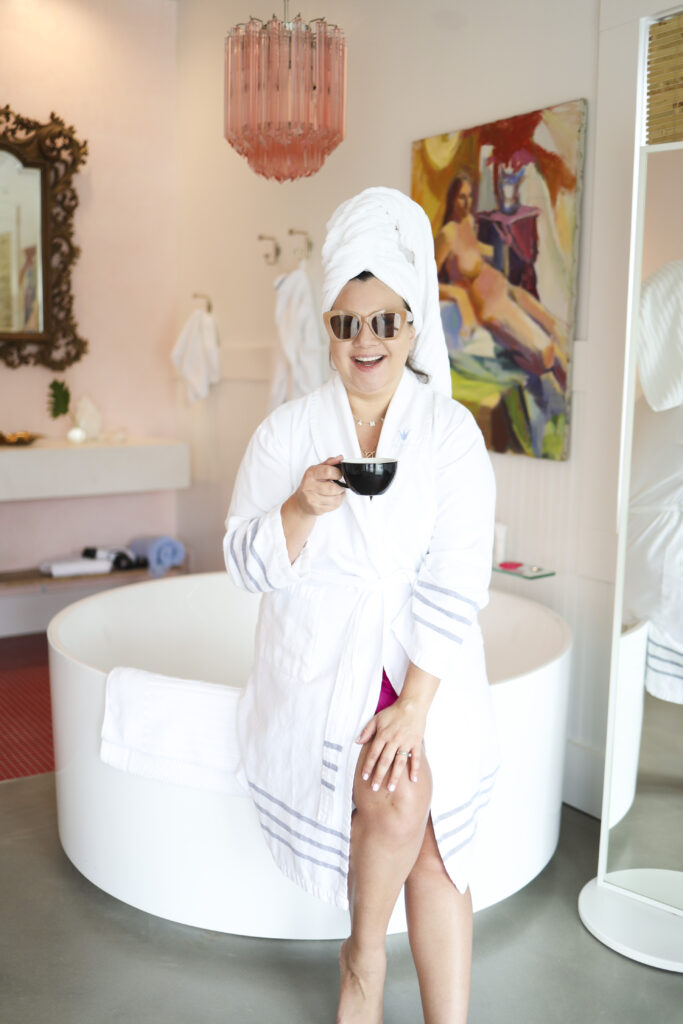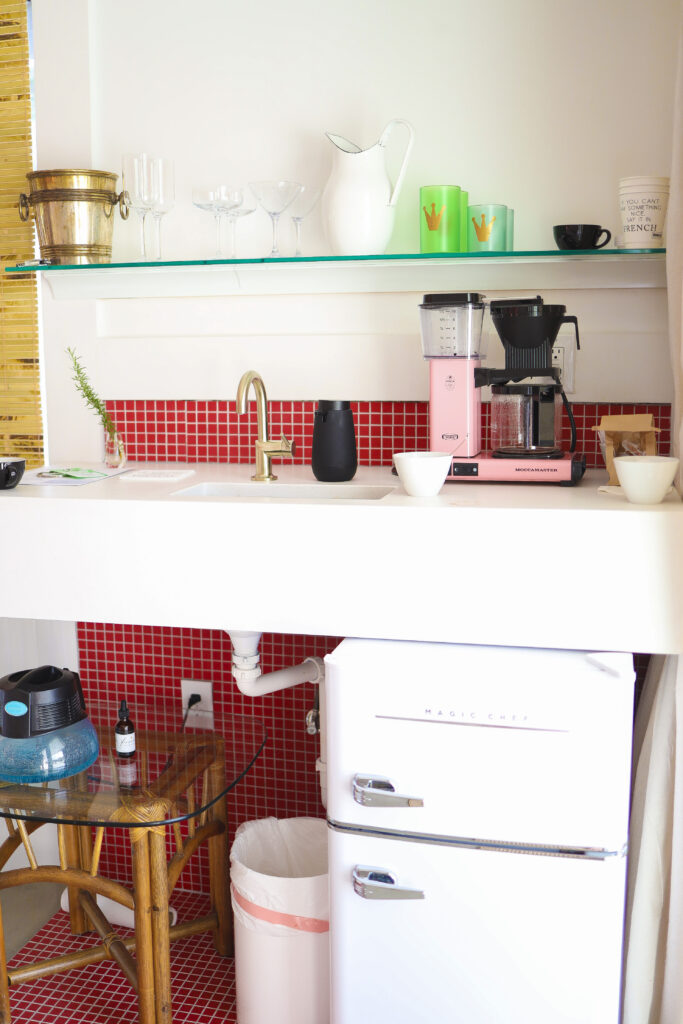 The Pool and Hot Tub
The Frenchie is already gorgeous but this new pool and hot tub area takes it to the top and makes it a family destination for me! I can't wait to bring Nico here–he's going to love it. Our day had started gloomy but by the time we went into the pool, the sky was a beautiful blue.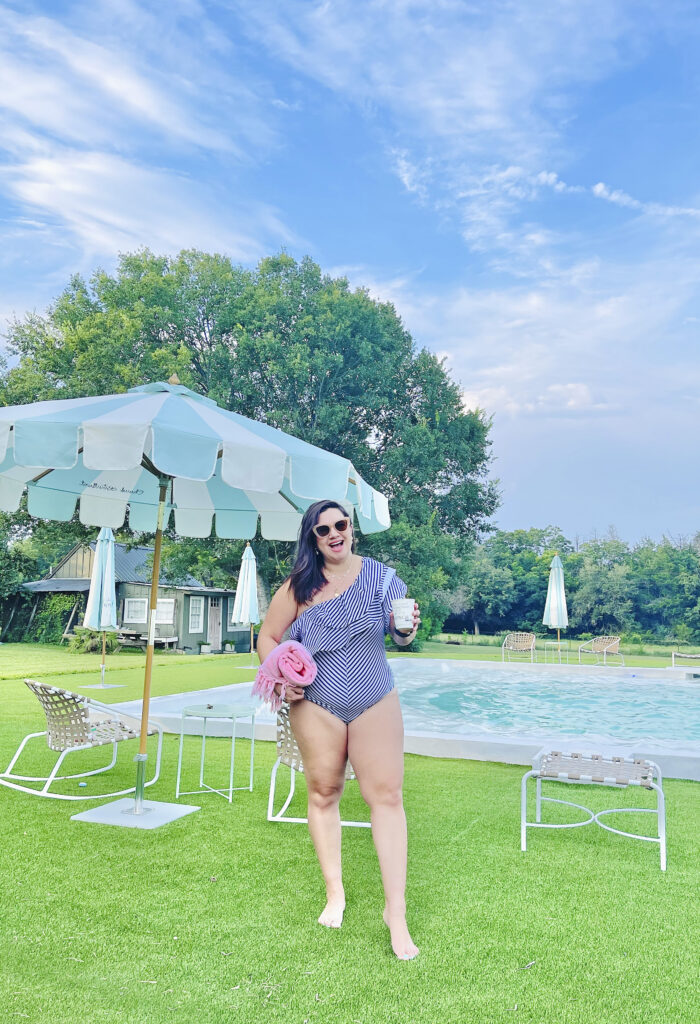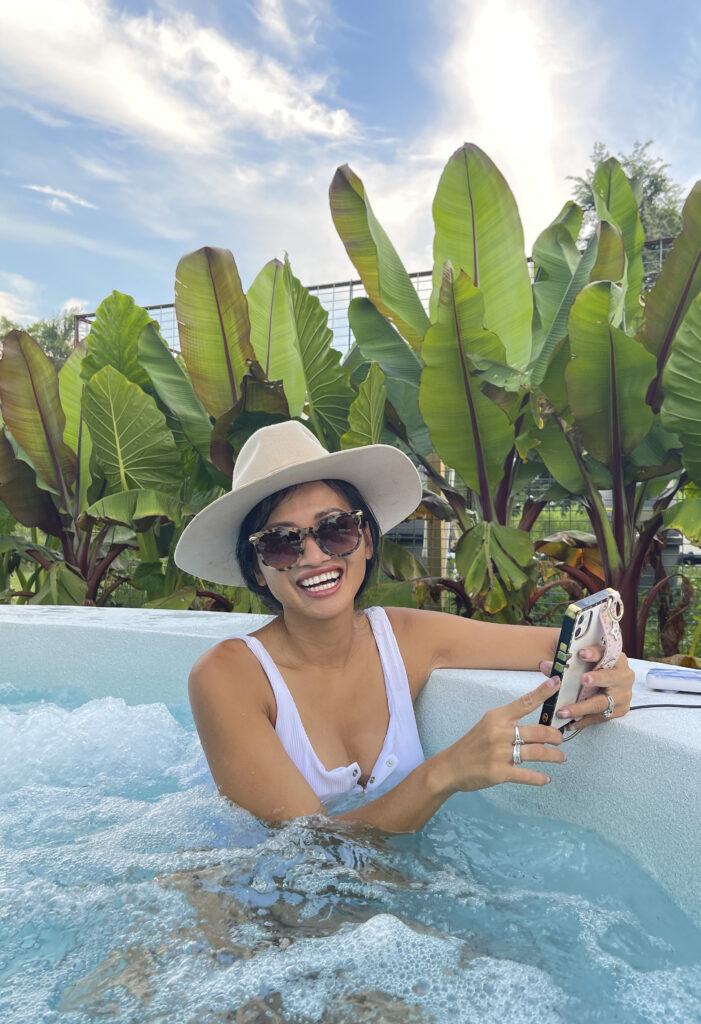 Where We Ate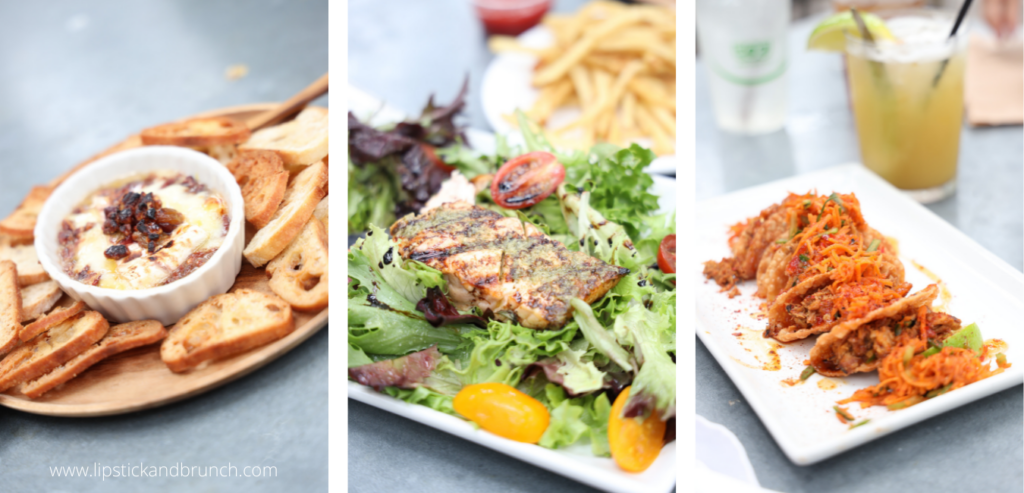 One thing we were not expecting: the fantastic food! Here's where we ate:
Royer's Pie Haven
There's a reason the owner of Royer's Pie Haven was recently on Kelly and Ryan; her pies are scrumptious and a must visit while in Round Top. We tried their signature and most popular Blueberry Lemon pie and it was gone in a minute. They have a large specialty coffee menu and offer different types of milks for your dietary needs. I ordered a Dirty Chai and OMG; that was one iced-coffee I can't wait to have again.
Duo Modern at Market Hill
Housed next to Paul Michael, prepare to dine on a gorgeous antique table under a beautiful chandelier that you can purchase right after your meal. That's right, almost everything is up for sale. But you won't be in the mood for shopping when you're here because the food and stunning cocktails will be the stars. We tried the trio of meatballs, mussels in marinara, branzino, and short rib with risotto and I ordered an Aperol Spritz topped with champagne. Our meal ended with two cannolis. The service and food was top notch.
The Garden Company (pictured above)
This was our favorite place we tried because of the variety of the menu: Korean fried street tacos, warm brie and pecans with toasted bread, chicken pieces wrapped in jalapeno and bacon with a ranch sauce and a mango glaze were just a few of the mouthwatering appetizers we indulged in. We could have honestly just ordered two of each because they were that good! Dawn and Michelle had salads, I went for the fish tacos with no tortillas and we all enjoyed our entrees too.
Check out my recap video on Instagram of our stay at The Frenchie Boutique Hotel
Important Things To Know Before Visiting Round Top
– Round Top is a small town so if you are visiting and want to explore the restaurants in the area (all like 1 minute away from The Frenchie) , they will most likely be open only from Thursday to Sunday.
-The restaurants and coffee shops in the area tend to open at 11AM for lunch and close at 3PM and reopen again for dinner so make sure to check the hours on all restaurants/coffee shops I mentioned.
–Antique Week at Round Top is the busiest time of year for them so unless you are going to buy antiques, try to avoid visiting during this time since The Frenchie will be fully booked to host shoppers/vendors.
–Read my friend Dawn's blog post about our girls' trip to Round Top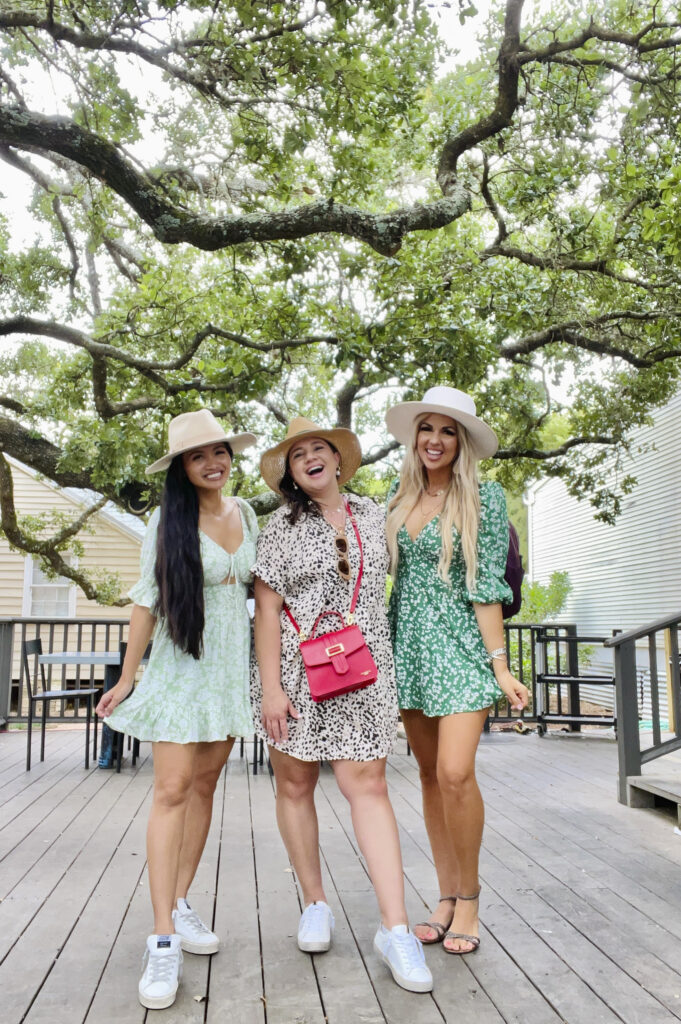 I hope you enjoyed reading about our stay and
 I hope it helps you plan your visit! Thank you to The Frenchie
for hosting us-we can't wait to be back!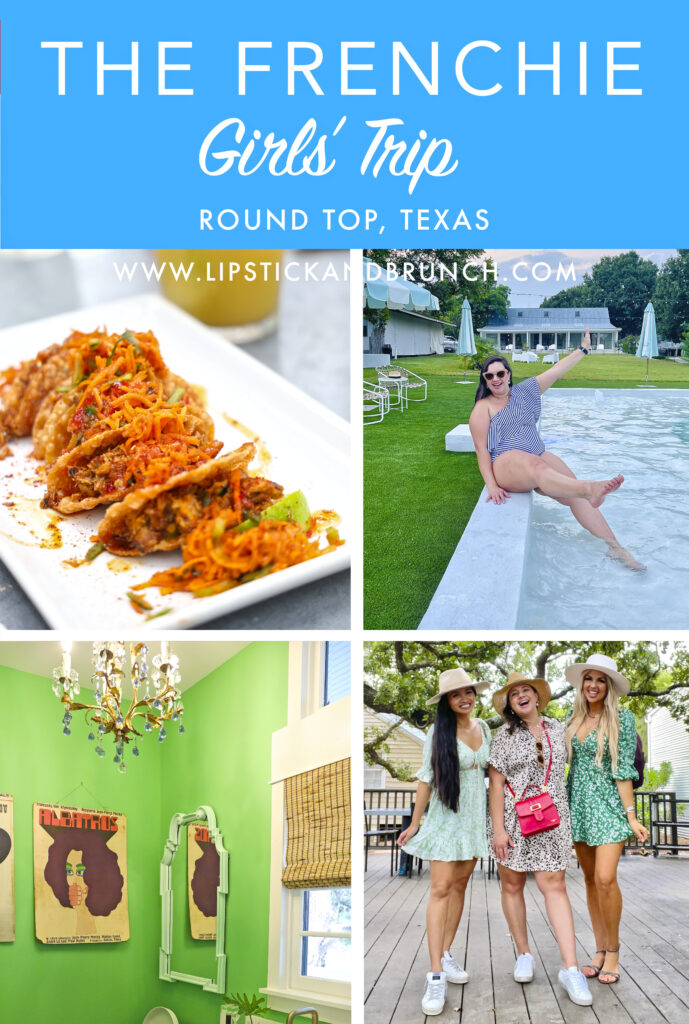 Facebook Conversations