I had a big epiphany during all the time I didn't I didn't post a fashion/style post on the blog: you guys love the style posts and I need to do them more often especially since even though I might now show it, I've been getting over a bump in the road this whole time: accepting that I gained some weight after this pregnancy. So you can imagine I love finding clothes that I can feel beautiful in even with the extra weight.
Spring/Summer is my favorite time of the year because we start seeing bright prints, sandals and dresses everywhere. I grew up in Honduras where it never gets cold like it does here! I used to go to the pool/beach year-round when I lived there so when Spring rolls around here and you can feel the difference, I'm celebrating with new clothes! I'm in love with color and there's nothing in the world that makes me feel and look happier than when I love my outfit head to toe.
When Do I Get To Dress Up?
I dress up mostly for blogger events where I meet with brands or when I host an event and there's been plenty of those in this short 4 months of the year. I try to go all out now when I dress since I don't go to as many events as before. I can't take the baby to every single thing I get invited to and only do when my mom can look after baby Nicolás. When this happens I get to drag my hubby to the event with me and then we go out on a date! YASSSS!
What I Found!
I wanted to share all the trendy, wearable and affordable items I've been adding to my closet these past few months because I've gotten some "ohhhss" and "ahhhs" from my friends but also from you guys on Instagram.
All these items are ones that I purchase because they mix and match among each other really well. I also shop thinking of how comfortable I feel; if I can sit down, bend down with no problem since sometimes I have Nicolás with me. I also wear a lot of cross-body bags now and I'm super happy fanny-packs made a comeback so I can keep my hands free! The only bad part is mini bags are trending so I have to be really selective of what's in my bag.
Check out all my favorites below and let me know what you're dying to buy or that one item you need to refresh your wardrobe with!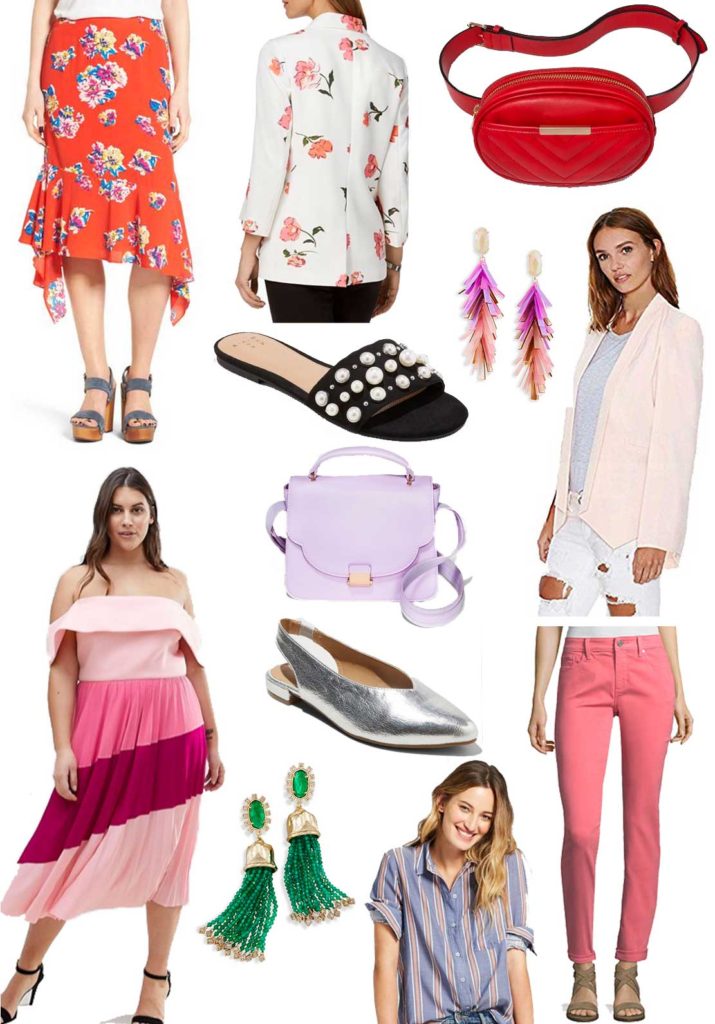 red floral skirt / floral white blazer / red belt bag / pearl black slides / ombré pink tassel earrings / blush cape blazer / lavender purse / silver flats / red & blue tie front top / emerald green tassels / off the shoulder pink dress / coral skinny pants
More of What's On My Wish List This Spring Below
Spring Mini Bags

 Skirts

I Don't Need More Shoes But Look

Tassels

Tops

If you have questions about how something fits or what size I bought please
leave a comment or send me an email! 
Facebook Conversations