(Updated April 10, 2017: Due to unforeseen circumstances, this menu has been discontinued until further notice.)
I mostly post about food on my blog when I'm traveling but I decided that that is going to change because I'm a huge foodie, we cook way too much at home with my hubby and we're glued to Food Network Channel most of the time. Recently, I've been invited to so many tastings that I wanted to share all the wonderful things I've gotten to try out around Houston and tell you my favorites in case you decide to try it out for yourself. Last week I attended a phenomenal tasting and it featured a menu created by Chef Bruce Molzan (aka "The King of Paleo") inspired by Cirque du Soleil's KURIOS Cabinet of Curiosities which starts tomorrow in Houston and concludes on May 21, 2017.
Ill be attending Cirque du Soelil's KURIOS Cabinet of Curiosities tomorrow and I'm so excited! I've only seen them once with my hubby and we love all the costumes and theatrics involved and we're looking forward to our date night.
I'll let the photos below tell you about how delicious (and surprisingly light!) these dishes were! I suggest that if you do visit Ruggles Black to order various plates and share with your loved one or friends because they are all unique in their own way.
The Menu: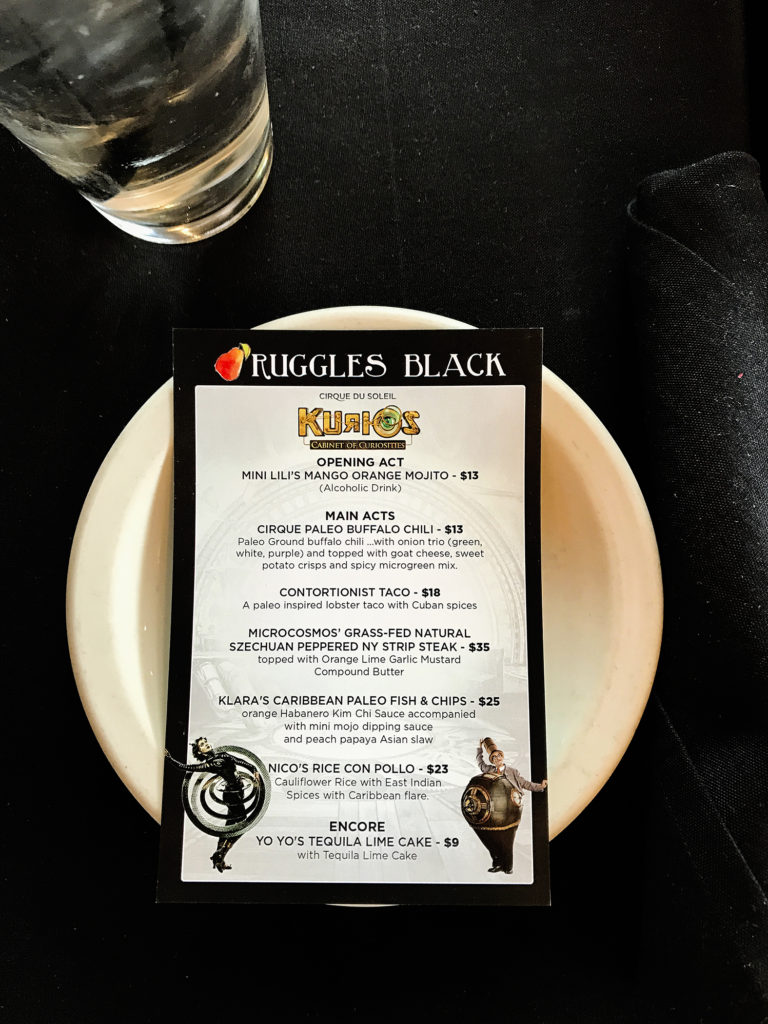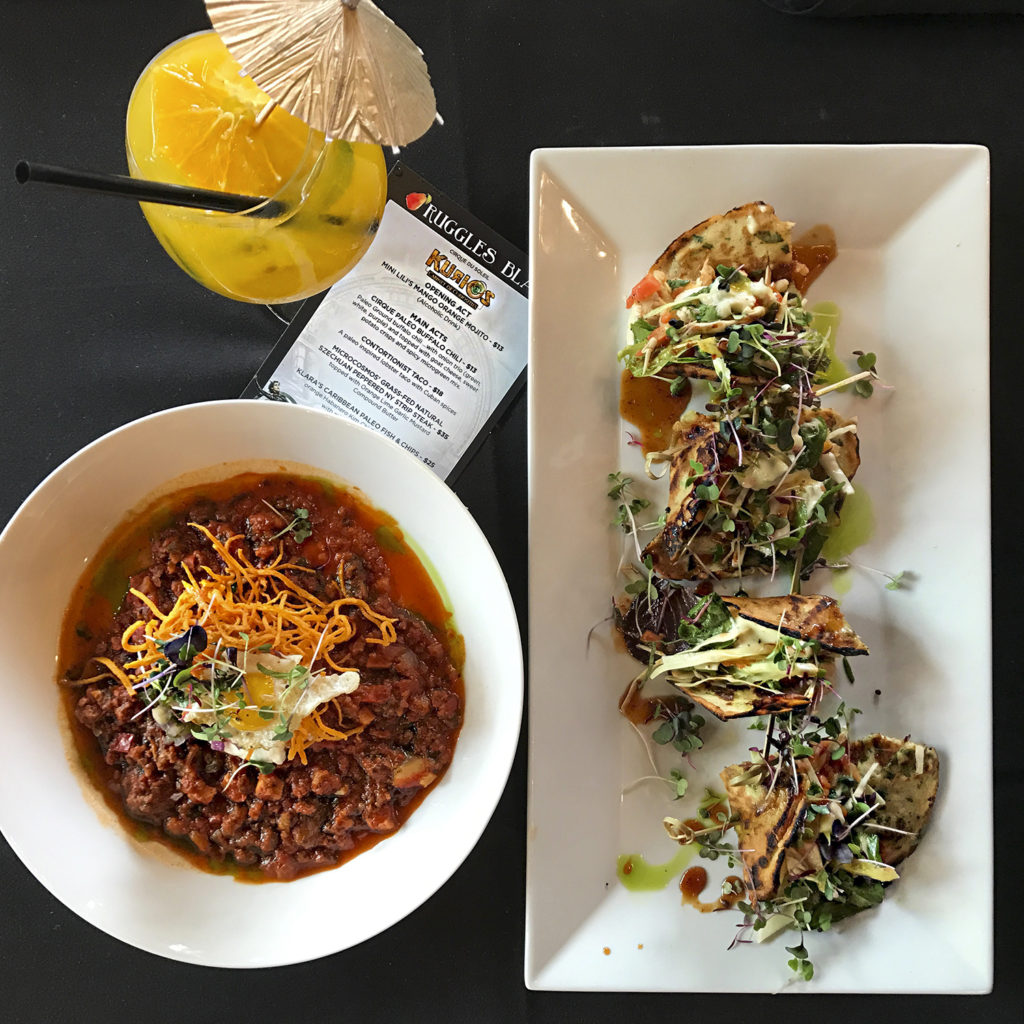 The Mini Lili's Mango Orange Mojito (sadly didn't get to try it because I'm preggo but everyone was raving about it!), Cirque Paleo Buffalo Chili and one of my favorites: The Contortionist Tacos made with an almond flour tortilla, lobster and plenty of heat! They were the perfect bite!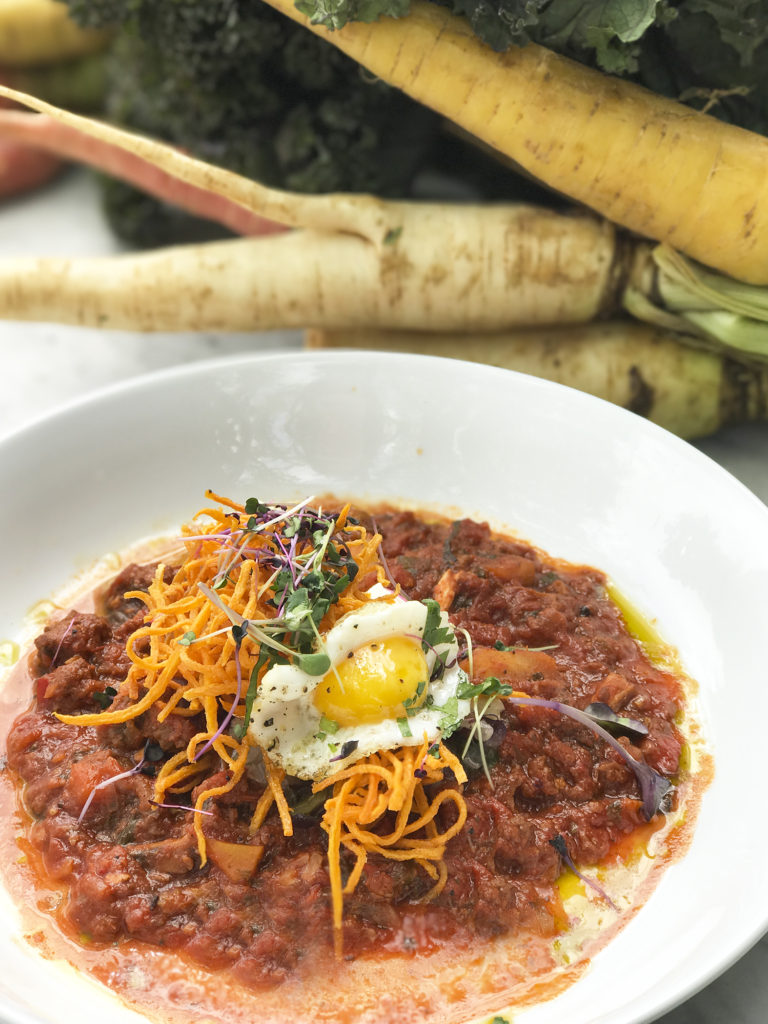 The Cirque Paleo Buffalo Chili – is made with green, white and red onions, topped with goat cheese, sweet potato crisps and a spicy micro green mix. I love how the sweet potato crisps gave the dish texture and balanced the spice and you can never go wrong with a runny egg-yolk on top!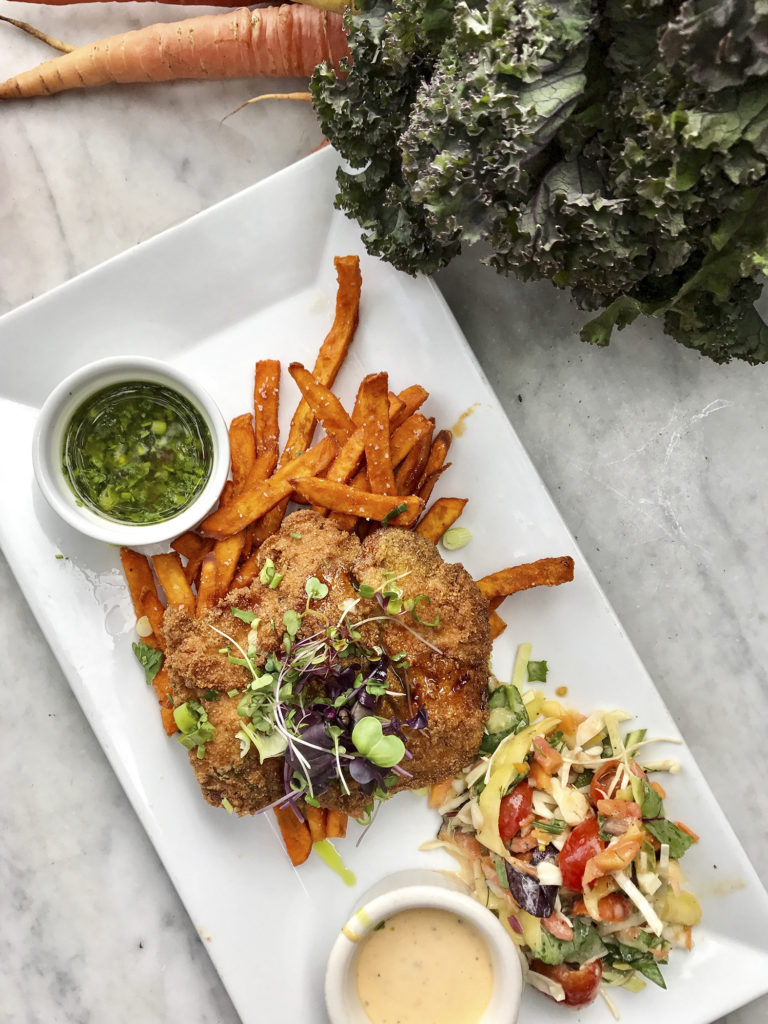 Klara's Caribbean Spicy Fish and Chips – This was one of my favorite dishes especially because I've been craving white, flaky fish. The mini mojo dipping sauce was great for not only dipping my fish in but also my sweet potato fries! The Asian peach-papaya slaw complimented the crunchy, fried fish so perfectly too. I'm going back and having this dish all by myself! #NoSharing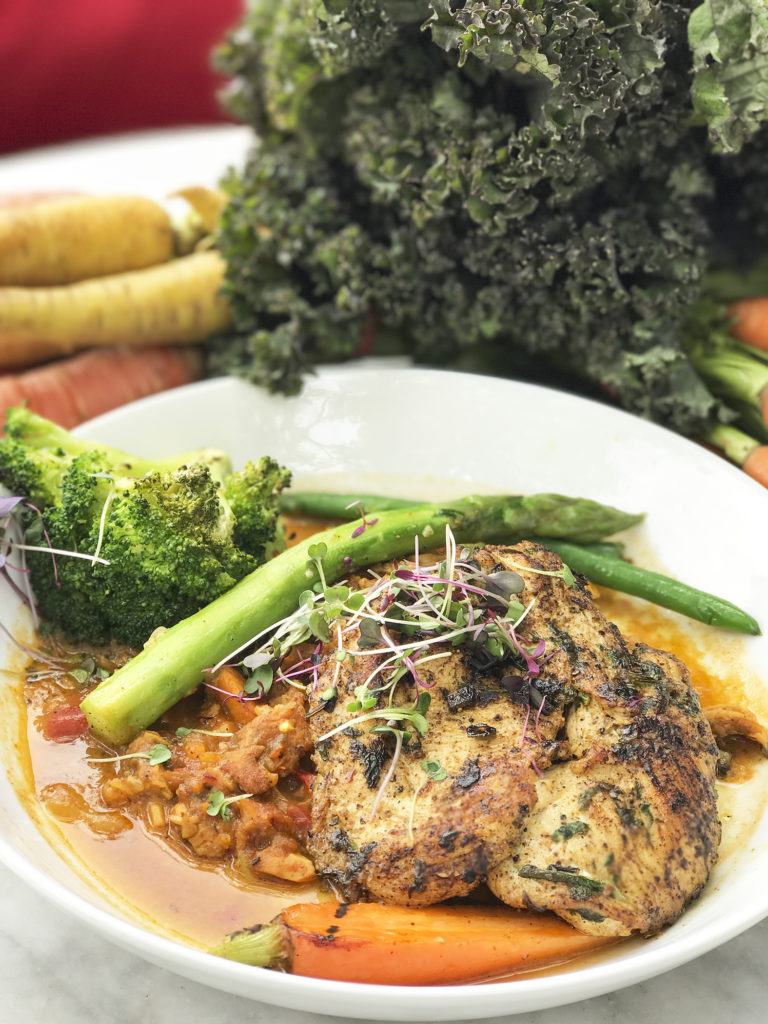 Nico's Rice con Pollo – I make a lot of arroz con pollo at home and this reminded me of the wonderful flavor my own grandmother's rice had when she would make it in Honduras. I could taste the tumeric and East Indian spices that made this delicious cauliflower rice so tasty but not hot. I loved the deconstructed presentation (see, Food Network is my jam! LOL) of the dish and loved that every soupy-spoonful of cauliflower rice had chicken in it!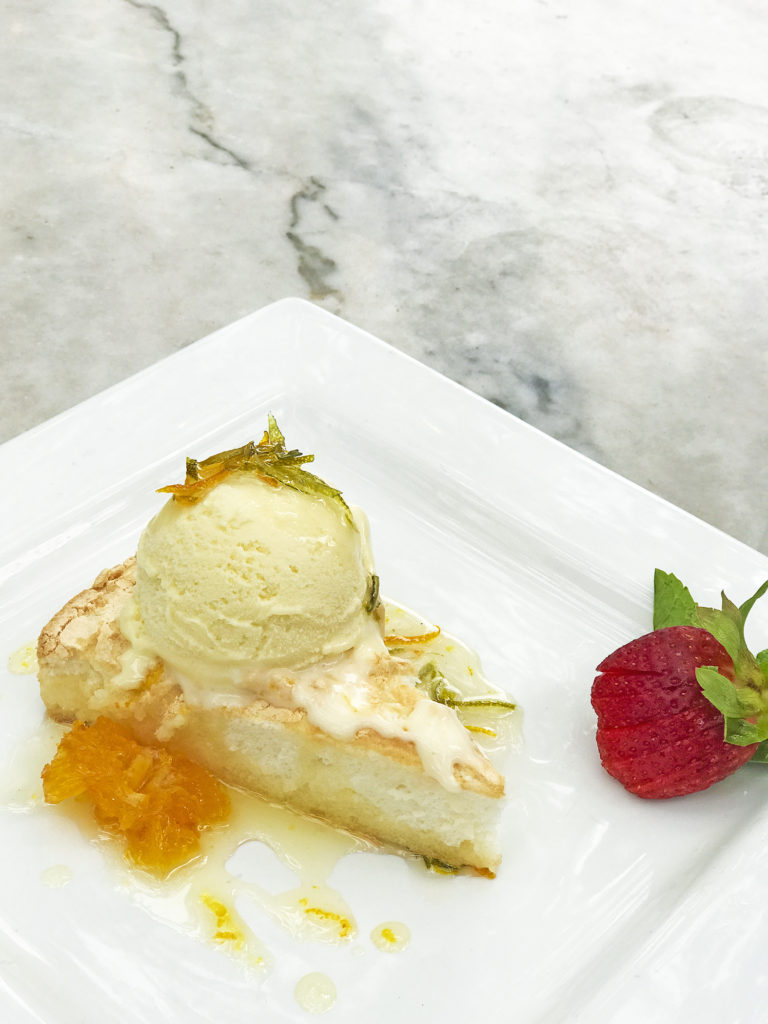 Encore (aka Dessert) Yo Yo's Tequila Lime Cake – So even though I'm not drinking any alcohol I figured it was OK to try this dessert and surprisingly, it didn't really taste like tequila. It actually tasted like a virgin piña colada! The spongey-light cake was so indulgent with the ice-cream and tartness of the candied lemon and lime peels–a total party in my mouth. This is a dessert worth sharing and a perfect end to your meal.
Will you be attending Cirque du Soleil's KURIOS Cabinet of Curiosities while they visit in Houston? Don't miss it and make your way to Ruggles Black for their spectacular Cirque du Soleil themed menu which ends on May 21.
I was so happy to meet Chef Molzan at the end of our spectacular meal!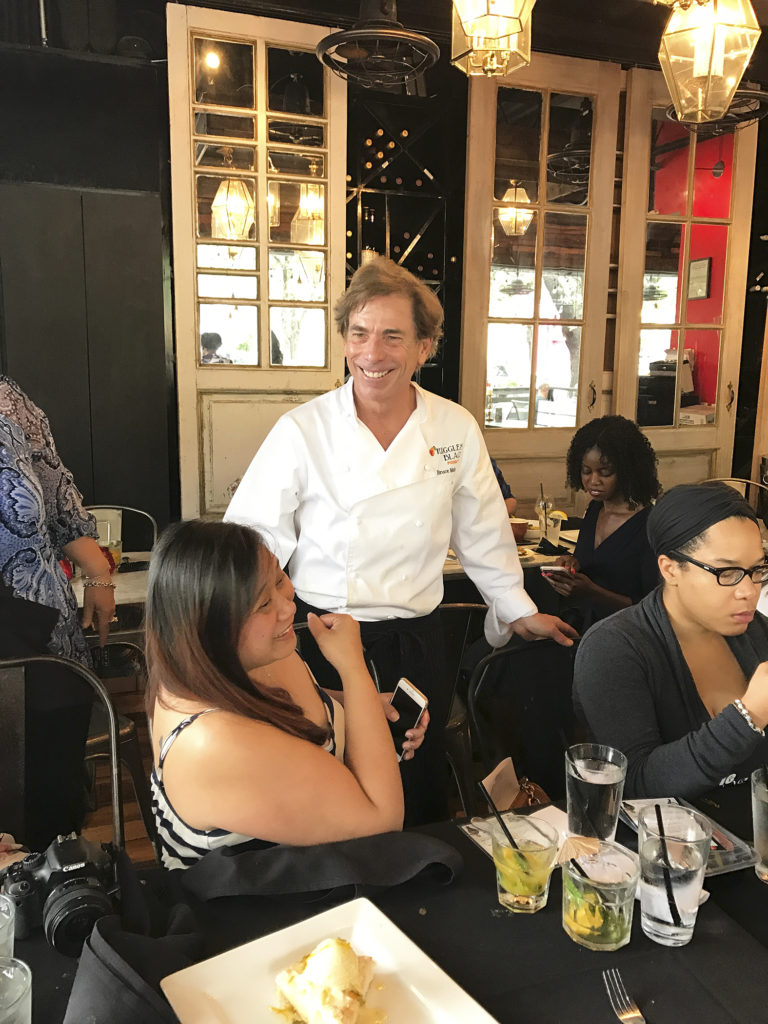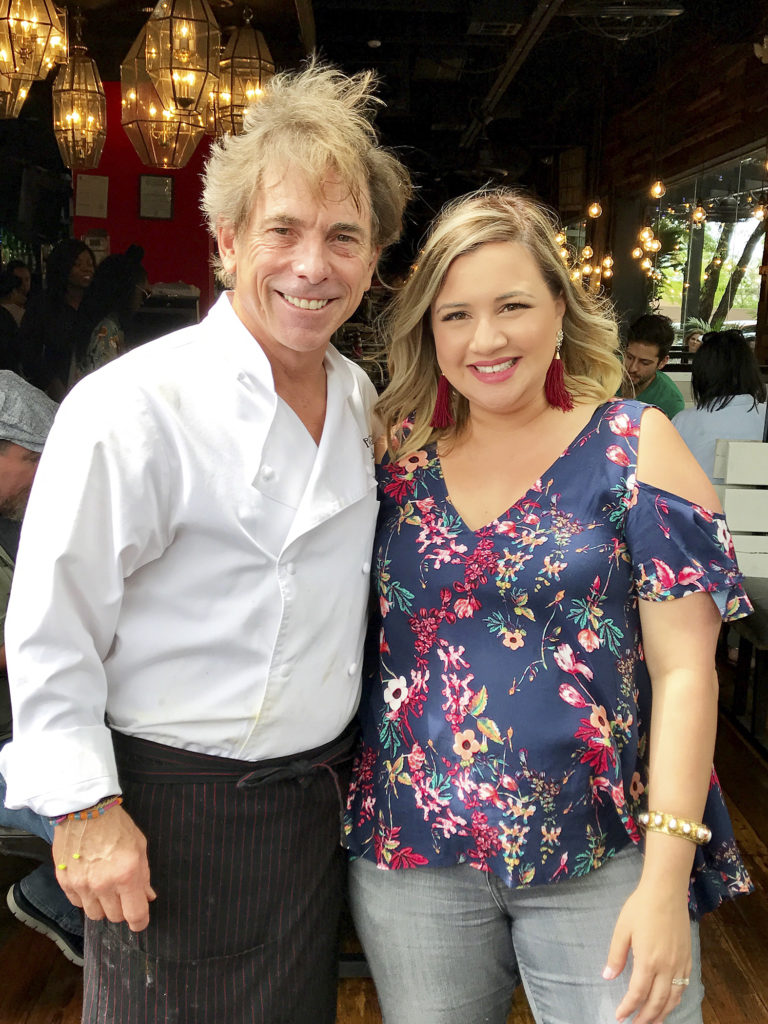 Outfit Details:  Top | Earrings (similar)
Facebook Conversations