I'll never forget the moment when I realized a was a serial over-packer. I was going to a tiny little island off the coast of Honduras called Utila. There is only one road on the island and people there mostly wear flip flops and bathing suits and lay in the sand all day. I had never been to this island so I packed the biggest piece of luggage and stuffed it with stilettos, dresses, an array of tops, accessories and several purses because I wanted to slay all day, every day.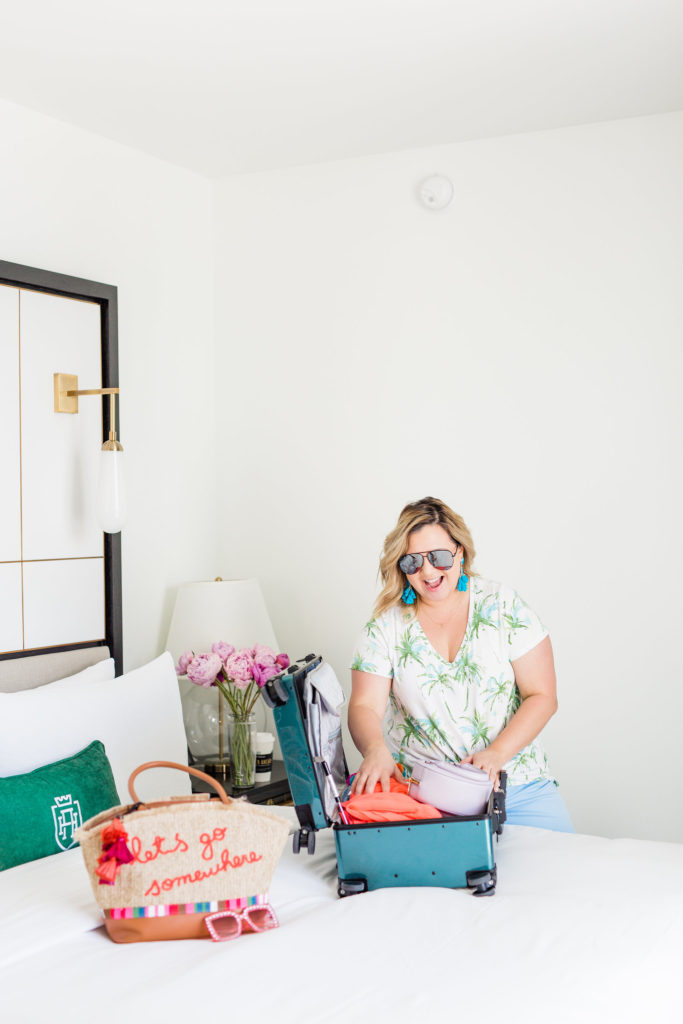 What happened next is the worst and most embarrassing thing ever. We arrived to the island on a ferry and when my piece of luggage was handed to me at the dock I couldn't pick it up! It was painful to see me dragging my luggage through the streets.🤦🏼‍♀️
This happened a long time ago and I feel it never changed until I met my husband who's obsessed about packing neatly. Then things changed even more when we traveled with our baby for the first time. I feel like traveling with a baby forced me to only pack what I really needed. It was refreshing to share a piece of luggage with my husband and not over pack.
The last two trips I've made I've only taken a carry-on with me and it's been life-changing! There are no bags to check, no bags to wait for, all you need is always with you and it makes repacking such a breeze when you're heading back home. Ironically enough too, this year with a baby, I've traveled the most I ever have in a year! I don't know what that's about but hey, I welcome every opportunity to travel with open arms.
This year I'm ecstatic to be going to my first The Blog Societies Conference in Atlanta, Georgia with an amazing group of Houston bloggers that I also get to call my friends! It's also my first non-Hispanic conference that I attend and it's also the first time I travel with a group of girls. I'll let you know who I'm traveling with next week here on the blog so you can follow all of us during our trip!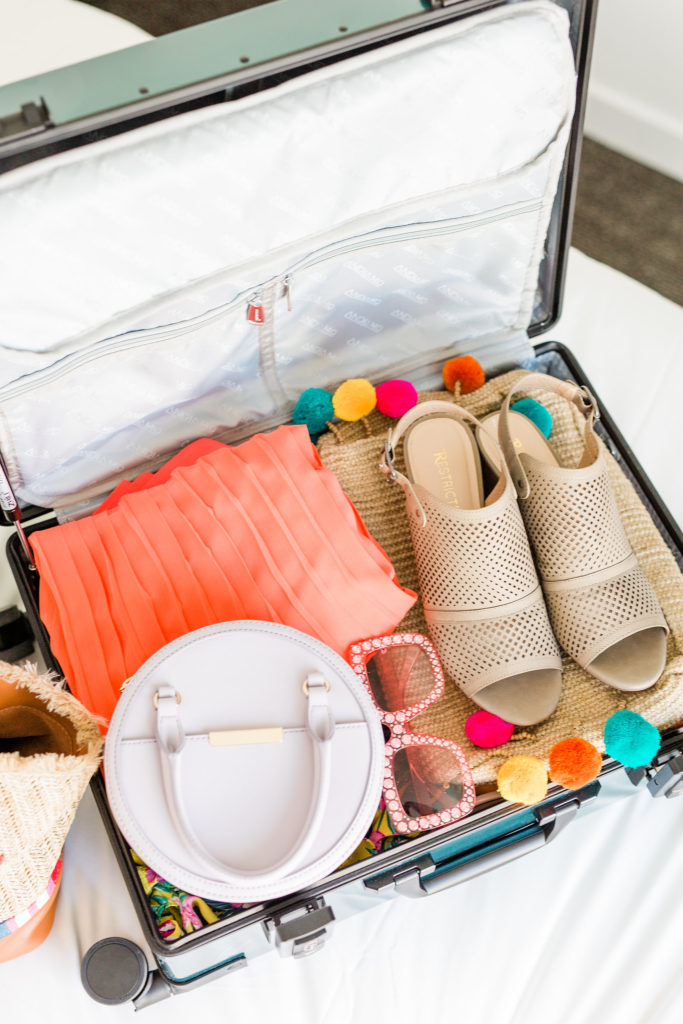 Photos by Arzu Vargas Photography
Pack Light Like a Pro Tips:
First Things First
Pack in a space where you can gradually be adding things to your luggage and you will be able to see everything you are taking. I like to pack in my guest bedroom with a checklist of everything I'll need. This guarantees I won't forget anything and most importantly, it helps me so I won't over-pack.
Don't Pack Bulky Shoes
Pack stylish flats/sneakers that will mix well with all your outfits by choosing them in neutral tones or trendy metallics like rose gold and silver. Or if you're going to a cold destination choose to travel with boots that you'll be wearing and won't need to pack.
Pack Light & Wrinkle-Free Fabrics
In the summer, this might be an easier tip to follow. First of all, I list out my activities and the type of outfit I need and try on the outfit so I know it'll work. I roll up my garments like burritos (a pro tip from my expert packer husband) and maximize the space in my luggage when packing my clothes. If you're packing jeans make sure to only take one pair and if you're taking two pairs then wear one when traveling (jeans are those items of clothing that weigh a lot and take a lot of space!). If you are traveling with fabrics that wrinkle I found out that my flat iron that I use for my hair also works wonder when ironing out wrinkles and creases on my blouses.
Pack Fun Accessories
The way I elevate my outfits and make sure I'm not packing too much clothes is with fun accessories. I make my outfits more exciting with bold necklaces, sunglasses and earrings that won't add a lot of weight to your luggage. If I know we'll be having a nice dinner or a night out then I take a flat clutch that packs easily. I've found it super useful to sometimes put my jewelry in my clutches to save space and use the clutch for micro-packing.
Use Multitasking Beauty Products & Palettes
This was probably the hardest one to edit but I officially don't travel with my whole make-up collection when I travel! Hahahaha! I have discovered awesome multitasking products (for example lipsticks that double as blushes) & make-up palettes that take care of my whole face of make-up and are so sleek they fit in my purse. I used to get so nervous when I did my carry-on inspections in security at the airport because I'd never know how many liquids or ounces I carried but now I have a drawer full of beauty samples which are all 3 ounces or less which I use to create my own travel kits including. I also found the tiniest & most powerful face brush that fits in the palm of my hand.
Travel with a Stylish Carry-On
One of the biggest motivations on packing light, besides making my life easier was my new Andiamo Classico carry-on and all it's neat compartments. It's so easy to pack smarter and lighter in a quality designed bag than it is in a duffle bag. I was amazed at how much fit in my Andiamo considering it is a hard case and it didn't look big enough to hold everything I wanted to take. Oh and the best part of this luggage? It has a USB port so any phone addict like me can charge their phone! That sold me alone. Check out their website for more stylish travel bags.
Any tips you have to pack light that I might be missing?
Let me know and happy travels!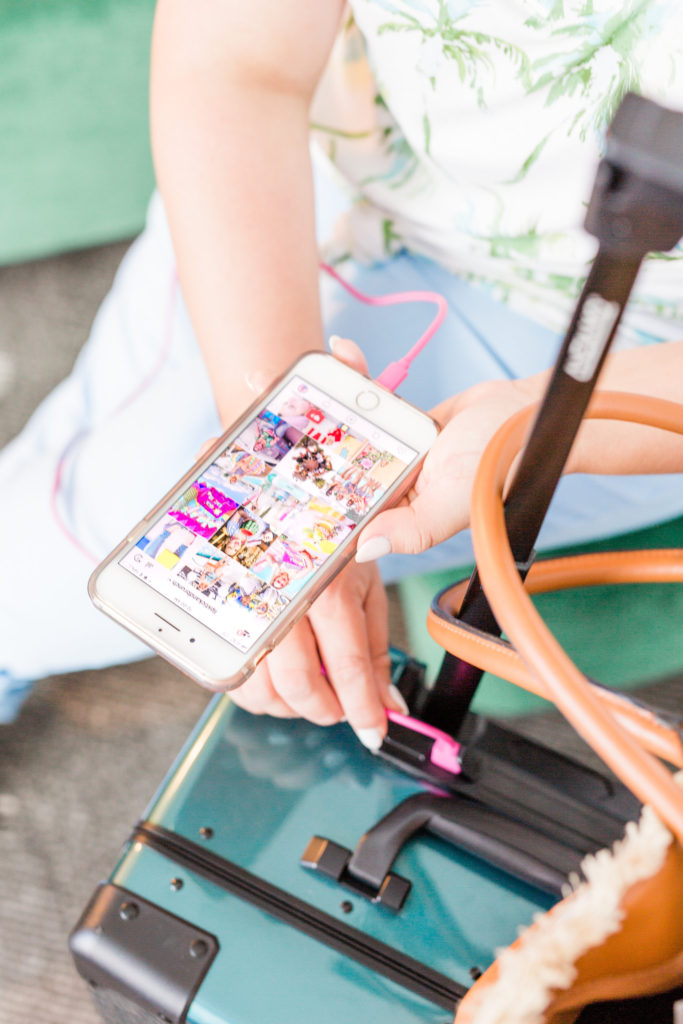 Facebook Conversations