*This post contains affiliate links and gifted products. When you purchase from affiliate links I make a small commission and do a happy dance. Thank you for supporting Lipstick and Brunch! Disclaimer: I am not a dermatologist or certified skin specialist. I try out all the products on my skin and give you my honest opinions of them. I always recommend getting a sample first (don't be shy and ask!) and finding out if it works out for you before buying a full-size product.
Even though I'm skincare obsessed, I realize I've never written a skincare routine on my blog! Except that time when I told Women's Health every single step I used to do to keep my skin in tip-top shape when I had all the time in the world and no baby. Oops. I think I'm guilty of recently trying so many products that it's hard to stick with something and that's not a good thing.  I have my best skin when I have a stable, consistent skincare routine. With baby Nicolás in the picture now, I've found a short and effective routine that keeps my skin hydrated, glowy and free of breakouts makes me feel beautiful and it's one less thing I have to worry about so I can be a better mom.

SHOP THE POST:

There are nightmarish skin days in my life and that's when I have hormonal breakouts that happen on my chin. My last two facialists mentioned how hormones are still crazy after your pregnancy and it might take some time for them to not flare up when I get my period. The only thing I miss from my pregnancy is that glowy, radiant break-out free skin I had. I have found very gentle products that help me heal from those breakouts and I'll mention them all below and why they have worked well with my skin. These are products I use to prep my skin in the morning before any primer or make-up. I plan on sharing a nighttime routine in the future.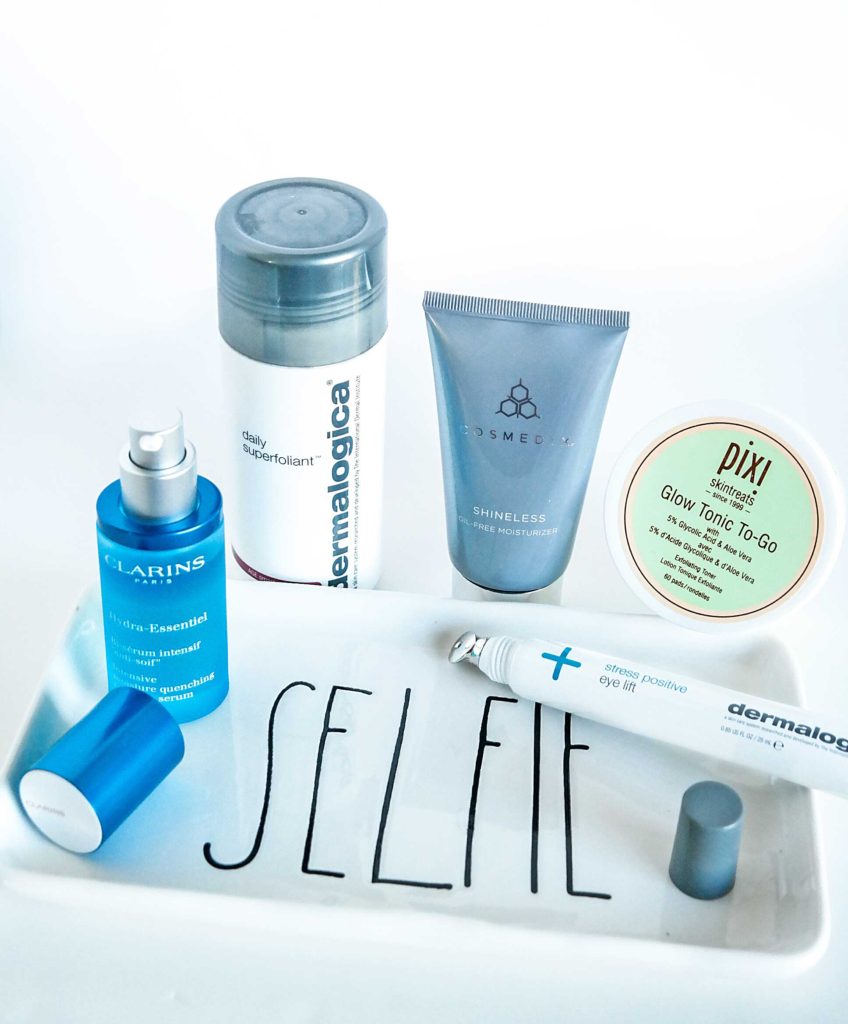 The Must Haves
Serum
This serum by Clarins is of the items on this list that I totally recommend you get! People are confused by serums and don't understand why they're essential in a skincare routine so let me tell you why it's a must-have. Serums act deeper into your skin than a moisturizer and they have more potent ingredients and can actually help improve the texture and tone of your skin. I love this hydrating serum which is non greasy, it has a very light fresh scent and it sinks into my skin making it feel plump. It's great if you have sensitive, irritated, red skin like mine because it calms it down. Paraben free.
Moisturizer
It took me a while to understand my skin needs a moisturizer even if it's oily. My facialist explained it best: you need to give your skin the right moisturizer or it'll overly produce oil to self lubricate and that can cause pimples! Ahhh! Makes perfect sense.  Even though I love this moisturizer by Cosmedix because it goes on very light and a little goes a long way, I don't love it's scent. I guess that tells you how much I like how it makes my skin feel because I still wear it. Couldn't find the product to link but you can find it on their website.
Exfoliator
I wrote an extensive review of this exfoliator by Dermalogica a while back on my blog and I still love it. It's gentle enough to use every day but you really notice the difference in how well your other skin products are absorbed. It's also really great to use after your cleanser at the end of the day to remove any additional make-up and grime. I also love playing chemist and combining the dry mix exfoliate with the water to create the exfoliator.
Face Pads
These aren't your old-school Noxzema burn-your-face pads. Remember those? I want to forget them! These wonderful pads by Pixi which I've talked about a gazillion times on the blog gradually brighten dark spots, gently exfoliate and soften your skin with aloe. They are the adulting version of those terrible and abrasive face pads we all used to use in high school, I have a full review here.
The Extras
Facials
These should be in my must-have category but I understand a lot of people don't have time or the money but I say invest in at least one facial a year or two! Facials will change the way you think about how your skin can look with the right treatments chosen by an expert. Read about my recent Natura Bissé and La Prairie facials.
Eye Gels
I am lucky enough to not retain a lot of water on my face, have dark eye circles or puffy eyes but I'm guilty of loving salty foods and drinking a glass of wine or two before bed (not every day but you get the gist). Alcohol and salty foods tend to make you look puffy and swollen and these eye gels by Patchology with retinol and peptides  are as relaxing to wear as they are effective. They come in a travel friendly jar, I like to leave it in the fridge so they're cold when I apply them for 15 minutes. I wear them before an event or before bed and I wake up just a tad bit more refreshed.
Face Mask
A great charcoal or clay mask is always in my drawer. This mask by Cosmedix doesn't dry out on your skin. It's unique because you apply it on your damp skin and it works best when used 2-3 times a week. I apply this on my skin when I have hormonal breakouts on my chin. It helps a lot but it's not miraculous so if you have something miraculous but gently to combat breakouts, send it my way! For when I want to relax and need hydration and nourishment, this clay mask by local Houston shop Rosehip Essentials is my choice.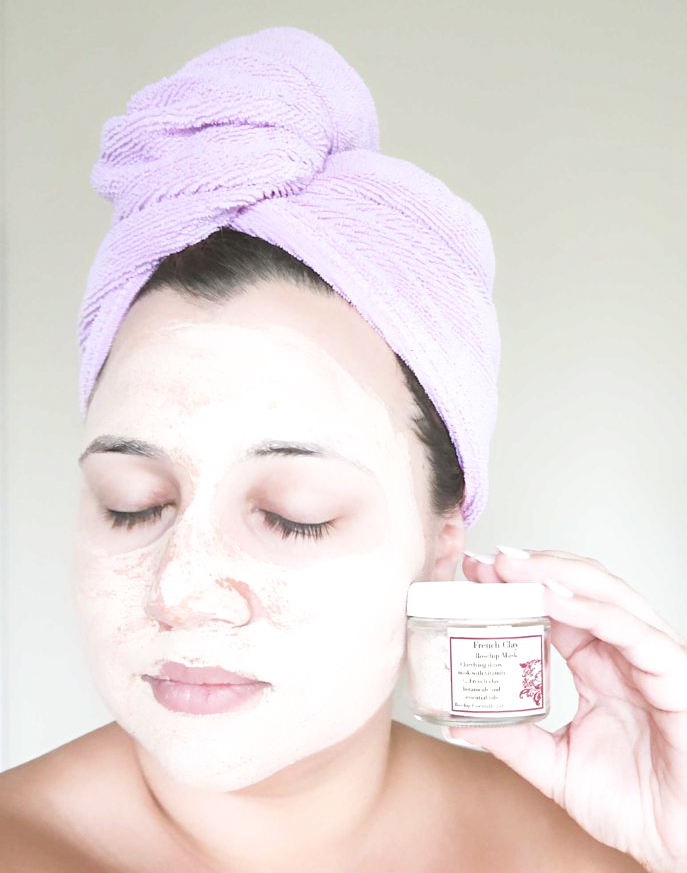 Foreo
I have always used a Clarisonic but this little powerful cleansing machine by Foreo fits in the palm of my hand, my make-up bag and it looks so cute on my sink. You don't have to charge it but it only has 100 uses for $39 bucks! I think that's awesome because you never have to buy brush heads and next time I can get another color. I wrote a full review of these babies on My Red Glasses. 
In The Shower
Gel Cleanser I've been using this cleanser by Natura Bissé for months now and I like that it has Alpha Hydroxy Acids, which gently exfoliate my skin so it's brighter and smoother (I actually used this all the time when I was pregnant). I don't use it all the time in the shower, just when I feel that my make-up removal process from the night before was not superb.
Shop The Post:

Facebook Conversations