6 years ago this month I knew I would be moving to Houston, Texas. I lived in a tiny town called Tegucigalpa, Honduras where everyone knows each other and you cannot run to the supermarket without bumping into your ex or hugging a childhood friend at a parking lot. I held a successful job as a beauty writer, photographer & TV show host and life was good. But, I had to reluctantly pack my bags and leave a whole life behind: family, friends, work relationships, my home, clear turquoise beaches and favorite restaurants.
As for why I moved (and my whole family did too)—well, I hate talking about it because it's unpleasant but to make the story short: one of my family members had been kidnapped and held for ransom which unfortunately is something 'common' and 'normal' by Latin American standards but you never know how strange and angry it makes you feel until it happens to your family. My family member is with us and healthy so I'm thankful but our family was never the same after that incident.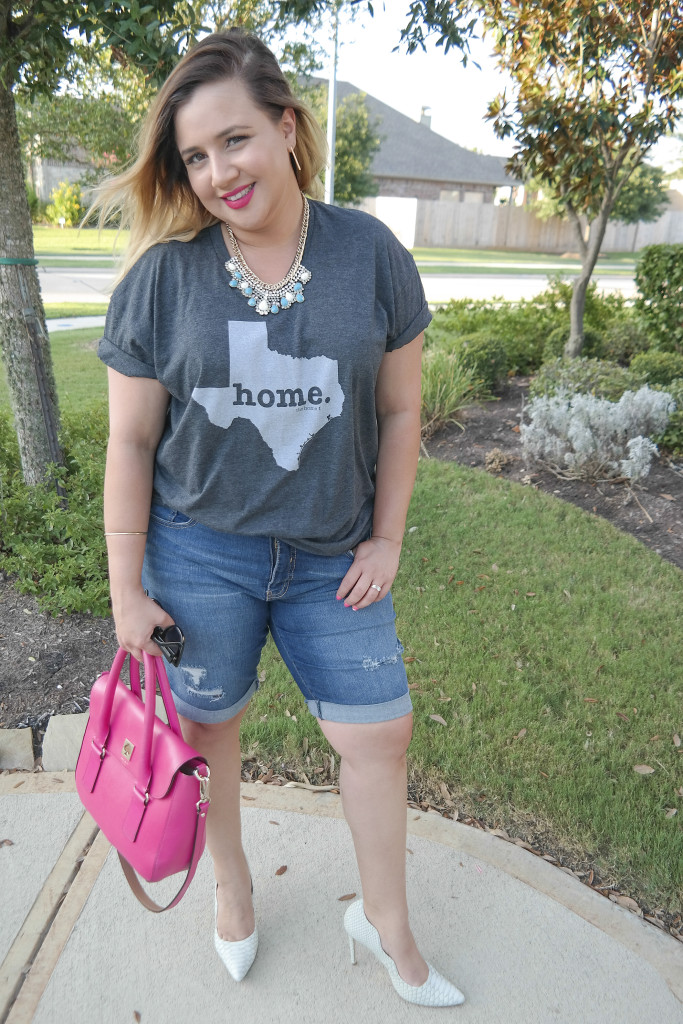 Outfit:
The Home T (I'm using the V Neck)  / Shorts by Ava & Viv / Purse (old) Kate Spade (similar one here)
Pumps Just Fab / Bib Necklace & Earrings Rocksbox
I was so sad when I got here on August 2. I had no job, no friends and no knowledge of when I'd be going back to my hometown. I had no idea what to do with my life. I decided to start another degree (I already had a Bachelors Degree in Communication & Advertising), this time in photography, and just try to build my life here again. After 3 very difficult first years here (without the right to work or being able to drive because I was on an F-1 Student Visa as an International student) I chose to believe that life was going to get better and just kept giving my 100% to everything that I loved and slowly but surely, I started loving Houston. Houston is a city with so many opportunities and a wonderful, creative and warm community; I can't imagine being anywhere else now. I know that meeting Miguel back then, without ever knowing we'd get married, had a lot to do with how I felt about Houston: he got me to try all types of amazing cuisines (I had never eaten Japanese, Greek, Thai and Venezuelan food in one same month!), introduced me to his wonderful dogs BamBam and Pebbles who I started loving to pieces (I was not a dog person before), supported my dreams of working in photography and in the blogging world and showed me that life goes on and that it does get better…together.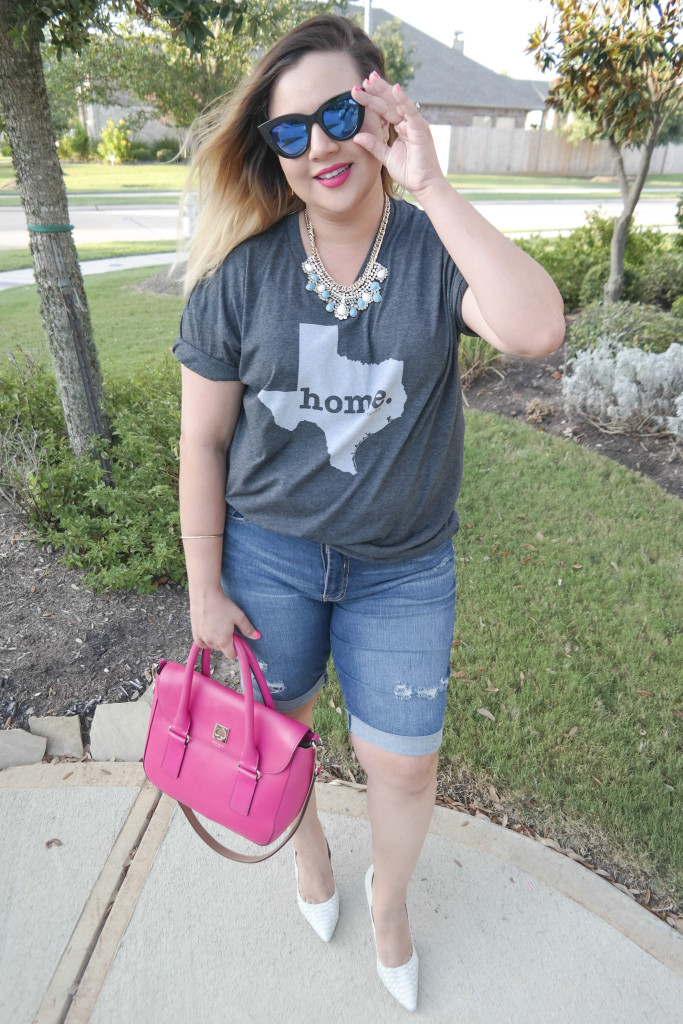 Posing in front of our home. I love Texas y'all!
3 years ago yesterday, we said "I Do" and started building a life together here and I couldn't be happier to call Houston our home.
More About My Super-Soft Texas Home Tee:
The Home Tee donates portion of their profits to the National Multiple Sclerosis Society and is specifically earmarked for research.
Check them out & score your own if you're feeling nostalgic about your hometown, state pride or embraced by Texas like me!

Facebook Conversations