Clarins recently held a wonderful event for Houston bloggers featuring their new Garden Escape Spring 2015 Colour Collection at the Macy's Galleria in Houston and it gave us the chance to speak with celebrity make-up artist Dayan Herrera (he used to work at Univision and is now a beauty and skincare guru for Clarins) and get to know their new collection and skincare tricks and tips. We learned how to properly apply my night serum to how important it is to apply sunscreen, even if your foundation and moisturizer have SPF.
The Clarins Institute was created in 1954 and since then it has been committed to including plants as primary ingredients in their products. Currently you can find plants such as white tea (fights harmful effects of free radicals), moringa (eliminates pollution particles), and succory dock-cress (restores skin's natural defenses) in their products.They are also pioneers in anti-pollution skin care and they incorporate a special active plant ingredient complex (to fight pollution!) into 125 of their daytime skin and cosmetics.
Clarins is also an Earth-conscious company actively using recyclable materials for packaging, eliminate bulk by printing insert material on both sides of its cartons, and fabricating refillable bottles.
I have have never tried their skincare or been well-acquainted with the brand so I saw this as an opportunity to get to know it's star products and their make-up.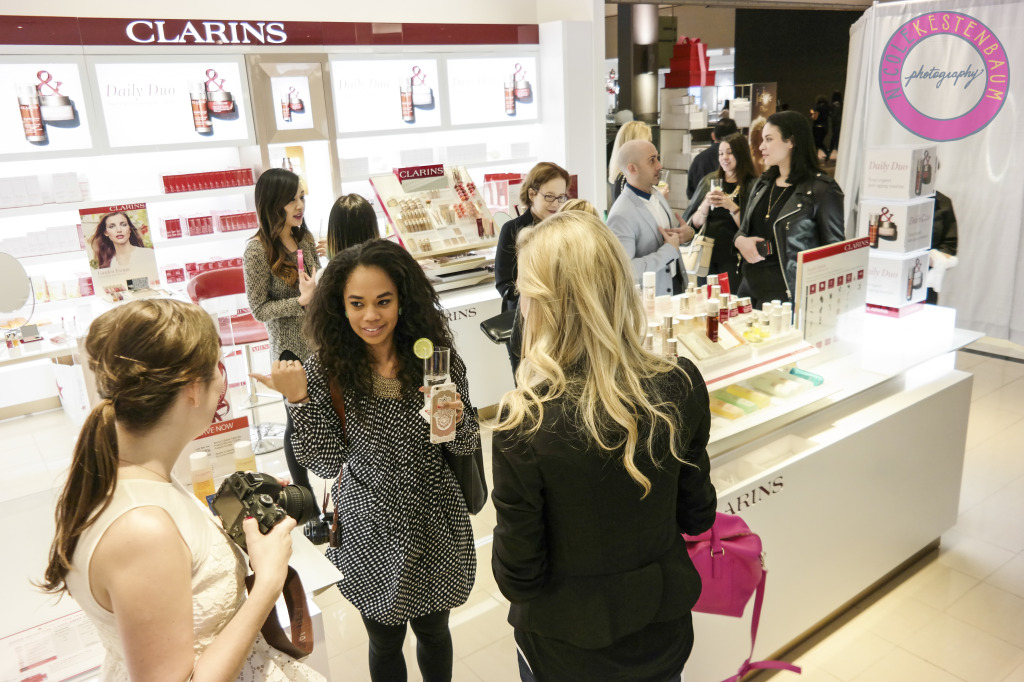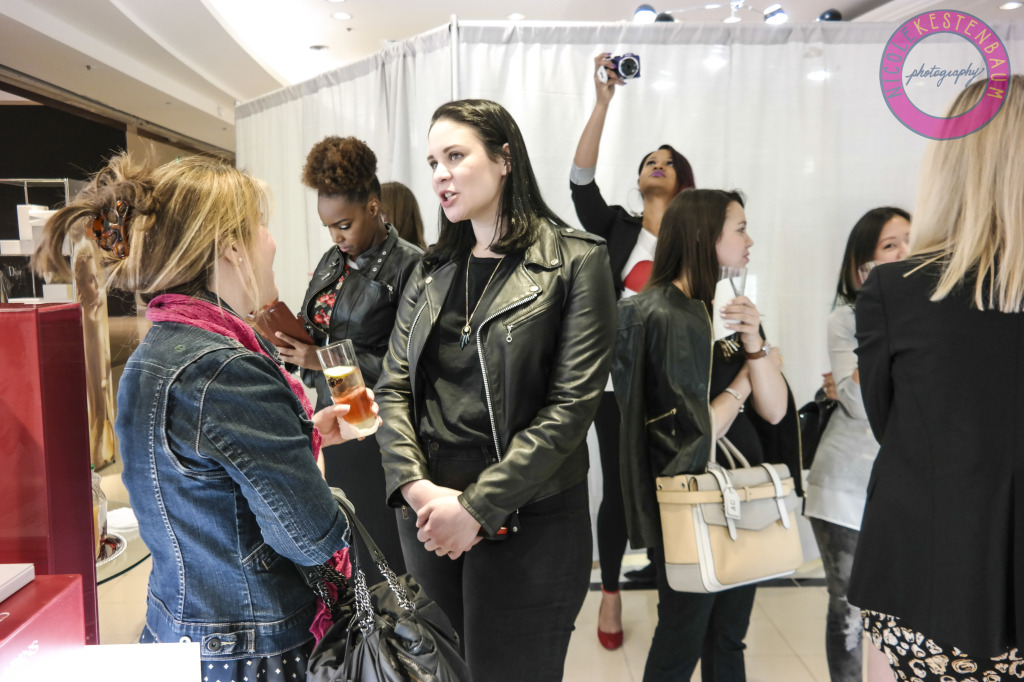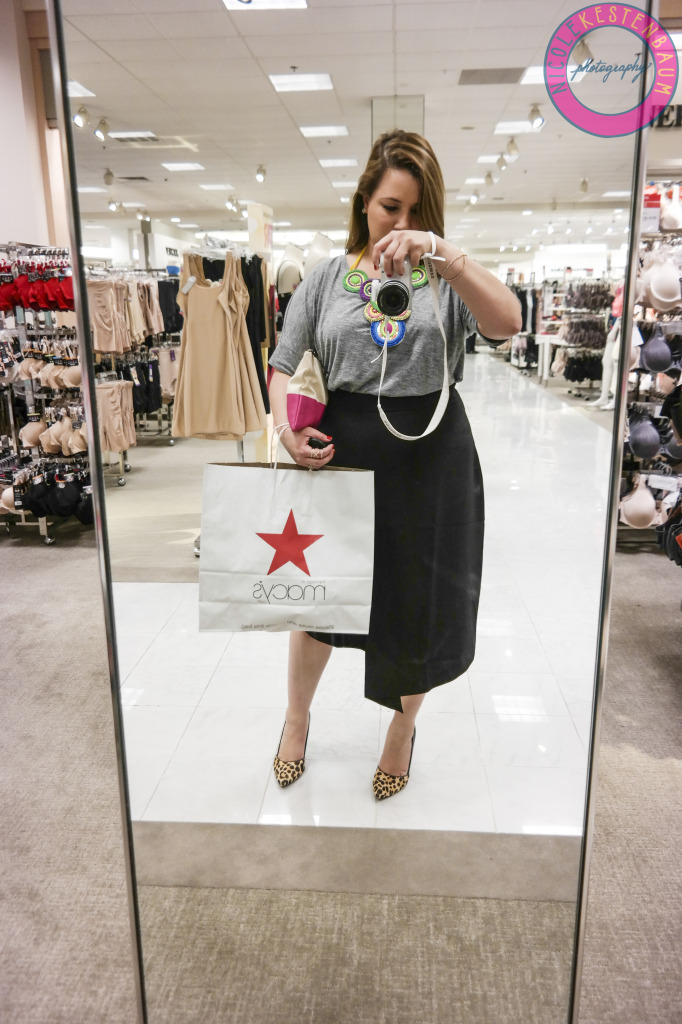 This is what I wore to the event. Because I accidentally arrived earlier it gave me time to shop. I bought some gorgeous neon yellow pumps from INC that you will see me wear in the last photo. I couldn't resist and I had to wear them! Necklace: Lunabeads, Skirt: Asos Curve, Shirt: Old Navy, Pumps: Steve Madden, Clutch: Kate Spade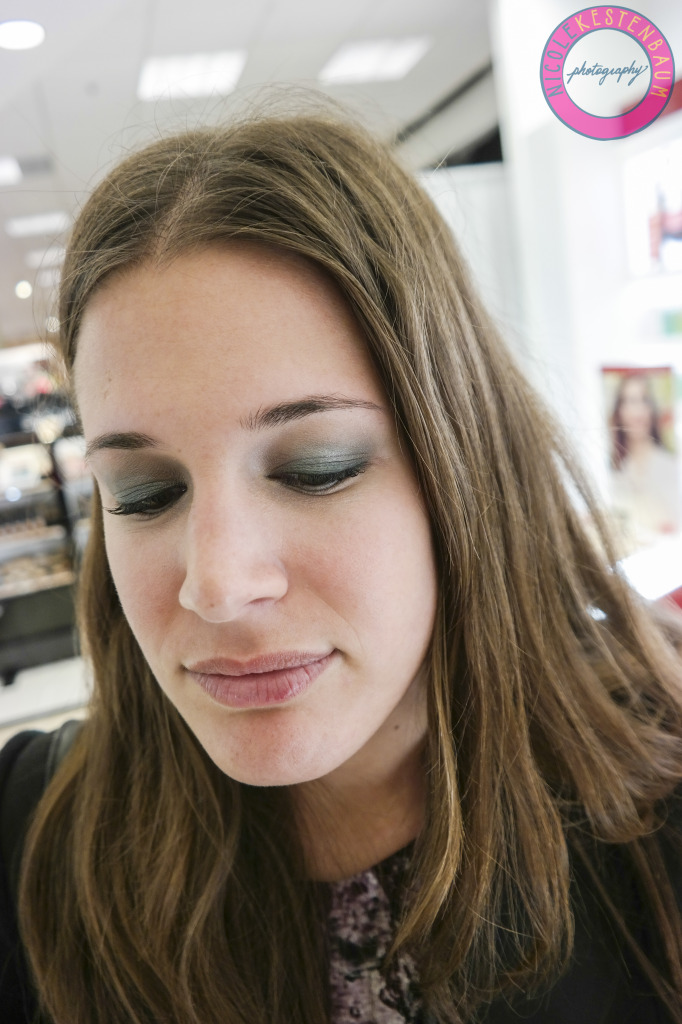 Dayan applied a beautiful wash of mossy green on Dani's lids. She truly looked like a mermaid wearing one of Clarins Garden Escape Spring 2015 hues.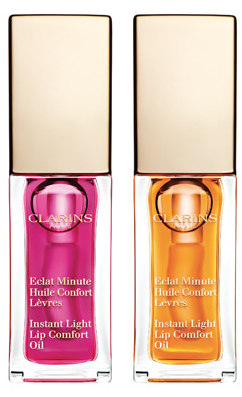 The oil trend continues with Clarins' introduction of these luscious lip oils that contain Jojoba oil and promise to enhance and plump your lips. (photo: www.clarinsusa.com)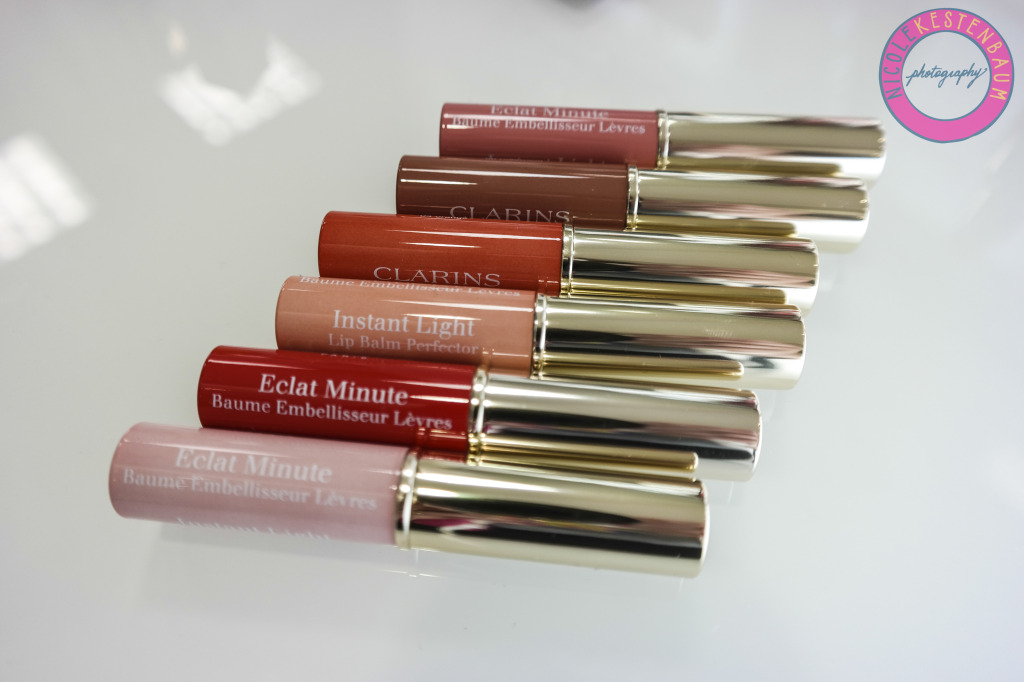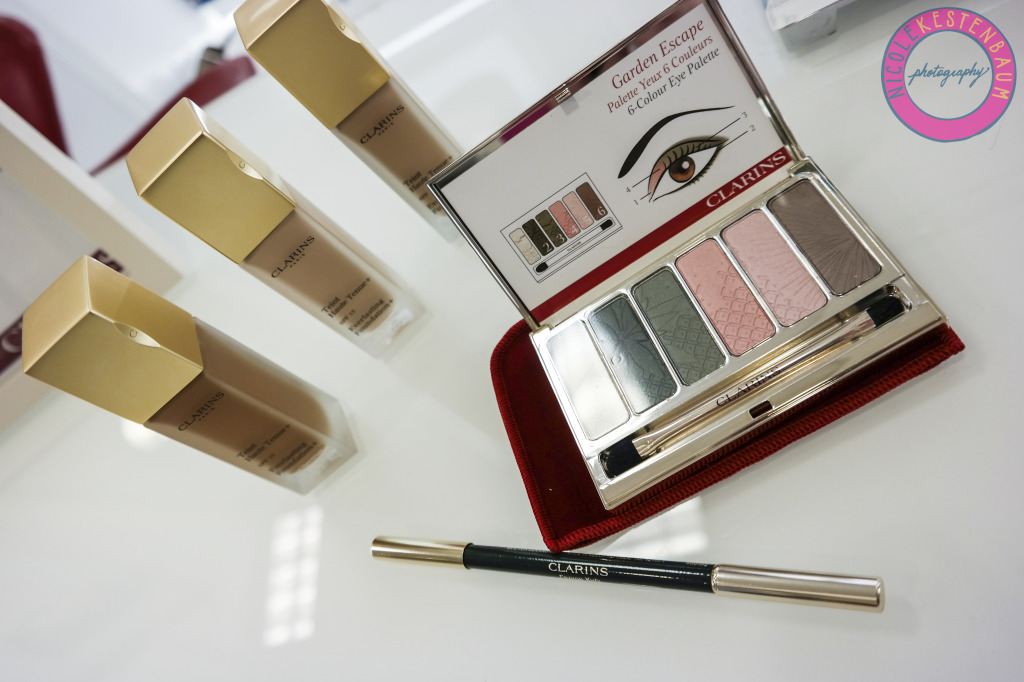 The Clarins Spring 2015 collection includes an eyeshadow palette, foundations in an extensive range of colors and with a matte finish, blush,perfect shine lipsticks as well as the jelly-bean tinted lip balms shown in the photo above.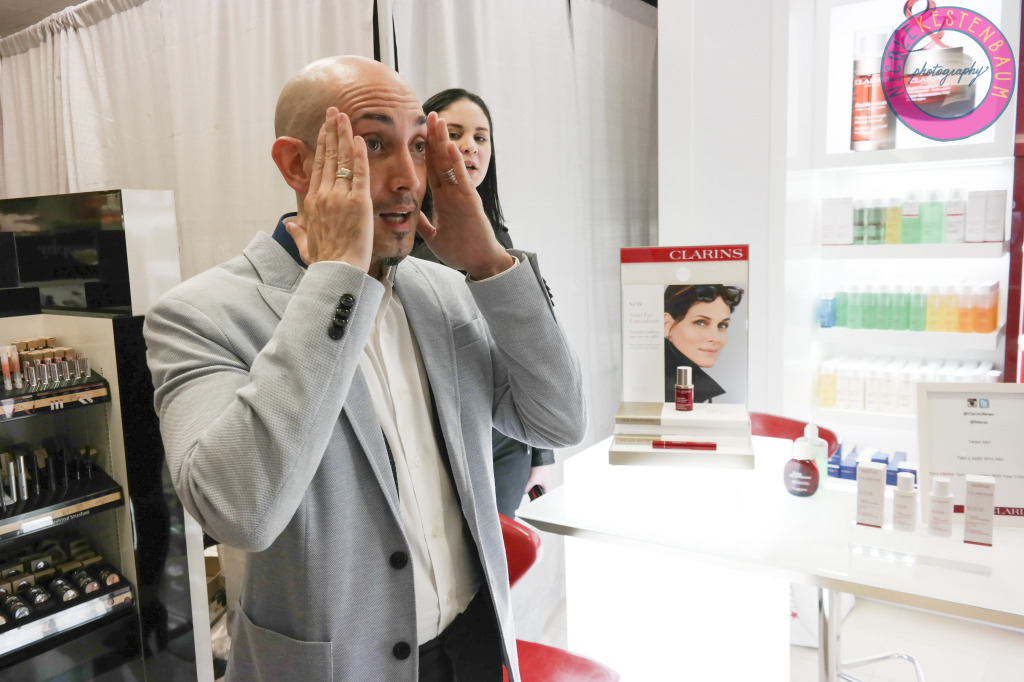 Dayan really emphasized on the method of applying your serum: rub between hands  to 'warm' the product and then pat on your face. Tugging or pulling your face when putting on your serum and moisturizer will cause wrinkles. Ditto. Will do.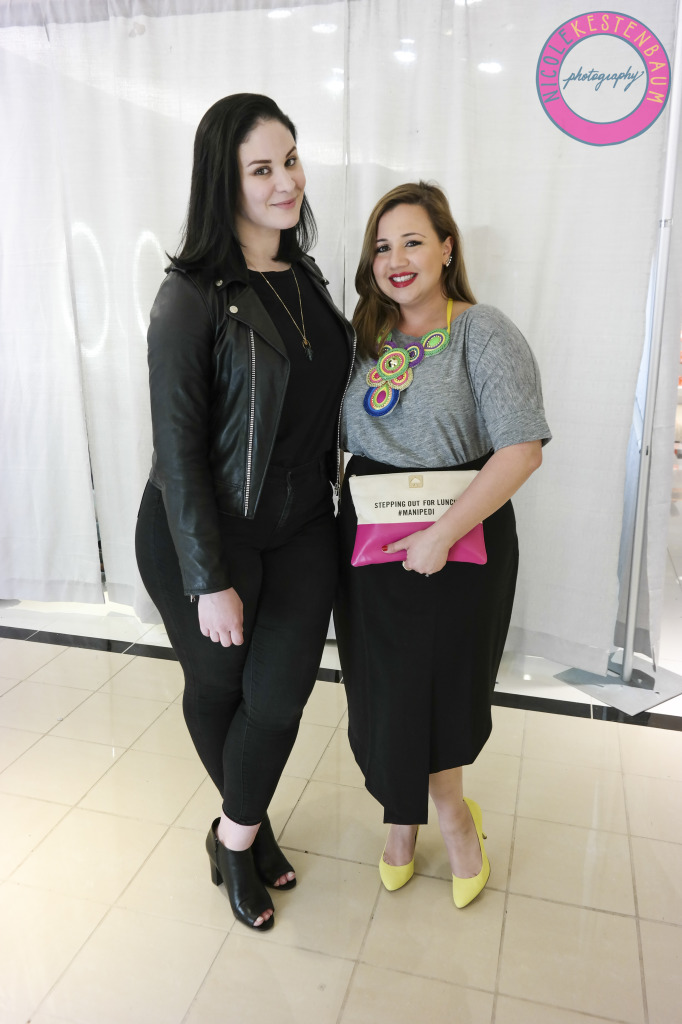 The Clarins PR manager had the effortless and edgy, French chic look going on!
We were lucky to receive the best swag bag ever with all the products from their new line and I have already started using my Clarins Double Serum (20 plant extracts in this single bottle!) and Multi Active Du Jour moisturizer. I'll be reviewing them in a future post so be on the lookout. These two face products are supposed to make my skin glow which is something I have been seeking recently in all my skincare products.
Thank you to Macy's Galleria for hosting us and thank you Clarins for putting up such an informative and fun-filled evening of beauty.

For more photos of the event click here.
Facebook Conversations