Where you the girl at school who got teased for her big butt? I was. It was mortifying because I couldn't do anything about it, it was always there and clearly seen in any dress, skirt or pant. Thank God for Kim Kardashian and Jennifer Lopez coming into the scene and making big butts fashionable.
SHOP THE JEANS:
Over the years I learned that having a big butt was not a bad thing. I just had to learn how to dress the way that made me feel the most comfortable and that included my favorite clothing item: jeans.
I've used so many pairs of jeans through-out the years and I've determined what makes you look and feel your best. For me, ot's a combination of feeling comfortable and looking polished. Here's my checklist below!
The perfect jeans for curvy girls have these qualities:
1. No gaps at the waist.
2. Hit just above the belly-button (no muffin tops here!)
3. Have a belly control front.
4. Cannot to be loose or baggy because this style will make you look bigger.
Over the years I have used many brands, from cheap to expensive and have found my four unfaltering, belly sucking, butt boosting pairs and I have to share them with you! A very inexpensive pair I used to love & wear all the time not included in this list are my Mossimo jeans from Target that got discontinued.
Style Tip: For years I avoided using a belt because I though it would just emphasize on my muffin top and then after, my mom pooch. I've never been so wrong! A belt can really polish your look, look great with a French-tuck and believe it or not, it will make your legs look miles longer with a tucked top! Here's my favorite belt.
The Best Jeans for Curvy Girls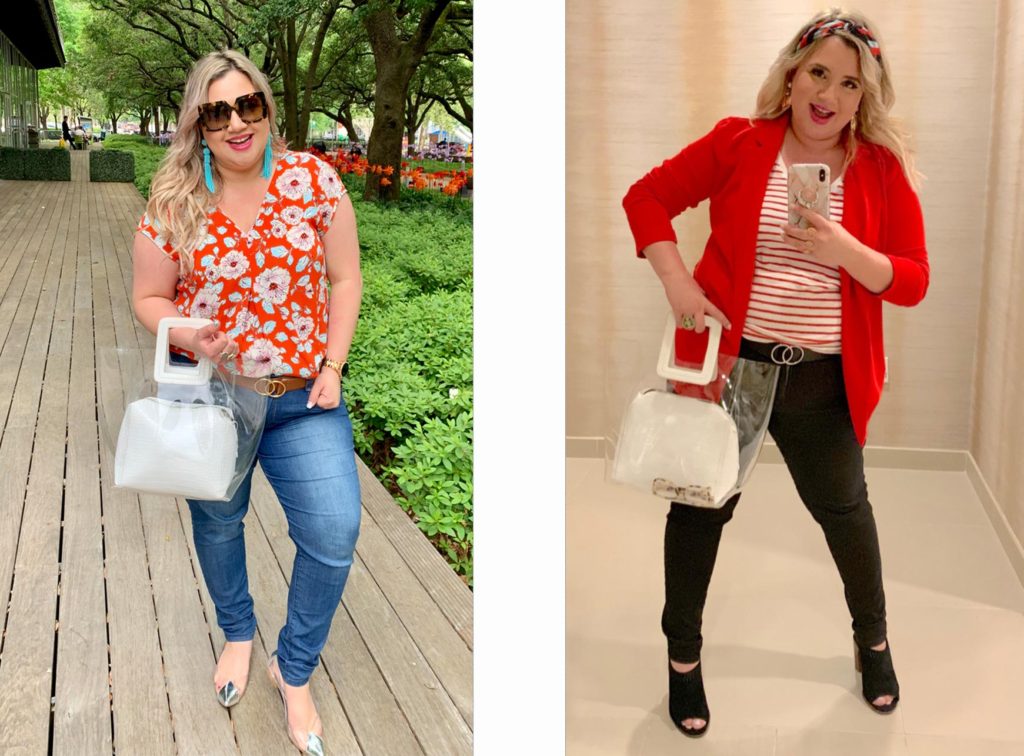 These are these jeans I feel best in! They are comfortable, look great and they are wonderful for chasing a toddler around or even taking a dance class. I have so many pairs of these jeans that were gifted to me but my favorite are the distressed pair (in the featured photo) and the black pants which have a stretchier fabric and are my current favorite for date night because they are super slimming–just look at the unretouched photo above to see what I mean.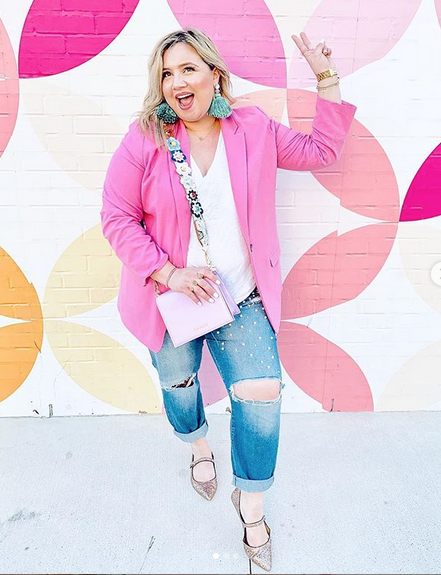 I like the pearl details and raw edges on this pair because it makes for a feminine but edgy look that pairs beautifully with sneakers, heels or flats. I originally had a favorite pair of pearl jeans from the Project Runway line at JCPenney but they were discontinued (shown above) so I picked up this pair instead and they have been an amazing substitution. They are my new favorite pair of pearl jeans and they run true to size.
I rarely wear light wash jeans because I feel my legs look way bigger than what I want. This pair of Boutique jeans is sooo flattering and I bought it a year ago at JCPenney and they are wonderful to wear during the Spring/Summer. I'm sad this exact wash is not available but I would keep my eye out for it because the fit is flattering and they are great quality. These get dirty easily and I've washed them several times and they still maintain their shape.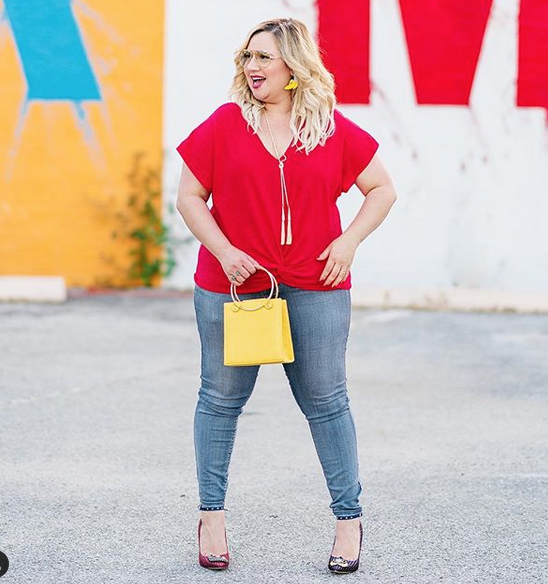 Anytime I wear these jeans people ask me if I lost weight! They make me feel seriously sexy and toned, especially this gray pair I own which were the only jeans that fit after my C-section and they made me feel good. I love the three button waistband that makes my tummy look flatter too! Only bad part is their sizing can be off from style to style so I suggest going into their store, trying them on for size and then ordering online like I do. I am usually a 14 but vary from a 14 to 16 in their black pants.
GIVEAWAY!
I will be giving away two $50 Gift Cards to one lucky winner!
All you have to do is sign up to my newsletter on my homepage for the latest news on discount codes, sales and happenings around Houston and Sugar Land. If you are already signed up then get an extra entries by commenting on my April Instagram posts and letting me know in one of those comments that you are participating in this giveaway.
  Will be announcing the winners on April 26! Stay tuned!
This GIVEAWAY is not administered or sponsored by JCPenney.
Facebook Conversations