*This post was sponsored by Whish. I chose the products I wanted to try for this post and thoughts on the products are my own.
If you've never heard of Whish, be prepared to hear me mention them a lot more on my blog!
Founder Aimee and her husband started the Whish brand with a great shaving cream and then a variety of bath, body and skincare products were born. Her only "wish" was to make natural products that didn't have a strong smell or yucky chemicals.
What I love about the brand the most is they are natural, cruelty-free and free of parabens, sulfates, phthalate, petrochemicals and are Leaping Bunny certified. I used to doubt the effectiveness of natural products but Whish has completely changed my perspective.
I loved trying out a bigger variety of Whish products since in the past I was only familiar with their body lotion and shave cream that came in travel sizes in one of my beauty subscription boxes.
It was never enough to honestly decide whether I loved the product or not so when Whish reached out and wanted me to choose products from their website to try out I was excited. It's been three weeks trying out the products and falling in love with some more than others.
Below is a review of each product I tried and which one I would repurchase in a heart-beat.
Use code 'lipstick&brunch15' at checkout at WhishBody.com for a 15% discount.
Coconut Milk+Verbena – Coconut Self Tanner Lotion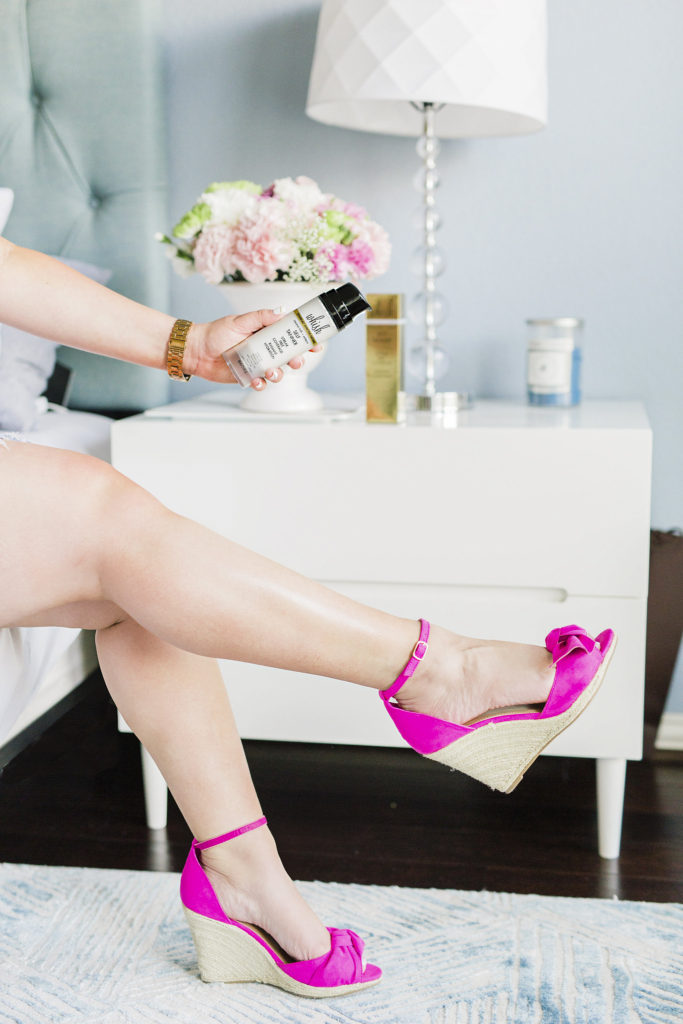 My favorite product of the bunch is this one for so many reasons! I love that it does not have the icky self-tanner smell and really smells like a cocktail: a combination of coconut and lime verbena which is the perfect pairing for summer. The lotion dries quickly into my skin and I get dressed without seeing any streaks on my legs. I reapplied after it was dry like the product suggested to intensify the color on my legs and noticeable saw a tan on my skin by the third application. I am in love with this product and would repurchase over and over again! It smells like a vacation in a bottle and it made me look like I was on one too! This is truly a summer essential in my book especially because tanning causes wrinkles and puts you at risk for any skin diseases in the future.
TIP: Exfoliate your whole body with a non-oily scrub before applying so your tan will be more even and last longer.
Lemongrass Sugar Scrub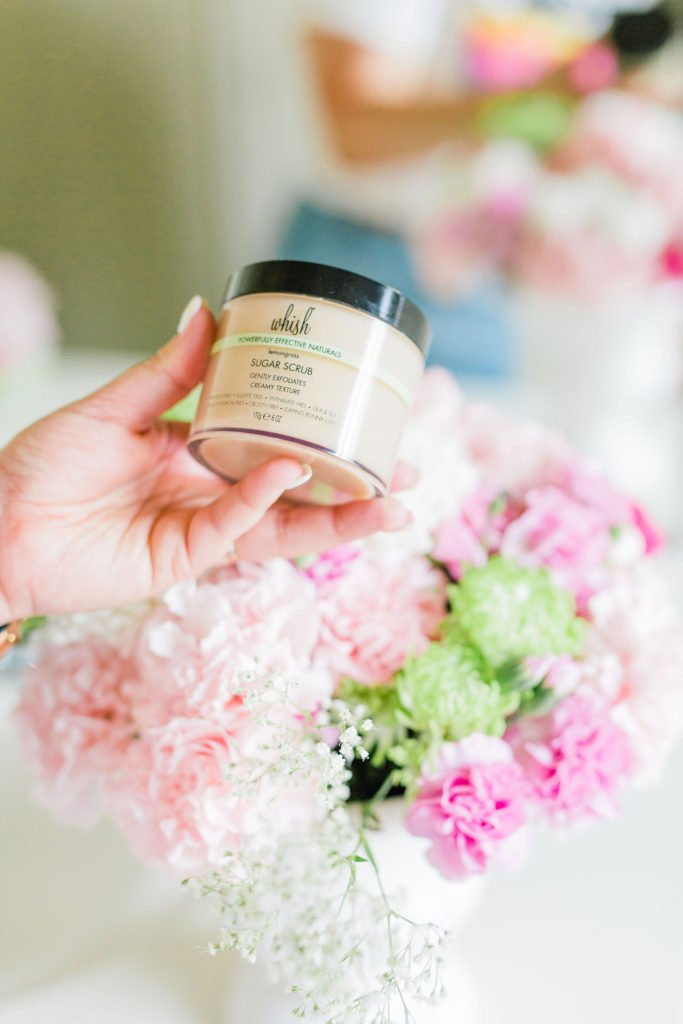 If you have dry skin, you will love this creamy scrub! Unlike other scrubs I've tried that are grainy or scratchy the creamy texture of this one leaves behind a lotion-y feel wherever you've applied it. The lemongrass scent is a great pick-me up when I'm half-asleep in the morning and need to wake up. Ingredients such as avocado oil, vitamin E and organic aloe make sure your skin is super soft even after taking it off with water in the shower.
Tip: Pat your skin dry so you can still see the beautiful sheen this scrub will leave on your skin.
Revitalizing Cleansing Oil
I wear a lot of make-up some days so I have been only using oils to cleanse my face and break-down the make-up. Scent is very important especially since I'm using this in my nightly routine and the coconut and macadamia smell is so pleasant. I like applying the oil on my dry skin and massaging it for some minutes to remove make-up and then adding water to emulsify and remove. The cleanser made up of olive fruit oil, rose hip and coconut oil leaves a light oily residue so I would follow up with an exfoliator or an alcohol-free toner to remove completely.
Rose Hip + Lotus Firming Sleep Mask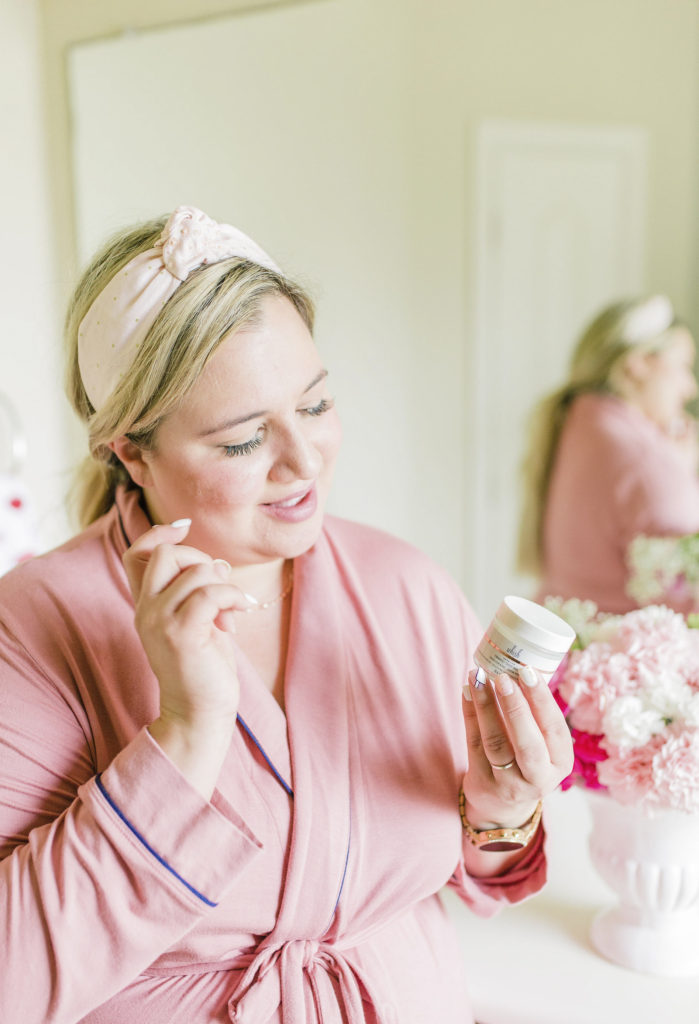 This is the product I tried the least of all of them because I have my nightly routine with my favorite products already. I will say though that I always keep a heavier cream or sleep mask on my night-table on a day when my skin needs a boost after being out in the sun or after a day of wearing too much make-up. I did wear it 2 or 3 times and I woke up without breakouts and my skin completely drank it in. I  don't apply it on my t-zone which tends to break-out I only apply it on my cheeks and neck and my skin is noticeably softer in the morning. I hope to use it more times and update this post.
All in all, Whish beauty products exceeded my expectations  and I can't wait to try more of their cruelty-free clean goodies! Of course, if you ask me right now which product you should try I would say hands-don the self-tanner which has given me the prettiest most effortless natural glow. I look sun-kissed and summer isn't even officially here yet!
Facebook Conversations