One of the things I most love is to give gifts during this time of year! I thrive on buying unique, memorable items that fit the personality of my friend or loved one. I love to be there when they open it because I know that what comes next is a jaw drop, a "WOW!" or a speechless expression. But, the only bad part, according to my husband, is that I expect the same type of gift so he always gets really nervous when he has to buy me a gift! LOL Sorry baby! I've rounded up some of my favorite small shops in Houston and beyond so you can surprise the one you love this season! Enjoy!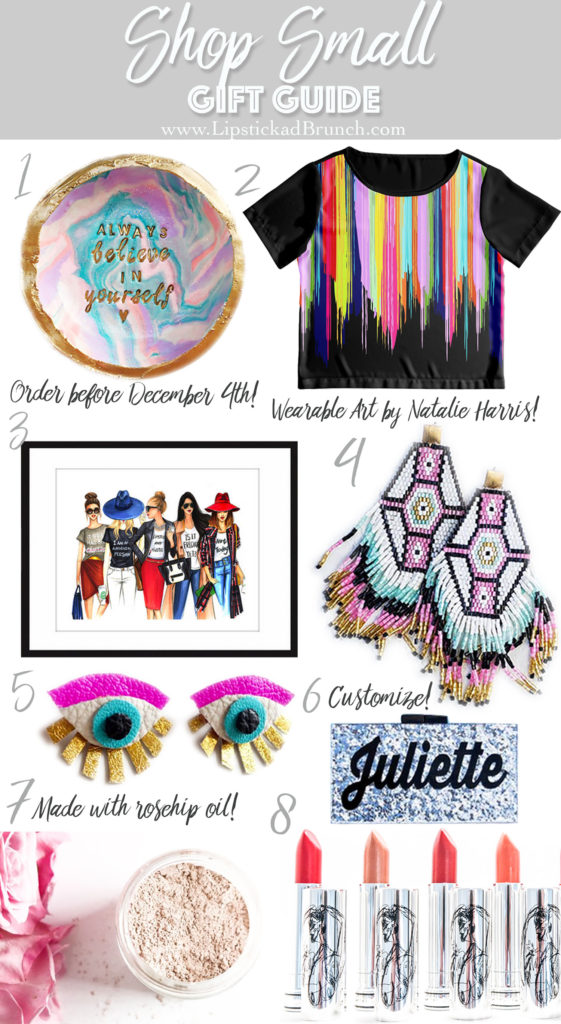 ONE | TWO | THREE | FOUR | FIVE | SIX| SEVEN | EIGHT
These jewelry dishes by Pressed Intentions are cute & each dish includes an inspirational message to start your day with purpose. Various colors and phrases available. Order before December 4th to get it by Christmas!
Local designer Natalie Harris famously creates stunning & unconventional wedding dresses but did you know she also makes wearable art under the brand Unicornus Rex from her fabric prints and from some of Houston's landmarks like The Biscuit Paint Wall? Check out the MAC book skins too!
Local fashion illustrator Rongrong has sketched for Vogue, Maybelline and Dior and even been feature in InStyle magazine and she has the cutest shop full of fashion prints to hang in your office, cute mugs, IPhone cases and totes that would make the perfect gift for any fashionista.
I recently discovered Lauren Milmine Designs on Instagram when I saw Meredith from Cake and Confetti wearing her drop-dead gorgeous earrings and I'm totally crushing on these Aztec-inspired pair and all the tassels in her shop!
Go to Pop Shop America and find an endless array of cute gifts and stocking stuffers made by small shops across the country! These hot pink "evil eye" inspired earrings are a treasured pair I own and wear to make a statement! More colors available.
I already own a an acrylic clutch from Milanblocks but this one which you can customize with your name or nickname is on my wish list! There's more clutches and letter colors to choose from too.
I wrote a blog post about Rosehip Essentials recently and have been in love with the aroma-therapeutic qualities of their skincare products and how my skin feels after using their cleansing oil. This one is definitely one you'd gift your mom or skincare obsessed friend or yourself!
Art On It is make-up in it's truest artistic expression. Founder, Sergio Escalona is a painter and a make-up artist who created a high end cosmetics line that has his original art on the packaging. Visit him in his boutique that looks like the museum of make-up and fall in love with him, his talent and his line!
Save
Save
Save
Save
Save
Save
Save
Save
Save
Save
Save
Save
Save
Save
Save
Save
Save
Facebook Conversations