*This post is part of Lipstick and Brunch's #SkincareWeek
Even though I have always had the occasional breakout I've never been to the dermatologist (except that one time I visited my aunt who is a dermatologist and she gave me a high SPF sunscreen and told me I was exaggerating) because I was scared that I was going to get on this super strong acne-medication that I remember, made my best friend peel like an onion in high-school! Plus, I have always been blessed with supple skin and crazy good make-up skills so a break-out could never ruin my life.
But Things Changed When I Turned 30
At 30 though, I have been experiencing constant, hormonal break-outs on my chin. If you're experienced these too, you know that they pop out of nowhere around the time of your period and there's not much to do but to apply a salycilic acid or benzoyl peroxide cream and hope/pray/chant/dream that they'll be gone before that big party or photo-shoot. Hormonal break-outs in your 30's are super normal so don't feel weird or isolated, there are many women out there going through the same monthly ordeal. Sadly enough, they usually don't  go away on time so I recur to my trusty make-up magic, an emergency facial or I just stay at home.
I don't have the time to visit a dermatologist's office with all that I have going on at times amidst making the blog a full-time paying career, keeping my home clean, work meetings, my husband and my crazy puppy. Also, as proven by my general check-up doctor, appointments have a wait time of months and I'm not very patient. I've also had the luck in the past of choosing "out-of-network" doctors that are not covered. Go figure. But what if you could just hop online and get a dermatology appointment while sitting in your favorite chair at home?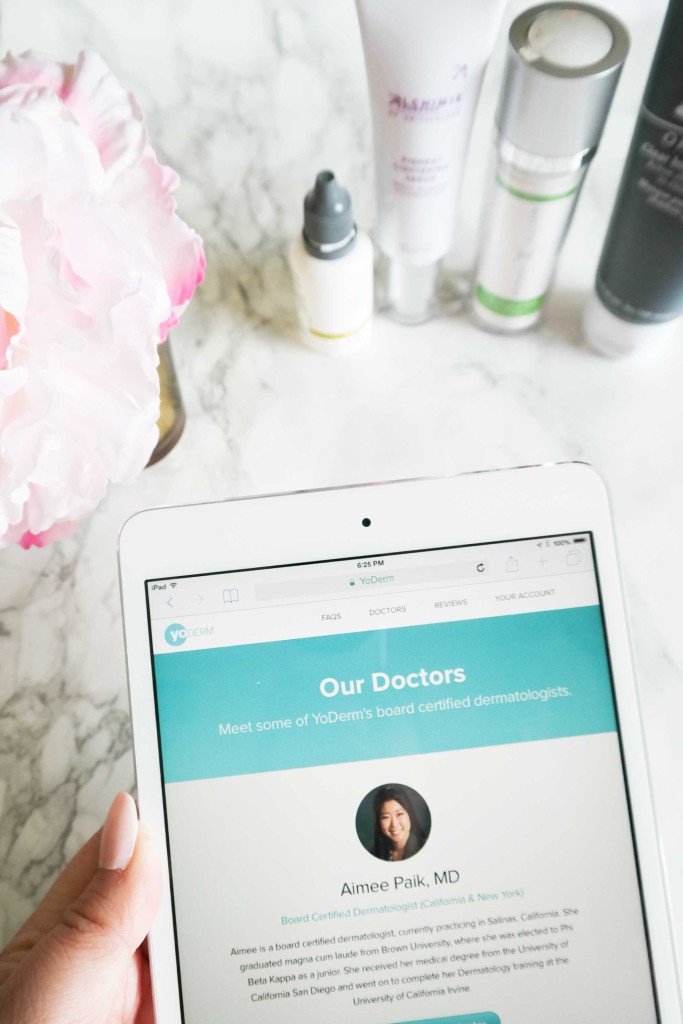 Trying Out YoDerm
So, when I was approached by YoDerm to try out their online dermatology consultation I was totally on-board. I could do it from the comfort on my own home, with no month-long wait for my appointment and it's super inexpensive. The consultation is only $59! I bet my high school friend would have loved to have this online alternative back then! I was skeptical thinking about this at first because I thought the dermatologist actually had to see your face to prescribe medicine but you also have to upload photos of your face as part of your medical profile. Besides, don't we do everything online these days?
You start by choosing a dermatologist from their board certified selection of polished-looking faces. I chose Dr.Bradley Beckman. Then, I filled out a questionnaire with skin related questions: whether my skin was dry, combo, oily etc. Nothing tedious, just a few questions to help them determine patterns in your skin, allergies or if you had any preference in the intensity of the treatment plan (as in "No, I don't want to peel like an onion"). I uploaded a few photos of my make-up free face and ta-da! I was done.
I received my prescription a day later and it was sent directly to my preferred pharmacy. It was so easy and quick except one of the prescriptions was almost $42o! Yikes! I wrote back to them telling them I couldn't afford it and immediately, one of their online customer service representative sent me a message with an alternative prescription that matched my budget at $75. The doctor suggested being on this treatment plan for 2 months and come back for a follow up consultation.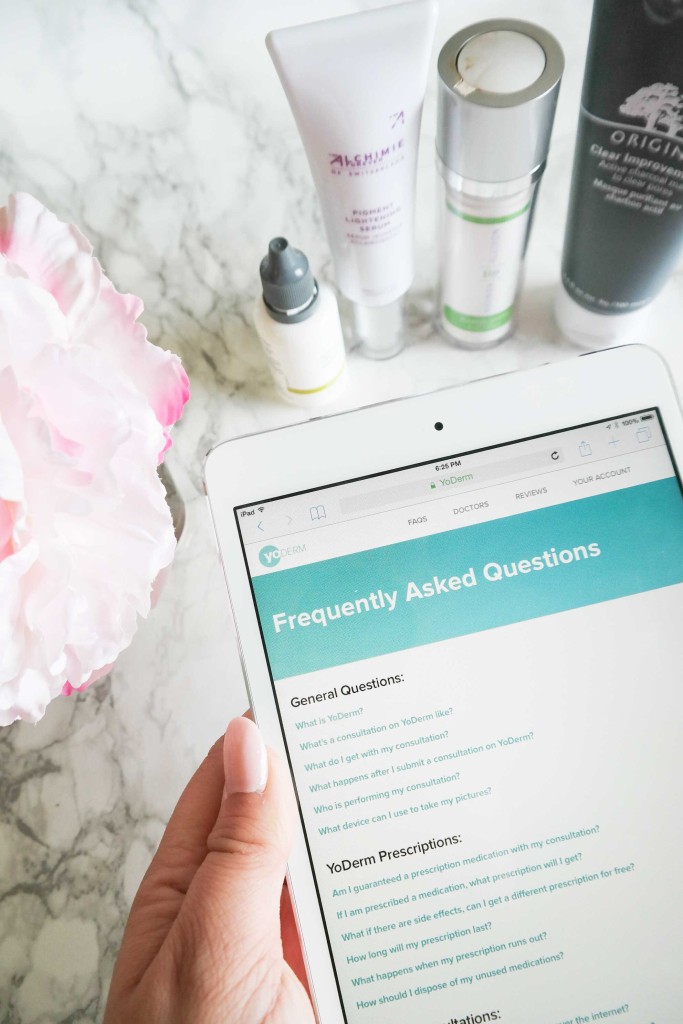 The question is: "Will I pick up my prescriptions at my pharmacy and go through with the treatment plan?" At the moment, the answer is no. And that's because my hormonal breakout hasn't flared up this month so I am not in need of any treatment. But I'm pretty sure that as soon as I feel a blemish coming to visit I'll be sending the new, more affordable prescription to my pharmacy so I can pick it up.
As for my experience with YoDerm, from filling out my medical profile to getting my prescription, was incredibly smooth and felt thorough. I would highly recommend it if you've been aching to visit the dermatologist's office at an affordable price. Their great customer service and no wait-time was definitely the cherry on top.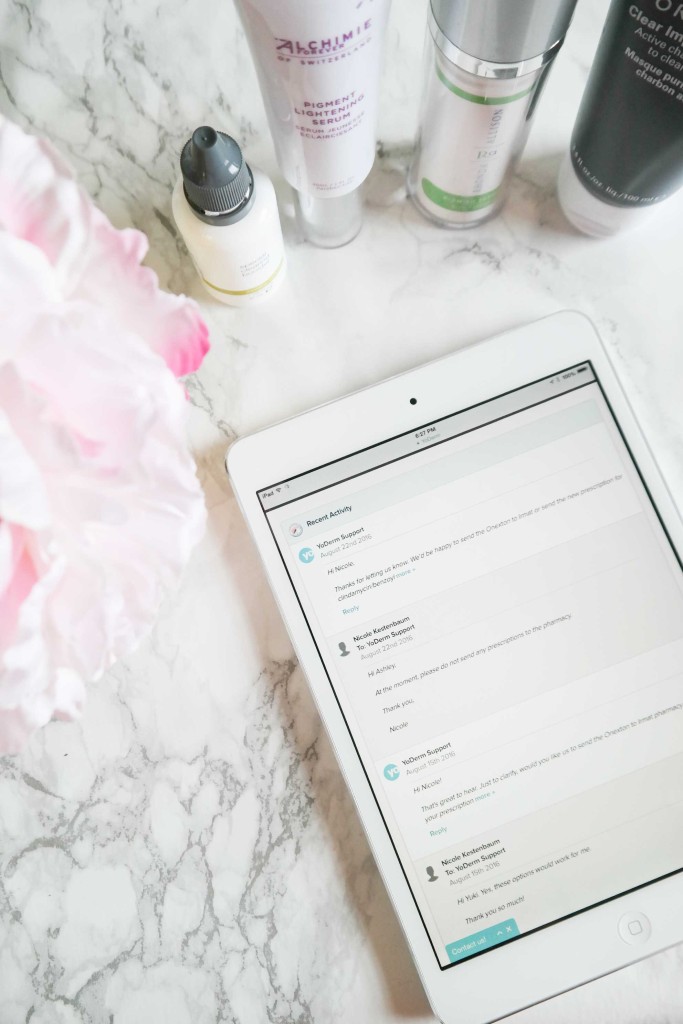 Thank you YoDerm for letting me try out your online dermatology service!
Check out the other posts in my #SkincareWeek Series:
Facial at Neiman Marcus & Why You Should Get a Facial
Save
Save
Save
Save
Save
Save
Save
Save
Save
Save
Save
Save
Save
Save
Save
Save
Save
Save
Save
Save
Save
Save
Save
Save
Save
Save
Save
Save
Save
Save
Save
Save
Save
Save
Save
Save
Save
Save
Save
Save
Save
Save
Save
Save
Facebook Conversations