(Updated March 2022)
Houston is a hub for amazing food! This is the city where I tried a lot of different foods for the first time like Greek, Thai and French cuisine. It's also a place where I've tasted the most indulgent sweet treats from around the world and developed a deep love for iced caramel lattes during the Houston summers.
In my quest for the best I managed to come up with this master list of dessert spots in Houston you have to try!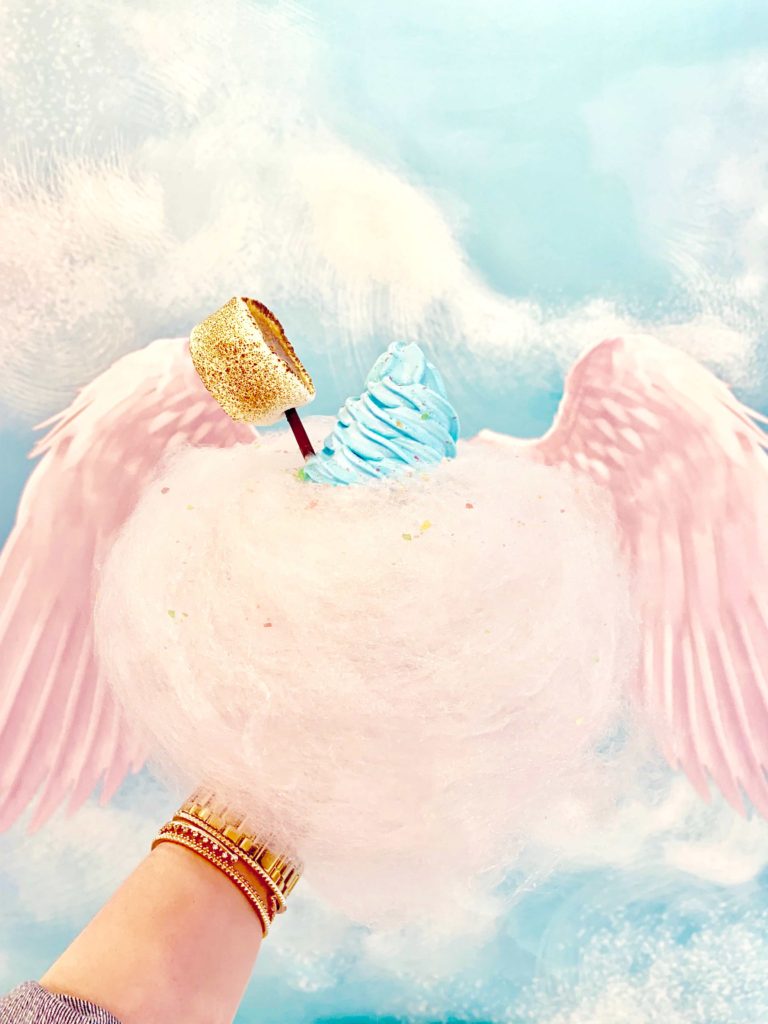 This gem in Chinatown is not only super delicious but super Instagrammable! Born in Australia and with it's only American location in the USA, this cold treat is topping my list of favorites right now!  Their signature sea salt soft serve ice-cream is so creamy and ideal for those sweet and salty lovers. Their flavors rotate every month and they also have ice cream popsicles and small tubs of ice-cream (my mom swooned over the pineapple one). A must-visit for the photos but you'll keep coming back for their sweet treats! Definitely a place you want to bring any out-of-towner!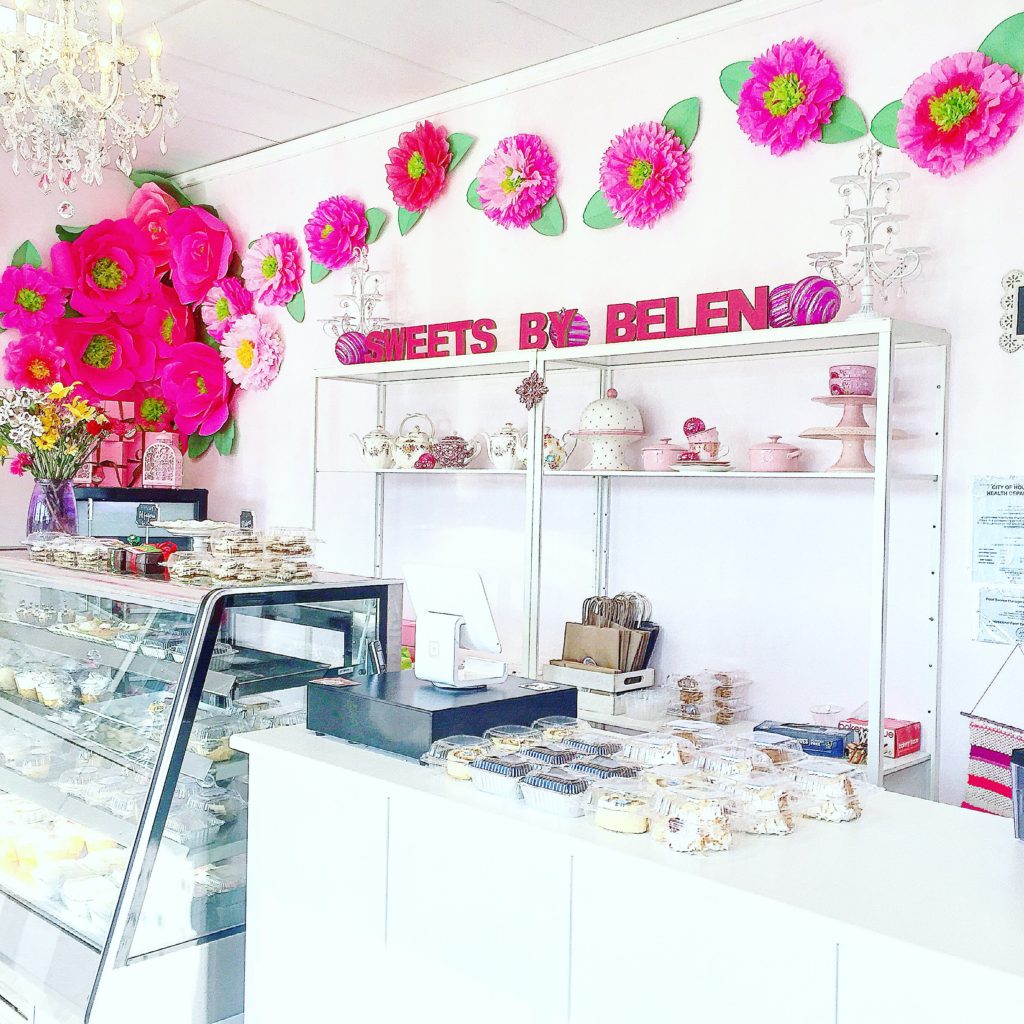 photo by Lipstick and Brunch
If you follow me on Instagram you've seen me post about Sweets by Belen a couple of times and it's not only because her Peruvian desserts are superb but also because I feel I've been following Belen's journey since she had her cute dessert truck. Her full fledged dessert boutique houses my favorite melt in your mouth alfajores (buttery soft sandwich cookies with a dulce de leche filling) and most recently, the most stunning initial/heart cakes made with lemon buttercream, her in-house dulce de leche, tres leches and flowers (pictured above). For a savory treat, also try her empanadas—they're so flavorful, stuffed with minced meat and sprinkled with a bit of powdered sugar and lime.
(pictured above) Stepping into Zero Degrees and sipping on these blended mango ice concoctions which Mexicans call a mangonada is going to be the most refreshing and tropical experience on these unbearably hot Houston days. The whole sliced mango decorating the cup is worthy of a photo but take that photo quickly because these mangoes are so tasty with the chamoy (a mix of spicy salt and tamarind on the mango) you'll devour them in a snap!
I am addicted to shaved ice and this one looked dreamy after I saw it on TV one day! Nu Ice is a Taiwanese snowflake ice shop located in the Bellaire area in Houston and it's soooo yummy, smooth and light! I'm pretty simple when it comes to my shaved ice and I usually like the creamy coconut flavor or mango with lots of condensed milk but they have tons of flavors. This is a must after eating dim sum or Chinese food close by. Tip: there's a bunch of Korean beauty stores around the area so go explore!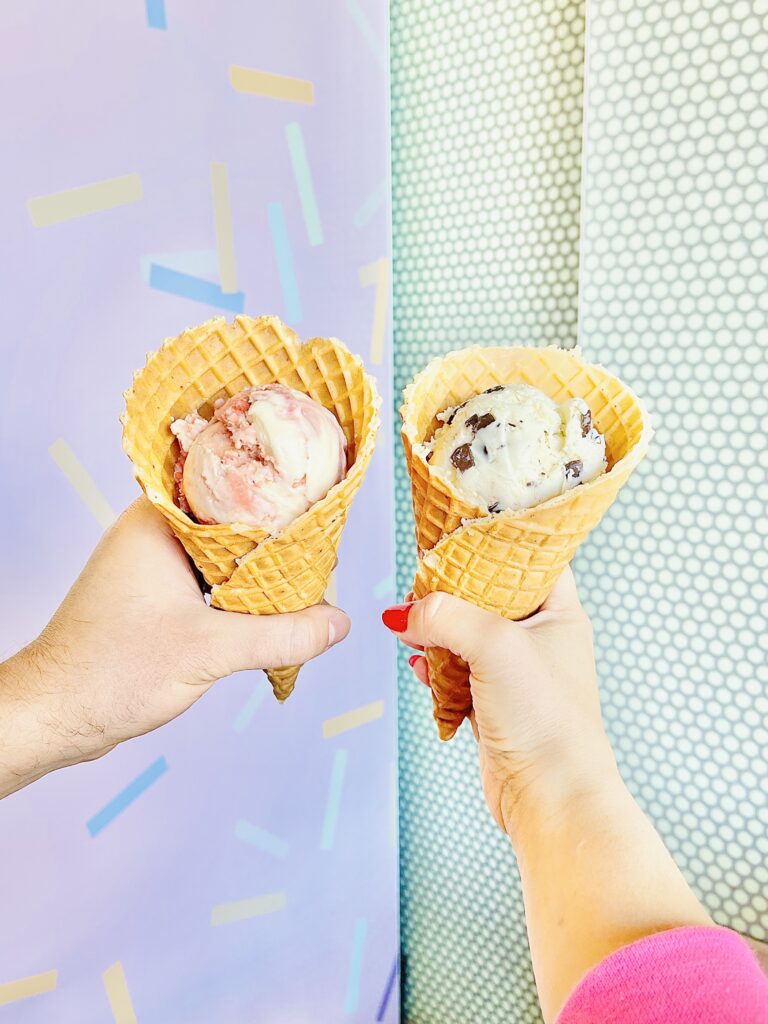 Their ice-cream and vegan ice cream is TO-DIE-FOR! Their seasonal flavors keeps me coming back for more especially because they pride on using the best ingredients.
Unapologetic. Sinful. Indulgent. Three words that describe a place I wish I could frequent more often but because it's in Midtown, I only pick up a stash of goodies when I'm close. There's a good reason the owner and baker in chief Rebecca Mason is called "The Sugar Hooker" and it ain't because she's skimping on any ingredients that are going to make your taste-buds have a party. I love the savory flavor combinations in her cookie creations; they're the best! She also curates these unique Saturday Morning Bake Sales with other well-known/celebrity/local chefs and they merge their ideas to create nothing like a bake sale your mamma chaperoned (go take a look at their Instagram menus to see what I mean).
I discovered this place last year when I wanted fulfill my French pastry cravings when I was pregnant and I was so happy to find it! I was on the look out for a Mille-feuille which I found out is incredibly difficult to find in Houston and this place had the second best tasting one and the most similar one to the one I tried in Paris. No kidding, I made my husband drive me to like 8 or 10 places and this one was fantastic! They have an excellent coffee bar, beautiful decor and it's nestled in Rice Village across from Torchy's Tacos.
photo by Lipstick and Brunch
There's a a reason this place is a staple for our mom blogger group and it doesn't just have to do with the kid-friendly vibes. Tiny's Milk and Cookies has the best, ooey gooey just baked chocolate chip cookies as well as breakfast pastries (which I always bring home to the hubby). They also have ice-cream, iced-coffee and most recently I even had one of their delish cortados which reminded me of my recent trip to Miami and it's amazing Cuban coffee.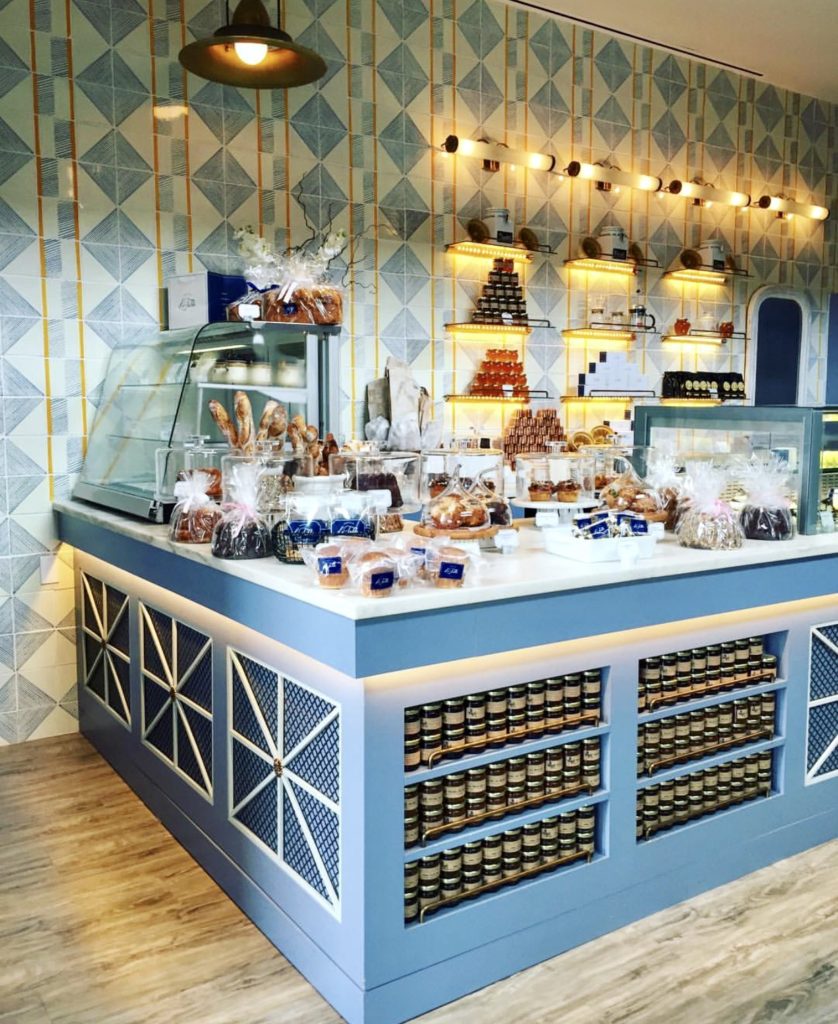 photo by Lipstick and Brunch
Hands-down the best Mille-feuille is the one you can find here but you can only find it after 5PM so don't get any pregnancy cravings like I did at 3PM! Hahahaha! The chef makes the dessert to order only after 5PM, no exceptions. I first saw this mouth-watering dessert on Houston food critic Alice Levitt's Instagram and was determined to try it after she told she it was really good. Their opera cake and éclairs are pretty legit too!
If you're looking for fine chocolates, exotic flavors and an amazingly unique presentation and variety of options, you must visit this chocolate boutique by the Galleria area. I've even taken a chocolate making class by owner and chocolatier Annie Rupani and loved sharing the experience with my husband. Read one of my first my blog posts about her shop.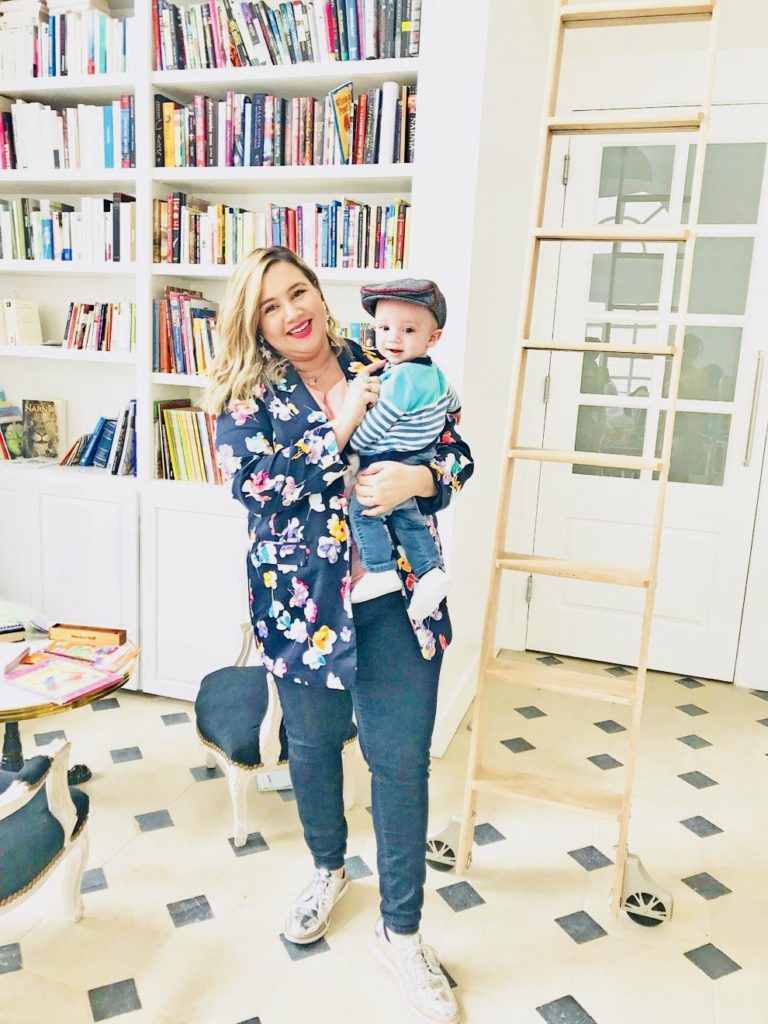 (eclair pictured above) I couldn't believe my eyes when I walked into his French bakery which immediately transported me to a coffee shop in Paris. It's completely out of a story book with its high ceilings, wall covered in books and the cute, little white tables and Victorian chairs. The éclairs come in a variety of scrumptious flavors like salted caramel and lemon and I can't wait to go back! They only have five parking spots so take an Uber!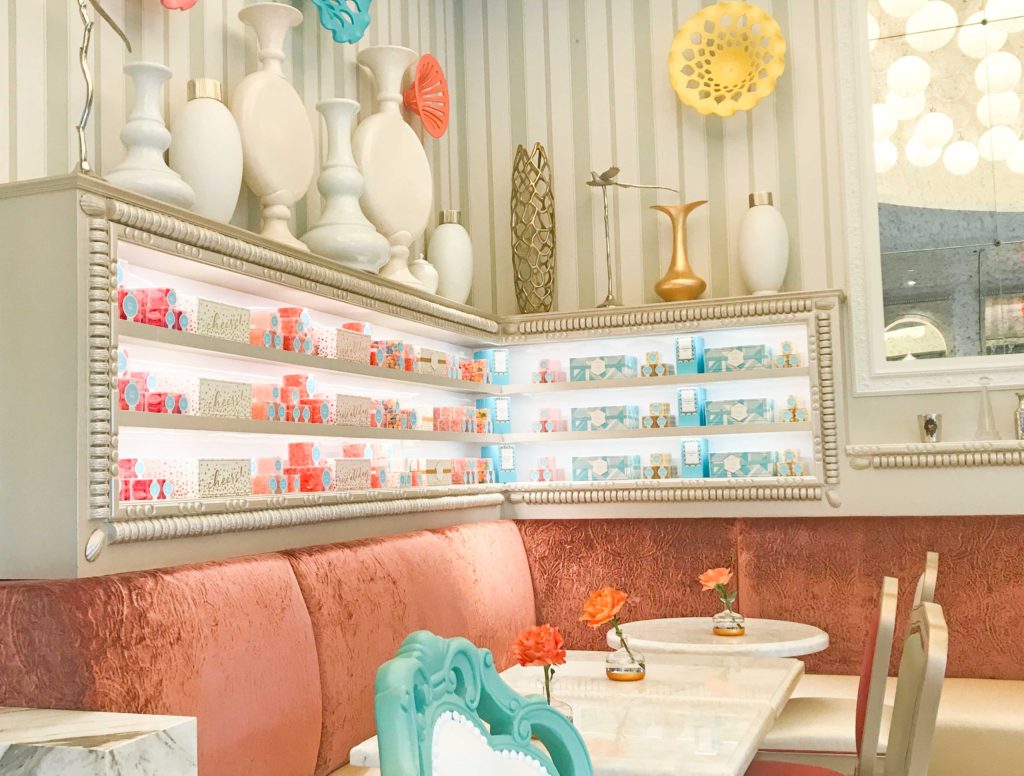 photo by Lipstick and Brunch
I was completely blown away when I visited this bakery adjacent to the new Post Oak Hotel in the Galleria area. It feels incredibly high end with the marble top tables and turquoise Victorian chairs and a perfect peony decorating every single table. I could have stayed in there forever! Coffee was great and they had a variety of desserts, macarons, gelatos and quiches. You better know I'll be back to take photos here!
Honorable Mention (not Instagrammable but my favorite shaved ice spot!)
The most authentic ice cones with condensed milk and the one that hits closest to home is this gem in Bellaire. There's nothing fancy about this drive-thru but I love that I can actually bite into this ice ( a favorite one of mine when I was pregnant during the summer) just like I did in Honduras. They have basic flavors like orange and condensed milk (tastes just like a creamsicle) but there really is nothing like a classic flavor combination to satisfy a sweet craving.
Have you tried any of these places in Houston?
Which places should I add to the list?
Facebook Conversations