Hello guys! So happy to be sharing a life update! Life has changed way too much since my baby was born and even though it has been challenging trying to smoothly adjust to my new #momlife during the week, all it takes is one smile from Nicolas Enrique to know that everything will be fine. Besides, there's always the weekend, where we get to spend time together as a family and it's truly the best time I've ever had. Whenever I see the opportunity to visit an extrasensory museum exhibit (we took Nicolas to see the Pixel Forrest on it's last day at the MFAH) or visit an extra colorful Houston wall or installation like The Montrose Studios I jump on it and make plans for family photos.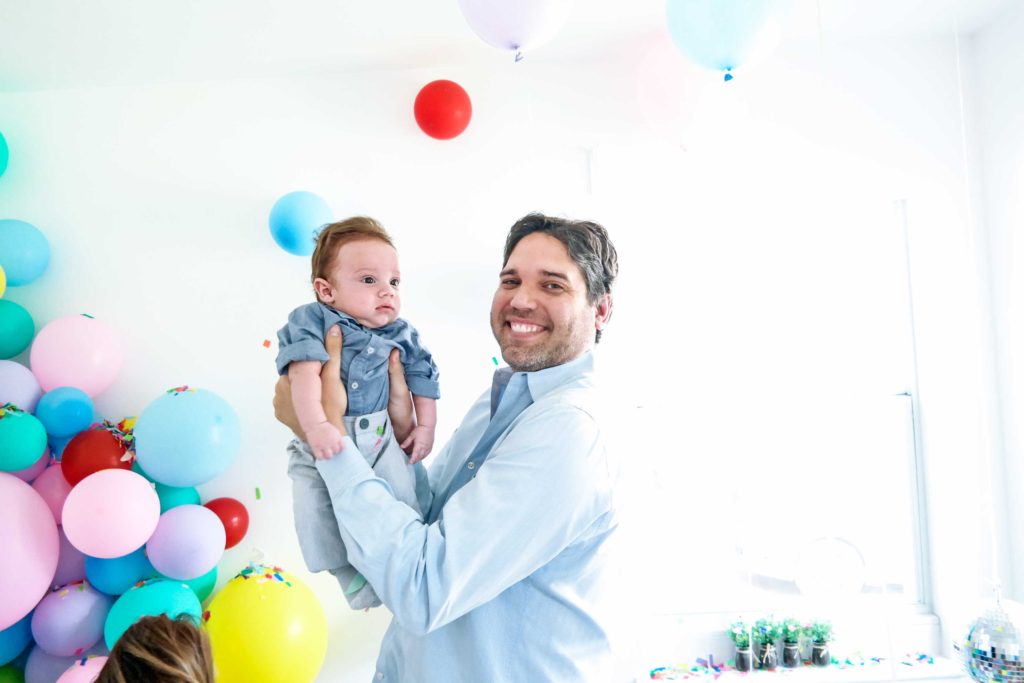 The Montrose Studios
The Montrose Studios is the perfect setting for when you want cute pictures but don't want to melt in the Houston sun. Even though it's Fall here, the cold front is bringing us 85 degree temperatures. I'd been dying to take some colorful family photos at a Houston mural but by the time I make it outside, it's already 90 degrees and humid. Yuck. So it was so amazing when I saw The Montrose Studios and their oh-so-clever rotating studio set-ups that you can rent for 15 minutes or an hour and they have air conditioning! Let's be real though, when I saw the set-up for their Confetti Room, I flipped! It was so fun, so colorful and so me! LOL I bought some tickets (much to my hubby's dismay at first because the Texans were playing–oops!) and headed there on a Sunday and made some amazing memories with my little family.How does it work? Bring your camera, phone, family, friends and a tripod (if you want everyone in the photo!) and you'll have the room available for the time you rented it for. Genius right?
Thank you so much for the team behind this amazing concept especially to Maria, who runs The Montrose Studios, for all your help and for being so sweet to us! As new parents we were overwhelmed but Maria and her team made us feel right at home.
Life Update: The Reality of Working From Home With a Baby
Staying with the baby at home is no walk in the park for a busy bee like me. Actually, a walk in the park with the baby would be amazing if it wasn't scorching outside! LOL
I had my working-from-home-situation so figured out in my head before our baby was born: "While baby Nicolas sleeps, I'll blog and then after his feeding, he'll fall asleep and lay in his crib which is next to my home office which is perfect because then I can hear him if he cries." OMG! Now that I think of it I can't help but laugh and then cry a little because I was so naive. We have a wonderful, sweet smiling baby and he generally has a very predictable pattern except when he doesn't. Whenever he takes a long nap I blog, take photos, edit them and answer emails but I'm never done because I can never stay in front of my desktop the whole day like before.
Whenever he's fussy I talk to him in Spanish (his eyes pop when he hears me enunciate each word), we listen to music (mostly his music–LOL) and I play with him which mostly consists of me giving him so many kisses on his cheeks he ends up thinking it's amusing and starts laughing and cooing.
It's been almost three months with Nicolas and I haven't been bored once. Both my hubby and I are mesmerized by him and could just stare at him for hours until our hearts explode. It's truly unexplainable how this little person you've never met and drives you nuts makes your heart melt. ❤This photo-shoot was a special moment because we loved seeing his face light up when the confetti was being thrown in the air. I loved seeing his tiny face fill with wonder.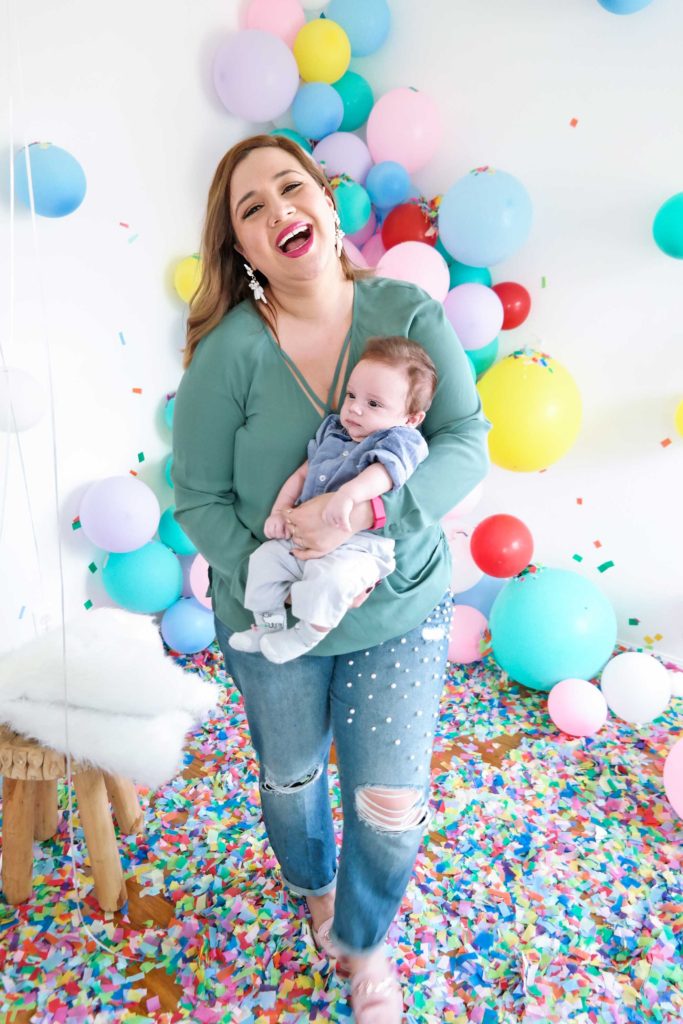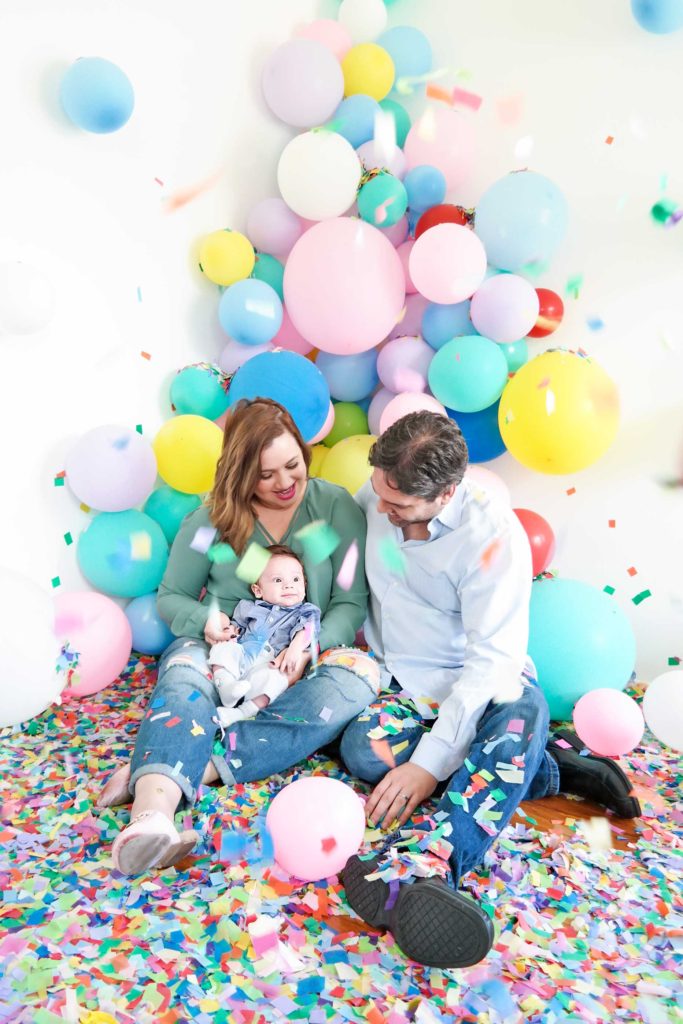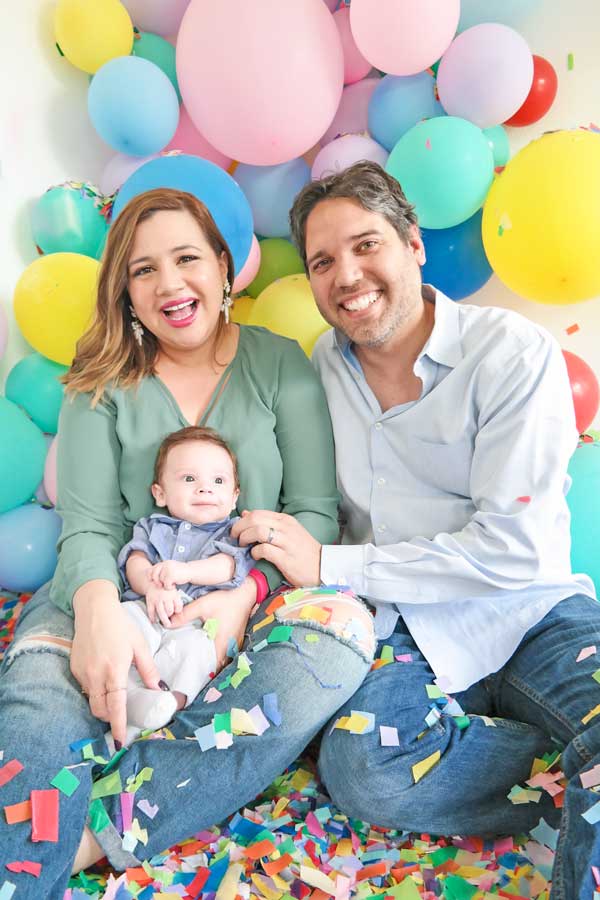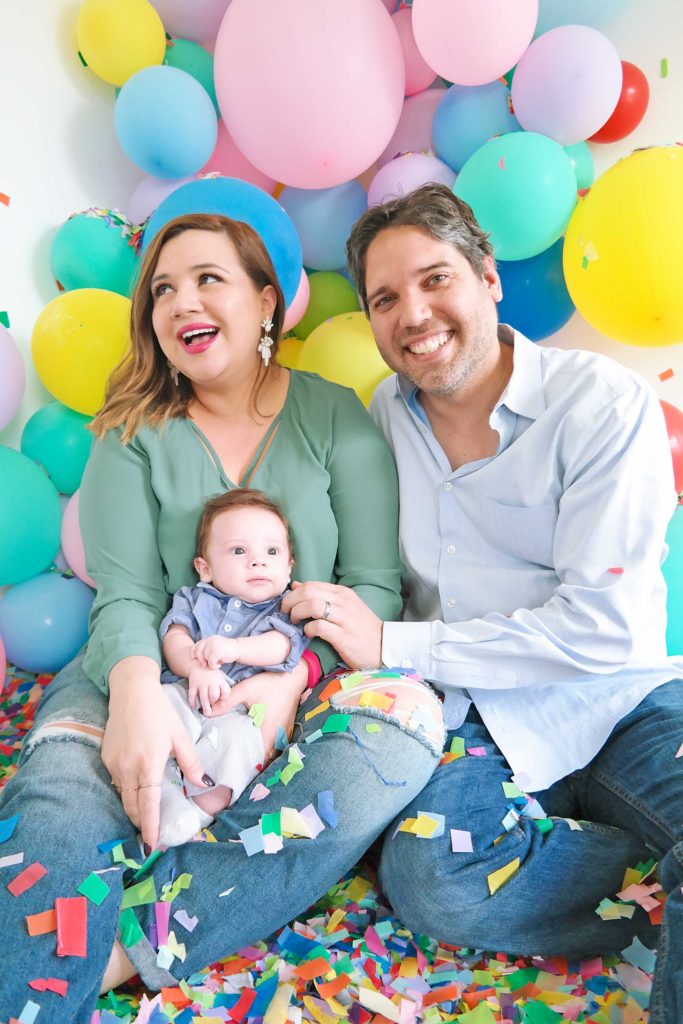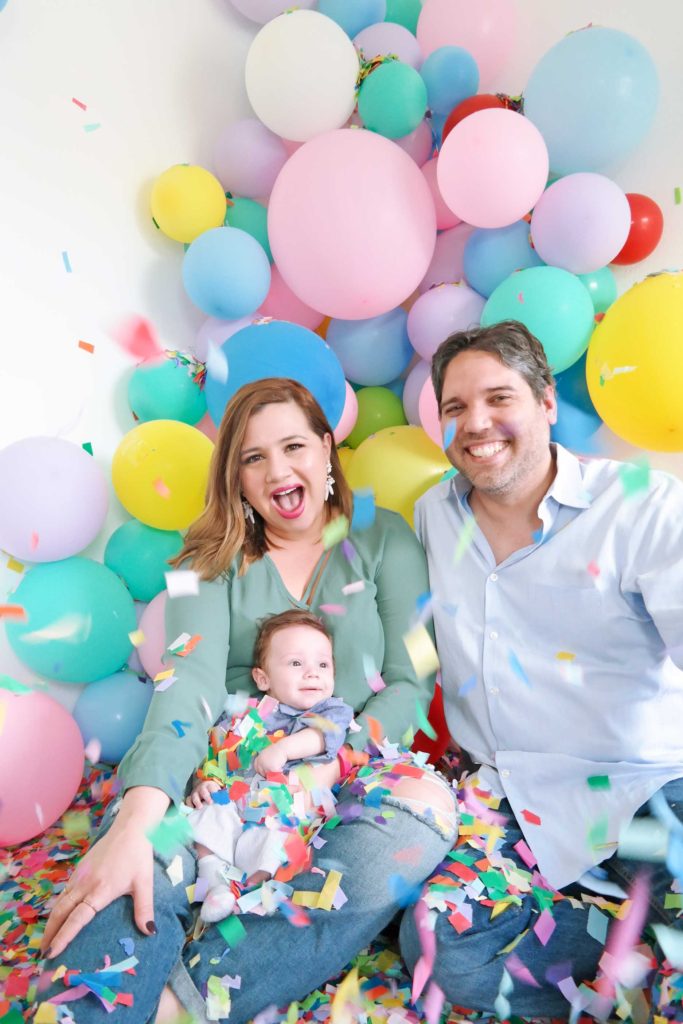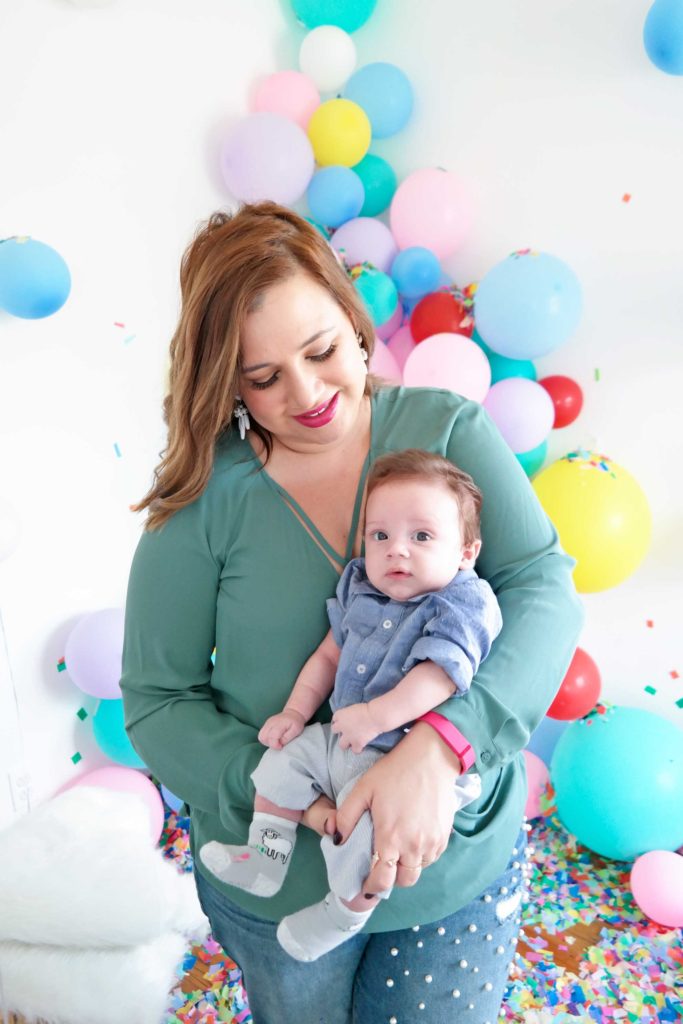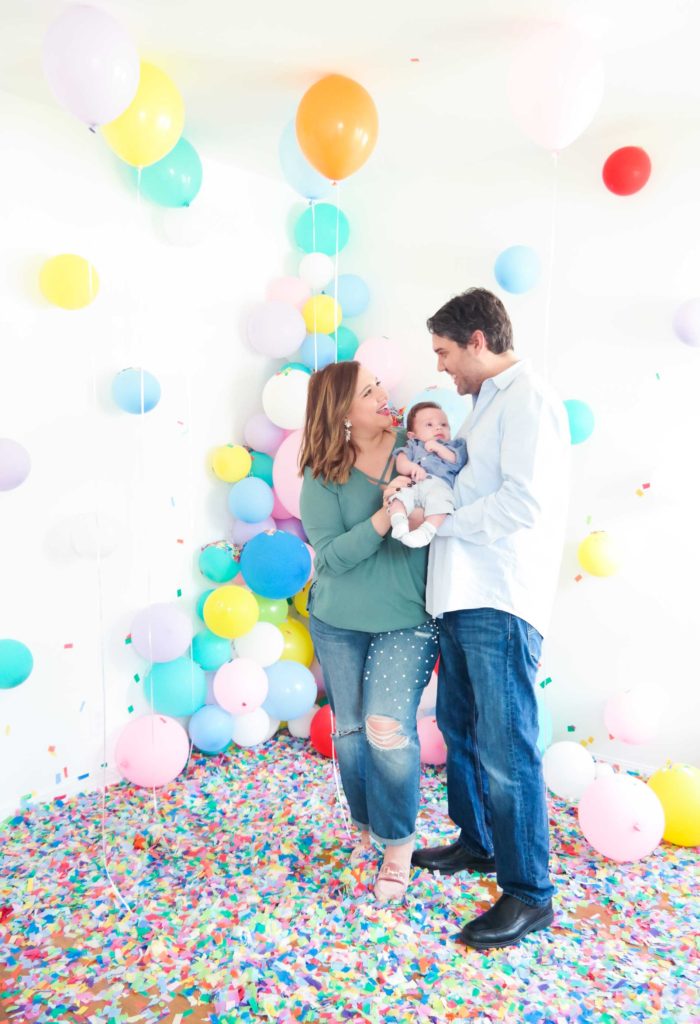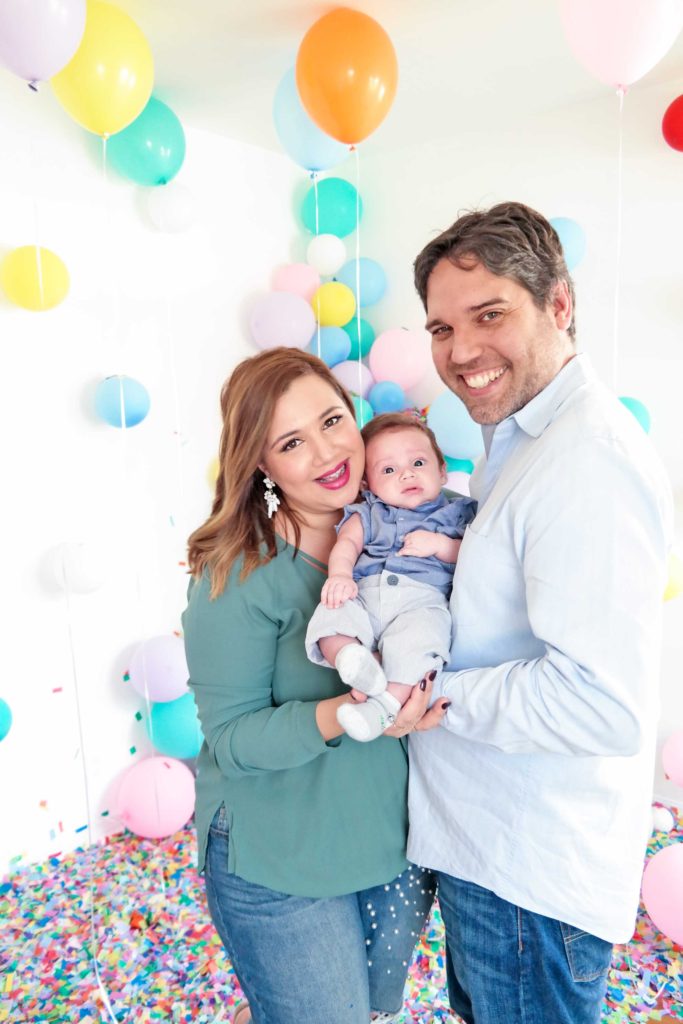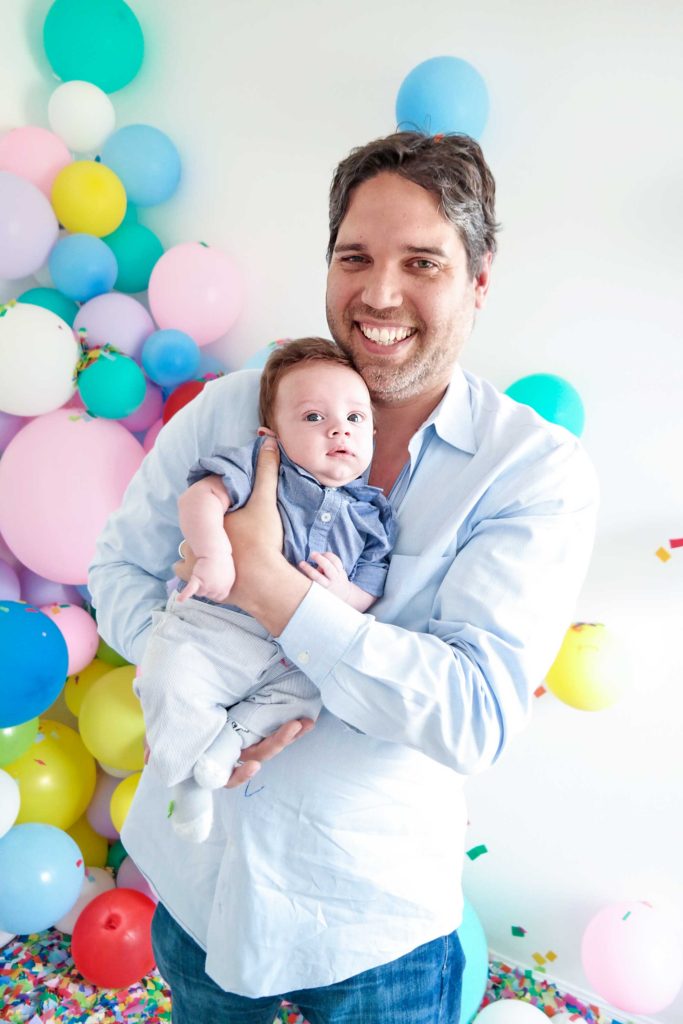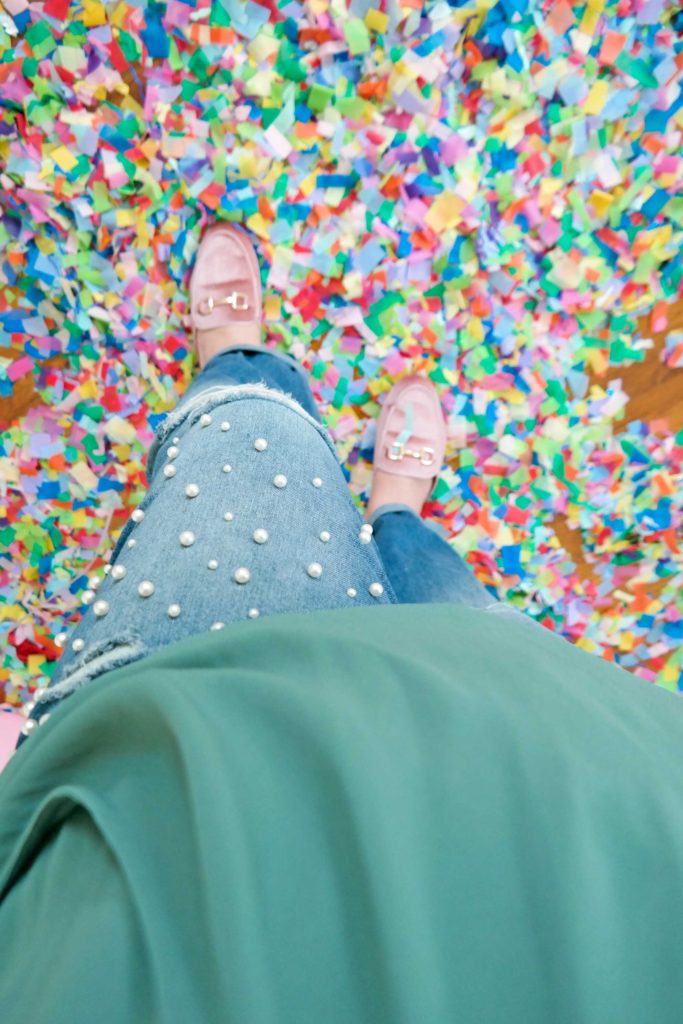 Love My Jeans!
After a c-section, like I had, you won't be able to wear anything that presses on your waist or tummy. It took a whole three months for me to wear jeans and feel sorta comfy in them. One problem though: none of the jeans in my closet fit! DAMN! I was still wearing my maternity shorts and maternity jeans till recently and was already feeling great enough to go to blogger events so I needed trendier jeans and nothing fit. I went into JCPenney not expecting to find any jeans because I was looking for a top but these pearl jeans from Project Runway caught my eye. Mind you, I'm currently watching Project Runway and I'm obsessed with this season, all the drama and designers and I bought the jeans on a whim! I was triple excited when I tried them on and they hit above my belly button, didn't have to squeeze into them like a sausage link (amen to boyfriend cut jeans??) and they had those signature, pearl details. The most important thing is I felt like a million bucks in them but paid less than $40! I can bend down in them, sit on the floor comfortably, style them with heels and flats; these jeans are a major win after my c-section and body change. I'm working out and getting active to feel healthier but I can't expect my body to change in two months! It did take nine months for my body to make a little human so I'm not pressuring myself or being unrealistic. Anyways…can you tell I felt pretty when I took these pics?
Shop My Outfit:
Facebook Conversations