I've been trying so many mascaras out lately because I've been trying to stray away from wearing my false eyelashes since they take time to put on and that's a no-no with a baby. I need a trusty alternative to keep in my purse or to swipe on before running out the door with Nicolás. Being a beauty blogger in this #champagneproblem moment in my life comes in handy since I get to try so many new mascaras, formulas and brushes and solve my own beauty problems and report back to all of you. Keep reading for some super mascara application tips and formulas!
My Latest Mascaras:

A great mascara for me has to lengthen your lashes, provide volume and separate them without any clumps. Before showing you any of them, are you using your mascara to it's fullest potential? Check out my tips below so you do!
My Top Tips For Mascara Application

Use a clean mascara brush to comb through lashes and separate them.
Never underestimate a good lash curler. Curling my lashes makes a HUGE difference in how my lashes look after applying. I love this lash curler and I've had it for 4 years.
Use a lash primer with your fave mascara. You might not like my mascara suggestions but I swear this lash primer makes any mascara better. Mascara primer, if you've never used before, acts as a base, lengthen and volumizes your lashes and makes your mascara application smoother and a lot less clumpy. TRY IT!
Here are my drugstore and high-end picks and why I've been keeping them around when I don't have time to put on my faux lashes:
Drugstore
Cover Girl Peacock Flare  I heard so much hype about this mascara and loved the TV ads that came along with it (their new slogan is "I AM WHAT I MAKE-UP) Then I saw a bunch of my blogger friends using and gave it a try. My fave Cover Girl mascara will always be Lash Blast but this one comes as a close second. Currently these are –> Buy 1, get 1 at 50% off! Add 2 items to qualify at ULTA BEAUTY.
L'Oreal Voluminous Feline This mascara is the first one I tried with my mascara primer and they work like a charm together. Lots of volume and lengthening in a swipe.

L'Oreal Lash Paradise A cult favorite, this mascara has been the most talked about since it's launch. The reason is that it's so great at lengthening, volumizing and separating your lashes. If you haven't tried it then what are you waiting for?!
Maybelline Total Temptation I just reviewed this mascara for a sponsored post and I truly love how soft my lashes are hours after application.The pink, soft luxurious packaging also stole my heart because I'm a sucker for pink. What I can' believe and love is that this mascara has coconut oil hence the yummy smell!
High-End
Urban Decay Trouble Maker I first tried this mascara last year when I was doing a holiday make-up tutorial and I loved how dark it left my lashes in one swipe! It has 1,000 likes on Sephora for a reason!

Wander Beauty Unlashed I won this mascara in an Instagram contest and now I LOVE IT! The brand was founded by Victoria Secret model Lindsey Ellingson (total babe) with the philosophy of multi-tasking products that are great for travel because the products are mutlipurpose and very sleek. I love the curved mascara wand which curls my lashes and makes them super dark. This one's a winner in my book and I can't wait to try more of their products! This eye kit from Wander Beauty looks like an awesome deal!
My Latest Mascaras: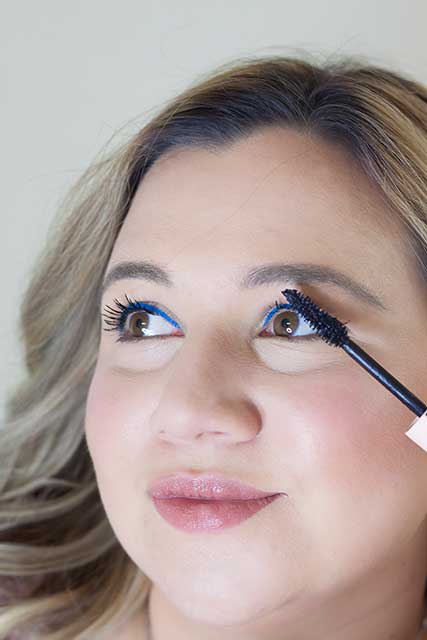 Wearing my new Maybelline blue liner and Total Temptation mascara.
Facebook Conversations