*Sephora inside JCPenney approached me so I could create a holiday make-up look with Urban Decay and their new Urban Decay Distortion Eyeshadow Palette. I use a lot of Urban Decay products (I even used their lipstick on my wedding day!) so I thought that creating a glam make-up look with this new eyeshadow palette was a great way to show you how to use it for the holiday season. This is a sponsored post but as always, all thoughts and opinions are my own.
I'm so excited to be doing something I haven't done in a long time: a whole face of make-up! I usually wear make-up every day but it's usually a five-minute face for this mama and I'm ready to go.
The holidays are different though and I really love to dress up and go all out with my hair and make-up. I don't want it to change now that I have a baby! Luckily, my in-laws are coming into town from Spain so I'll be able to hand them the baby and take all the time in the world to get ready. Maybe I'll even run to my closest JCPenney and pick-up new outfits for Christmas and New Year's? If time allows it, I might even peek into the Sephora inside JCPenney and browse and new or exclusive beauty and skincare sets I might have missed on my past visit.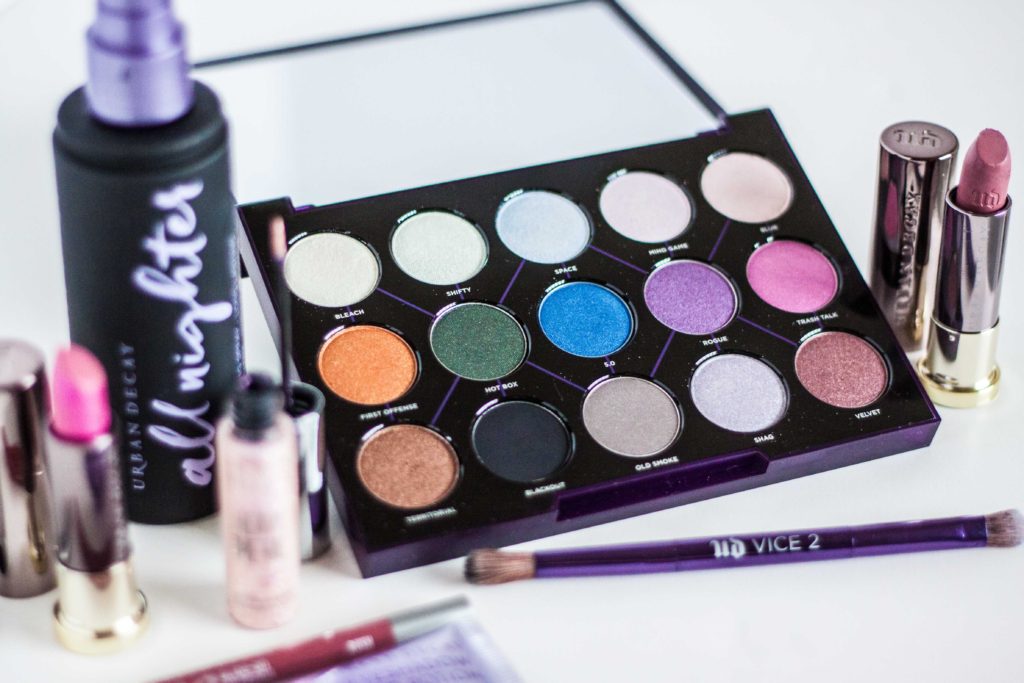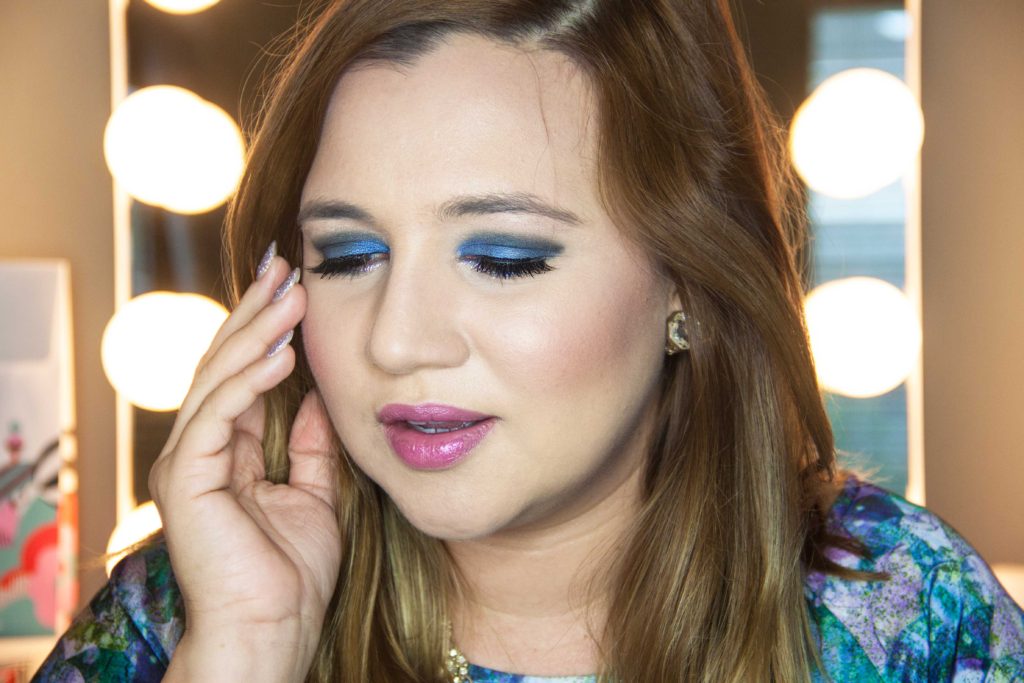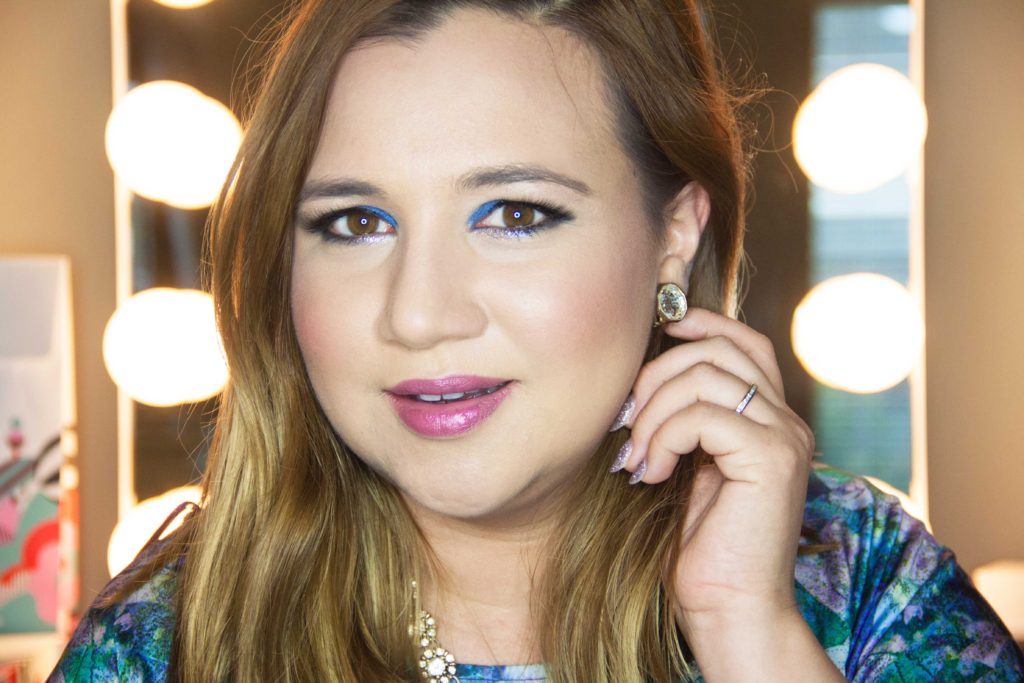 The Urban Decay Distortion Eyeshadow Palette
When Sephora inside JCPenney sent me a box of Urban Decay's goodies, including their new Distortion Eyeshadow Palette to try out, I couldn't wait to open it and try some looks. Urban Decay is known for having really bold eyeshadow hues and these 10 shades (9 are new) and 5 transformer hues are only $49 (Urban Decay eyeshadows are usually $18 individually!). If you've ever used Urban Decay  you should know their eyeshadows don't have fall-out, they're very pigmented and velvety so a little bit will go a long way. I was also excited to try out some products I had never used like the Urban Decay Heavy Metal Glitter Eyeliner and the Urban Decay Eyeshadow Primer Potion.
What Makes It So Unique?
I tend to get overwhelmed when I see so many colors in one palette but I discovered the shades in this new palette are interconnected to give me different ideas on shade combinations! Genius! I immediately saw that the bold peacock blue and deep hunter green were connected and fell in love with it and I knew it would pair beautifully with a soft, mauve lip. Another unique aspect of this palette is that the five shades in the first row are designed to layer on top and transform the rest of the shades into multidimensional, reflective shades. Basically, the combinations are endless and exciting!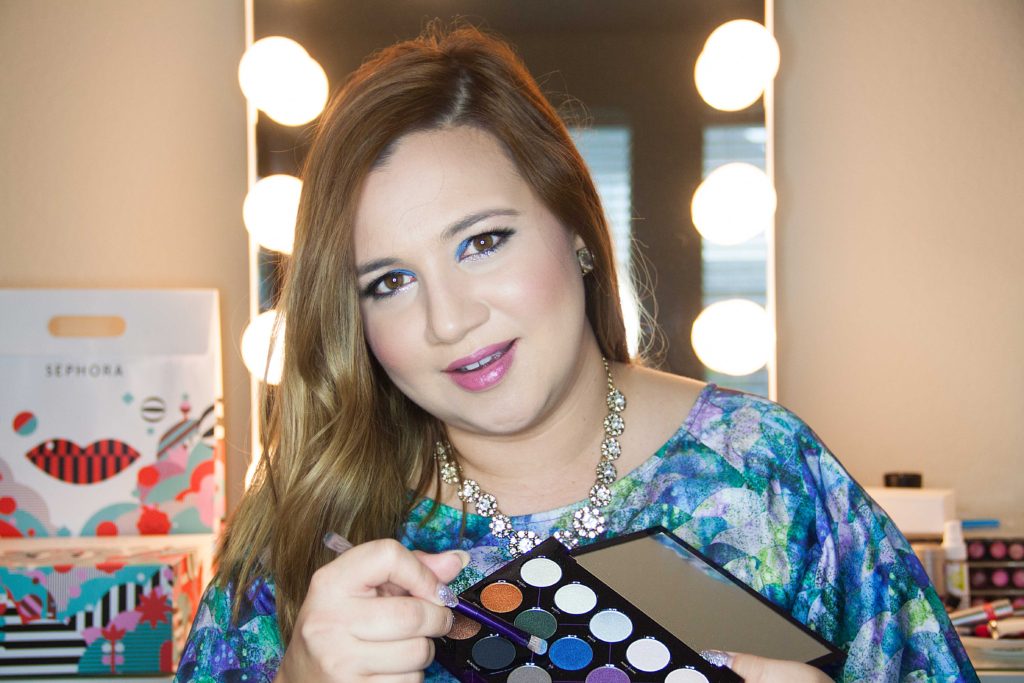 FACE
Start with clean skin. Moisturize and apply primer.
Apply your favorite full coverage foundation and concealer.
Apply a half a pea size amount of Urban Decay Eyeshadow Primer Portion on each eyelid. This really makes your eyeshadow colors pop and not fade. I love it!
EYES
Using a fluffy eyeshadow brush, apply "Hot Box" ( a deep, green satin with green micro-sparkle) on your crease in a windshield wiper movement. On each eye.
Then, using a flat eyeshadow brush, apply "5.0" (a metallic medium blue) by pressing the color on your lid.
To give your eyeshadow look more depth, apply "Blackout" very softly in the shape of a "V" on the outer corner eyes and blend softly.
Apply "Space" on top of the blue just in the top inner corner of your eyes and watch it transform into a tridimensional, brighter blue.
Use the Urban Decay Troublemaker Mascara and apply two to three coats on each eye. (I applied drugstore strip lashes for a more dramatic holiday look).
Use the Urban Decay 24/7 Glide-On Eye Pencil and line the eyes close to the lashes.
Use the eye pencil on the lower lash as well and smudge with a q-tip.
Use the Urban Decay Heavy Metal Glitter Eyeliner and line the inner corner of the bottom of your eyes for a sparkly and light-catching effect. A more non-traditional way to use it and stand out.    Troublemaker Mascara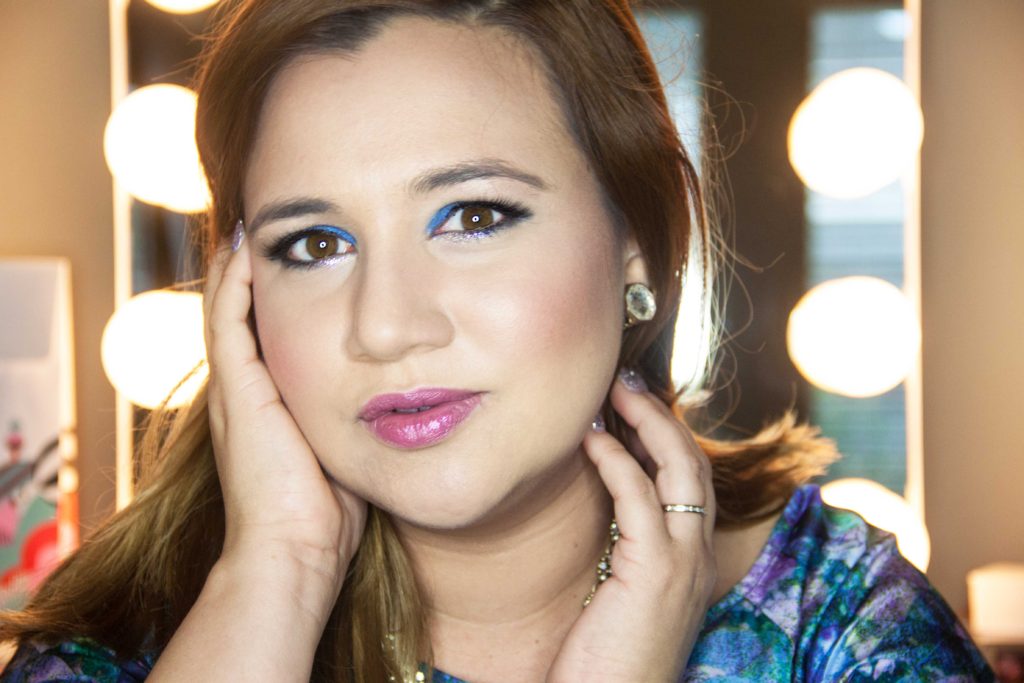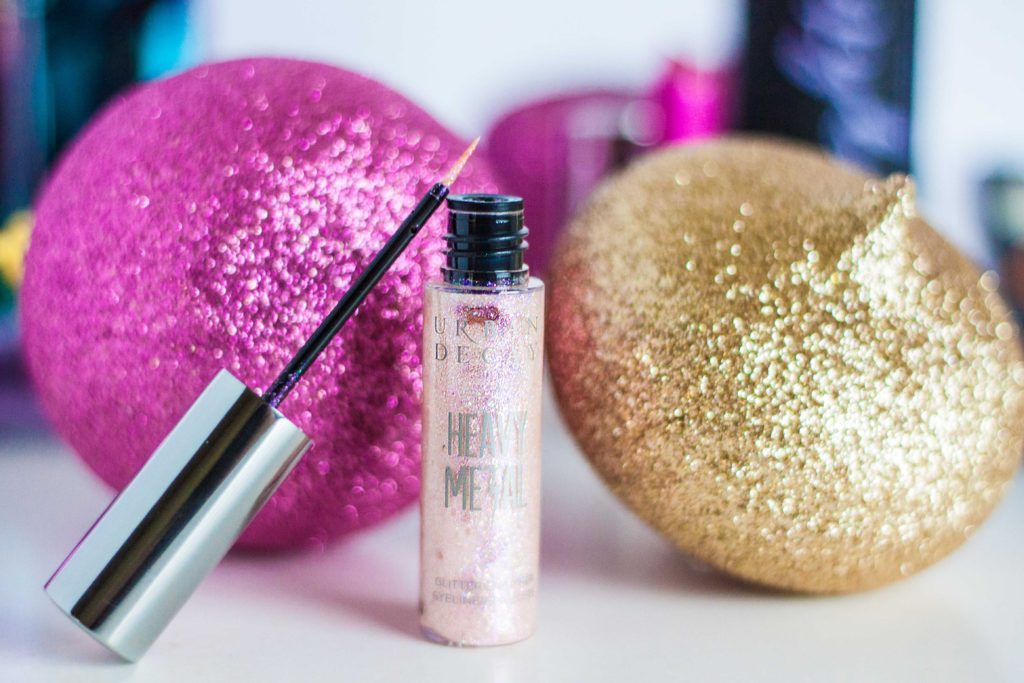 Heavy Metal Glitter Eyeliner
LIPS
Use the Urban Decay 24/7 Glide-On Lip Pencil "Rush" lipliner to line and fill in your lips.
Use the "Backtalk", a mauve pink nude Vice lipstick to fill out your lips.
On the bottom lip, apply a bit of the sparkly pink "Big Bang" Vice lipstick for a multitoned effect.
 Last But NOT LEAST!
Spray on the oil-free Urban Decay All Nighter Make-Up Setting Spray on your face for long-lasting make-up. I've been using this product for years and it keeps your foundation in place!Vice lipstick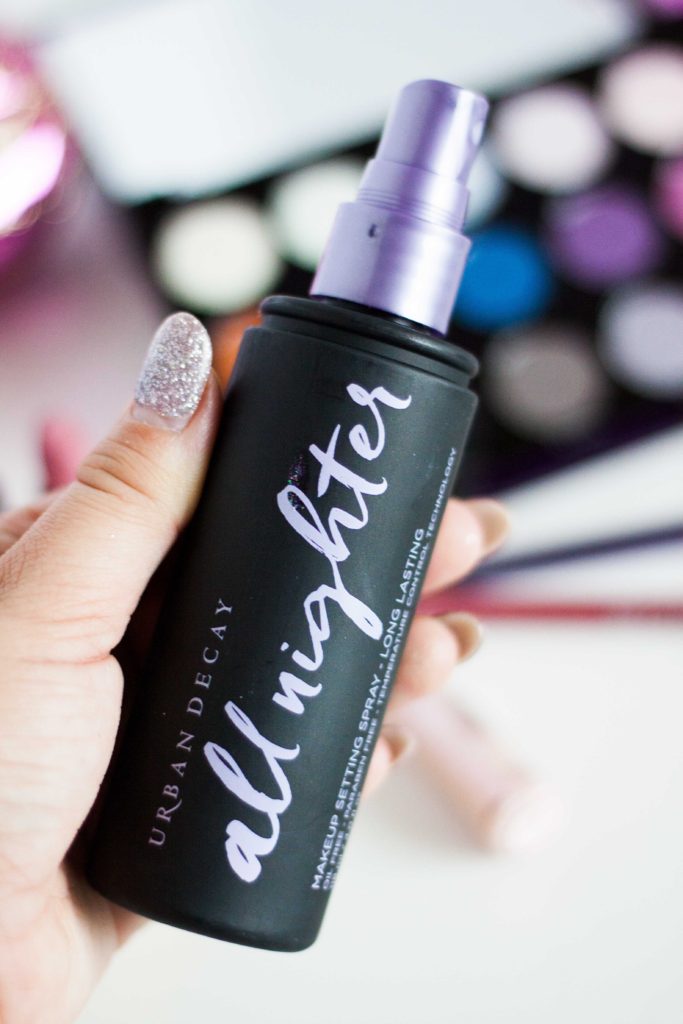 All Nighter Make-Up Setting Spray
How do you think it turned out? Not bad for the first time using this palette, right? My favorite part was definitely combining the eyeshadows and using the glitter eyeliner; I'm thrilled to try out more combinations! I have my eye on the pink, purple and copper eyeshadows next! I'll definitely be rocking this look for any holiday party, Christmas or New Year's celebration.

Enter the Rafflecopter widget below to win your own Urban Decay Distortion Eyeshadow Palette! Winner must live in the continental USA. Giveaway runs from December 15, 2017 7:30AM to December 18, 2017 7:30PM. Winner announced on December 19 on the original Instagram post. 
#SephoraInJCP #SoWorthIt #UrbanDecay
Facebook Conversations