Growing up my dad would make ceviche very often. He'd start by saying: "I'm making ceviche!" and he'd get me and my three other siblings so excited only to follow it up with "OK, you want ceviche? Then you have to peel the shrimp. You have to chop the tomatoes etc." Eating ceviche for breakfast was normal in our household. It was even more normal for my dad to make ceviche one day and for there to be none left the next day. It was that good. Now, I'm going to teach you just like my dad taught me, how to make fish and shrimp ceviche at home.
It became a favorite dish of mine throughout the years and I love ordering it at seafood restaurants or ceviche specialty restaurants and get inspired with what I will add to my own ceviche next time I make it. But, as of late, I prepare the same way and it's so delicious I have stopped experimenting for it for a while.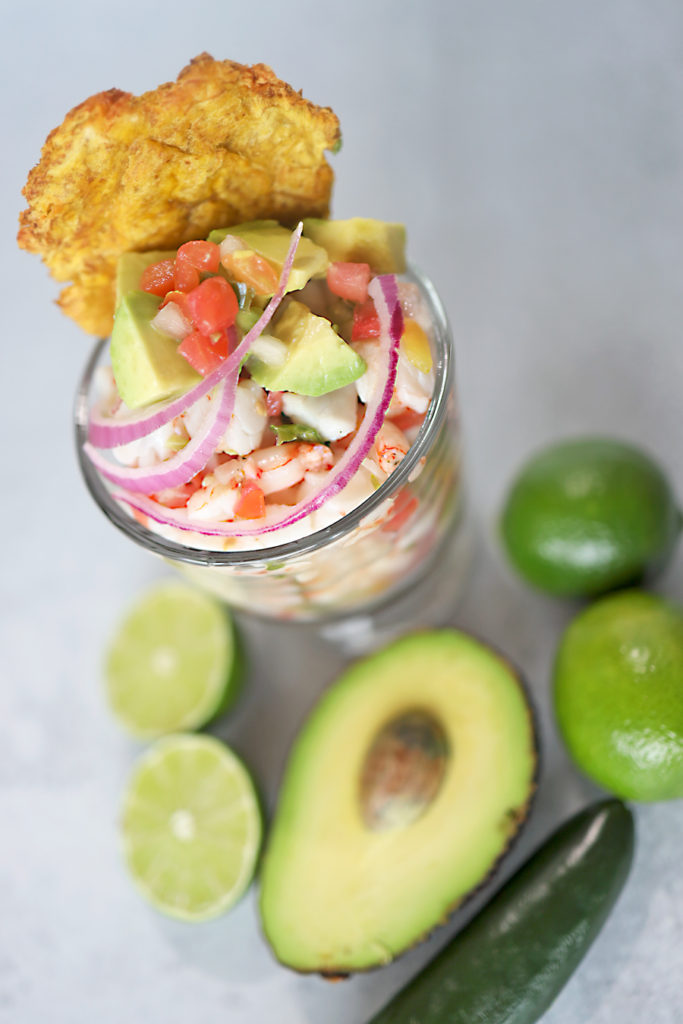 Eating this dish also reminds me of traveling within Honduras when I was in college, drinking an ice cold beer in the sand and enjoying fresh fish and shrimp ceviche with friends. It is simply one of my favorite things to eat and it's got all the qualities I love in a meal: it's spicy, cold, is swimming in lime, cilantro and spices and for me it always has to be accompanied with a crunchy saltine cracker or plantain chip.
I skipped so many steps by not chopping too many veggies and such and you'll see how I get away with it in the recipe!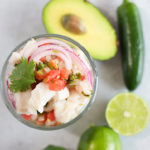 How to Make Fish & Shrimp Ceviche at Home
You can make this up to three days before serving or eating. The flavor only gets better every day. Please refrigerate after making. Can be refrigerated up to a week.
Servings
6
1 cup servings
Ingredients
1

lb

red snapper filets (no skin)

My favorite fish to use but you can also use Mahi Mahi. Ask for it without skin at the seafood department.

1

lb

Argentinian shrimp

uncooked/ I find it fresh in the seafood department

1

6oz

already-made pico mix

I use the H-E-B mild pico but feel free to substitute with the Hot version or the Mango Pico for a tropical twist

½

red onion

cut in thin strips

1

bunch

cilantro

12

medium

limes

squeeze the juice beforehand

1

TBSP

salt

1

TBSP

pepper

1

TBSP

cumin

1

TBSP

jalapeno pepper minced

optional

1

medium

avocado

ripe and ready to eat, optional
Served with Either of These
1

small pack

crackers

1

box

Goya tostones

find in the freezer section of H-E-B & prepare as instructed on box

1

bag

plantain chips
Instructions
Squeeze all the limes into a glass container/pyrex. The pyrex should be big enough to hold the 1lb of fish and 1 lb of shrimp mixed.

Cut the red snapper into ½" cubes.

Place all the red snapper that you have cut into cubes soaking in the lime juice for 2-3 hours. Fish must be completly covered in the lime juice. The fish will turn white on the outside when cooked already. (depending on the size of cubes you cut the fish into, it might cook faster or slower).

Cook the shrimp for 30 seconds in boiling water. Set aside to chill. (pre-cooked shrimp from the store will not taste the same.)

Once cooked, cut the shrimp into three equal size pieces.

Cut the red onion in half. Only use half of the red onion and cut into very thin strips. You can add less onion if you want.

Finely chop the cilantro bunch. You can use less if you want to.

Once the fish has sat in the lime juice for 1-3 hours and looks white on the outside, add the shrimp.

Now, add the H-E-B 6oz container of pico to the fish with lime juice. Mix.

Add the cooled shrimp pieces to fish and pico mixture.

Add the red onion strips, the cilantro,and the salt, cumin and pepper. Mix.

Chill for 30 minutes-1 hour. (I like it cold.)

I use half an avocado, in cubes for each serving of ceviche. I sprinkle on top or mix it in. There is no wrong way to do it!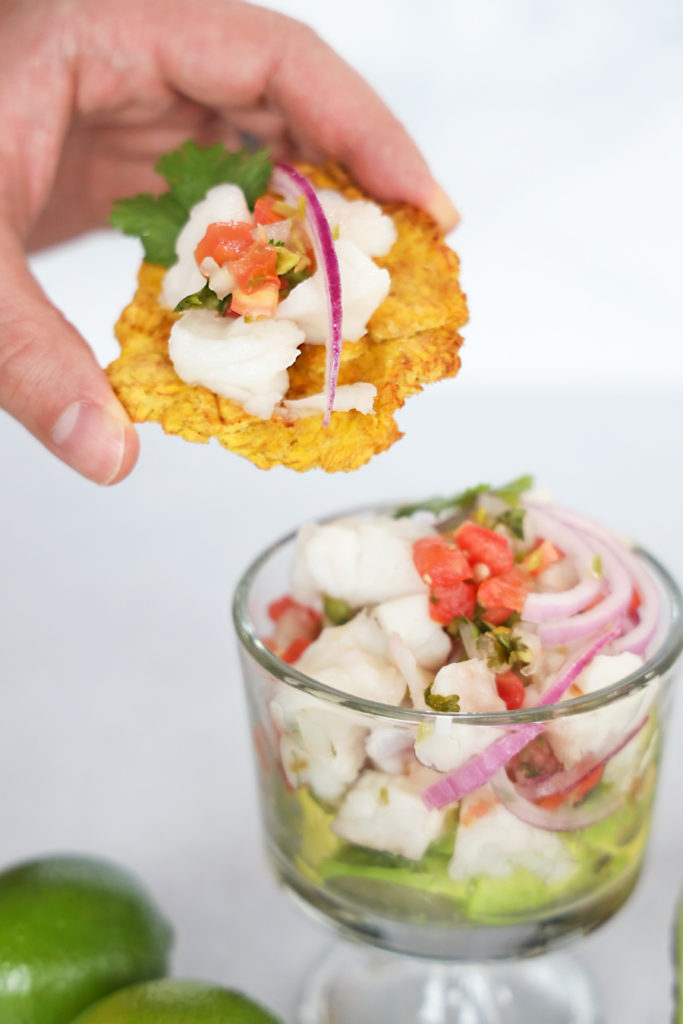 Facebook Conversations