*This post has been sponsored by the PRIMP Network. As always, all thoughts and opinions are my own. Photos in this post have only been edited for brightness but no other retouching has been done to show texture and tone of the skin after use. Get a 25% discount to purchase your own PMD device when clicking here.

About a month ago I started using the PMD or Personal Microdermabrasion Device and I recorded my uses on my Instagram stories for you to see. Did you see them? If not, I saved them for you under 'Tutorials' so you can check it out after reading this post. The PMD is only to be used once a week and I'm on my fifth week of use so a review was in order to tell you my first impressions and any changes I've seen in my skin.
Microdermabrasion was a procedure I used to only get at my facialist's office. When I was first approached to review this device I was very curious but also a little nervous. I mean, I don't want to scratch my face or hurt myself while doing this at home. When I received the device I read the instructions and even saw a really good YouTube video of another PMD user who saw amazing results after using it for one year.  Once I saw her video and read all the instructions I set a schedule up and either used it Monday or Tuesday night of each week.
While there are many things that I do to keep my skin glowing and clear like facials, multi step skincare routines and sunscreen I think the PMD is a useful and easy device to add to your skincare regimen. Here's more info on what it does and why I think it's a steal for all the uses you're going to get out of it!
What is Microdermabrasion?
It is process where the top layer of your skin that has dead, dull skin cells is removed with the help of suction and exfoliation.
What is the price?
Prices start at $159 per device and they come in 6 vibrant colors. Just as a comparison, the microdermbrasion session at my facialist's office is around $90-$100 so this device will give you way more treatments than just one visit.
How does using the PMD compare to how your skin feels after a professional microdermabrasion?
My skin felt the best when I used the blue disc for sensitive skin and then I applied a hydrating sleeping mask or sheet mask. Your skin will reap the benefits of those face masks much more because it has just been exfoliated so the products will penetrate deeper. I know though that at the end of the day the last thing you want to do is ten steps so stick with your favorite serum and moisturizer.
I have to admit though, I would never trade my facialist and her face massages and treatments because it's a moment where I get to relax and be myself. As an in-home option to keep my skin under control, this is a great one.
How does the PMD work?
After connecting the PMD it uses a patented spinning disc embedded with aluminum oxide crystals to exfoliate that dead, dull cells from the surface of your skin. The device will only be successfully used if you are tugging your skin taut and swiping the device only one time per area with an upward motion. I was doing this wrong because I wasn't tugging my skin taut enough so this is very important if you'll be using the device!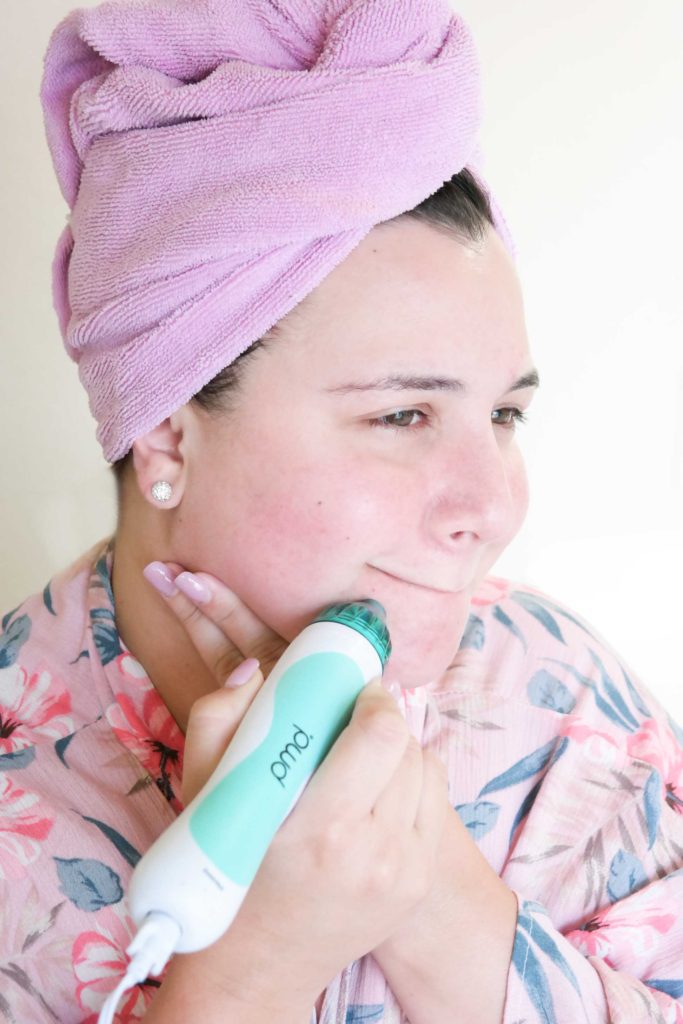 See how I'm keeping my skin taut when I glide over the PMD? This is the right way to use it!
Does it hurt?
It doesn't hurt at all! The PMD brings four different exfoliation discs and you start with the white one which serves as a training disc. Your face will be red immediately after using the PMD or maybe with a few traces of white, dry skin from the exfoliation. I used the device at night and made sure to apply my favorite serum and moisturizer which are now going to be better absorbed after using the PMD. I would recommend NOT using it during the day because your skin will be more sensitive to the sun.
When will I see noticeable changes in my skin?
The most noticeable results will be seen after 8-12 weekly sessions. I immediately noticed my skin was softer after the second use with the gray disc on the morning after using it.
What are the long term benefits of using the PMD?
The suction in the PMD device increases circulation and triggers the skin's natural healing process. This will boost collagen and elastin which will leave your skin firm and luminous. Even more long term results will include removal of acne spots and wrinkles and decreased pore size.
I have personally only experienced more luminosity in my skin. I have been very strict about using it once weekly and applying my serum and moisturizer at night right after using the device. I have some acne spots and fine lines which I hope disappear with continued use.
And guess what?! As readers of Lipstick and Brunch you get a 25% OFF coupon code for  your PMD purchase (does not include sale items + cannot combine offers) after you've entered your email HERE!
Offer ends on May 31 so don't miss it!

Facebook Conversations