Last week I promised to share an easy broccoli cheese soup recipe after getting my groceries from H-E-B Curbside and the day is finally here! I never blog recipes and I think it's because even though my hubby and I both love to cook together (did I ever mention we made a cookbook as a keepsake on our wedding day?) we are always too hungry after finishing a dish to photograph it or style it for my blog (actually, he's a bit more impatient than I am in that situation). But, this soup is an all star dish that has become a staple in my freezer so I had to share. As a new mom, having frozen food is so convenient; just take out in the morning and you'll have lunch or dinner in no time. This broccoli cheese soup is not my own recipe by the way, I saw it on The Food Network on one of my favorite shows called "The Kitchen."
The best part about this soup is that is has TONS of spinach in it ( I actually add more spinach!) and it's actually a healthier and still super yummy version of broccoli soup. I had ever thought about it but it's actually green unlike all those broccoli cheese soups I've had in my life which are yellow. I like to have this soup as dinner after my workouts at Orange Theory Fitness; it's so filling and guilt free.
I double and triple this recipe to freeze it because once you simmer all the ingredients in a pot all you do is blend it; see why I love making this soup? I wrote my own notes of stuff that has worked for me in the recipe below. Let me know if you make it and love it as much as we do!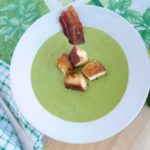 Broccoli Cheese Soup
Ingredients
2

tbsp

butter

1

head

broccoli, stems and florets

separated and chopped

1/2

small

yellow onion diced

2

tspn

dry mustard

(I used Dijon mustard)

kosher salt & freshly ground black pepper

2

tbsp

dry sherry

1

cup

chicken stock

2

cups

fresh spinach

1

cup

grated sharp cheddar

1/4

cup

heavy cream, plus more if needed

1

tspn

hot sauce

(Tabasco Chipotle was delicious in my recipe)

croutons for serving

bacon

*I like to garnish with crumbled bacon or a slice of bacon
Instructions
Melt the butter in a large pot over medium heat. Add the broccoli stems, onions, dry mustard and some salt and pepper and saute until the onions are translucent, about 5 minutes. Deglaze with the sherry and then add the broccoli florets. Add the stock and simmer for 5 minutes. Carefully ladle everything into a blender along with the fresh spinach, Cheddar, cream and hot sauce and process until smooth, about 1 minute. Adjust with salt and pepper if necessary and adjust the thickness with more cream if necessary. Top with croutons and serve.

P.S. I always use store-bought croutons but I forgot to get croutons so we diced some French bread in cubes, sprinkled with olive oi, salt and pepper and toasted in the oven for 15 minutes at 400 and we got the croutons you see in my photos! They were delish!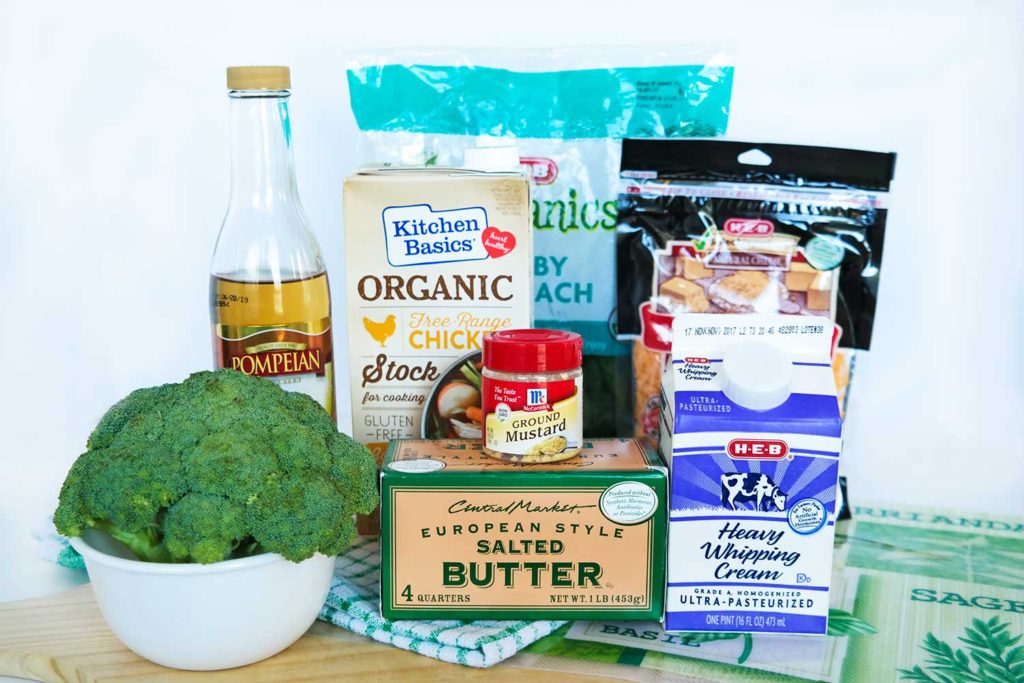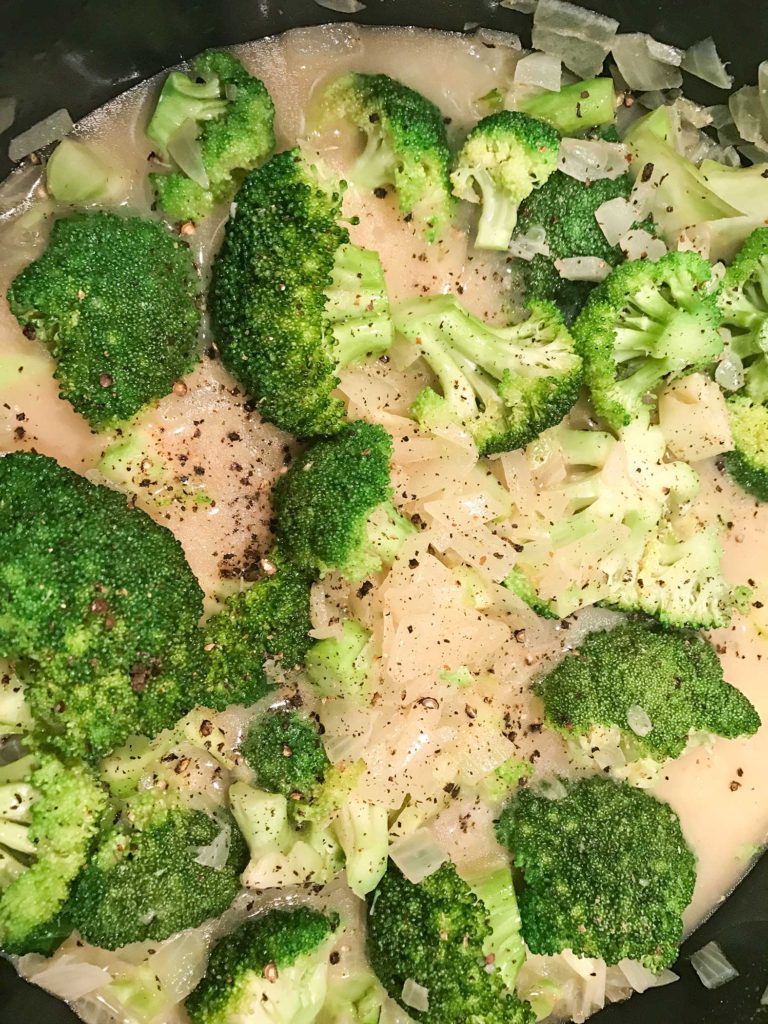 All ingredients simmer in a big pot before ladling into the blender.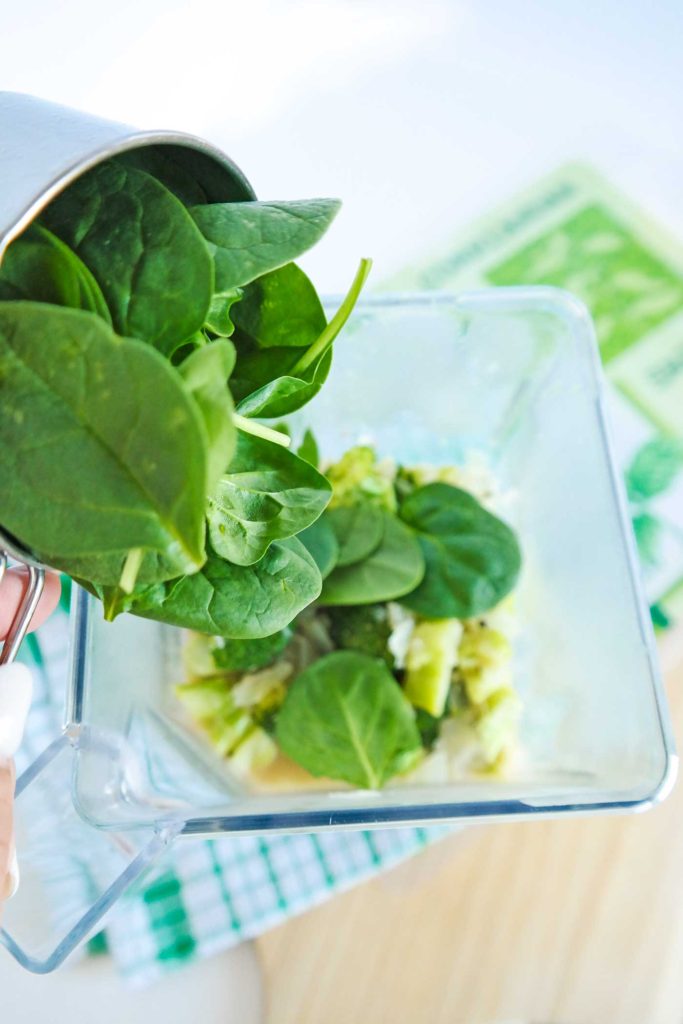 The secret ingredient in this soup is spinach which makes it more green and nutritious!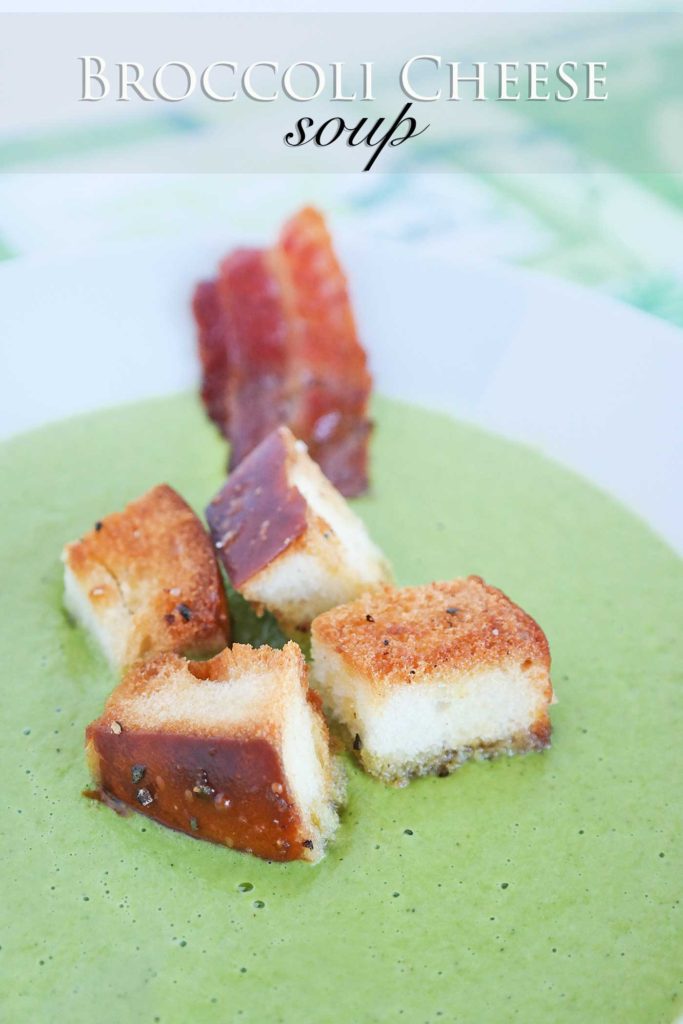 Raise your hand if you'll be making this soup to have on the upcoming cold Houston nights!
Facebook Conversations