*Orangetheory Fitness approached me to join their Weight Loss Challenge in exchange for my honest opinion about the challenge and their classes. I thought it would be great insight for my readers to know about my experience exercising and challenging myself after my pregnancy, c-section and being a Type 1 Diabetic since the age of 5. I hope you enjoy this 3-part series on the blog and follow along my Instagram stories for live before and after thoughts on the classes.
Guys…Can you believe I'm in week 4 of the weight loss challenge at Orangetheory Fitness?  I can't believe that my first class felt so difficult and now I'm finally getting the hang of it and getting really excited to challenging my body every time I go to class.
Mid Challenge Check-In
So I weighed myself and decided not to see if I had lost weight or if my weight was the same. I want to see the final results at the end of the challenge! Am I nervous? Of course, but I won't give up and I don't want a number on the scale to determine how I feel about my progress at Orangetheory. What is my huge motivation if I didn't see the number on the scale? Read on to find out!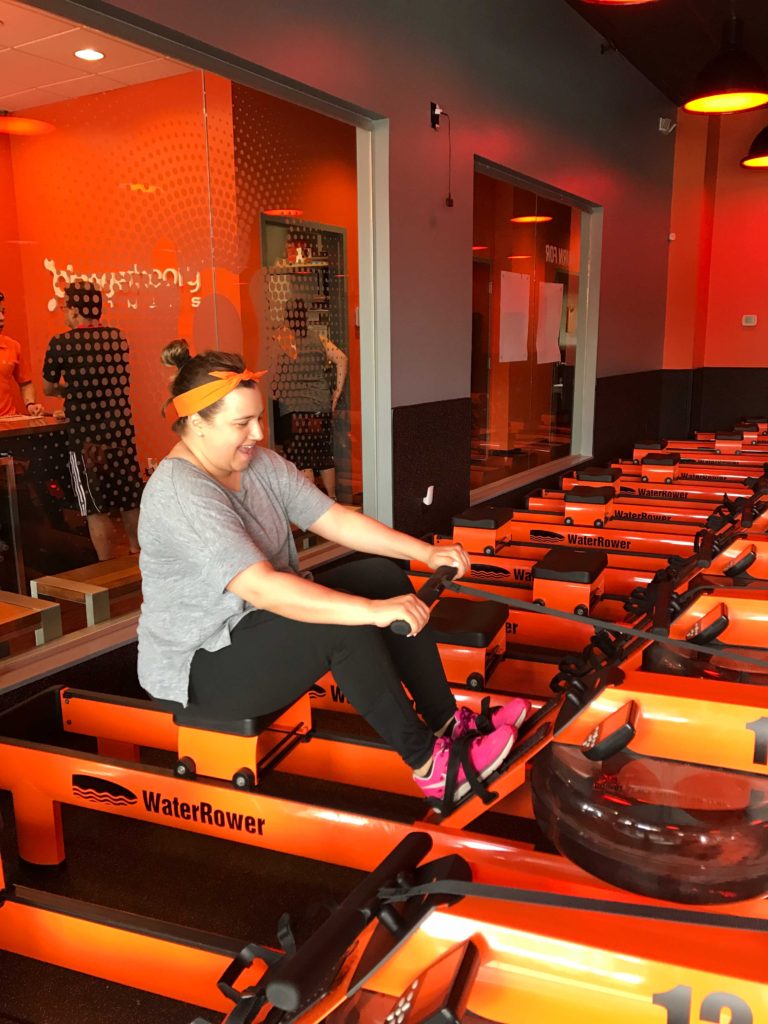 The "Row and Run" days are ones some of my favorite at Orangetheory.

My work-outs have been 100% better because I've completed them without feeling like my legs were going to give in! I push myself more because my c-section surgery does not make me as uncomfortable as it used to. I feel stronger after every class and that keeps me motivated.
I don' try to be the fastest or the best in class, I just want to be better than myself last time. Look at my progress in the graphics below.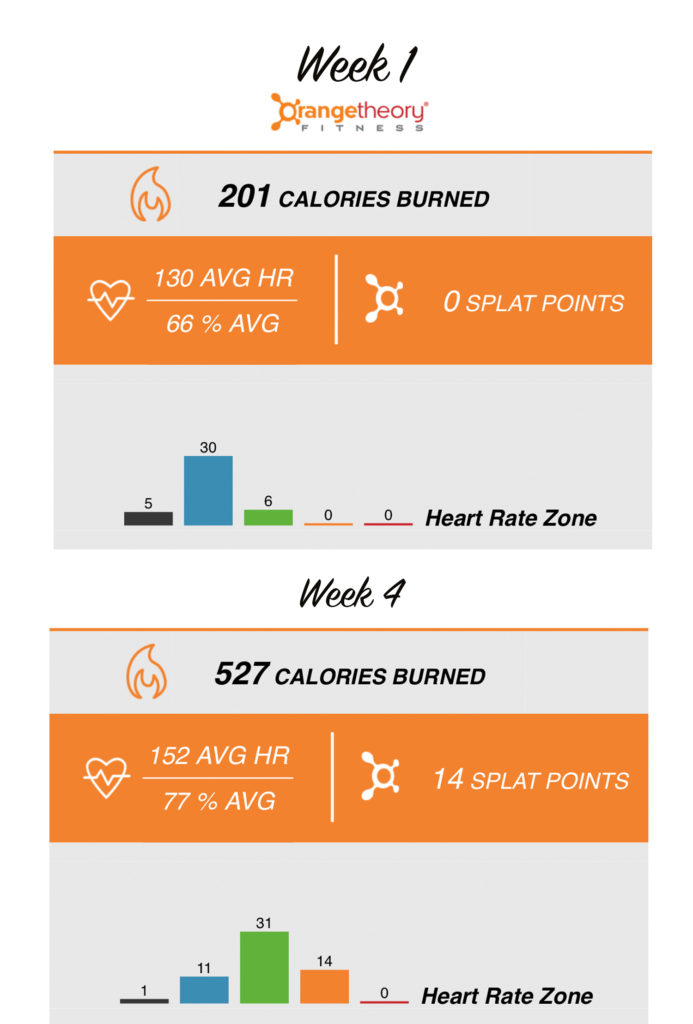 What Do The 5 Colors/Zones Mean?
(taken from their FAQ on their website)
"Orangetheory Fitness is a 5 Zone heart rate based interval training using specifically designed and timed interval training blocks. During a workout, members focus on Zones 3, 4 and 5. The workouts are designed to produce 12 minutes or more in Zones 4 & 5 combined (to achieve the after burn) during the treadmill training portion of the workout."
So basically I have been in Zones 2, 3, and 4 and my goal is to have a healthy mix of Zones 3, 4, 5 to achieve the "after burn"!
What I've Learned About Myself
When you challenge yourself to complete something you're scared of, you learn so many things along the way!
I never thought I was a person who loved working out in the morning but now that I have a baby and he wakes up at 5am, it's way easier to workout at 7am. I feel great the rest of the day and make better food decisions when I start off my workout early.
I also found out that I love to get my name called out-loud when I'm working out! Maybe it's not a shocker for all of you because I do after all have a blog and make my life public. I used to get so self-conscious if I got called upon when I was in school to do a problem on the chalkboard or give out an answer. Now, I've seen that I push myself more when I'm being told that I'm doing good from one of the fitness coaches.
Last but not least, I have learned that yes, I love working out to Britney Spears and Justin Bieber but I also love ACDC and Lil'Wayne to get my heart rate going. Which is your favorite music to work-out to?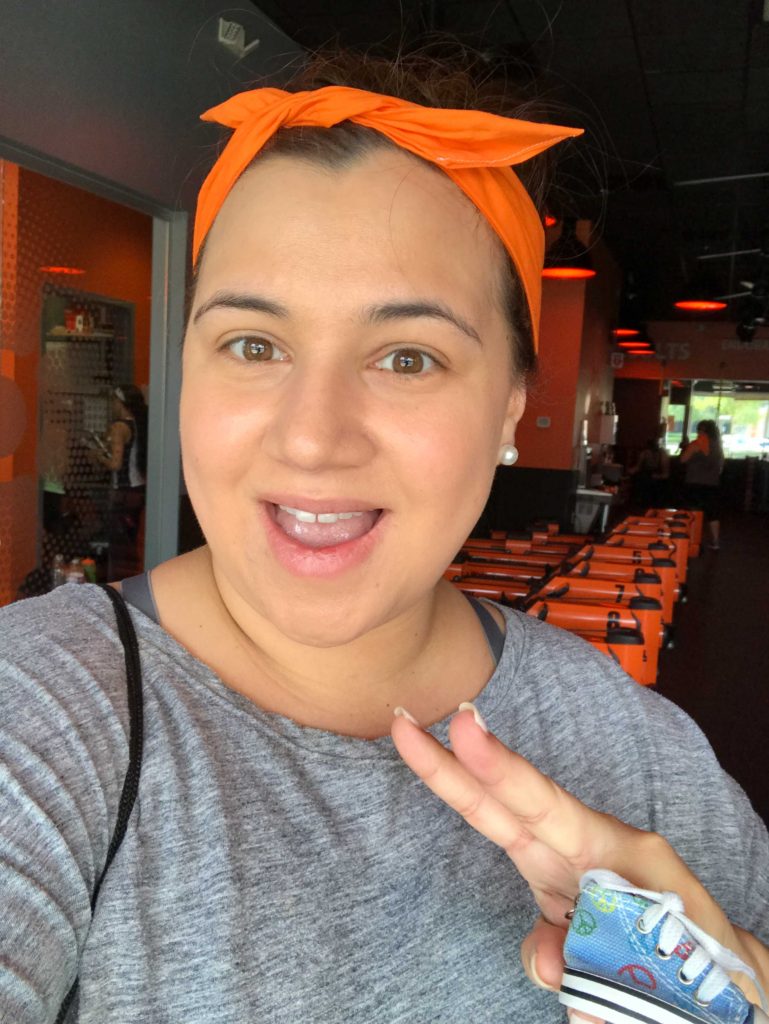 Now it's true the gym is no place to wear make-up or even care about how your hair looks but I do have some tips on how to make some beauty products work in your favor while you're working out and after!

Wipe that Sweat Off! After working out at Orangetheory you are going to sweat a lot! If you are running errands afterwards be sure to wipe your face with a towel or disposable cleansing wipes, splash it with water or wear a headband to absorb all that sweat so it doesn't just sit on your face.
Get Gorgeous Hair This tip I got from my hair stylist. Before working out, apply your favorite leave in treatment or hair oil. During your work-out, the warmth of your head will help the treatment penetrate into your hair a lot more effectively.
Treat Those Pimples When I workout I usually wear a tinted moisturizer but I always avoid applying it somewhere where I might have a pimple (sweat and make-up can make it worse). I bought these awesome "pimple patches" on Amazon but also found these at Sephora which will hide and treat the blemish and also keep you from picking at it. Thanks to Orangetheory's distracting orange lighting, no one will ever know you're wearing them!

Orangetheory Fitness offers several membership options at various prices. If you're interested in a membership, then please call or visit the studio nearest you. For a list of locations, visit their website.
Facebook Conversations