This year I traveled, I packed and I conquered four different cites but I also learned about all the over packing I did along the way! You all know I completely overdid it with my make-up bag and packed every single eye-shadow shade and lipstick in hopes of wearing it. By the third trip, I had already mastered the science of packing my travel beauty essentials on my carry-on and they are all TSA approved.
SHOP THE POST:

Layovers, airports, and uncomfortable seats can really take a toll on your skin and mood! Check out my favorites and let me know if you've tried them.
Eyedrops- I always carry eye drops because they refresh my eyes and get rid of any redness especially on a long plane ride where I have difficulty sleeping.
Estee Lauder Concealer- This here is my ride or die concealer. It has a tiny mirror inside and it's so tiny it fits anywhere unlike a chunkier compact. It's so creamy and easy to use for your under-eyes or any blemishes.
Tata Harper Lip and Cheek Tint- I love this all natural two in one product. Leaves a rosy, subtle hint on lips and cheeks and it's also volumizing.
Dionis Hand Cream- I got this pear scented hand cream at Phoenicia Specialty Foods in Downtown Houston and I use it all over my body just not on my hands.
Josie Maran Argan Oil- I put it on everywhere: cuticles, hair tips, elbows and my face. My skin gets really dry on the plane and this travel size dropper is perfect and mess free.
Rollerball- I carry a light scent with me always and apply on pulse points like behind my ears, wrists and the back of my knees. Plus, I have literally gone from plane to wedding on my recent trips so this scent has made me smell pretty for the party.
It Cosmetics Vitality Lip Flush in Je Nai Sai Quois- I'm obsessed with this lip balm that hydrates, repairs and preps your lips for lipstick. Or, forgo the lipstick and just leave them looking juicy and smooth with this unicorn balm that turns into a deeper shade of your lips when worn alone.
Patchology Lip Patches- Yeah you'll look scary to your seat-mate with this unusual patch over your lips but at least your lips and fine lines around your lips will disappear by the time the plane lands.
EOS hand sanitizer spray- The lavender scent in this spray soothes any stressed out passenger (me) and it's 99.9% effective which is perfect for this germaphobe.
Patchology Illuminate Flashmasque- You saw this masque in my last post and I swear by it to get luminous, hydrated skin. It's a mess free way to mask when traveling and it's TSA approved!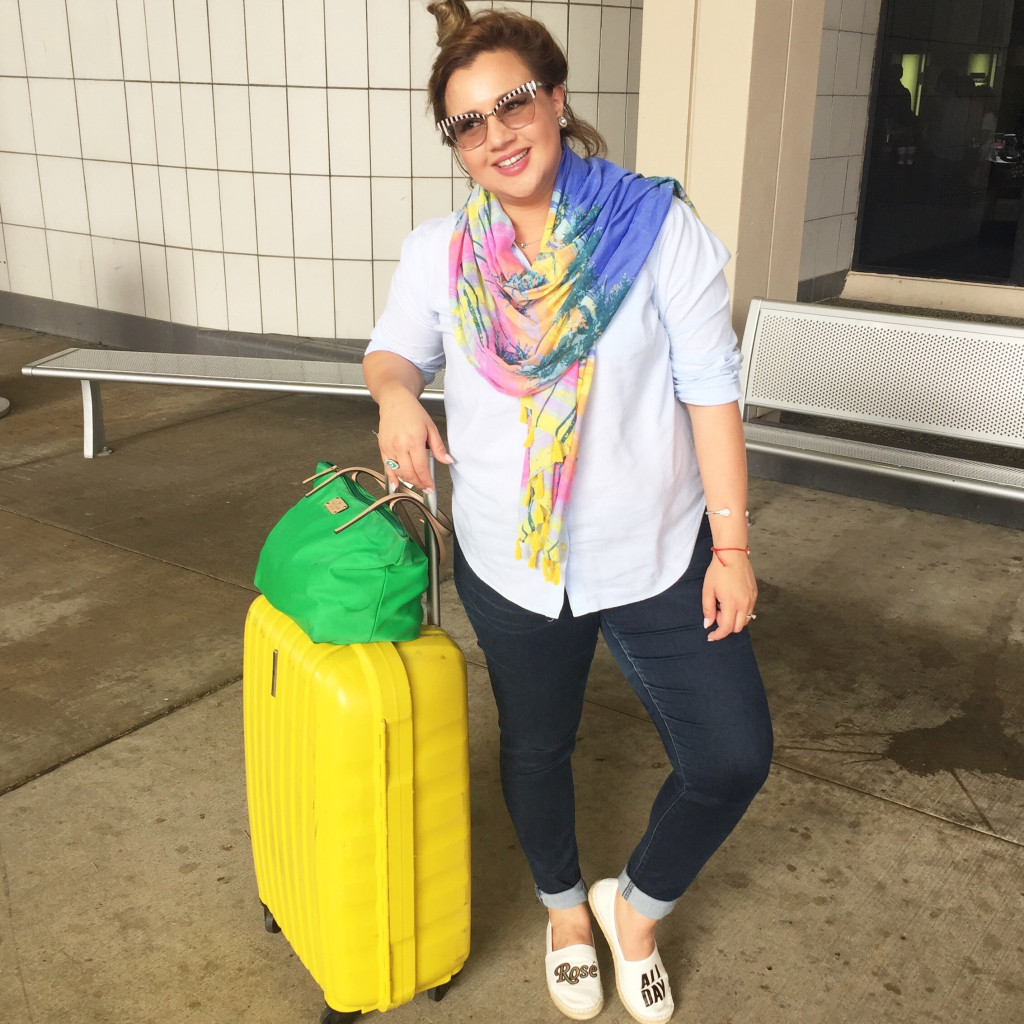 SHOP THE POST:

Check out where I traveled this year:
Wedding in Roche Harbor, Washington
Summer Wedding in Pittsburgh, Pennsylvania
My Night as a Bilingual Emcee in Roatan, Honduras
Seattle: A Quick Trip City Guide
What travel beauty essentials do you stash in your carry-on bag?
Save
Save
Save
Save
Save
Save
Save
Save
Save
Save
Save
Save
Save
Save
Facebook Conversations