I can finally say that my pregnancy is in it's home stretch and couldn't be more thrilled about it! Not only because we'll be meeting our baby soon but also because all the uncomfortable body changes that came with it will also be gone soon and I will gladly trade them for sleepless nights and spit on my clothes.
This past weekend we had our second baby shower that my two aunts and grandma threw for us and we had a blast–the food was great, my bestie from Honduras flew in to celebrate and I wore the gorgeous non-maternity dress I ordered from ASOS 3 months ago which unfortunately sold out but I've linked the maternity version. The way I see it, I sized up because it was non-maternity so maybe if you love it you can size down.
SHOP THE POST: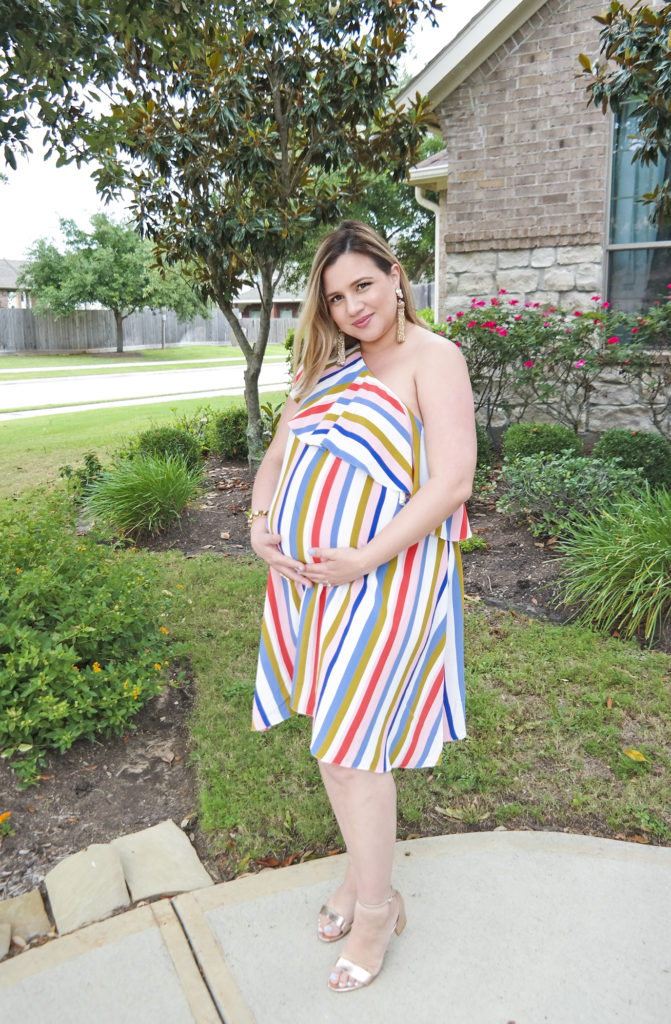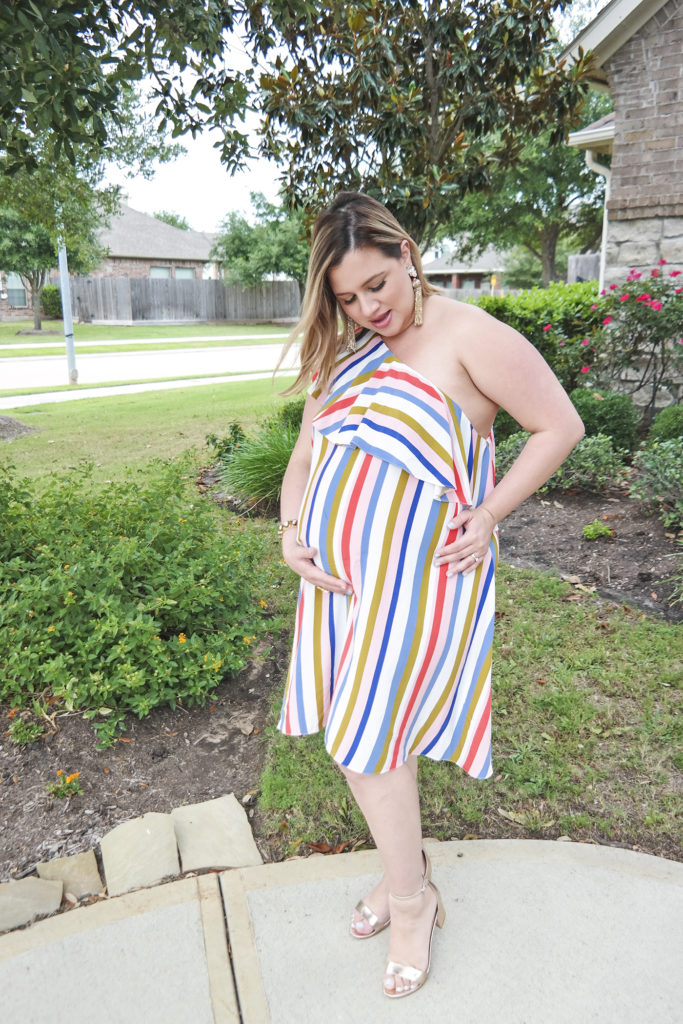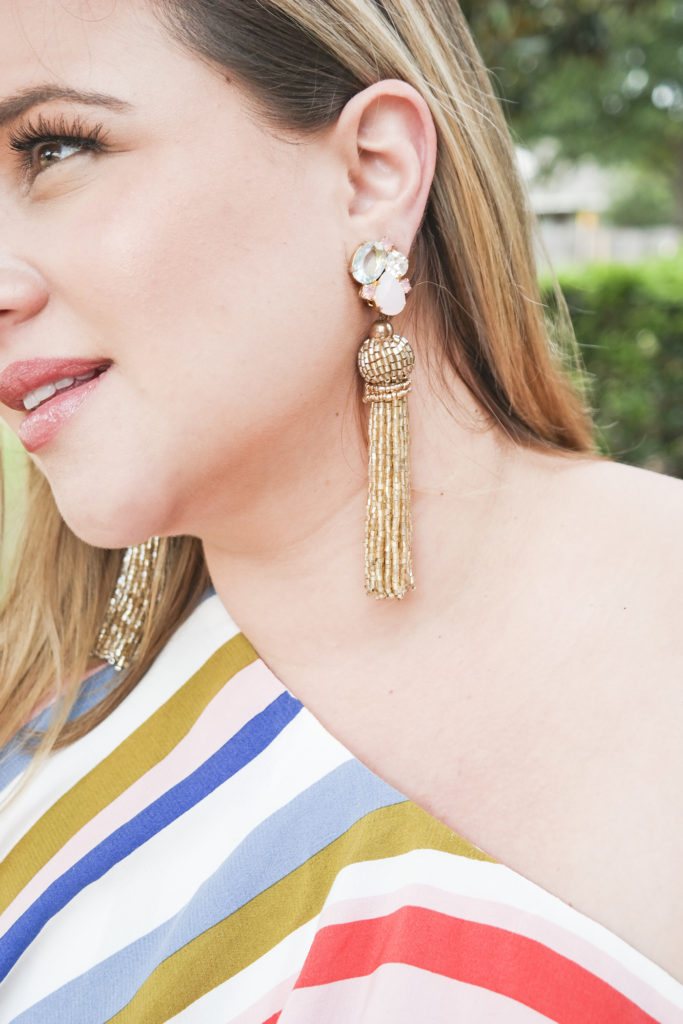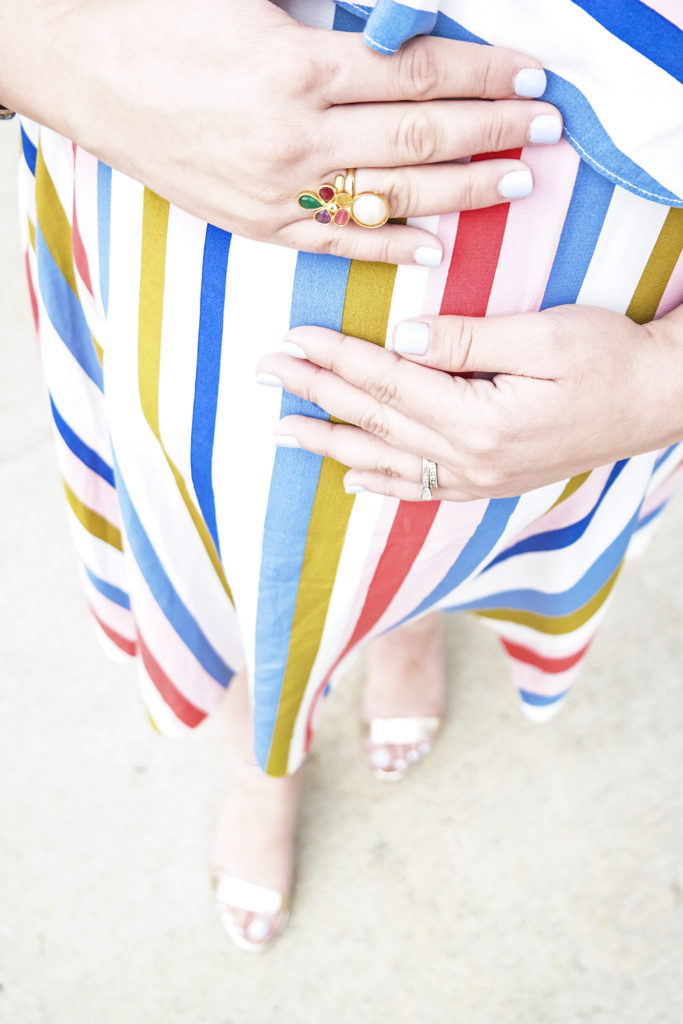 30 Week Bump Date
Size: The baby is the size of a motorcycle helmet and is weighing 3lb.

Due Date: As I mentioned before, my official due date is July 27th but I will most probably be induced between week 36-38 because I'm a high-risk pregnancy because of my Type I Diabetes so that will be first or second week of July.

Weight Gain: My last doctor's visit gave me the news I've put on 8lbs total but it feels like I have 20lbs in my belly! Hahahaha!
Feeling: I am feeling just OK. I have low energy and I fall asleep easily anywhere just like my first trimester. I also found out on my last doctor's visit I had anemia (common for pregnant women) so I'm taking an iron supplement. Anemia also makes you feel weak so that's another reason why I'm so tired. My back pain and pelvic area hurt so much when I walk and it is so difficult to get up in the morning because I feel so sore.

I also experienced heartburn for the first time in my life! This is a very common symptom in the third trimester. Luckily, the doctor allowed me to take an antiacid & it's been under control.
Cravings: More than popsicles I've been craving ice-cream and ice-cream floats–YIKES!

Recent Highlights: OMG! Finally felt the baby kick last week! And it wasn't a subtle kick–it was a full-on somersault feeling in my stomach. At one point my hubby was poking my belly where the baby was kicking and he kicked back! We couldn't stop laughing—it was magical and scary all at the same time. This is probably the biggest change since last update where he wasn't moving at all and now he's like a little salsa dancer in there!

Pregnancy Realness: There are so many things a pregnant woman does not need to stress about! I mean, we already have unwanted aches and pains, nausea and waddling to deal with so just make our life sweet by saying how cute we look, letting us cut in line for the bathroom at a concert, not cancelling on us last minute ( I ranted about this on my personal Facebook page because sometimes people have the bad habit of cancelling the same day of an event not realizing we're already dealing with a lot!).

Up Next: Hubby is God-sent and gave me a pre-natal massage and facial as a gift for Mother's Day so I can't wait to book it and indulge.  I really, really need to relax and unwind because I'm at home most of the time and I try to be productive but the reality of the matter is, I need to chill, nap and just listen to my body.

As always, thank you so much for stopping by and visiting the blog—Lipstick and Brunch has been my outlet for all my whining during my pregnancy and it's really been a way to stay in touch with the outside world when all I want to do is stay at home and sleep! 
SHOP THE POST:

Facebook Conversations