A couple of weeks ago my  hubby and I enjoyed a weekend in Houston (we live in a suburb called Sugar Land) exploring new places to eat and indulging in a much needed date night in celebration of the soon-to-be arrival of our baby boy in July! I'm excited to tell you that this weekend was sponsored by Hampton by Hilton as part of their Ultimate Seekender Team where I'll be encouraging you to explore the hidden gems and must-see places in your own hometown. If there's one thing any of my friends back home in Honduras can tell you since I moved to Houston 8 years ago and made it my home is that I make my love for Houston known and I enjoy being the "hostess with the mostess" whenever anyone travels to Houston. This time around, I found some new places that can't wait to show you and all my family I'll be hosting in the future!
We arrived to our Hampton by Hilton Hotel in downtown Houston Friday night and I was excited to see a mural by GONZO  as soon as we arrived to the hotel entrance. GONZO is a Houston graffiti artist extraordinaire and part of the Houston pop culture and you can see many of his vibrant artwork through-out the city.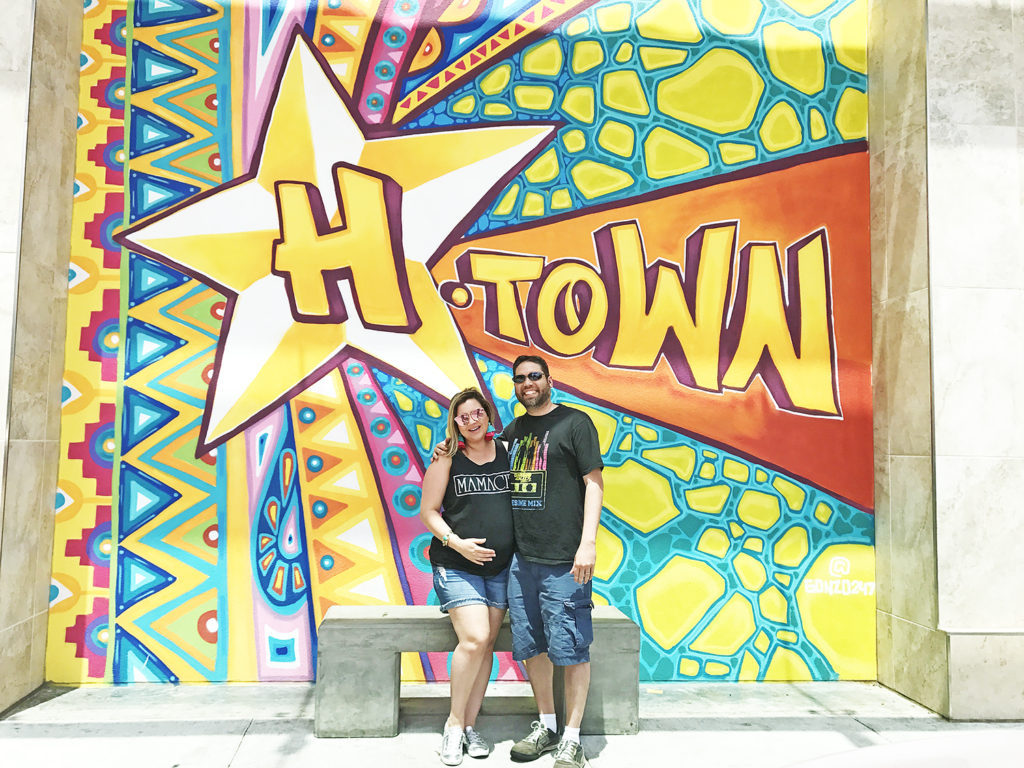 The hotel is in the heart of downtown Houston and nestled among walking distance of Greenstreet, the Toyota Center and Avenida Houston which house many options for concert venues, restaurants and entertainment. We also had a breathtaking view of the downtown buildings from our hotel room which I couldn't get enough of every morning when I woke up!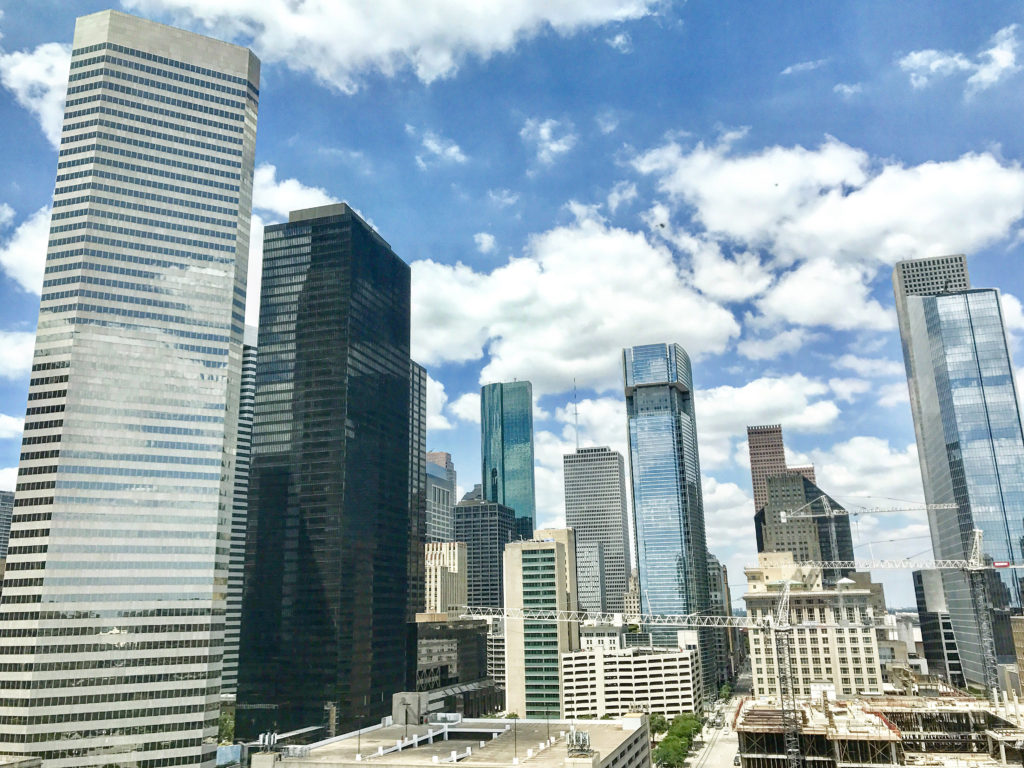 The view from our hotel room
Flamenco Dinner and Show at Andalucia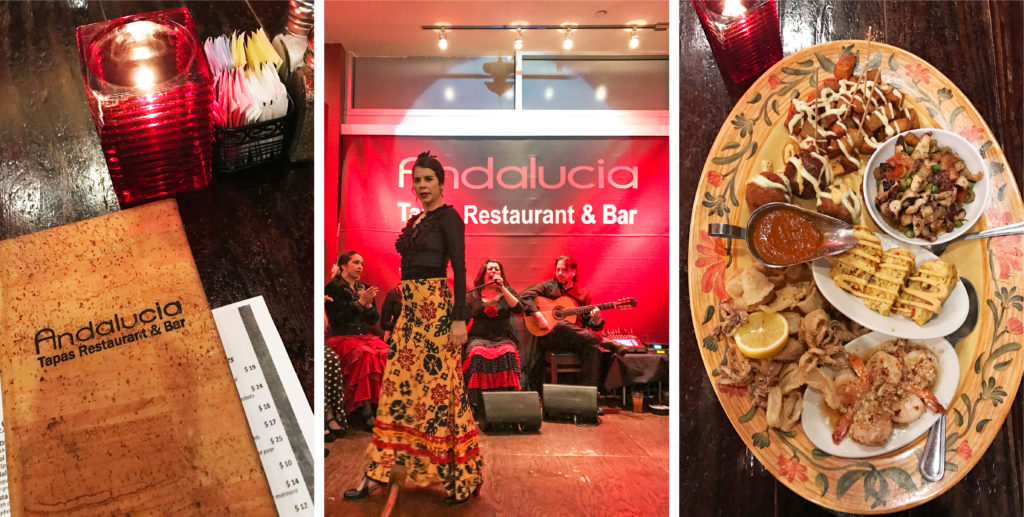 Our first night in downtown Houston we decided to try a Spanish tapas restaurant named Andalucia located at Greenstreet. Spain is a very special place for us because it's where we got engaged and first traveled out of the country together. We have been to flamenco shows in Spain before so we knew what to expect but it was so exciting to think it was so close to our hotel. We decided to take the complimentary hotel shuttle (best service ever for this pregnant mama) so we could grab dinner and the flamenco show on time. As soon as you walk in, the restaurant has the allure and charm of a Spanish flamenco bar as well as an amazing menu of tapas or small bites and wines. We ordered a tapas sampler which we honestly could have shared with a group of people and everything was delicious especially the calamari and patatas bravas (potatoes with a tasty garlic ailoi sauce).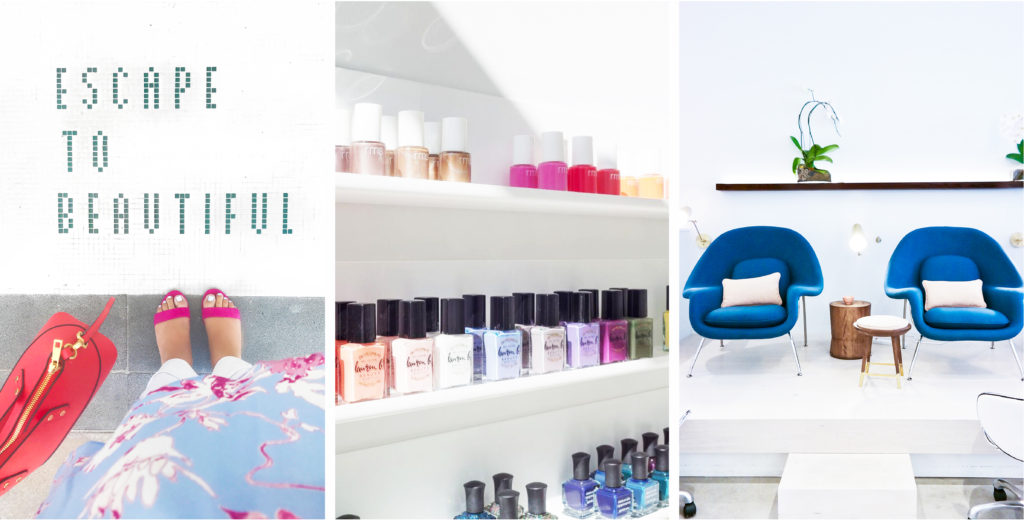 The next morning, the hubby and I decided to unwind and relax together at Paloma Nails. Paloma Nails is a relatively new nail salon that specializes in non-toxic manicures and pedicures in a sophisticated and zen-like environment. I love that they carry non-toxic, vegan & cruelty-free products which are great options if you're a pregnant mama like me and looking for safe options to pamper yourself . My pedicure was soooo relaxing and 2 weeks later, my toe-nails still look amazing! Even my hubby joined in on the fun and got a relaxing foot massage by my side. All I can think is, why did it take me so long to come to this slice of heaven in Houston? (Thank you Visit Houston for treating us to this visit to Paloma Nails!)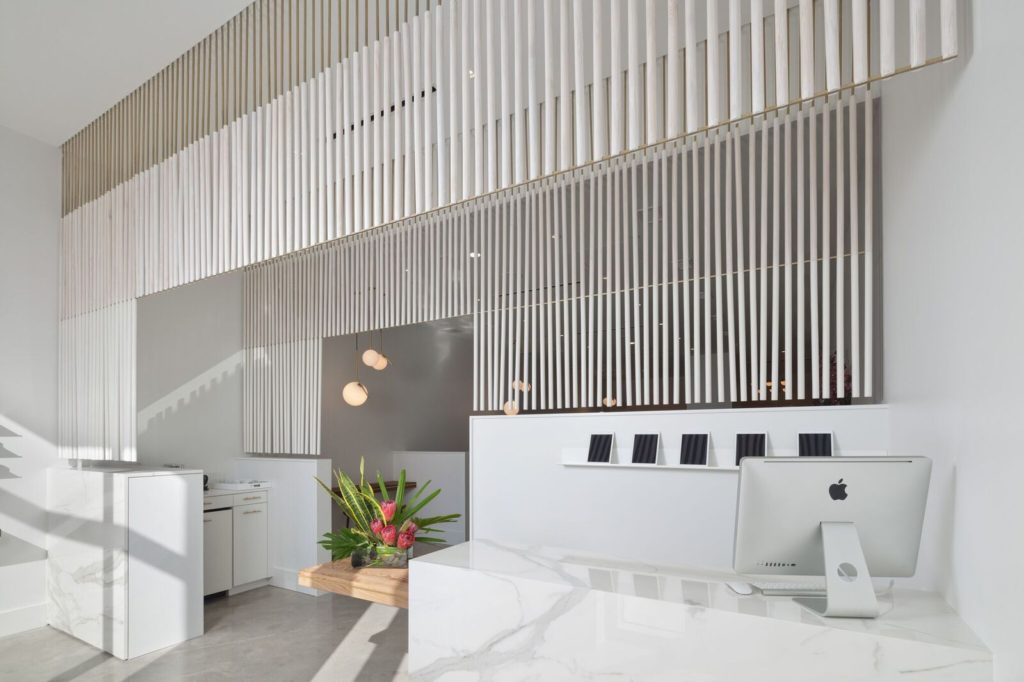 photo via Paloma Nails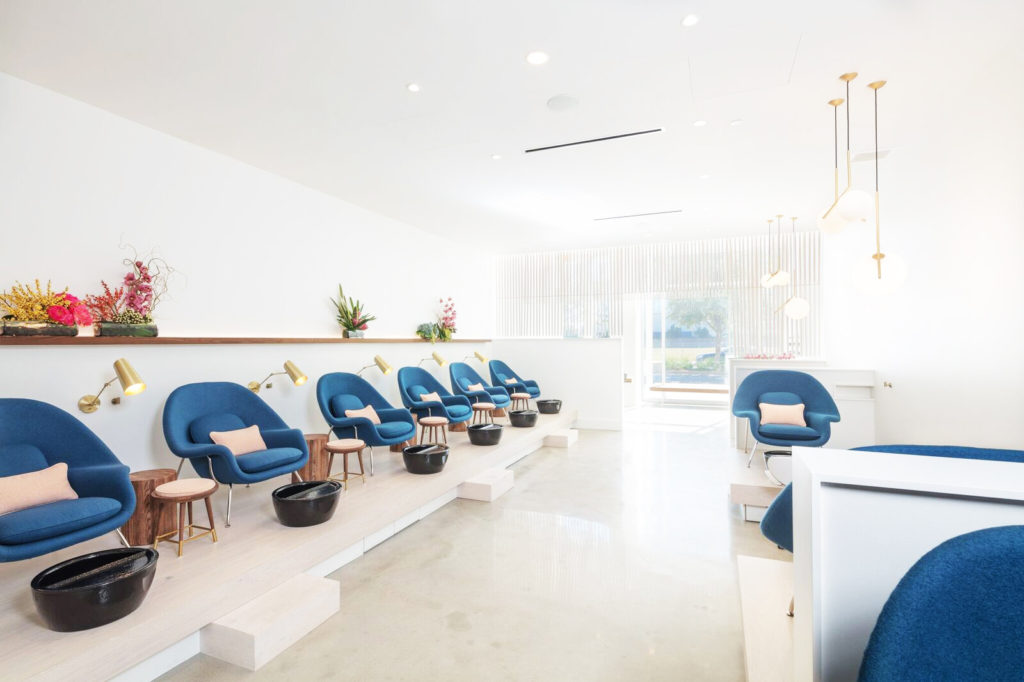 photo via Paloma Nails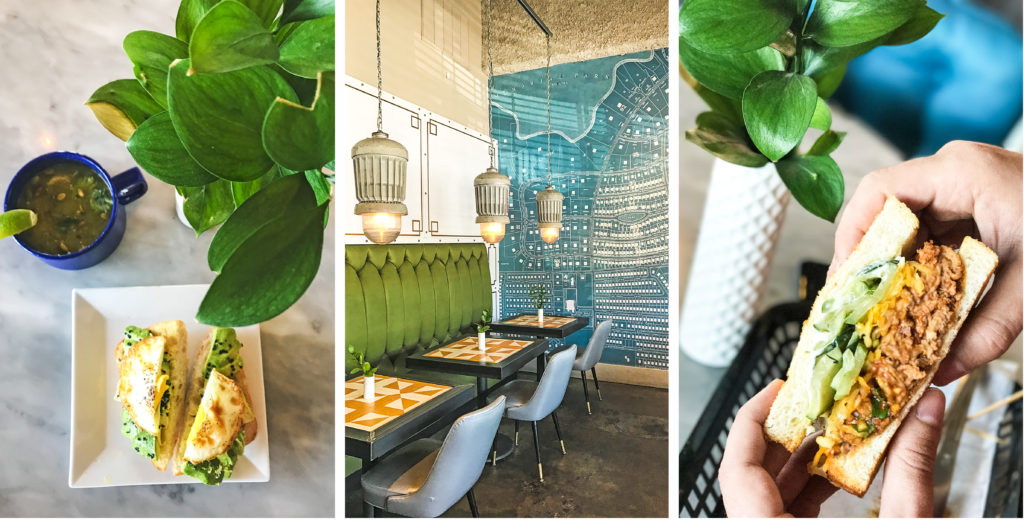 After getting pampered at Paloma Nails, we headed to Local Foods, a beloved neighborhood lunch spot in Rice Village District that serves seasonal sandwiches, salads and soups in a stunning location at an affordable price. The place is so good, it's always busy but don't worry, their service is fast so you'll sit down quickly and get your food almost immediately. The hubby loved his pulled pork sandwich and I had an avocado toast ( I added a fried egg) with their delicious pozole soup. It was the perfect prelude to a calming afternoon in the pool at the hotel.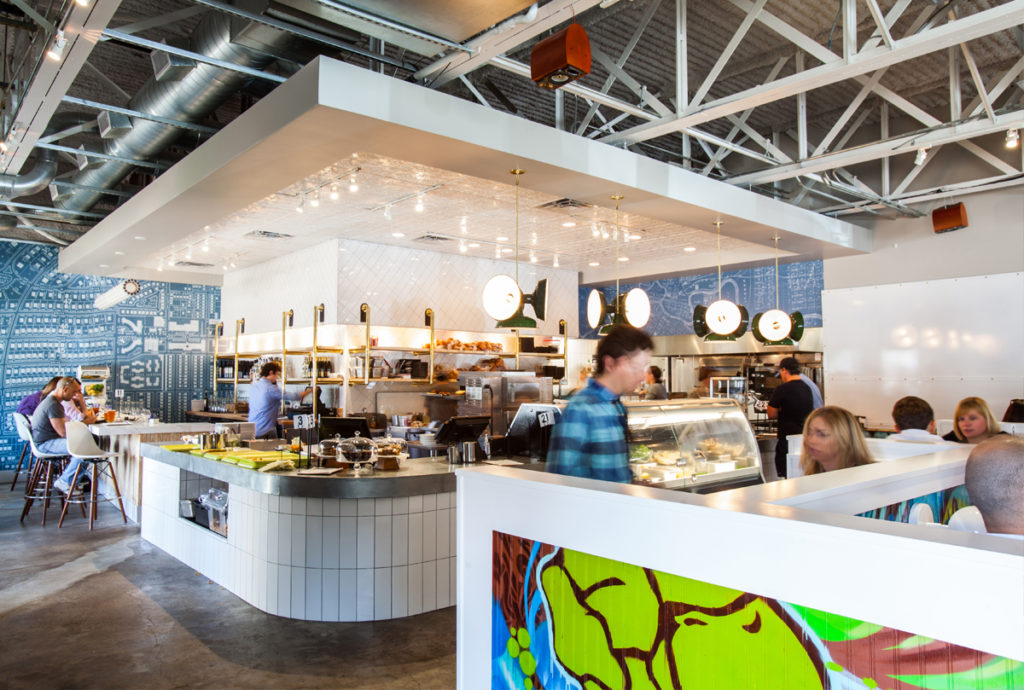 photo via Local Foods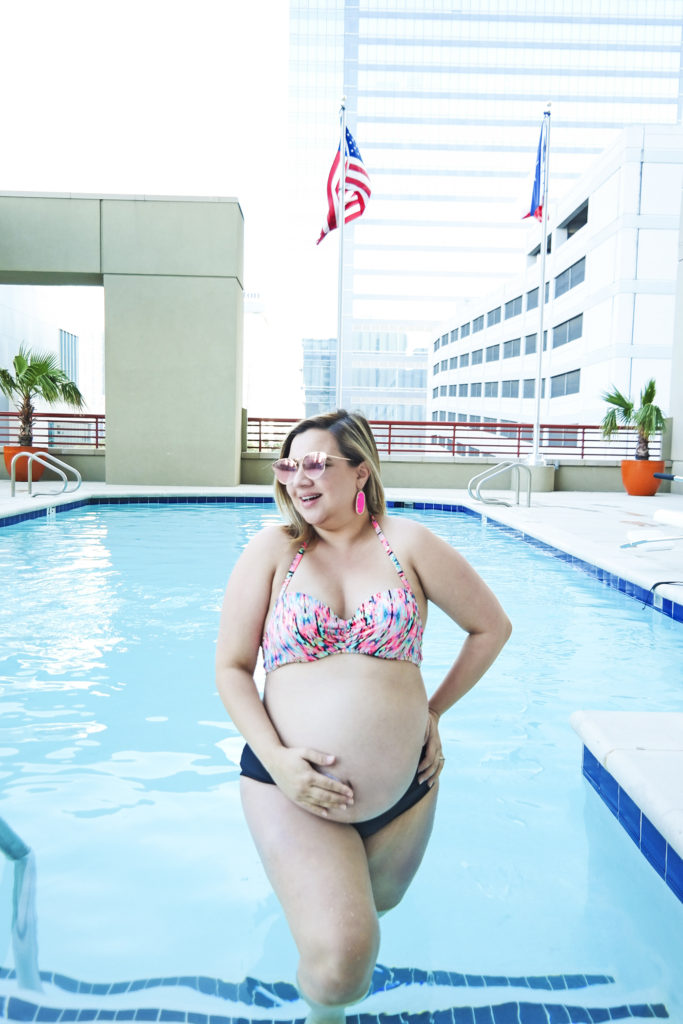 Perfect ending to a beautiful day in Houston at the Hampton by Hilton hotel pool. Thank you to my hubby for snapping this photo with my baby bump!
Stay tuned to Part II of our weekend exploring Houston!
*Disclosure: I was selected by Hampton by Hilton to explore Houston in an expense-paid weekend as an Ultimate Seekender to share my experiences. Thank you as well to Visit Houston for our experience at Paloma Nails. As always, all thoughts and opinions are my own. Thank you for supporting the brands that support Lipstick and Brunch!*
Facebook Conversations