*This post is sponsored by Mirum. As always, all thoughts and opinions are my own.
Location: Hotel Alessandra Houston
The hot, humid summer days have started in Houston and the air conditioning has been my best friend. I don't want to stay home for the rest of the summer though especially with the fourth of July holiday around the corner. Now that we have Nicolás in our lives we also want to stay more active and explore more of our city whether it be biking, hitting the pool or our favorite restaurant together and I want to stay feeling fresh and clean in the process.
I'm happy to be teaming up with Caress one more time this year and share all the ways I stay feeling fresh throughout the summer days in Houston which are characterized by 100 degree temperatures and high humidity factors (yuck!). Humidity does keep skin supple and younger-looking so I guess there's a bonus for withstanding this heat.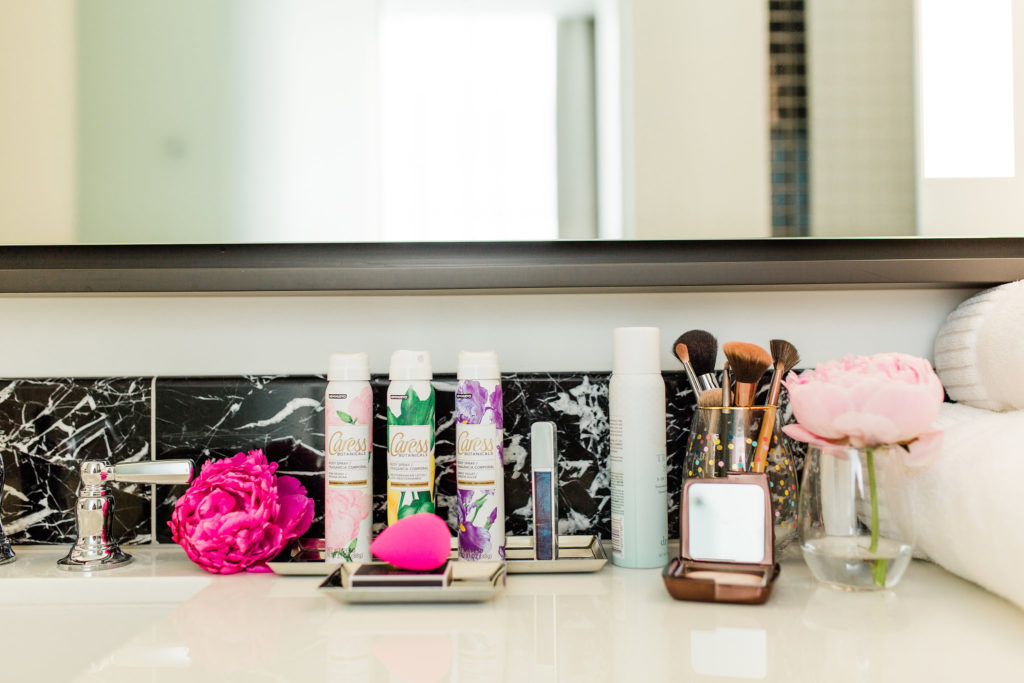 After living ten years in Houston, dealing with these scorching summers and trying endless amounts of products to keep me feeling and looking fresh I've found an easy routine to survive the days and look pretty.
Besides obvious basics like a cool shower and deodorant/antiperspirant, these products I'm currently using prove to be a winning combination in making me feel like I just stepped out of my shower!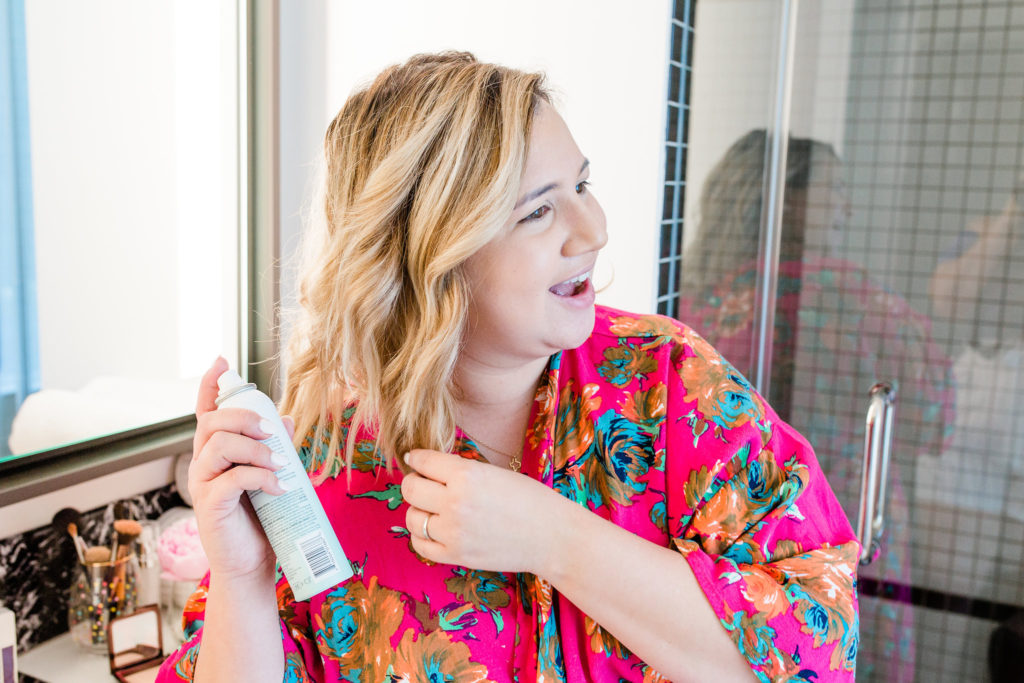 Dry Shampoo
Dry shampoo is one of my favorite products to freshen up my hair during the summer and eradicate any oiliness in my strands. I spray my roots (where hair oil stagnates, drags your hair down and makes it look dirty) with it and massage it in with my fingers before leaving my house at the start of the day. If you don't want to carry a big spray bottle with you, I found the neatest dry shampoo at the pharmacy and it's the size of a pen! I love to toss it in my purse and refresh my hair throughout the day.
Makeup Primer/Setting Spray
One of the coolest (pun intended) products out there to keep your make-up looking fresh and flawless during those outdoor brushes and summer weddings is a primer/setting spray. You can apply these sprays into your foundation brush or sponge and then buff in your foundation for extra staying power and then spray at the end of your makeup routine to seal your look. The best setting sprays include SPF so you can lightly mist sunscreen on your make-up throughout the day in a mess free way. Tip: Keep your face spray at home in the fridge for an instant cool down.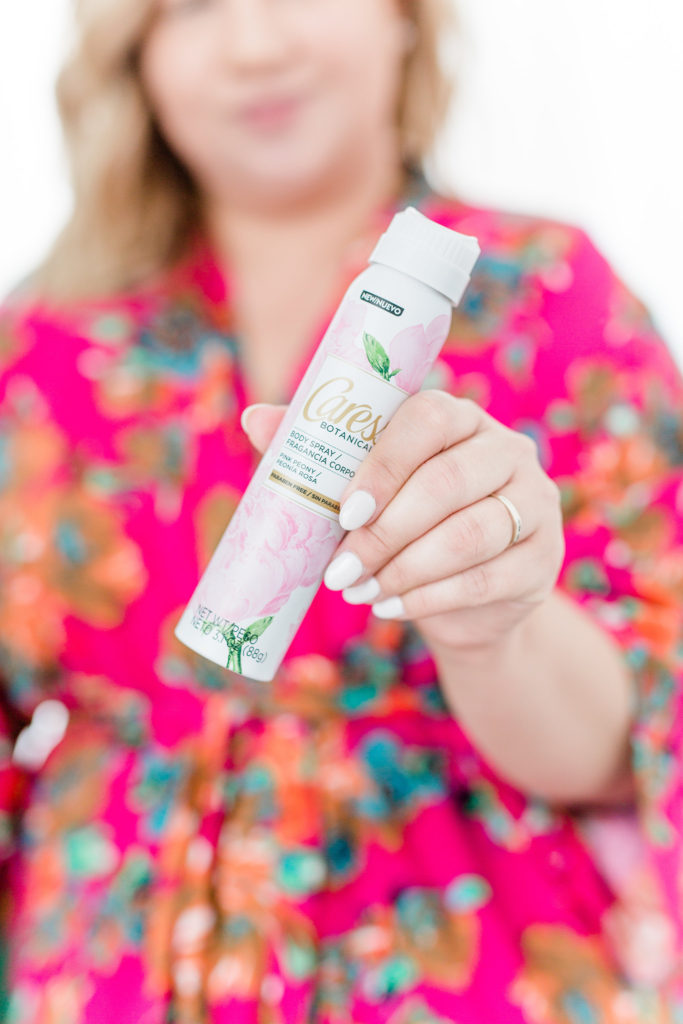 Body Spray
One of my favorite steps when I get out of the shower is spraying myself with a scent that'll keep me smelling fresh all day. I don't only spray my body with it but I also spray it on my bra and maybe even a little in my hair so I can smell it on me too! I love smelling fresh! After receiving the three different Caress® Botanical Body Sprays available at H-E-B I had trouble choosing which was my favorite one. There's Pink Peony, Sweet Violet or Mediterranean Lotus, all super light and refreshing scents. I loved mixing the Pink Peony and Mediterranean Lotus to create a unique fusion of white orchid, peony and amber. You have to check them out at H-E-B and find the scent (or scents) that you like. Bonus: the body spray sprays on super cold which makes for an instant pick me up!
Caress has even created a Caress Botanicals Beats station on Pandora and all I can say is you need this playing at your fourth of July BBQ! I love that I heard some Daddy Yankee, Demi Lovato, Luis Fonsi and Ed Sheeran on the same station.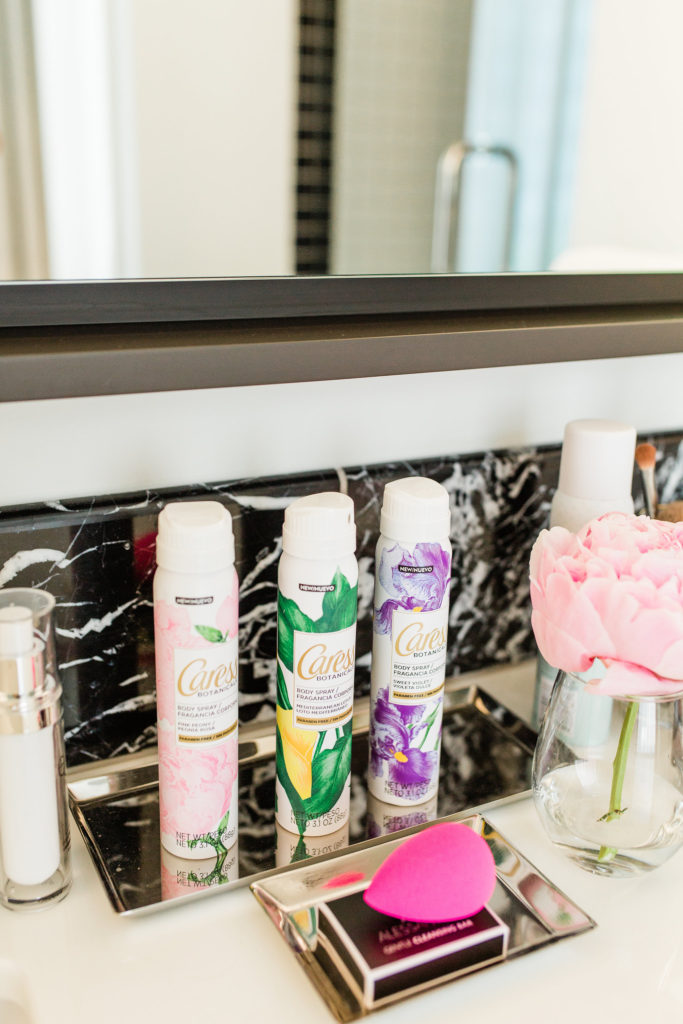 Daily Panty Liners
Is there anything easier than putting on a daily panty liner? Why did I discover these daily pads so later in life? I feel like the unscented ones work better at helping me feel fresh throughout the day. I always carry extra ones in my purse since they are so tiny and thin.
Reusable Water Bottle
OK so this isn't really a beauty product but if you drink enough of it, it is! Drinking water not only keeps you looking beautiful but it's so important to hydrate during this heat. I don't know about you but drinking water or really cold unsweet tea with lime (my weakness) physically makes me feel good. A sip of cold water instantly cools me down. If you have kids, especially babies like mine, you need to give them water every hour on the hour if you're outside.
Oil-Blotting Wipes
When there is extra shine on your face but you don't want to apply extra make-up, these wipes are the answer! They come in a super thin casing which fit even in your jean pocket so you can take them anywhere you go and retouch discreetly.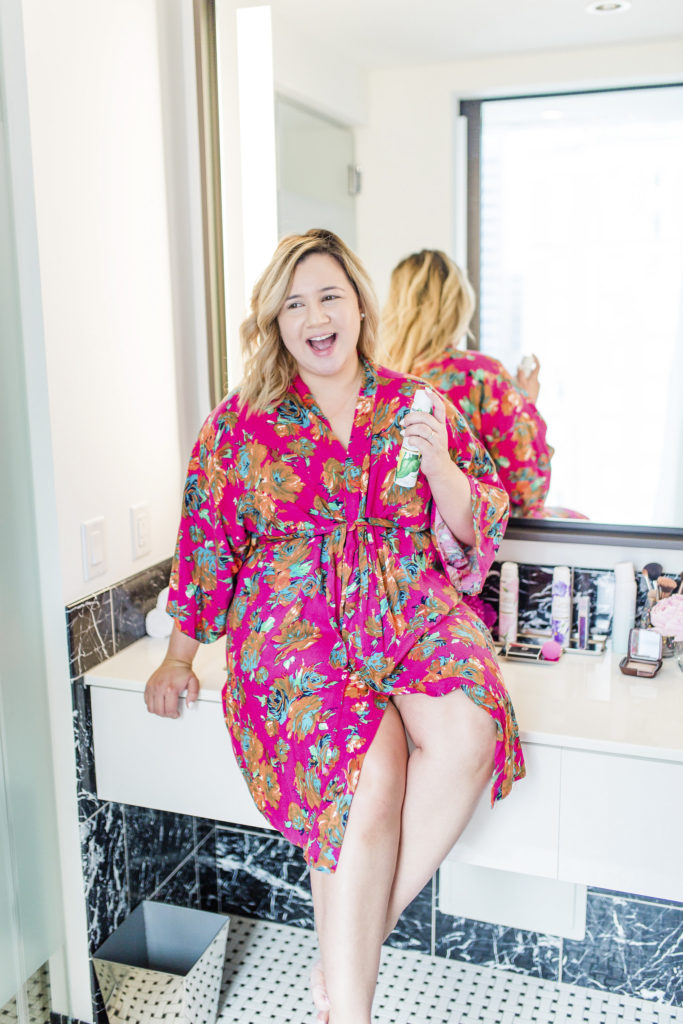 I hope this list and my tips keep you feeling fresh and flawless! Remember to check out the new Caress® Botanical Body Sprays at H-E-B as well as their station on Pandora this summer.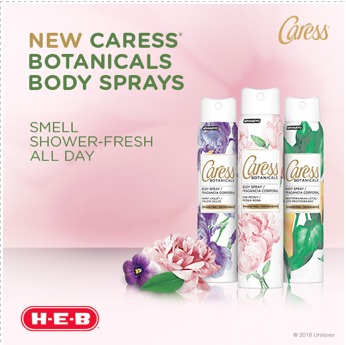 #FeelFreshwithCaress
Facebook Conversations