Mother's Day is coming soon and I am teaming up with Pinrose to give one lucky mom one of their delicious scents created for expectant mothers and new moms (or really any woman who loves a crisp, mandarin, minty fragrance)!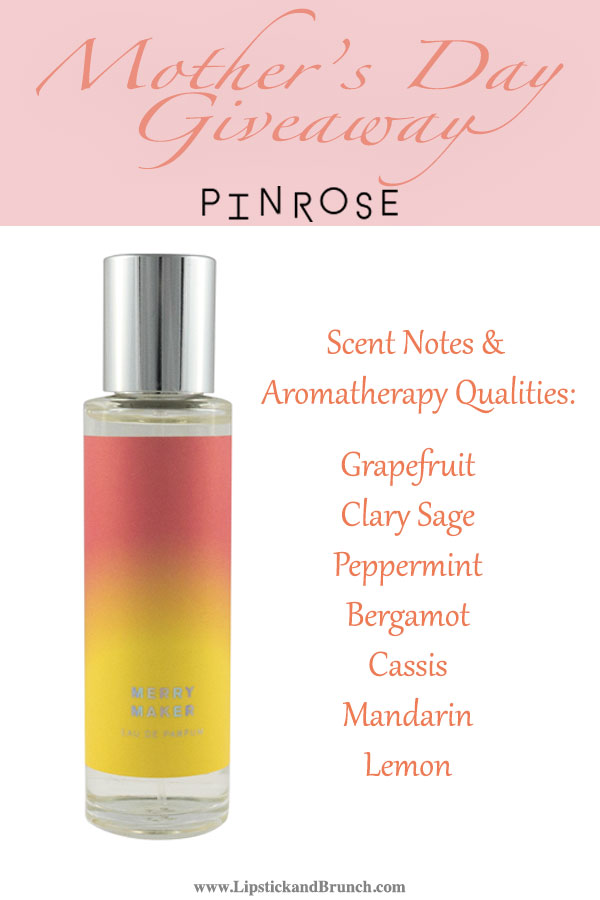 How cool is this scent by
Pinrose
? I am always amazed at how creative Pinrose gets about their scents. You might remember
I wrote about them recently
because they launched 2 new scents exclusively at
Sephora
. This one is nothing short of outrageous!
The Merry Maker
scent was inspired by master perfumer and  new mommy
Christelle Laprade
and it offers aromatherapeutic qualities to ease unpleasant pregnancy side effects and promote bonding. And uniquely enough, it's also designed to be non-offensive to the baby so mothers can wear it before or after the baby is born. This soft perfume was crafted with soothing qualities too! Did you know that the sense of the smell is the first thing that develops in babies? Babies can "smell" their mom and make an association with her smell and cuddling? So cute!
The Merry Maker is a cocktail of:
Cassis – The use of Cassis (also known as blackcurrant) oil helps reduce symptoms of pain, fluid retention, back pain, and nausea.
Mandarin –  Curbs stress and anxiety, as well as helps with digestion and nausea.
Lemon – Curbs stress and anxiety, as well as helps with digestion and nausea. Lemon scent promotes positive mental well being, improves cognitive performance and mood.
Cabreuva – Warms and loosens tight muscles, calms, reduces stress, improves mental clarity and alertness, reduces pain and eases breathing.
Grapefruit – Curbs depression, enhances memory, boosts metabolism and reduces food cravings
Clary Sage – Aids sleeplessness
Peppermint – Aids light headedness, and many women have reported that peppermint oil relieves nausea
Bergamot – Relieves anxiety, stress, and depression
Giveaway starts today at 9am and ends on Friday, May 6 at 12pm. Good luck!
Pinrose
is know for collaborating with master perfumers to craft unique, quality scents. All scents are made in the USA, are paraben-free and made with the highest quality essential oils, naturals, and synthetics. Take their fun
scent quiz
and find out what scent personality you have. I am
The Magician
!
Facebook Conversations