Every month (or more, depending on how long the list gets!) I'll be sharing my monthly obsessions! Stuff I can't live without, ranging from popcorn (any popcorn lovers out there?) to the lipstick you can't stop commenting about.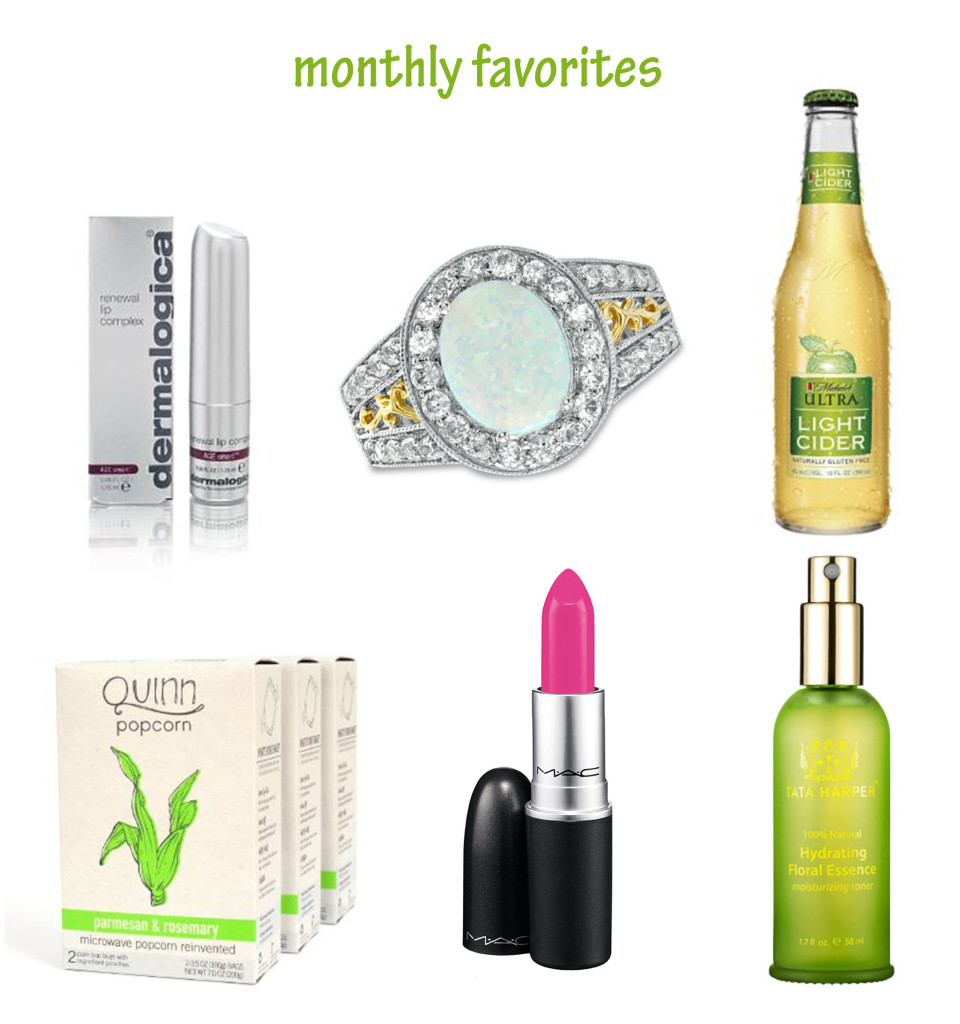 I bring you my current favorites:
1) Dermalogica Renewal Lip Complex- I apply it throughout the day and at night and it keeps my lips smooth and lipstick ready. I love picking at my lips (I'm guilty!) and this helps me stop it. Thanks to my Dermalogica facialist for the recommendation.(Found it at the Ulta store)
2) Opal ring-It was our 2 year anniversary last month and my hubby gave me this ring with a stone I had never seen! It's so weird & speckled with color, just like me, and I love it!
3) Michelob Light Cider- I love a good cold beer in summer but I hate the carbohydrates in it (I'm Diabetic so this was a great find!). This light cider is refreshing, has only 10g of carbs minus all the sugary calories.(Found at HEB)
4) Quinn Popcorn-Gluten free, organic and with gourmet flavors like parmesan and rosemary, I could eat this popcorn all day long. My favorite part? It brings the flavors in separate packs so you can season to taste. (Found at HEB)
5) MAC lipstick in Candy Yum Yum- As a lipstick fanatic every time I see a new orange or pink hue pop into stores, I must have it! This one always gets me compliments.
6) Tata Harper Hydrating Floral Essence- I carry this in my purse and spray it compulsively. It smells great, refreshes my make-up & has hyaluronic acid & rose extracts to boost the skin's natural hydration. Houston humidity is gross and this face spray makes it bearable. Put it in the fridge for an ever more refreshing spritz! (Gift from Sarah Shah and can be found on www.tataharperskincare.com)
Facebook Conversations