This year, my dad is getting the Fitbit as a gift because he is trying to get healthier (we are all very happy about this!) and he asked my siblings and me to get it for his special day. It's also  a big relief for us since we've never been successful at getting him a shirt that will fit him (my dad is on the husky side). I hope you enjoy these gift ideas as much as I did putting them together.
1)Paris Texas Apparel Company Co-founder and visionary Paul Hotze creates these Texas themed ties and bow-ties. For the dad who is an oil and gas engineer , a proud Texan or a chips and queso guy, these ties are a fun take on the traditional gift.
2)Fit Bit Flex & Charge  Both of these are stylish and track steps but the Charge (blue) has a digital screen and caller ID. Right now they have FREE 2-3 Day Shipping on $50+. Ends midnight PDT June 16. Click Expedited Shipping at checkout.
3)John Varvatos Artisan Acqua A woody, citrusy and unique scent perfect for the sophisticated and modern dad. It also includes a small travel bag for the dad who is always on the go on business trips.
4)Jack Black The Power Pack  Besides having the best indigo blue packaging that will look amazing on his sink these face products will make dad feel loved everyday. Bonus: These are also cruelty-free & vegan!
5)V's Barbershop Newly opened in the Houston Energy Corridor, V's Barbershop will give your dad the best hot towel straight edge old-fashioned shave, haircut, shoe-shine and facial massage. Your dad will appreciate it and your mom will thank you for giving dad those smooth cheeks. Reserve your appointment.
6) Daddy and me Matching Outfits from Target This isn't for mom and daughters anymore! I've seen too many dads sport the same outfit as their son and it's freaking cute! So if your hubby is a new dad or you have a toddler or kindergartener at home or in the family this might be the most self-indulgent gift ever (Can I just say I'm looking forward to this when we have a baby of our own with Miguel?). How cute does "La Voz Kids" TV host Jorge Bernal look with his son Lucas (in an outfit his wife Karla help pick out of course!)? Find outfits like these at Target and check out more on Jorge's style secrets as a dad here .
Now, a little about my own father
My dad is the funniest, most loyal, hard-working guy I know and he always made sure, growing up that I never missed out on anything, from showing me the "Star Wars" movies to all the "Back to the Future" sagas or "The Muppets" on our Betamax.
Now on to a funny anecdote that I still laugh about…He took me to Hooters as a 10 year old girl on a vacation trip to Florida with my mom and I fell in love with their chicken wings. I kept telling all my classmates and friends about Hooters and their amazing wings. Dang, even my Barbie had a Hooters outfit after that summer! Many years later I knew what Hooters stood for and I still like their wings but I can't believe I never made the connection back them (can you say naive?)!
My dad would let me go to every high-school party and he'd always drop me off with my friends; all my friends loved my dad for doing that. And just like Cinderella at midnight, he would pick us up and take us home. I didn't know a lot of dad's that would do that and I just felt safer knowing he would be waiting for me at the end of the party.
There were always ups and downs like in any father-daughter relationship especially in my teens but I learned a lot of what makes me  today from him. I learned to be a good person, to aim to help anybody in need and to take everything with a sense of humor even in the toughest of times. Thank you Dad and Happy Father's Day!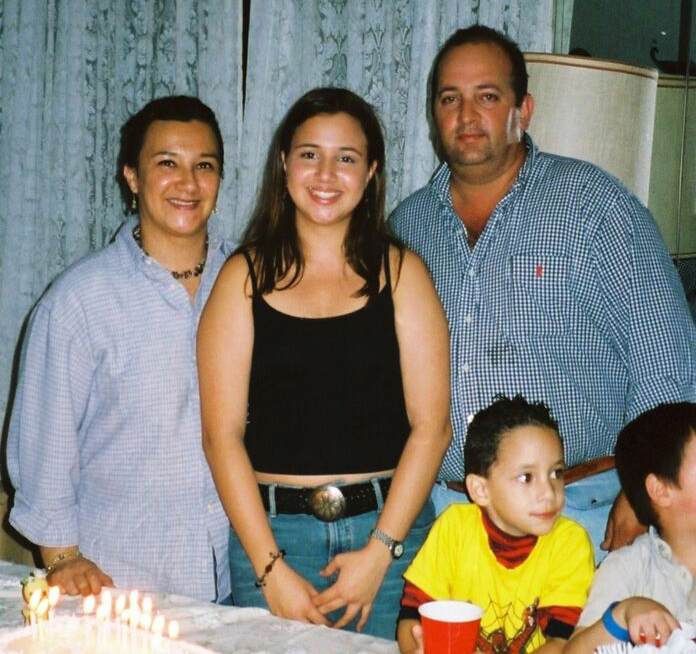 With my mom and dad on my 18th birthday (OMG, this was 12 years ago!) in Tegucigalpa,Honduras.
What did your dad teach you about life?
Facebook Conversations