Happy Hump-Day! Can't believe we're already in the middle of the week! You'd think that with the amount of make-up I get in the mail and all the free samples I get, I wouldn't want to buy anything else right? Wrong! I am a beauty junkie and only the thought of walking into a Sephora and swatching eye shadows on my arms makes my heart beat faster. I must admit though that I do shop less make-up stuff now that I get make-up PR samples in the mail and my husband is pretty happy! Ha!
As soon this time of year rolls around (my upcoming birthday in November and Christmas) I get all giddy and start making a beauty wish list of stuff I've been thinking about the whole year and that I really, really want. This is how I justify these beauty purchases because if I've been dreaming about them and can't get them off my mind then they should really come home with me. LOL! Said like a true make-up hoarder.
What's on my beauty wishlist? Fragrances, skincare galore because I'm in 30's and I ain't getting any younger and of course, Victoria Beckham for Estee Lauder! Check out the full list below!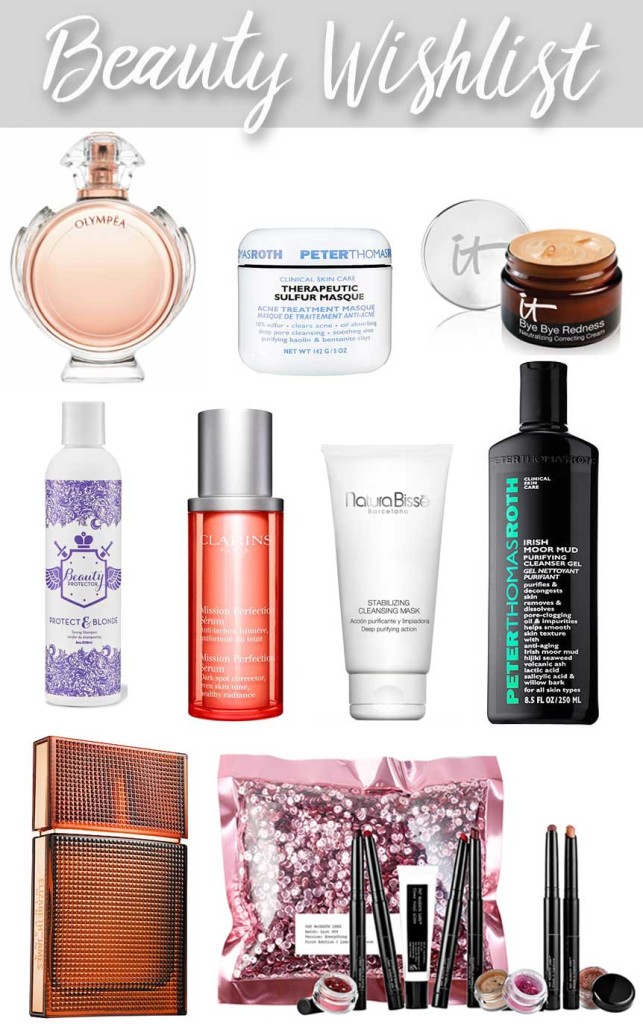 1. Peter Thomas Roth Irish Moor Mud Purifying Cleanser I haven't been breaking out once a month actually but I still want to try this odorless mud cleanser that clears clogged pores.
2. Peter Thomas Roth Therapeutic Sulfur Masque Acne I got a sample of this and used it after exfoliating and my skin was super soft, tight and clean. I'm getting a full size as soon as I'm done with my sample!
3. It Cosmetics Bye Bye Redness My former facialist used to apply this on my face after my facial and my skin looked AMAZING! And since it's skincare infused with a tint it's make-up that's good for you!
4. Pat McGrath LipKit Sold out everywhere but if you have no idea what this is then just look at Naomi Campbell lips at the VMA's and die. I can't wait to wear this in the fall! Glitter is back in a big way this season and I'm jumping on that bandwagon!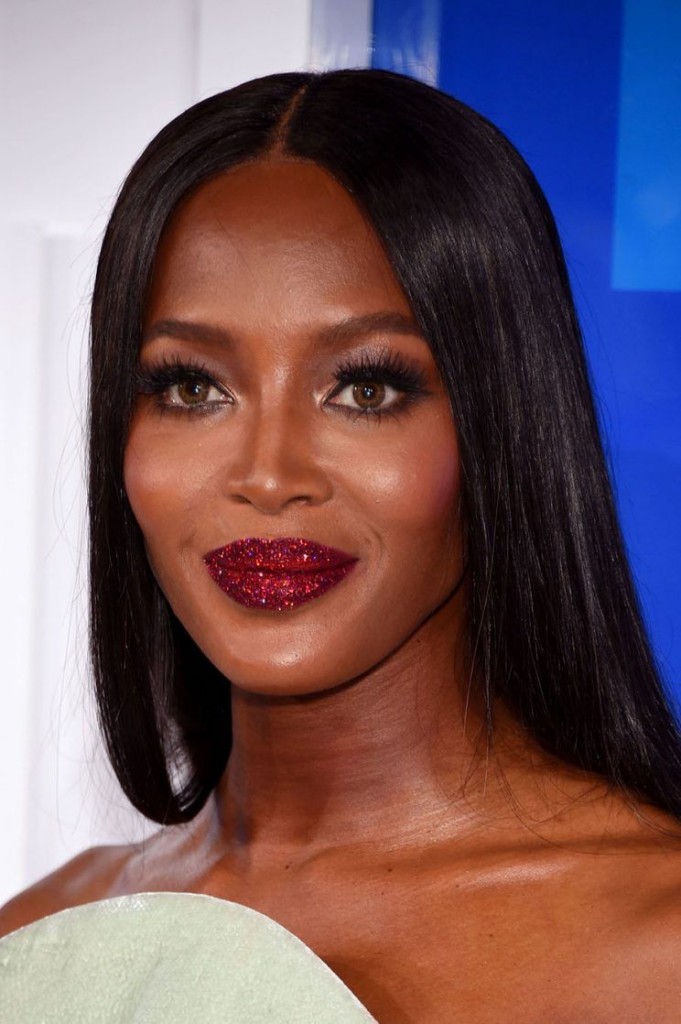 Give me those glittery lips Naomi!
5. Natura Bisse Stabilizing Cleansing Mask I had multiple samples of this and just ran out after getting a facial at the Natura Bisse spa room. I swear this kills any breakouts and it's nice to wash your face in the shower and leave it on for a few more minutes as a mask for a deep cleanse.
6. Beauty Protector Protect and Blonde Toning Shampoo Just got a sample of this in my Birchbox! I've been looking a purple toning shampoo for the longest time and this one's paraben free, smells like vanilla and it tones down any warmth in my blonde hair. Score!
7. Clarins Mission Perfection Serum  I looooove Clarins serums! They're the best because they always plump up my skin but they're also very pricy. I just used up my other serum and this one works to even tone, brighten and fight fine lines.
8. Olympea by Paco Robanne Got samples of this warm scent, a mix of ginger, tangerine and vanilla and I wanted to bathe in it.! The bottle is gorgeous and pink too and would look great on my vanity.
9. Nirvana Bourbon by Elizabeth and James Rumored to be a sexy, musky mix of vanilla and Bourbon–sign me up! I haven't smelled it but running to my Sephora to do so!
10. Victoria Beckham by Estee Lauder I'm actually super excited because I'll be trying out her make-up on Friday morning! Thee looks below are from her runway and I'm in love with the rich, pigmented jewel tones in the eye shadows.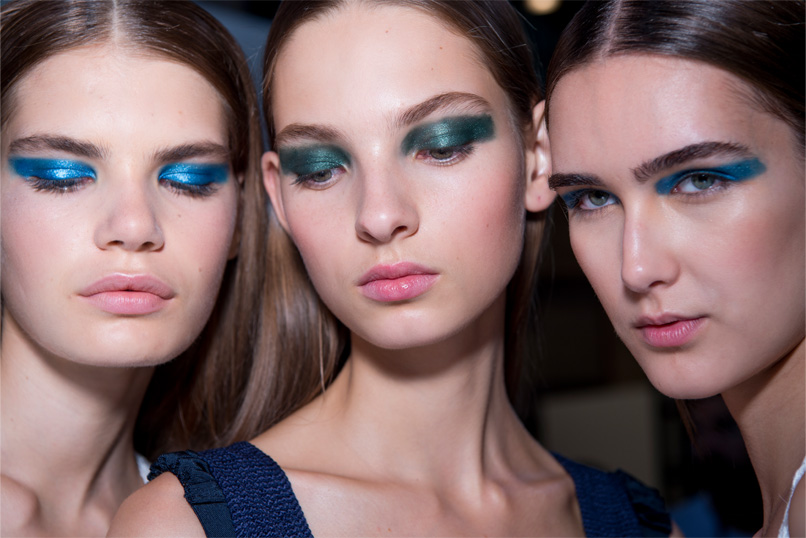 Which beauty product are you coveting this Fall?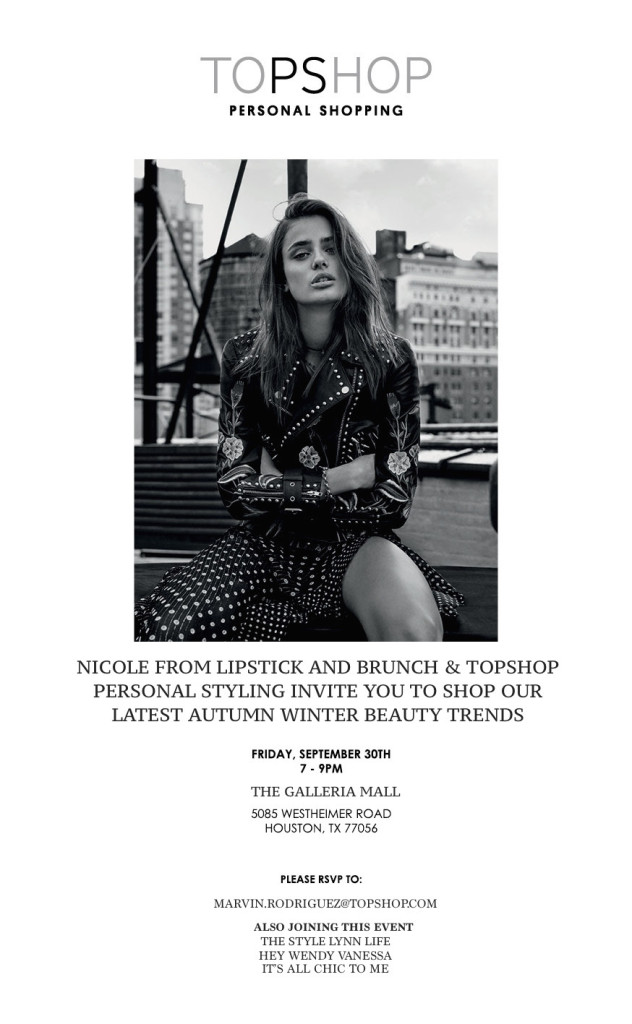 Also! Last but not least! I'm hosting a fall beauty trends event with my blogger buddies at Topshop and if you're in Houston I'd love to see you there!
Save
Save
Save
Save
Save
Save
Save
Save
Save
Save
Save
Save
Save
Save
Save
Save
Save
Save
Facebook Conversations