*This post contains affiliate links and gifted items from Preen.me. When you purchase from affiliate links I make a small commission. Thank you for supporting Lipstick and Brunch! Disclaimer: I am not a dermatologist or certified skin specialist. I try out all the products on my skin and give you my honest opinions of them. I always recommend getting a sample first (don't be shy and ask!) and finding out if it works out for you before buying a full-size product.
A couple of weeks ago I received a package from JULEP in the mail and I was very excited! They are notoriously known for their superb, non-toxic polish which I own a couple bottles of but I had no idea they had a color and skincare collection too! In the box I received I found two skincare products (and what seemed to look like a piece of charcoal, meant to scrub my face with! WHAT!?) and three items from their make-up collection (which I won't be discussing in this post).
SHOP THE POST:

What makes this a Korean cleansing method? The hydrating cleansing oil, cleansing stick and Konjac sponge! Korean women have the most beautiful and soft skin because they use exfoliating oils and cleansers that hydrate and soothe instead of using abrasive exfoliators or ingredients. This double-cleansing method is a Korean routine made very simple (rumor is, Korean skincare routines can be 6 or more steps!) and it's an easy two- product cleansing method for me to follow at night since this last stretch of my pregnancy is just making me lazier by the minute.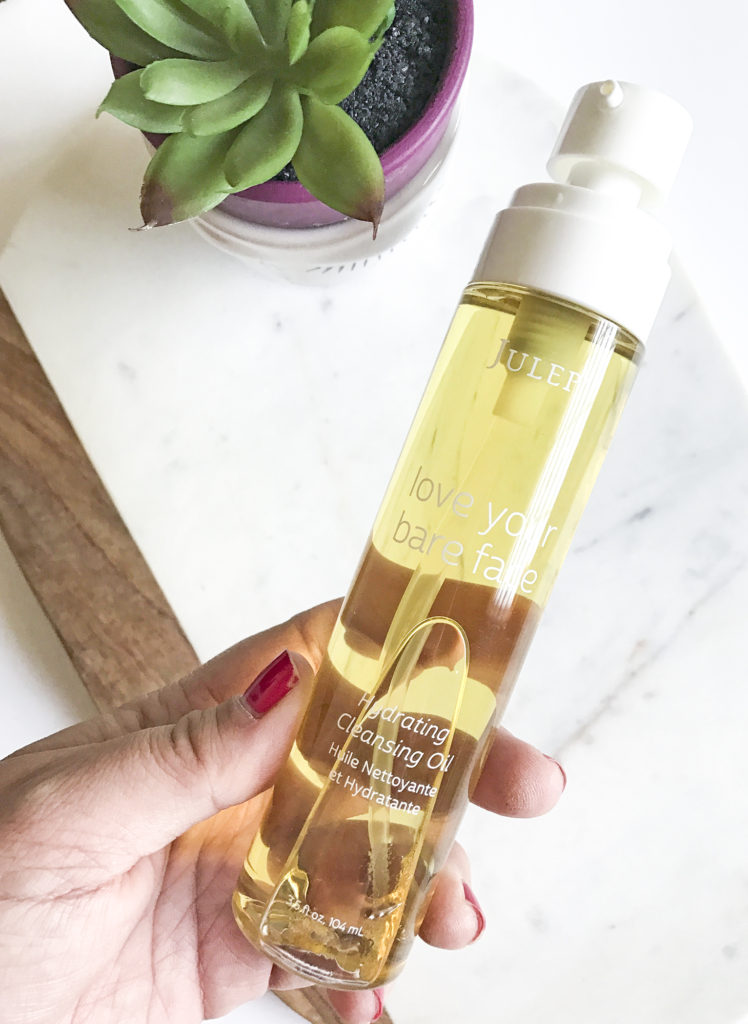 You'd think that I'd be scared of oils considering I have oily combination skin and am prone to break-outs but I actually love cleansing oils. I love how easily and gently they break-down my make-up at the end of the day and this one by Julep was no exception. The oil is made from a combination of grapeseed and olive oil as well as a Power Cell Complex (according to the website: a Julep-exclusive blend of age-defying, skin boosting, ultra-hydrating ingredients). The Power Cell Complex is a mix of Rosehip seed oil, Malvaceae Lipid Extract (never heard of this but according to the webiste: it improves barrier function so skin retains moisture) and Green coffee bean extract oil to promote cell turnover. WOW! That's a lot just for a cleanser!
Let me tell you what I thought! I love the pump on this bottle, so mess free and precise, the oil smells heavenly, fresh and clean and it does not leave an oily residue on my skin. I like to massage my whole dry face and eyes to dissolve the make-up. During my pregnancy I've felt that my skin is a bit dryer even though I drink a lot of water so this helps my skin feel clean and hydrated. Loving it and such a relaxing process to do at night.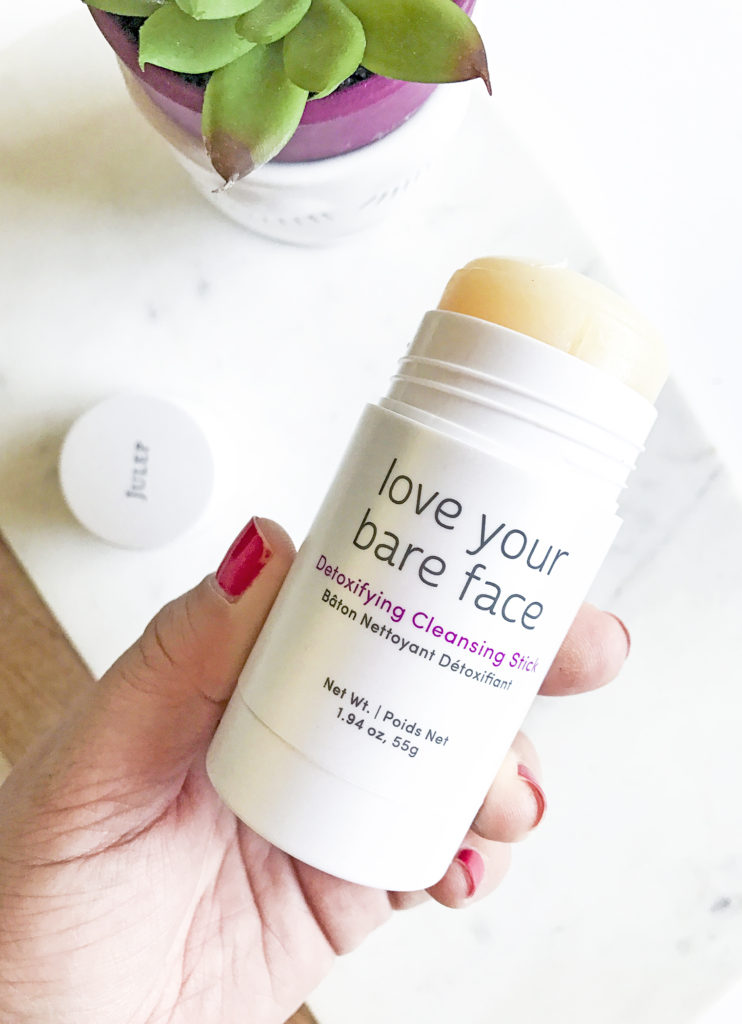 This is the coolest skincare product I've had in my hands for a while. It screams travel friendly and you can just toss it in your gym bag knowing it'll never spill! I love gimmicky beauty products that actually have a purpose and this one is everything you'd hope with ingredients like pomegranate enzymes for gentle exfoliation, rice bran oil to detox pores, grapefruit peel oil (that yummy fresh scent!) and camellia oil to hydrate and clarify. After cleansing your face with the oil and fully removing it, just rub this stick on all your face. It won't foam or burst into a frenzy of bubbles but for that you'll need the help of the Konjac Charcoal Sponge which I'll describe in more detail below. After scrubbing with the sponge, you'll see a bit of foam and any residue from the oil cleanser will disappear. The result was soft, smooth, supple skin ready to be moisturized for bed. This looks like it'll last me a loooong time because I've used it a couple of times and it still looks new to me. Now, I only hope for all my cleansers and exfoliators to be in stick form–how fun would that be?!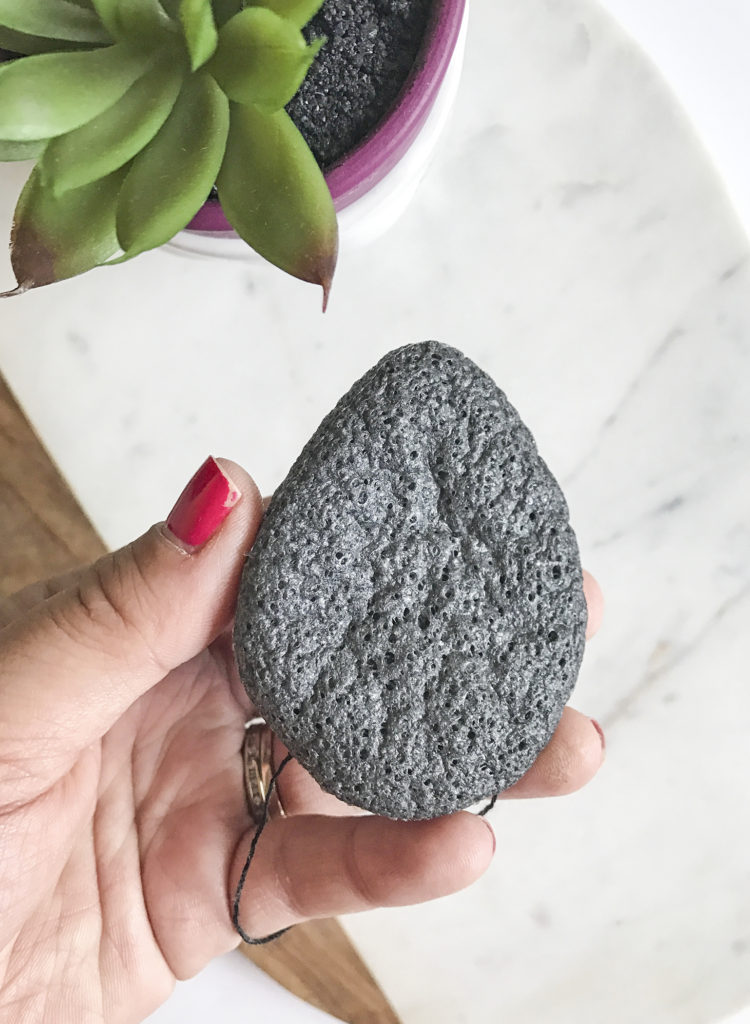 This is the weirdest thing I've ever used to clean my face with! I traded my Clarisonic for this sponge for a couple of days and was pleasantly surprised. I think what shocked me the most is the sponge comes in an airtight bag that is moist so the sponge is moist when you open it. Funny thing is, after using it, you're supposed to let it dry and it turns hard again like shown in the photo. This sponge is made from the exfoliating Konjac root and detoxifying charcoal bamboo charcoal powder. Once it's wet, it gets soft but still has an amazing gentle texture which exfoliates your skin (without scraping or being abrasive) and aids in making the cleansing stick formula foam up a bit. I love that it's travel friendly like the cleansing stick because it's light weight, small and so portable (just throw it in a Ziploc bag). It's also suitable for all skin types, 100% biodegradable and I have no idea if it's just going to disintegrate one day and I'll have to get a new one but I'll keep you updated on that because I've never used something like this.
Hope you loved this edition of Try It Tuesday Beauty! Sorry for skipping out on last week's post—-my  third trimester aches and pains started and I needed to rest after a busy Mother's Day weekend. As always, thanks for stopping by and supporting the blog!
SHOP THE POST:

Facebook Conversations