When I told my hubby that I was taking a brush lettering/calligraphy class he gave me an amused/confused look and told me "Wait, is it like when I used to be in school and the teacher made my practice my terrible handwriting?" I couldn't help but laugh because I used to love those calligraphy notebooks. To be fair, I was the annoying kid in class with perfect handwriting that the teacher used as an example of beautiful cursive.But, because I'm on my cellphone all the time, I don't write as much and I miss it. I'm from the generation that had to write out 5 page essays during final tests up until my hand cramped up. I can't believe how "vintage" I'm making myself sound! Ha! I still like to carry a notepad or agenda and write everything down with ten different color inks. I still have a collection of pens, pencils and highlighters too and believe it or not, using these colors helps me remember stuff on my to-do lists because I'm very visual. Does that happen to anyone else? That's why I was so excited when Mint and Maple invited me to take part in their Brush Lettering 101 class I didn't now what to expect but I knew I was going to have fun because I love to write and paint.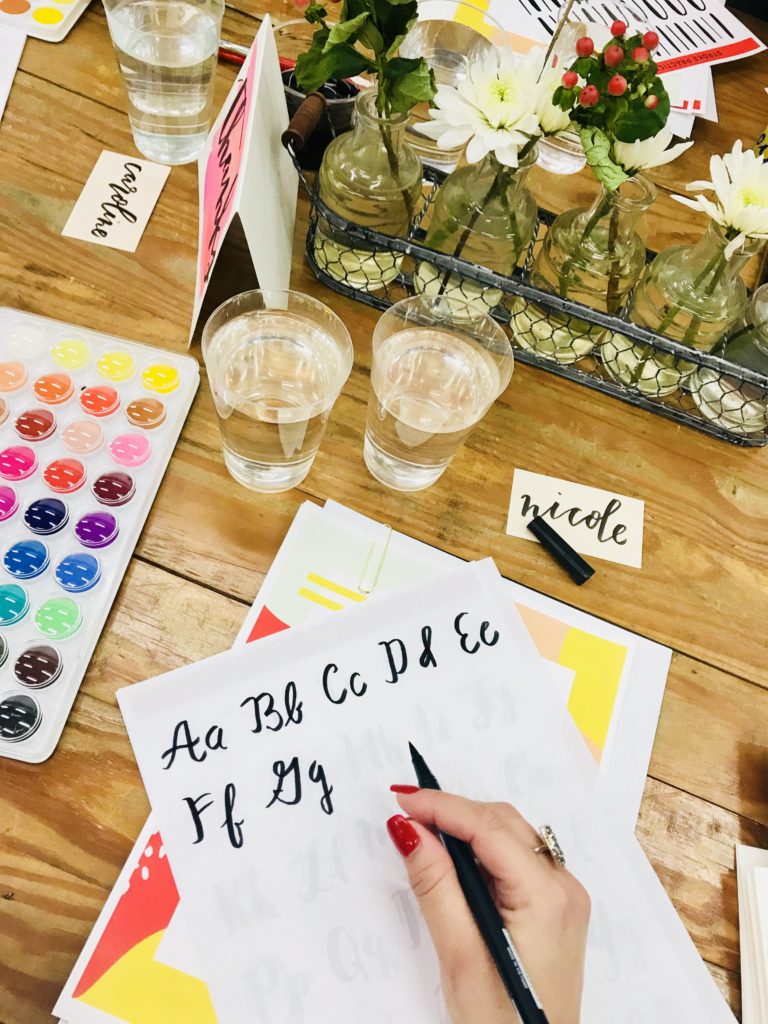 Practicing my letters with the brush marker.
Fun fact: Did you know my first job ever was as an art teacher for 8-10 year olds? During all my middle school and high school I used to take art classes (hence my love for color and makeup brushes) and I used to work at that same art studio part time. I remember how relaxed painting helped me feel.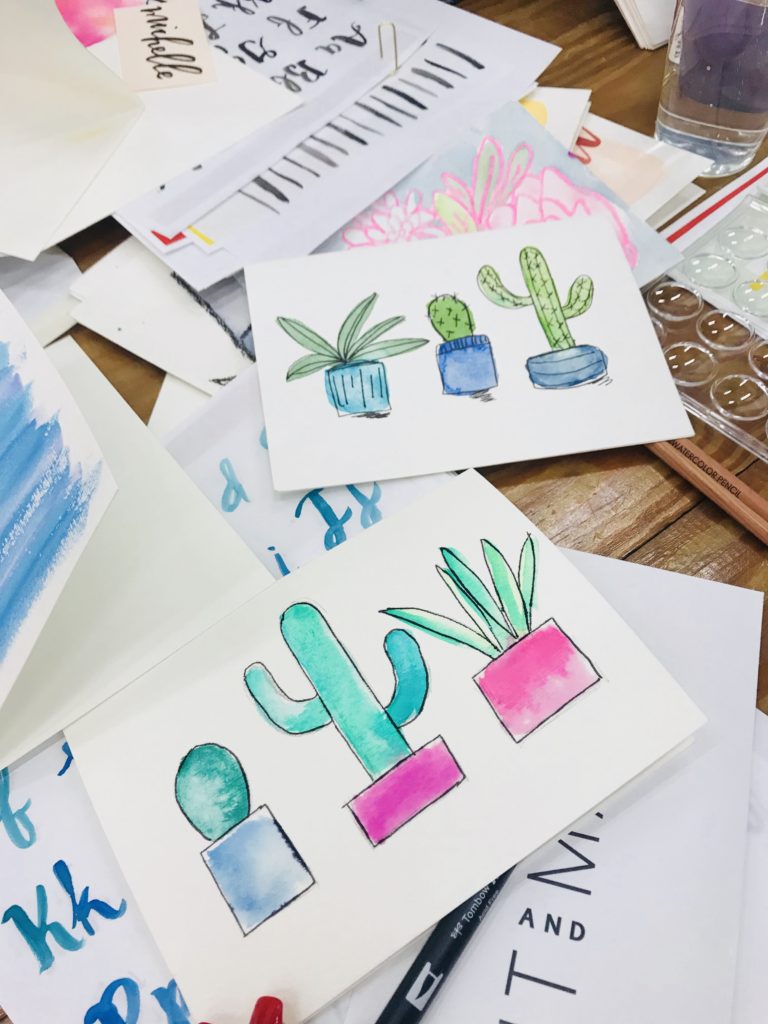 Top card is the teachers and bottom is me copying it. Oops.
As soon as I arrived to class I noticed we were in the cutest stationery store (danger danger, I also used to collect stationery paper) in The Heights. I loved that I showed up and all supplies were included: 2 brushes, a watercolor pan set, a brush marker, paper, practice guides and even the promise of a completed project. You know what wasn't included? A friend to sit with! I noticed all the class participants brought their girlfriend so I hope someone tags along with me next time.
Here are my three completed projects. What do you think of my greeting cards?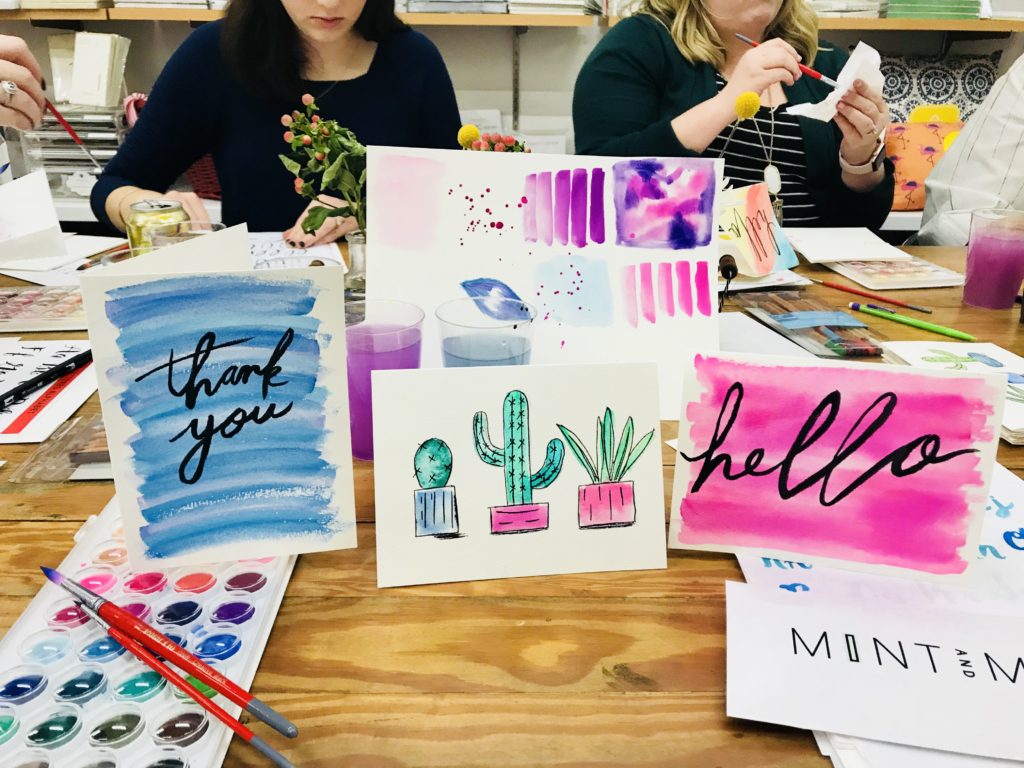 I got so excited after class that I started drawing and painting with I haven't felt this relaxed and creative in a while. It's been a nice distraction from taking my daily photographs and sitting in front of the computer writing all the time. It's been so amazing to experiment with mixing colors and painting without knowing what will turn out!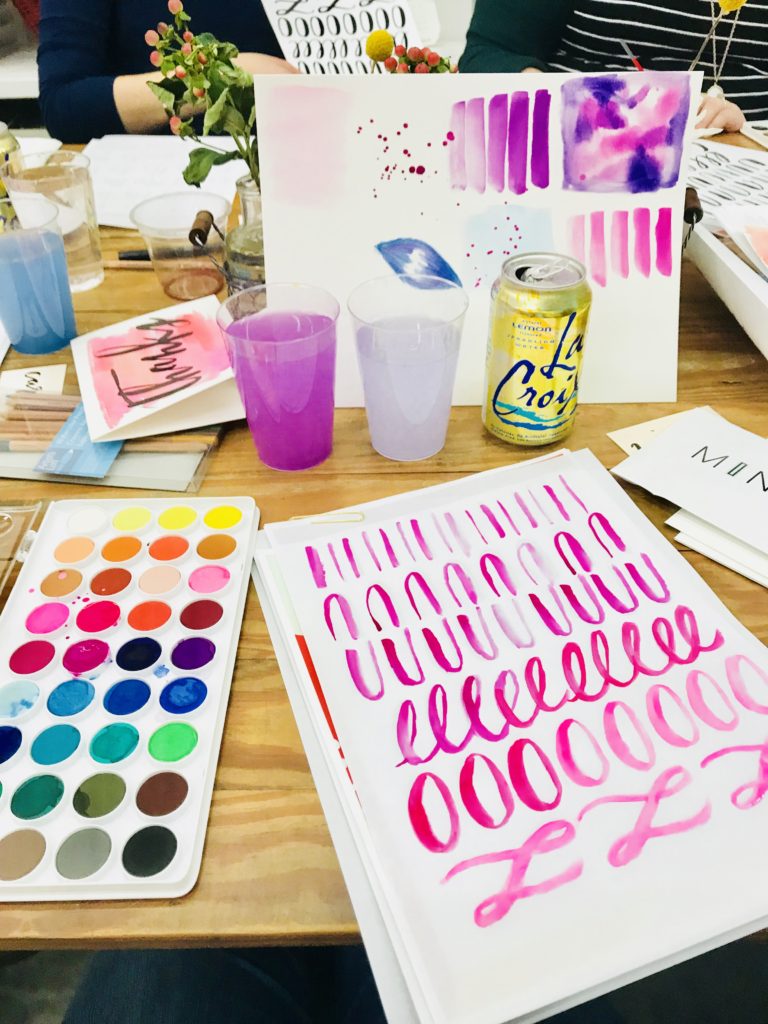 I used my watercolor pan set at home and painted one of my favorite beauty products and look how cute it turned out!
Want to take a class?
Check out their Workshop Schedule & Sign Up!
Facebook Conversations