*This post contains affiliate links and gifted items. When you purchase from affiliate links I make a small commission. Thank you for supporting Lipstick and Brunch!
So excited to finally be starting these bump-date posts that I saw so many of my favorite bloggers do but hadn't been able to publish until now! You see, my morning sickness and first-trimester fatigue kept me from doing fashion posts since December. Whenever I shoot outfits (and most bloggers do this), we tend to shoot more than one outfit and change in our cars (glamorous I know!) and I had no strength to do that.
This past Saturday though, nausea and all (yes, my morning sickness is not gone but I feel 100 times better) and with the help of my wonderful hubby I shot with one of my favorite Houston photographers, Meredith from This Lavender Life and I discovered I hadn't lost my love for styling an outfit–YAS! I had recently made some clothing purchases, weirdly enough they've been non-maternity items like this gorgeous dress and I was aching to feature them on the blog! I'm obsessed with the embroidered flowers on this off the shoulder dress and can you believe it's under $35!?
SHOP THE POST: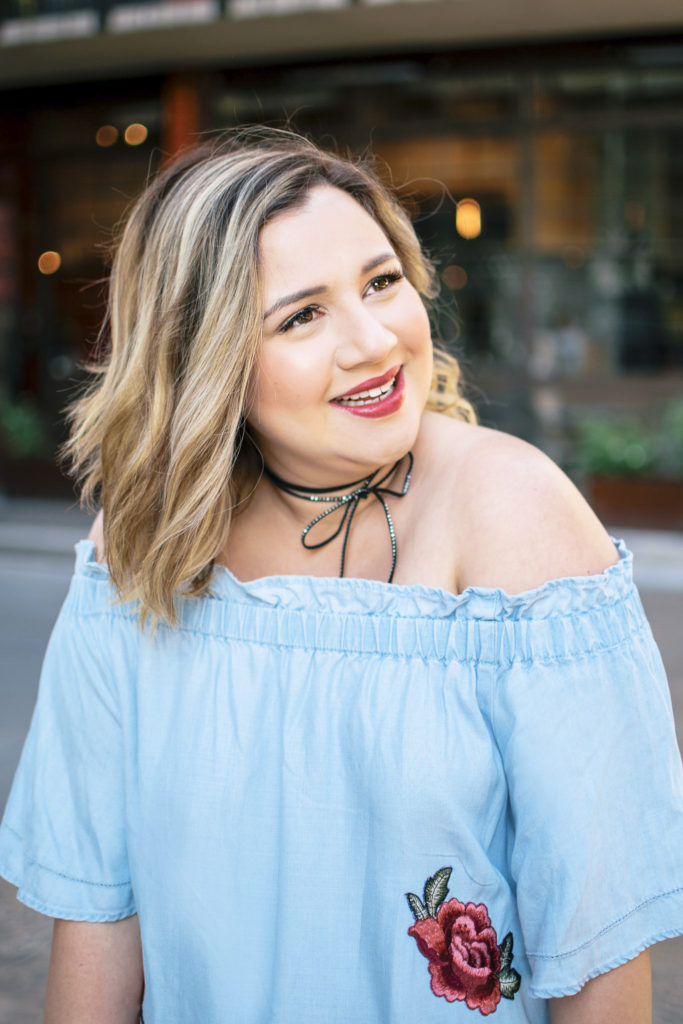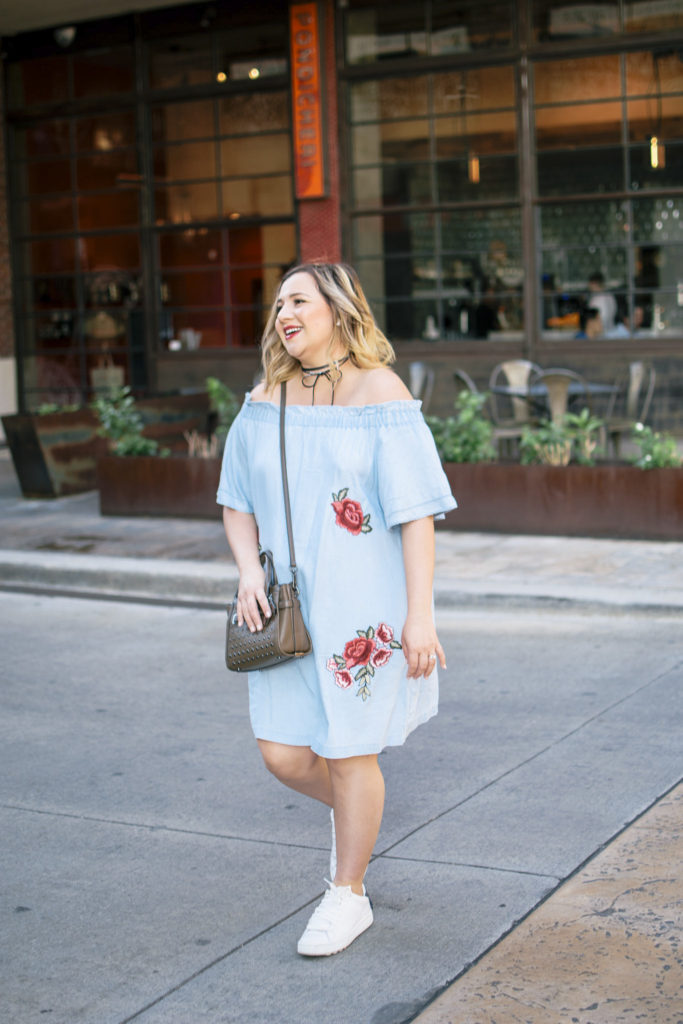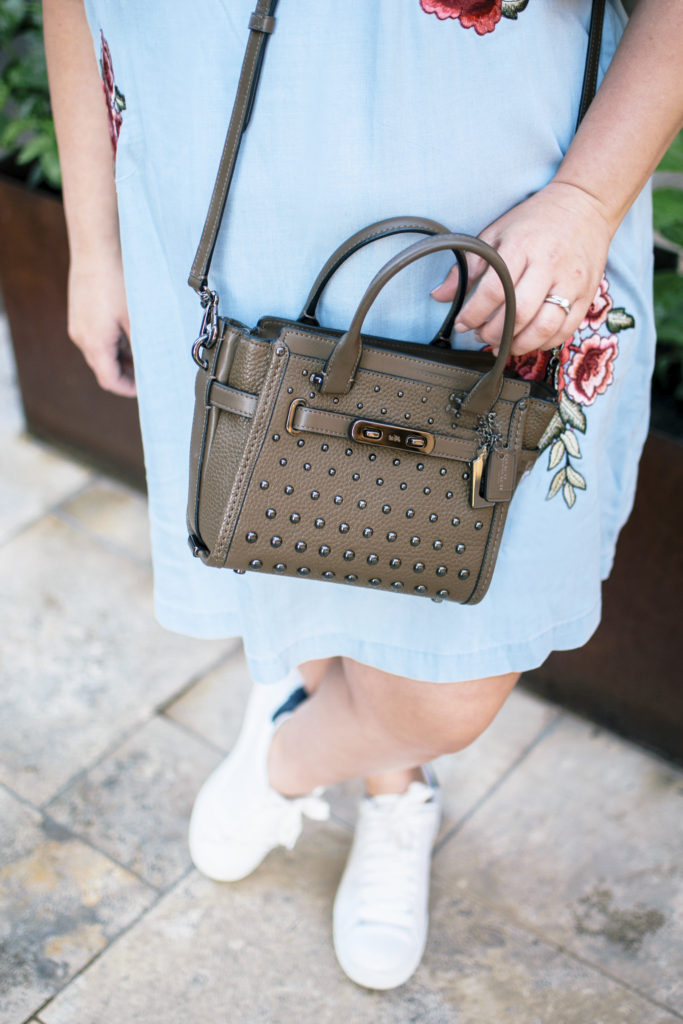 Purse c/o Coach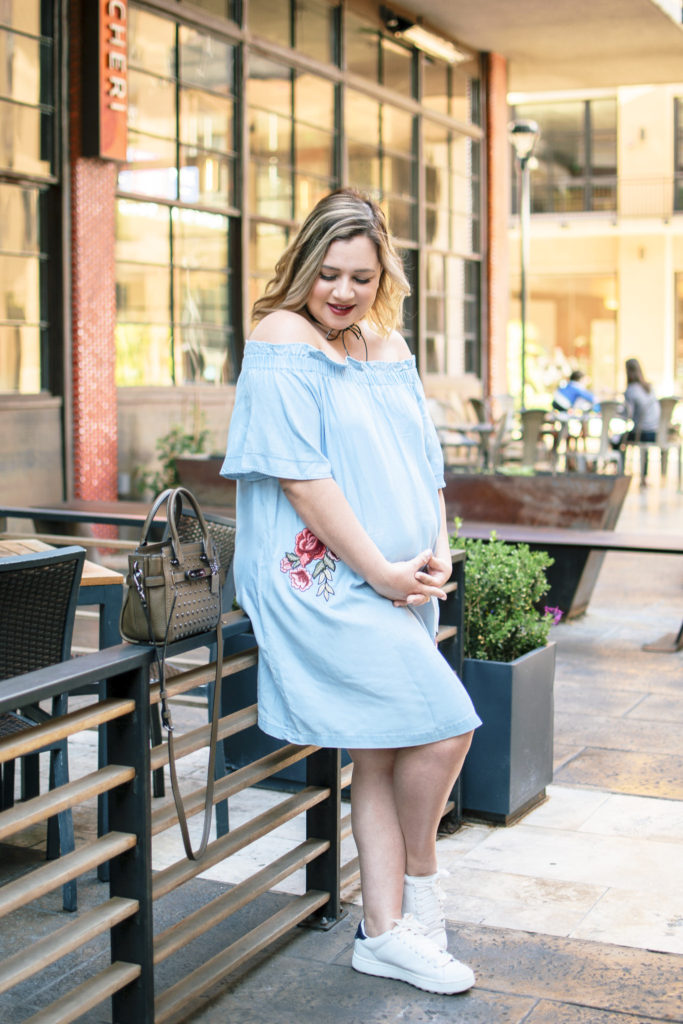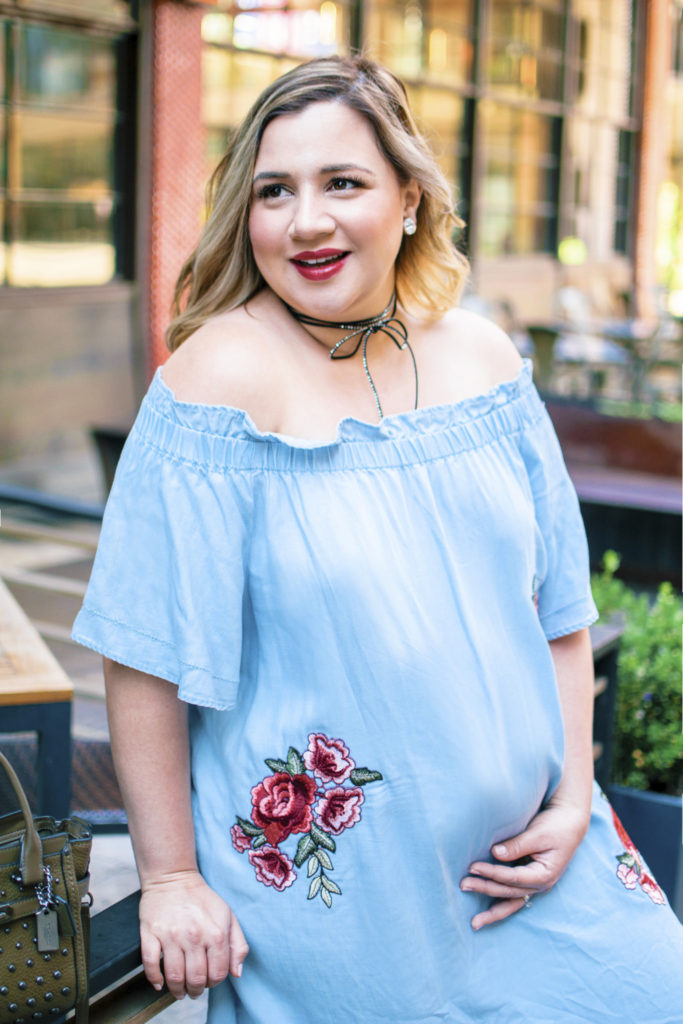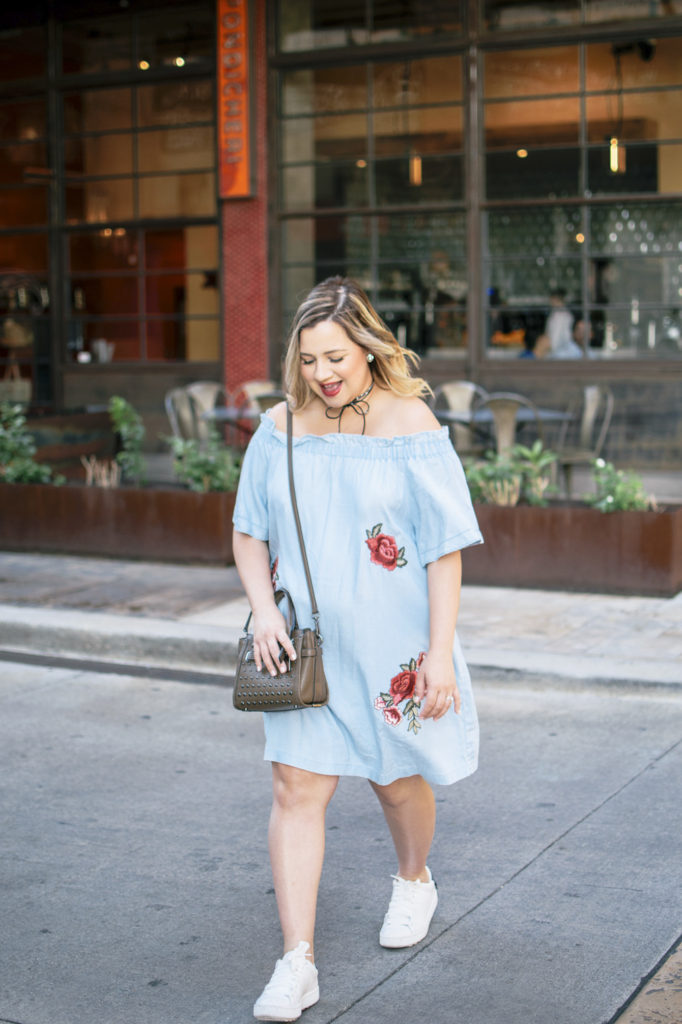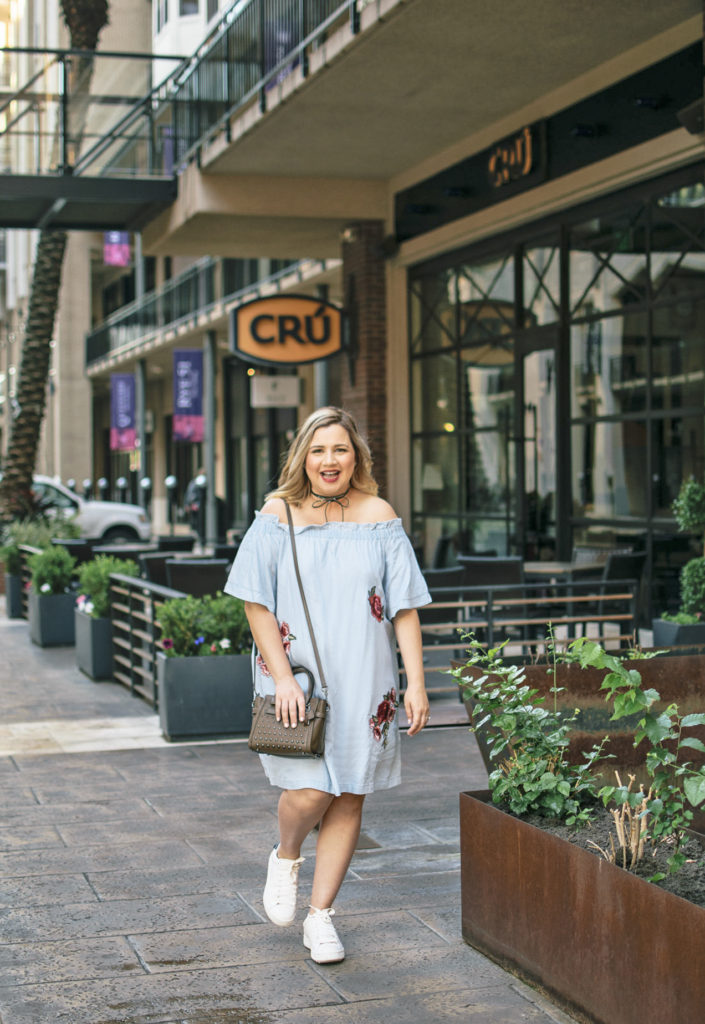 24 Week Bump Date
Size: The baby is the size of a demi-baguette or a garden eggplant and is weighing 1lb 9oz.

Due Date: So this is interesting because my official due date is July 27th but I am a high-risk pregnancy patient because of my Type 1 Diabetes (I've had Diabetes since the age of 5) I might have to be induced the first or second week of July which means I might actually have my baby between week 36-37. Getting induced just provides a more controlled environment since there are so many factors in my pregnancy that are delicate. At first I was nervous about this but I understand this is the way baby and me will be the safest and I trust my team of doctors (there's 4 people!) to make the best decisions with me.

Weight Gain: I've actually only gained 3lbs! I was freaked out I was not gaining more weight but because of my Diabetes this is actually a good amount of weight for a 24 week high risk pregnancy. As a high risk pregnancy, I can gain a maximum of 20lbs so controlling my weight makes me feel at ease during this whole process. I've been cooking a lot of home, if you follow me on Instastories you know that with the occasional Torchy's Tacos or ramen noodle run, exercising every day and drinking copious amounts of water to stay as healthy as possible.
Feeling: My mornings still suck! Hahahaha! I vomit every morning though it's never as horrible as it was at the beginning where I could vomit several times a day and never keep any food down. I have actually gained my appetite back and I'm eating several little meals a day instead of three big meals. I have my energy back and I'm going to more blogger events and trying to avoid any events at night because I get sleepy really early–like around 8 or 9pm.

Cravings: I haven't had any crazy cravings but something that has made me feel great since the start of my pregnancy are popsicles and any cold treats like smoothies and ice. I am currently obsessed with Moody Ice's sweet melon, coconut and blueberry/lavender ice, Sonic's Orange Ice Cream Slushee (it's like drinking a creamsicle, the size small is enough for me) and the El Niño smoothie from Bebidas.

Recent Highlights: Our last ultrasound was the best one yet! We finally saw baby boy's face and profile which is pretty unreal! I actually still can't believe we're going to be parents but every time we go to our doctor's visits it becomes more real. We also saw him moving a lot and bouncing in the ultrasound even though I haven't felt him kick yet.
Pregnancy Realness: People seem to think my baby bump is too small for how far along I am (almost 6 months). I read somewhere that you must never comment on someone's bump size unless you 're going to say "What a cute bump!" and I agree. I had already felt self-conscious is was too big and then I turn around and someone tells me it's too small–hahahahaha. Actually, I've been meaning to wear more fitted tops to show off the belly but flowy tops and dresses like this one are so difficult to give up because they're comfy. But I promise (and just like you see in the photos above), there's a belly under there!
Up Next: I'm so excited to be having my first baby shower this week! My mom and my good college friend/former bridesmaid are throwing it for me and I'm not gonna lie, the control-freak planner in me has had such a hard time letting them plan everything without me knowing anything. It's weird because I also feel sort of relieved that I'm just going to have to show up and not do anything! My high school bestie is also flying in for the weekend from Phoenix so she can be in attendance and I'm soooo psyched about that! As for the baby, our next doctor's appointment is in two weeks and it can't be here soon enough.
SHOP THE POST:

Facebook Conversations